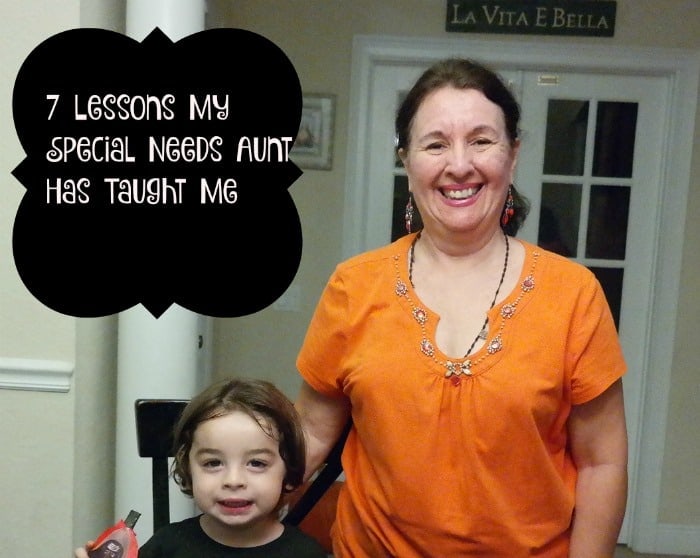 When I was little I always knew there was something a little different about my aunt. She was almost like me in many ways. She definitely didn't behave like an adult. It was around the age of 10 that my parents told me the reality and it made sense, she was Special.  She had drank some cleaner as a toddler and suffered lesions in the brain that almost killed her. Although her life was spared she stayed a little girl mentally. I cried when I found out.   Looking back to how I reacted to that news, in a way, it's amazing to think my grasp on the situation. However, at that moment I also missed many things, that now as an adult I realize when seeing her interact with my own kids.
She's still a child in many ways but she fights with the need to be a woman and "grow up into one". I'll hear my older kids ask her what she wants to be when she grows up and she'll always respond "Marry someone rich". My grandparents are lone gone and my parents now take care of her. Sometimes when they go on vacations she'll come and stay with me. I'm not going to lie, having 5 children and then care for her can be beyond frustrating and exhausting. There are times she argues with the kids and they argue with her. She's one of them,just like she was just like me.  However, my older kids are getting to the age where they are starting to understand something is different and I notice they take more care in their interaction with her. My oldest daughter is her biggest ally and steps in when she notices me or my mom start getting frustrated with my aunt. I'm not going to lie it can get hard.
That all being said my aunt has been a big,huge gift in our lives. She's taught us so much. Her lessons are very subtle but they're there. Always lingering in the air. These behaviors which can sometimes be frustrating are also the behaviors I wish as a human I embraced more.
She has taught me to:
1.Never Give up: She never does! To this day she still sits down daily and does her reading lessons. She never has gone past a second grade Reading level but she doesn't care. She will sit down daily and practice. She tells us all she's going to read one day and you know what,with that determination I believe her.
2.Enjoy the Little Things: We all look for the big things, and sometimes forget to enjoy the little things. A baby's laugh. The warmth of the sun shinning in your face. A bird standing outside looking in. These are all the things that we tend to walk by or take for granted. However, you can bet if they happen around my aunt she will notice them. I wish I took more time to stop and smell the roses. Enjoy the little things.
3.Forgive always. I'm not going to lie as an adult many times my patience is not what it should be with her. Especially when instructions are given many times and for some reason she decides she doesn't like those instructions and does the opposite. There are many times I will snap, it's ugly, I admit it, I'm human. Yet for behavior that for many would lead to years of not talking to a person she's always ready and willing to forgive, always offering an I'm sorry for her behavior even when she couldn't help her wrong doing. I wish we were all ready to forgive so easily.
4.Love everyone you meet. No lie! She treats everyone with such love. Everyone. I've never met anyone she doesn't give her love to. Even if it's a stranger on the street she just met. She shows them such love and makes them feel so important. I wish I could put my own natural distrust and treat people like she does.
5.There's always something to smile about: I don't think I've ever seen her not smiling. Her face is always in a permanent smile. She is always happy and you know it. Her smile is contagious and genuine. It's not a smile waiting for something in return, it's a smile in which she is giving everyone her all. If only we took to task truly smiling. Always.
6.Be positive :As adults we tend to find the worst in every situation. Yet no matter how negative I think something is she always tells me to have faith everything is going to be ok. There have been times when I've been telling my mom about a problem and of course my aunt is lurking and listening (she's also naturally curious and loves to know what's going on) and will right away tell me to have faith, it will all work out. She's always the first one telling me it's all going to be ok and you know what I believe her.
7.Believe in Magic. This one is the hardest but she's proven that it works. She's always been in love with this famous Mexican Singer. She LOVES him. Her biggest dream was to meet him. She always said she would. Well she did it, her faith paid off and one day she actually got to meet him and of course she planted a big kiss on him. The point is she always believed she would meet him. She never doubted it for one minute. If as adults we had that faith, I think it's amazing what we would achieve. Here next goal is to win the lottery let's hope her winning streak continues so she doesn't have to marry rich.lol
She still thinks she'll get married one day and have kids. She's in her mid sixties so we know that's probably not going to happen. She always asks me if I'll take care of her kids when she goes out on dates with her husband and of course I agree. She lives a life of fantasy, but she's happy.We'll never take that away from her. She's given us so many gifts.Even when it gets tough taking care of her ,I look back at all she's given us. We're blessed to have her in our lives and her presence teaches me no matter how difficult a situations might be or seem to be there's an amazing rainbow at the end of it all. We just have to be open to learning and receiving lessons even in the most unlikely of places. We help her with daily living skills,but who she is helps us learn to live and in turn I hope teach empathy and love to my kids.