Find out why the Koch Systeme Red Granite Non Stick Cookware Set is a must have for all your cooking needs. Also why this set has been a game changer for my cooking needs. Disclosure: I received this product in exchange for my honest review. However, all opinions are 100% mine.

5 Reasons to own the Koch Systeme Red Granite Non Stick Cookware Set
I cook A LOT. Because all my kids do is eat. Although I would love to eat out more when you have a family of 8 that can get really pricey. So if I have to cook one valuable lesson I learned years ago is that you have to have good cookware. If you have cheap cookware you will struggle and get frustrated. It will make you hate cooking. That's why it's important to invest in good cookware. This one is not only great but priced right. Recently, I had the chance to check it out for myself and fell in love with this set of non stick cookware.
In 1829, Carl Schmidt Sohn was born as a blacksmith in the "City of Blades" – Solingen, Germany. By the turn of 20th century, our cutlery began to export to all over Europe. In the 1990s, we developed further product ranges including pressure cooker and pans. It was then that the CS-KOCHSYSTEME was up and running, to expand even further with kitchenware focused on versatility and affordability. Today, our products are recognized worldwide due to the award-winning designs and innovative concepts.
What makes the Koch Systeme Red Granite Non Stick Cookware Set so great? Read on to find out why this set is a must have for all your Holiday cooking needs.

1. It's non stick:
This of course is my favorite part. Double nonstick coating for easy food release, cleaning and healthy cooking.Coated with natural stone materials, the true nonstick interiors help prevent food from sticking and makes cleanup easy. Like super easy. You could literally wipe the food of with a napkin if you want. That's how easily it cleans off.
2.Tempered glass lid with vent prevents overheat and provides a transparent view in the cooking.
The shatter resistant lid is made of tempered glass. It includes a vent which allows for steam to escape + allows you to monitor cooking process.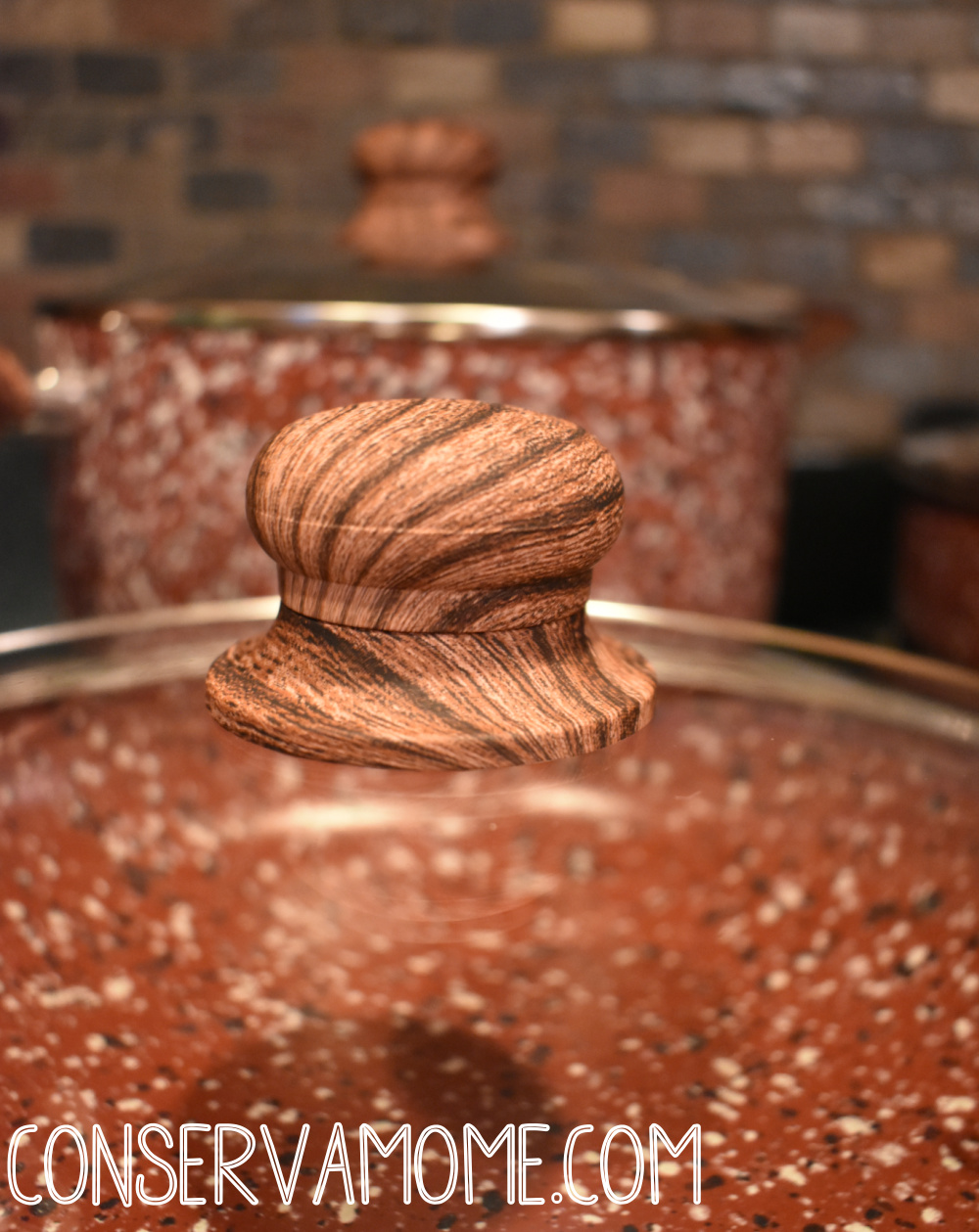 3.

Heavy gauge pot sides contribute to even/quick heat distribution.
These products are made in a way in which there is even and quick heat distribution so you don't burn your foods.
Even the bottom helps make sure you have evenly distributed cooking. Each pot is built by 3 layers, one for thickening, one for thermal storage and one for magnetic induction. Durable and conducive to fast/even heat. It is recommended you cook on low/medium high to get the best out of your cooking.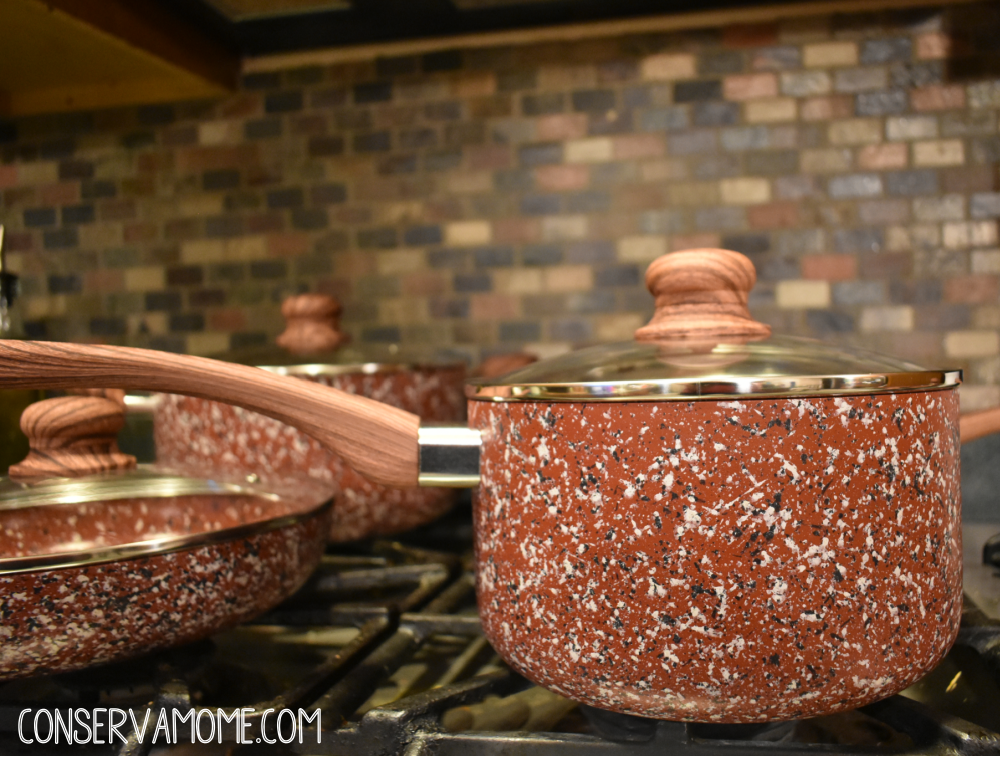 4.

Bakelite handle stays cool while cooking, comfy to hold.
How many times do you grab a handle and burn yourself?
The Bakelite handle doesn't get burning hot where you can't touch it and move the pot. It was surprising to touch it when I had to move pots around the stove top. This was a huge plus for me.
5. There's a size pan for all your cooking needs
When you're making a meal for your family you will need lots of various pots. Most important quality pots that will make cooking a breeze. These pots have every size necessary for making an amazing meal, all with quick clean up! What more can you ask for? I've loved using these pots for making various meals for my large family. Clean up is quick and food is cooked perfectly. Best of all you don't need to use excess butter or oil when cooking foods making way for healthier cooking.
This set also include 5 heat-resistant utensil tools.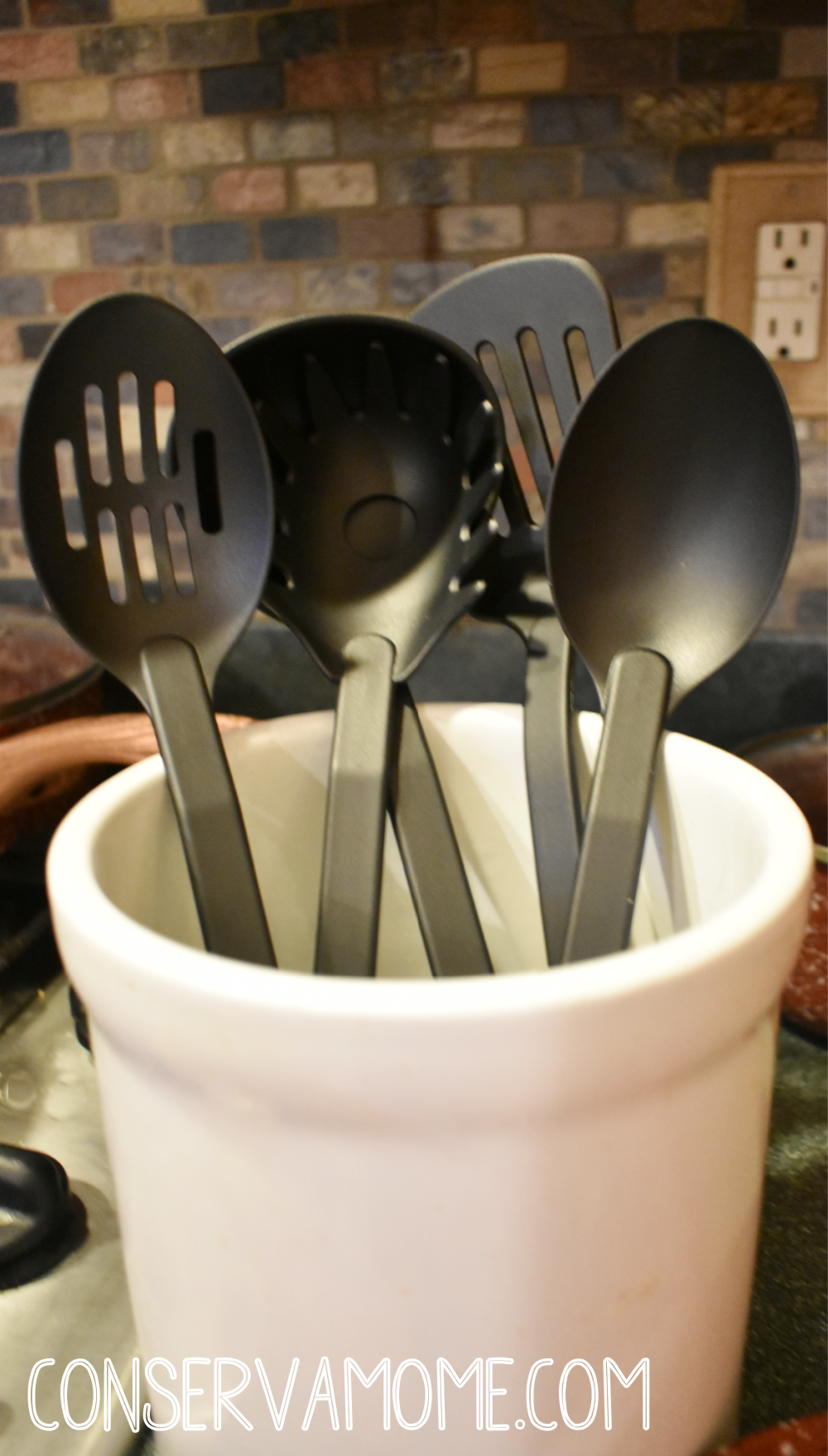 The Koch Systeme Red Granite Non Stick Cookware Set has been such a game changer with my cooking needs. It's helped make cooking easy and cleaning even easier. At around $142 this set really is priced right. You're getting 16 pieces of great product for a low price. So head over here and grab this set for yourself. Make a delicious meal like my Shrimp scampi orzo!