We all want to save money. Everything costs so much! Here are 19 Tips to save your family money.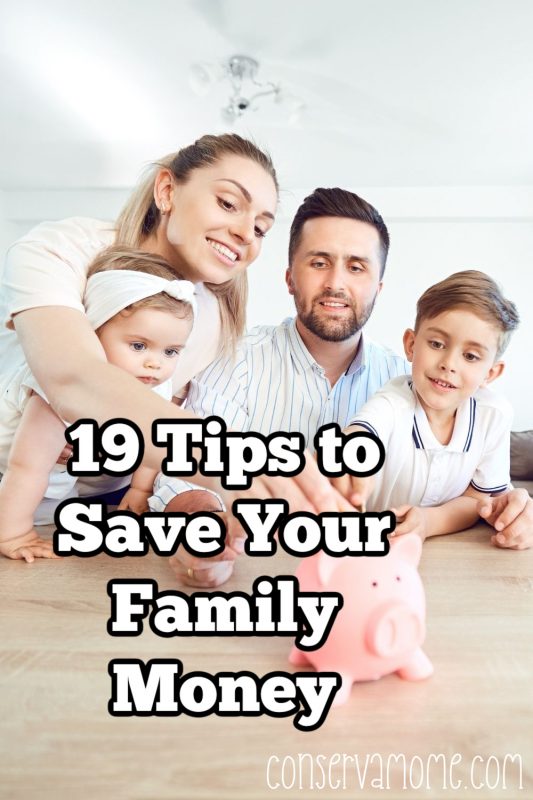 19 Tips to Save Your Family Money
Money is a significant concern for many families. Whether it's paying bills, buying groceries, or saving up for college, the lack of money can create stress and anxiety. The key to managing your family finances is learning to save money in every area possible! This blog post will discuss 19 tips that will help you save money this year. These are practical ways anyone can implement right now, no matter their income level
Cut Back On Your Groceries Bill
One of the best ways to save money on your family budget is to cut back on your grocery bill. This can be done in several ways, including clipping coupons, shopping at discount stores, and cooking from scratch.
Another great way to save money on groceries is to take advantage of store flyers and sales. For example, if a chicken is on sale, cook a large batch and freeze the leftovers later. This will help you save money on your food bill without compromising the quality of your meals.
Finally, make sure that you are only buying the items that your family needs. It can be easy to get caught up in all of the sales and end up with a pantry full of items that you never use. Stick to the basics, and you'll be able to save money on your groceries without too much effort.
Cancel Some Off Your Subscriptions
Do you have your cable on? How about Netflix, Hulu Plus, Amazon Prime, or any other video streaming service. Why not cancel one of them to save money. Then, if it is important for entertainment purposes, cancel the most expensive one like Cable TV and keep a cheaper movie streaming like Netflix. Then, you can still watch all your shows and movies for a fraction of the price. This also goes for magazine subscriptions. You may only read them once or twice before they just sit on your coffee table, gathering dust. So why not cancel them and save that money to put towards something else?
Cancel Unused Gym Memberships.
If you don't use your gym membership, do not pay for it. Most places have a 90-day policy where if you cancel in the first three months of being a member, they will refund some or all of your money. You can also exercise at your home or around your neighborhood. For example, go for a jog and use your surroundings for a full-body workout. As for the rest of your gym needs, you can find affordable and effective workout equipment online that will help you stay fit without paying membership fees.
Compare Prices Online
When shopping for something, compare the prices of different websites before buying it. You can also use a price comparison tool like PriceGrabber or Google Shopping to find the best deal on the product you want. If you are looking for a bargain, check out the clearance section on websites or stores. You can often find great deals on clothing, toys, and other items.
Another way to save money is by using coupons. There are many websites where you can find coupons for different products. Be sure to read the terms and conditions of the coupons before you use them, though.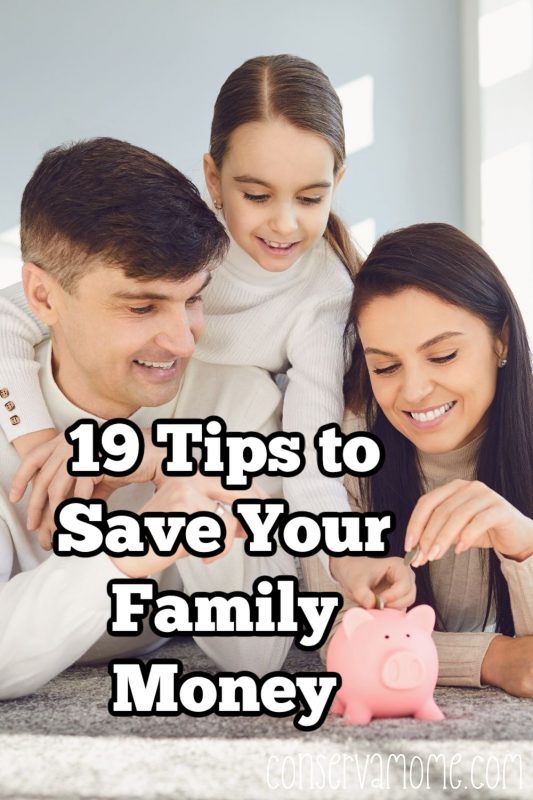 Buy Second Hand
One way to save money is to buy second-hand. You can find great deals at garage sales, thrift stores, and online auction websites. Just be sure to scrutinize the item for any damage or wear and tear.
Another option is to buy used items from friends and family members looking to get rid of them. This is a great way to save money and make new friends! You should also consider buying used appliances from the appliance company you purchased your current ones from. They will often offer trade-in values on items that are still working well but replaced by newer models.
Buy second-hand furniture, clothes, books, toys for your kids, or anything else you could need. Before buying them, be sure to scrutinize items and never purchase anything damaged or broken. This will save your family a lot of money over time, even if it means purchasing an item for slightly less than retail price rather than paying full price at the store. It makes sense when you think about how much more expensive new items are compared to used ones that have been gently worn or pre-owned.
Sell Unused Items In Your Home
One great way to save money is to sell items you no longer use. You can hold a garage sale or post items for sale online. If you have valuable items that you don't want to sell, consider donating them to a charity. This will help you declutter your home and raise money for a good cause. Don't forget to take advantage of tax deductions when you sell your items.
Get Out Of Binding Contracts
You could be paying too much if you are locked into a phone or cable contract. Often, these contracts have early termination fees that can cost hundreds of dollars. However, pay as you go plans are becoming more and more popular and can save you a lot of money in the long run.
Enjoy Free Entertainment
There are many things to do in your community that are free. This can include walking, visiting the library, or checking out local events online. If you live on the coastline, spend a day at the beach. You can also find great ideas by searching for "cheap and free family activities" online.
Another option is to stay home and have fun together. Play games, watch movies, or read books. These activities are often more fun when done with family and friends. Plus, they're free!
Invest In Reusables
Invest in reusable items that have multiple uses. Reusable water bottles, for example, can be used to hold beverages or even as a makeshift laptop stand when you're on the go. A little creativity with reusables will allow your family to save money and live more sustainably at the same time!
Make Your Own Cleaning Supplies
Making your own cleaning supplies is not only saving you money, but it is also great for the environment. Instead of using chemical cleaners that are bad for your health and can damage fabrics, make your own products out of vinegar or baking soda to clean surfaces all over the house.
Be a Coupon Queen/King
If you have trouble sticking to a budget, consider using coupons for items you regularly purchase, like groceries. Coupons can save you up to 50% off your grocery bill with some pre-planning and research. Even if you don't need most of the things on sale, consider buying extras when they are heavily discounted if one of your neighbours needs something too!
Get crafty
One way to save money on birthday gifts, Christmas gifts, or any other gift-giving occasion is by being creative! Instead of buying a present, make one yourself. This can be as simple as baking a cake or creating a photo album. Not only will your friends and family appreciate the effort you put in, but they'll also love the unique gift you gave them.
Grow your own food
Another way to save money on groceries is by growing your own food. For example, suppose you have a garden and plant vegetables and fruits in season. Not only will this save you money at the store, but it will also allow you to eat healthier!
Buy In Bulk
When you buy in bulk, you get a better deal on the items you are purchasing. Often, stores will offer discounts if you purchase items in large quantities. This can be a great way to save money on your monthly grocery bill.
Rotate Your Children's Toys
It can be easy to fall into a monotonous routine for our children's toys. By rotating their toys, you keep things new and exciting while also saving money on new toy purchases.
Kids Eat Free
Many restaurants offer kids free specials during certain times of the day or week. Check with your favorite spots to see if they provide this type of promotion. This is a great way to save money on meals without cooking at home.
Cut Back On Energy Usage
One of the best ways to save money on your monthly bills is to cut back on energy usage. There are several things you can do around the house to conserve energy, including turning off electronics when they're not in use, installing LED light bulbs, and making sure your appliances are properly insulated.
Pack a Lunch
Instead of buying lunch at work or school, pack your own. Not only will this save you money in the long run, but it'll also make sure that you're eating healthier foods when compared to what's available from cafeterias and restaurants. This is another excellent way to cut back on spending without sacrificing quality.
Carpool To Work or School
If you're able, consider carpooling with a coworker or classmate to cut back on gas expenses and save money when it comes time to fill up your tank. Depending on where work/school is located, this might also provide you with more opportunities for socialization.
In conclusion, there are many ways to save your family money. By following these tips, you can make small changes that will significantly impact your budget. With a bit of effort, you can stretch your money and have more in your pocket.