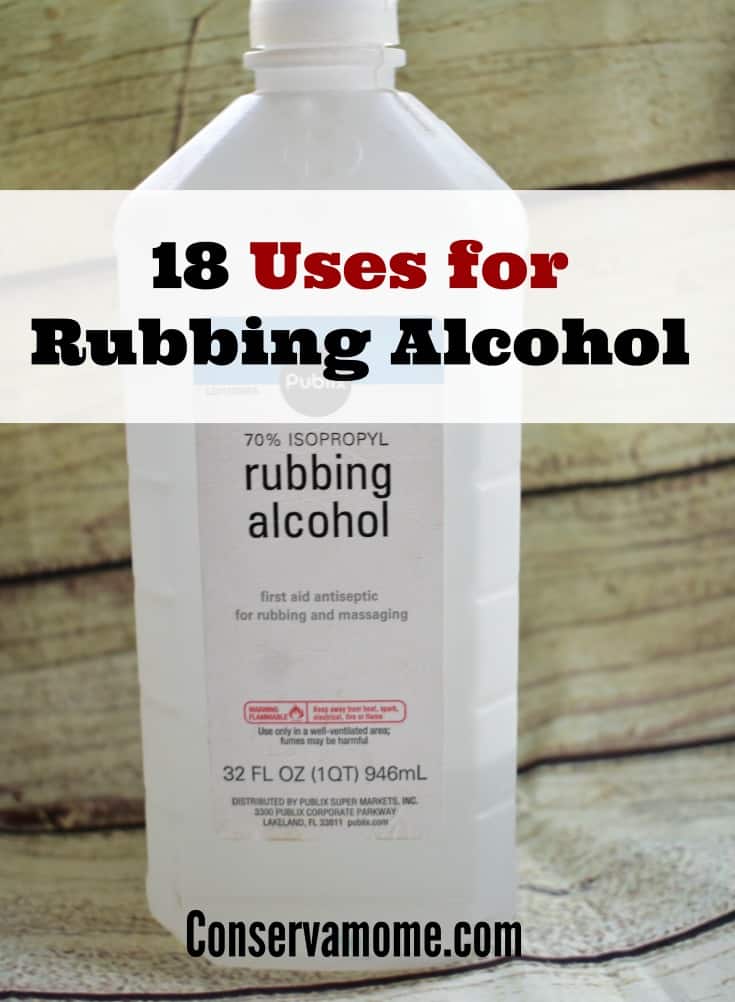 Rubbing alcohol is one of those universal things that you just keep finding uses for. Every home should have a bottle or two on hand. This is a frugal tool that can make your life easier all around. So check out 18 great Uses for Rubbing Alcohol.
Kill bad odors by spraying down fabrics and surfaces with rubbing alcohol. You can even mix in your favorite essential oils.
Use to make class and chrome shine without water spots.
Use for cleaning your keyboard by dipping a q-tip in rubbing alcohol and rubbing under keys.
Remove ink from clothing by pretreating with rubbing alcohol and dabbing with a clean white cloth before washing.
Get Sharpie off nearly any hard surface by rubbing with a bit of rubbing alcohol.
Mix half and half with water to deice your car windows on a cold winter day without any hard work. Rubbing alcohol is great fro drying up and removing ticks and
Rubbing alcohol is great for drying up and removing ticks and other external parasitic critters from your pets and even your own skin after being out in wooded areas.
Mix with water and freeze in a ziplock bag to make your own soft, pliable, ice pack.
Use a wipe dampened with rubbing alcohol to wipe down your cell phone, remote, and other germ ridden electronics that you can not just wash. This is a great way to reduce flu and other illnesses that spread easily around your home.
Need a degreaser? Rubbing alcohol can be used for degreasing surfaces and killing germs at the same time. Perfect for cleaning the kitchen where you need clean and bacteria free.
Rubbing alcohol is a great way to clean your stainless steel. The quick drying liquid cleans, disinfects, and dries fast enough to prevent water spots.
Kill lice with easy by applying rubbing alcohol and letting sit until dry. Great for killing lice around the home as well.
Remove the sticky glue from stickers by rubbing with a bit of rubbing alcohol.
Spray shoes to get rid of odors as they dry. This can be a life saver for my husbands boots because it also speeds up drying them at the end of the day.
If you are the crafty type the possibilities with Sharpie and rubbing alcohol are nearly endless. From tie dye clothes to costars out of ceramic tiles as a gift for the holidays.
Repair broken makeup compacts by crushing, mixing with rubbing alcohol and letting it dry back into shape. This works great of foundation, eyeshadows, and blushes saving you money on replacement costs.
Remove common laundry stains from coffee to make up by diluting with water and using as a pre treater. This is a great way to save money just fill a spray bottle with half rubbing with half water and half rubbing alcohol.
Rubbing alcohol is great for removing garlic odor from your hands after cooking. After cutting up large amounts of garlic I can smell it on my hands for days if I skip the rubbing alcohol.