Disclosure: I received a complementary visit to BurgerFi to facilitate my review. However,all opinions are 100% mine.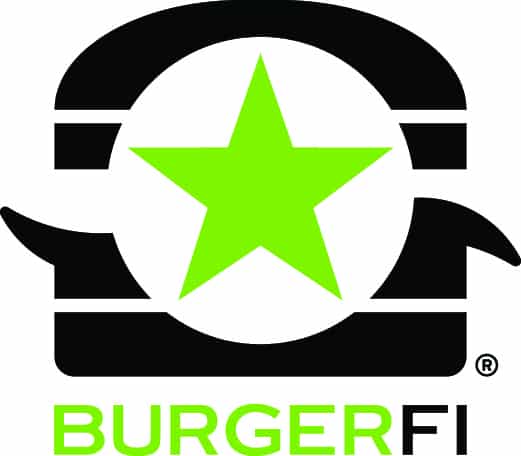 A couple of weeks ago, I had the pleasure of visiting BurgerFi for the first time. There is one very close to my house, so I'm not sure why I had never popped in! Burgerfi touts antibiotic and hormone-free beef, which is always a plus in my book, especially when it comes to my little guy. Their sauces are made from fresh ingredients, and while it is a "fast food joint," the food tastes like anything but. You can tell that the ingredients are fresh, and that your food is cooked when you ask for it. Their menu boasts angus burgers, veggie burgers, hot dogs, sides, and a couple of sweet options. You also have the option of customizing almost everything. I guess the reason it is considered "fast food" is that you order from a counter and are given a number. Once your order is ready, they call you and you pick your food up from the counter area.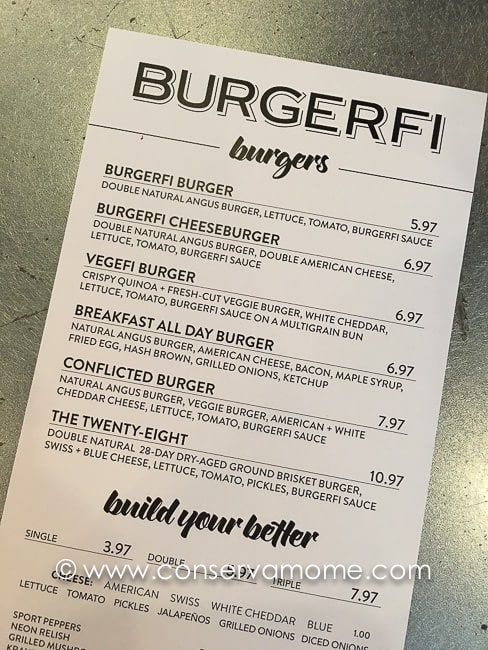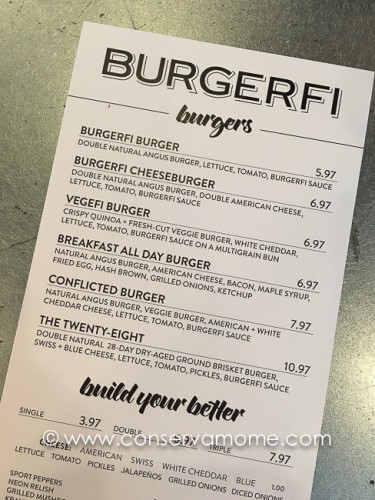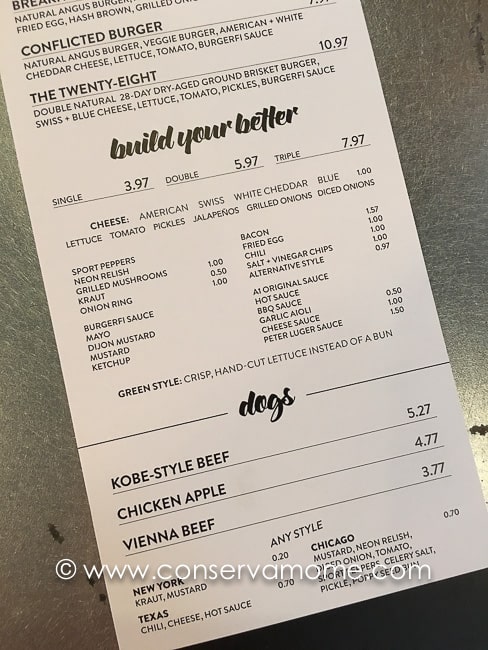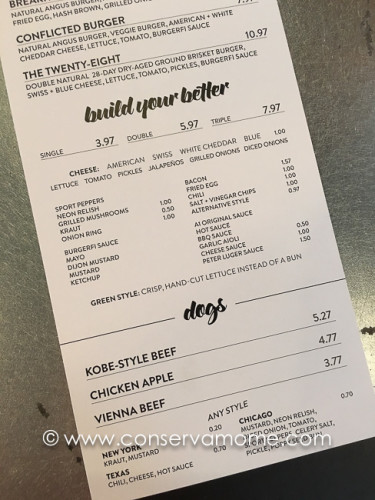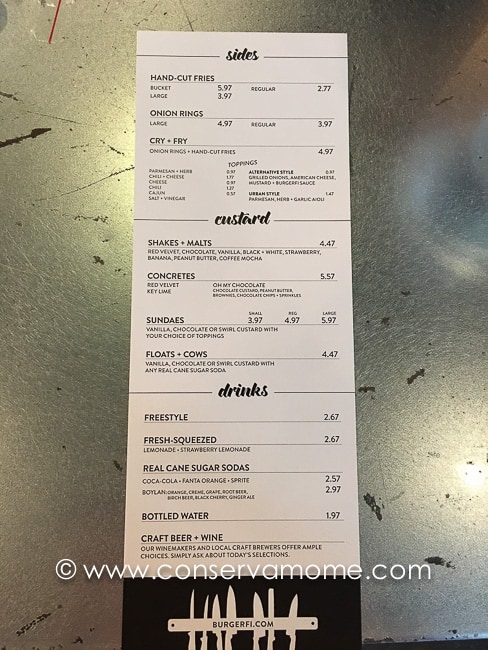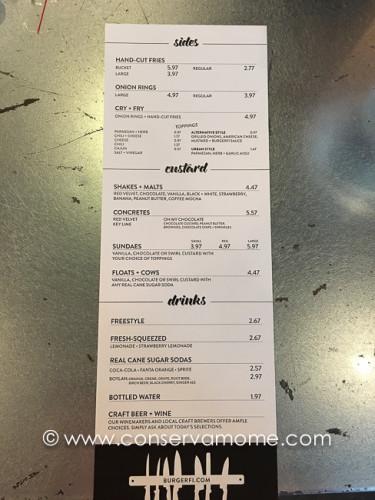 They also have a kid's menu, but since I knew I would be ordering a decent amount of food that I probably would not finish myself, I decided to just share with my munchkin. For the burger, I was intrigued by the veggie burger, but I also REALLY wanted some good beef (and being that I was in a burger place, I was not passing up on that). So I decided to go for the "Conflicted Burger," which is an Angus beef patty and a veggie patty. The seasoning and the sauce was absolutely delicious, and surprisingly, my little guy enjoyed the veggie patty even more than the beef patty (it really was that tasty!).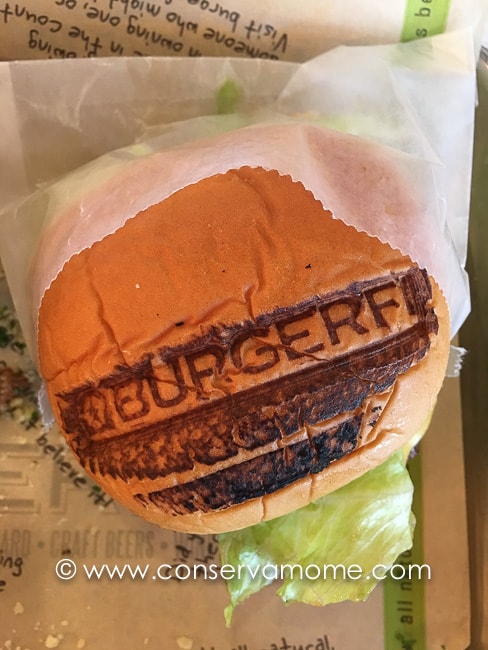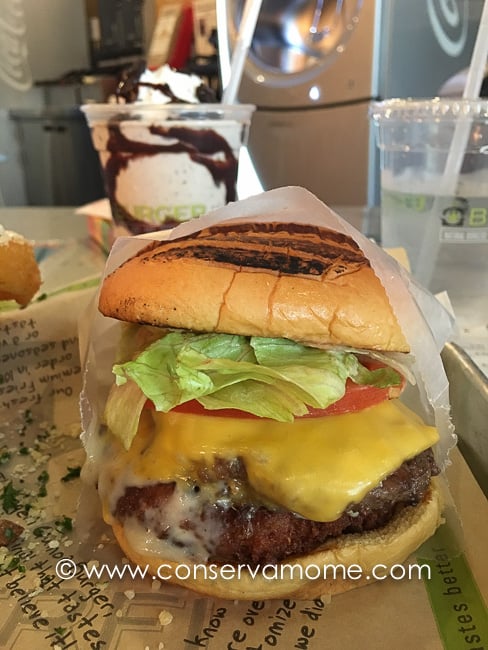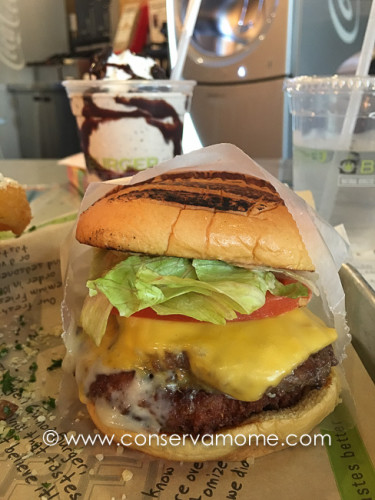 On the side, I went for the "Cry + Fry," an incredible combination of hand-cut fries and onion rings (because who can choose?). I also had them topped "Urban Style," which is Parmesan, herb, and a garlic aioli sauce. Caleb loved those fries. I couldn't stop eating them, so that must say something about how much I liked them too!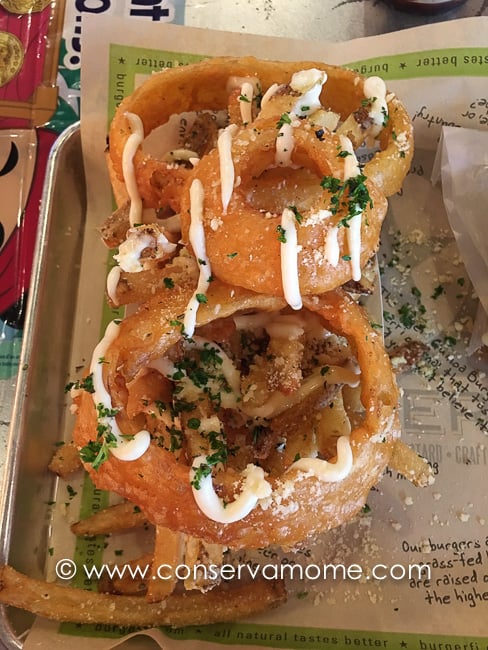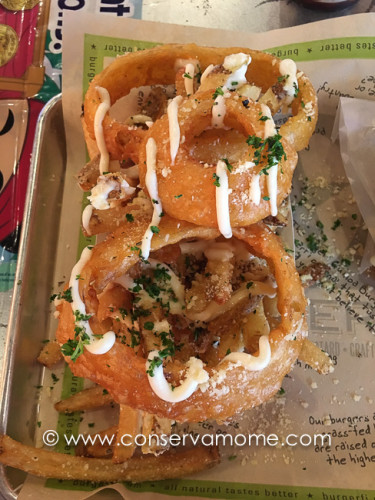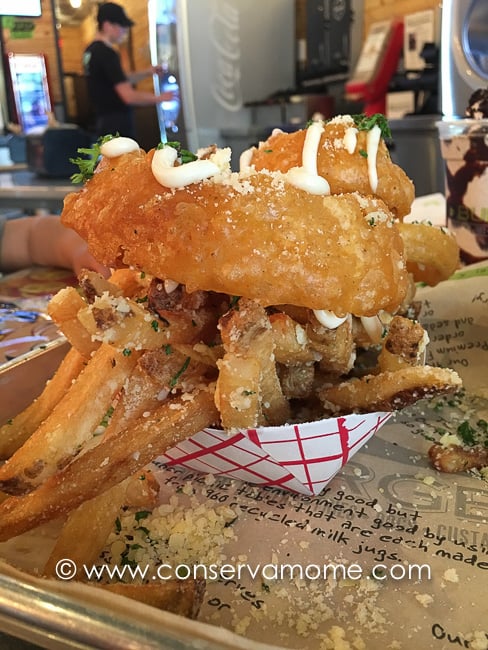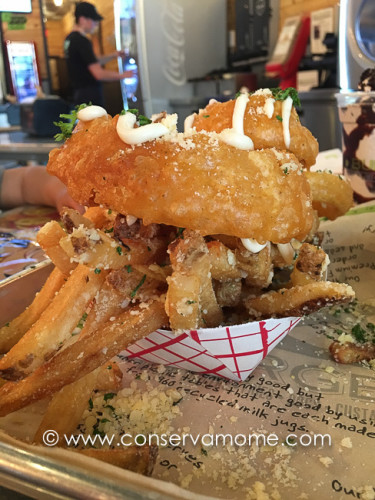 Instead of downing a soda or a juice, I had a bottle of water (hey, you have to cut down on calories somewhere, right?!), and ordered this INCREDIBLE Oreo Shake. It was the perfect creamy consistency, not too thick, and not too icy, nor was it too watery. Baby boy and I split that too. I might have to say that it was my favorite part of my meal! haha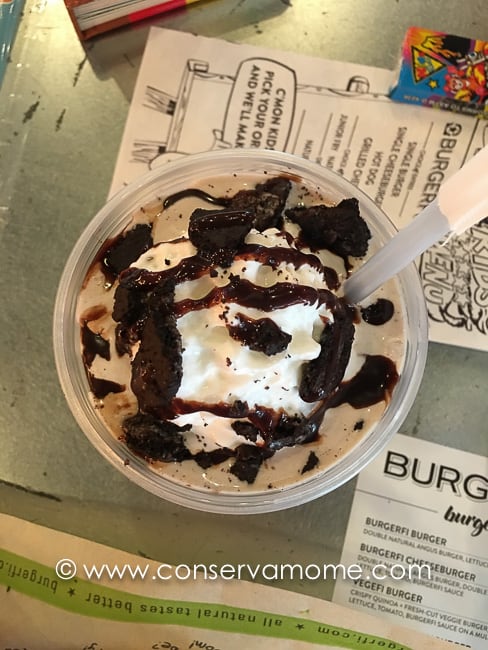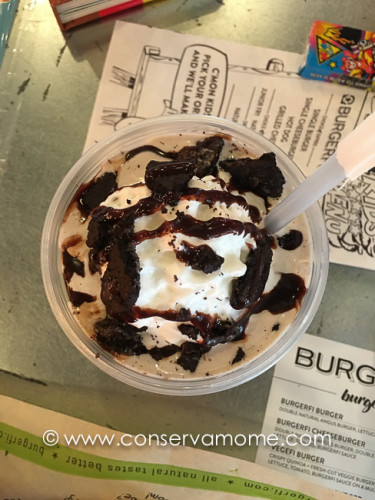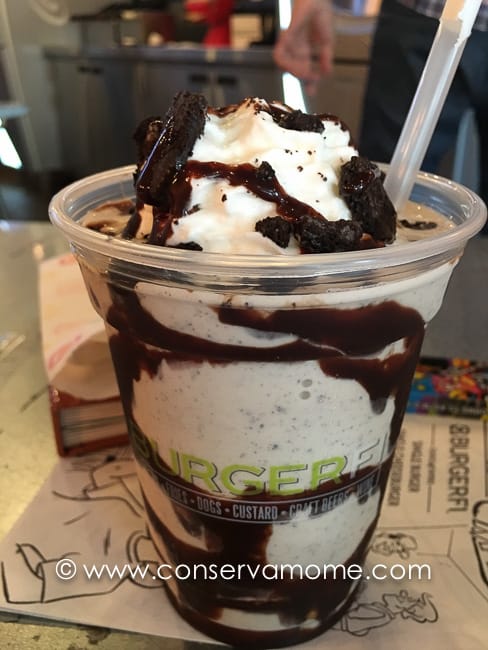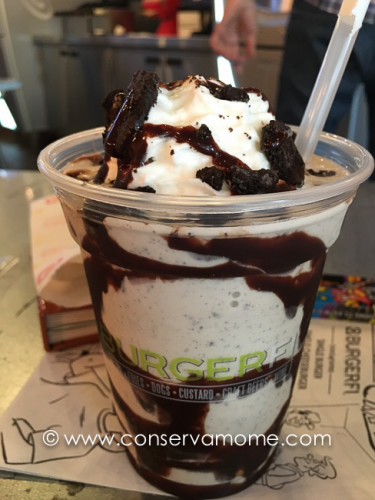 Overall, the experience at BurgerFi was exceptional. There were staff rotating around the restaurant constantly making sure it was clean and picked up. I will definitely be returning to BurgerFi for more delicious meals in the future!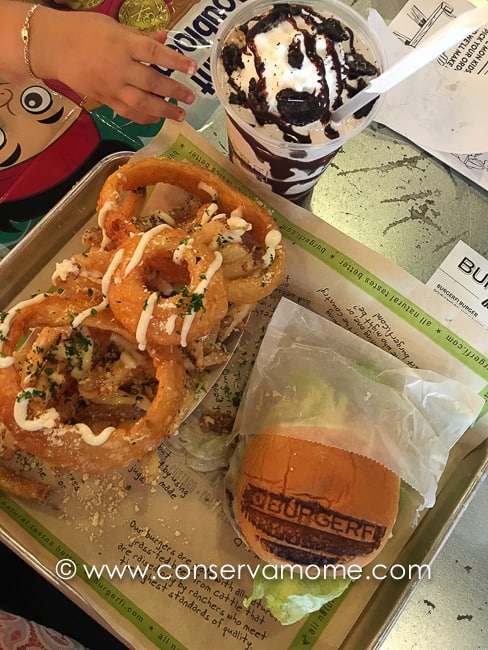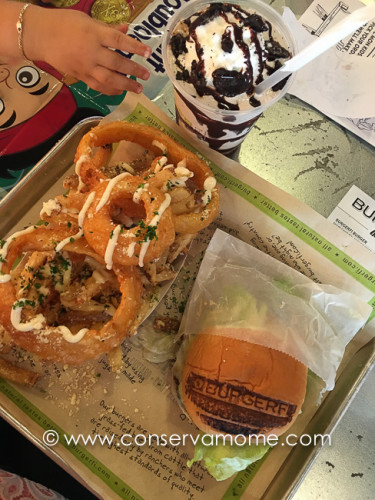 Here is the little guy enjoying some of those delicious fries I told you about!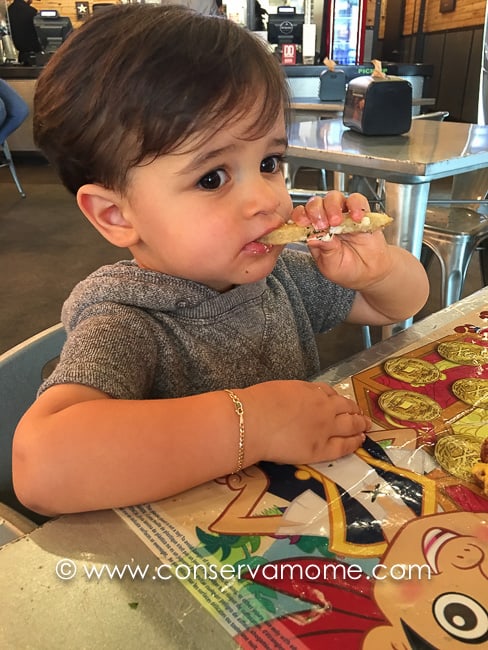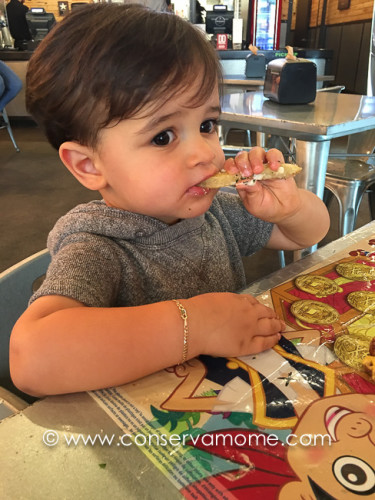 Another quick note: if you are anything like me, leaving a better world for our kids is important to you. That is one thing that BurgerFi is so conscious of! Anything that can be made of recycled materials, they do. Even the countertops and chairs are made of upcycled materials. They are built with environmentally sustainable best practices in mind, and includes earth-friendly elements. They also have stringent policies on recycling oil, cardboard, bottles, and cans. Definitely another plus in my book!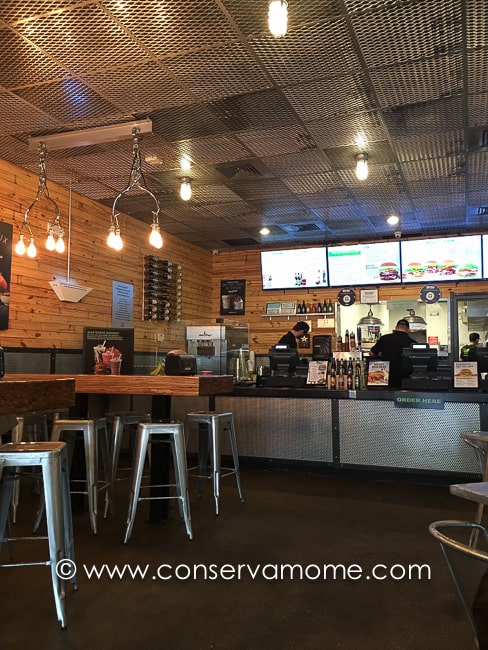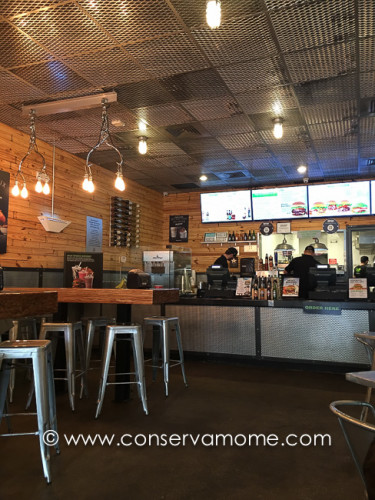 If you haven't been to BurgerFi, and you have a location near you, make sure you make an effort to get there. I promise you won't regret it!
Get social with BurgeFi