Check out 10 Reasons to visit HGTV's  Santa HQ for a Magical time! Disclosure: This is a sponsored post on behalf of HGTV. However, all opinions are 100% mine. 
Christmas is here which means it's time to visit with the Big guy himself Santa Claus. As parents we want this experience to be absolutely memorable for our kids. Thankfully there's one place that does just that, HGTV's Santa HQ. This interactive wonderland is the perfect place to bring Christmas magic to your little one. Read on to find out why this place is a must stop when visiting St.Nick this Christmas!
Light Show: Most Santa Visits you go to, Meeting Santa is the big event. Not at Santa HQ the fun begins when you show up right outside of the pavilion with a fun light show that plays some great Christmas music and is accompanied by dancing Christmas lights.
Online Reservations: No one has time to wait a million hours in line so thankfully at Santa HQ you can make online reservations and get there with kids and sanity in tact.
Naughty or Nice O'Meter: This is a fun part of the experience where your child will put their name and get on a Naughty or Nice Meter. I'm pretty sure everyone makes it on the nice list but there's a naughty list going just for inspirational good behavior.
Interactive Fun:  There's a lot of fun to be had while waiting to see the big guy.There are interactive shows,  computers and lots of fun apps to help make the experience memorable and bring the magic of the North Pole to life.
Elf-Ray Vision: This is one of the funnest parts of the Santa's HQ experience. You can either download the app or one of the "Elf's" carrying iPads around will let you see the inner workings of Santa's HQ. With special designated areas you can see elves working their magic right in front of your eyes.
Elf Yourself! Ready to see what you will look like as an elf? You can Elf Yourself at Santa HQ.This is a blast and the kids come out with some fun keepsake pictures that will be emailed or texted to you.
There's fun for Everyone! We all know how hard holidays can be for families of special needs kids. Thankfully, there are options and the Danbury Fair Mall Santa HQ has a special sensory friendly day at Santa's HQ. You can also bring your pet in on a certain day for pictures with Santa as well!
Location, Location! There are 15 locations across the country where you can experience Santas HQ. Just head here to find the closest to you.
Sponsored by HGTV: Making this an experience not just for little kids but the parents, grandparents and everyone else that comes for the special event. You get the awesomeness that HGTV features along with shows and crafts to inspire your holiday cheer. All while waiting to meet the big guy himself.
You get to Meet Santa! Obviously the grand event, it's as every bit magical as you can imagine. He even has goodies for your kids to take on the way out by way of coloring books and special elf trading cards. This year was a magical experience for the kids and as you can see we hit Santa Picture Jackpot which is huge when you have 6 kids looking at the camera.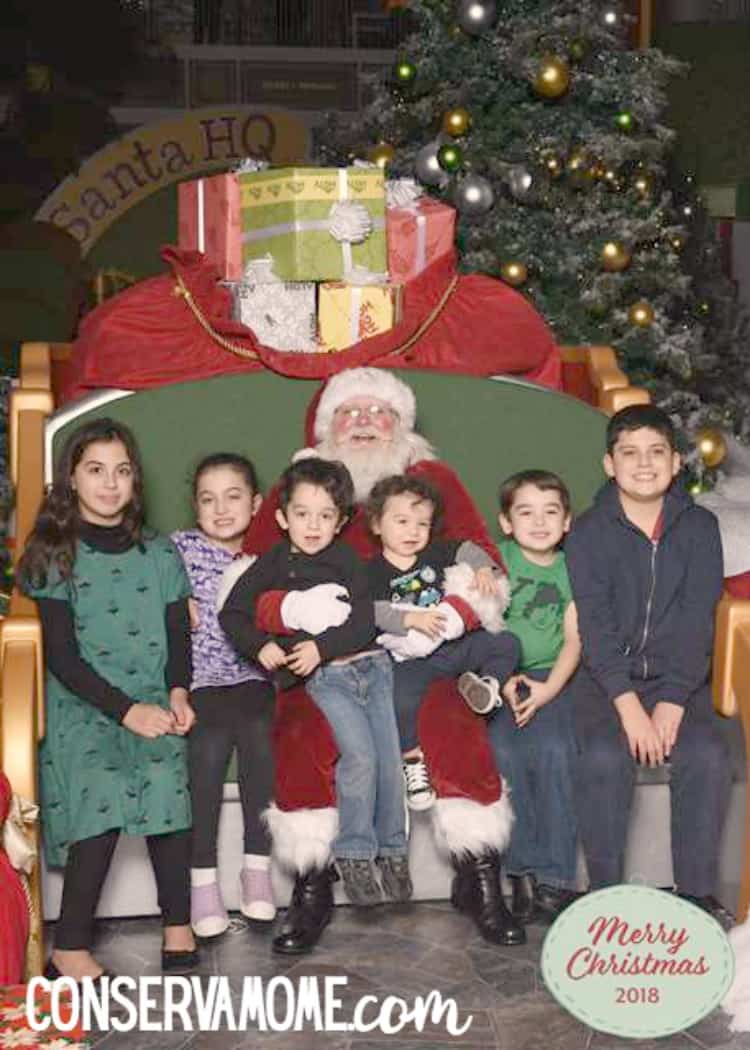 Check out some more HGTV's Santa HQ magic below. Most important don't forget to head to your closes Santa HQ and see the magic for yourself.