Looking for an amazing year-round getaway? Look no further than Camelback Mountain Resort. This beautiful Resort is nestled in the Pocono mountains. Find out 10 reasons to Visit Camelback Mountain Resort Lodge in the Poconos! Disclosure: We received a complimentary stay in exchange for our honest review of Camelback mountain resort. However, all opinions are 100% mine.

10 reasons to Visit Camelback Resort Lodge in the Poconos
I know for many traveling hasn't been an option this summer because of fear. I know our family was a bit nervous to get away as well. However, when I recently came across all the safety measures Camelback Mountain Resort Lodge in the Poconos was taking I was intrigued. I had already been mesmerized by the beauty of this location because hello Poconos! But how could they keep our family safe while still having a ton of fun? Well, Camelback Resort knows how to do just that. Read on to find out why this resort is a must on your bucket list.
Camelback Resort PA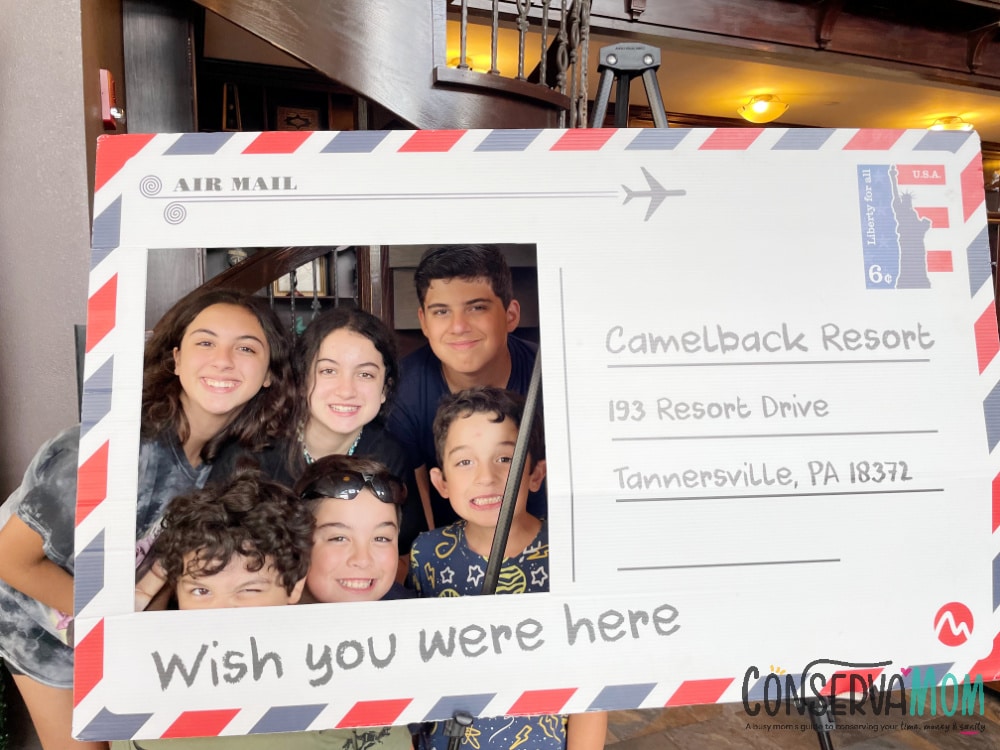 Where is Camelback Resort?
This gorgeous resort is nestled in the gorgeous Pocono Mountains. Camelback Resort is a year-round recreational destination. It truly is an ideal for adventure-packed family travel and experiences. Its wooded hills and valleys serve as the background for almost two million outdoor enthusiasts and nature-loving visitors annually.
What to do at Camelback resort?
The 560-acre resort includes Camelback Mountain for unsurpassed skiing, snowboarding, and snowtubing; Camelback Mountain Adventures for ziplining, a treetop obstacle course, and an alpine mountain coaster; Camelbeach Mountain Waterpark, Pennsylvania's biggest outdoor waterpark; and Camelback Lodge & Aquatopia Indoor Waterpark, voted USA Today's 2019 #1 Indoor Waterpark.
This resort is unlike anything you'll visit anywhere else. Because you can expect year-round fun anytime you visit will be a blast. Although there are more than 10 reasons to visit I've narrowed the top 10 reasons to Visit Camelback resort below. Find out why this has become one of our favorite vacation destinations.
1. The Location of Camelback Resort
I made this the number one reason because the sheer paradise of the location is unbelievable. Nestled in such beauty just taking in the scenery around you is beauty on its own. Seriously.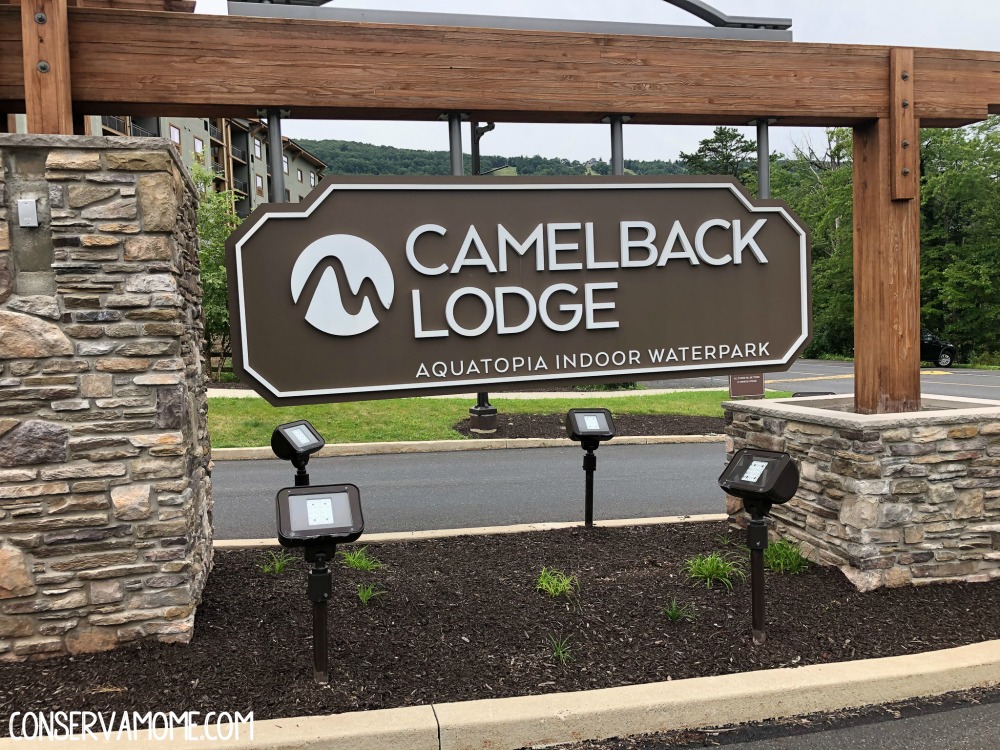 The location is so gorgeous you can literally stay in your room and stare out of your balcony and that alone is going to make a visit here worth it.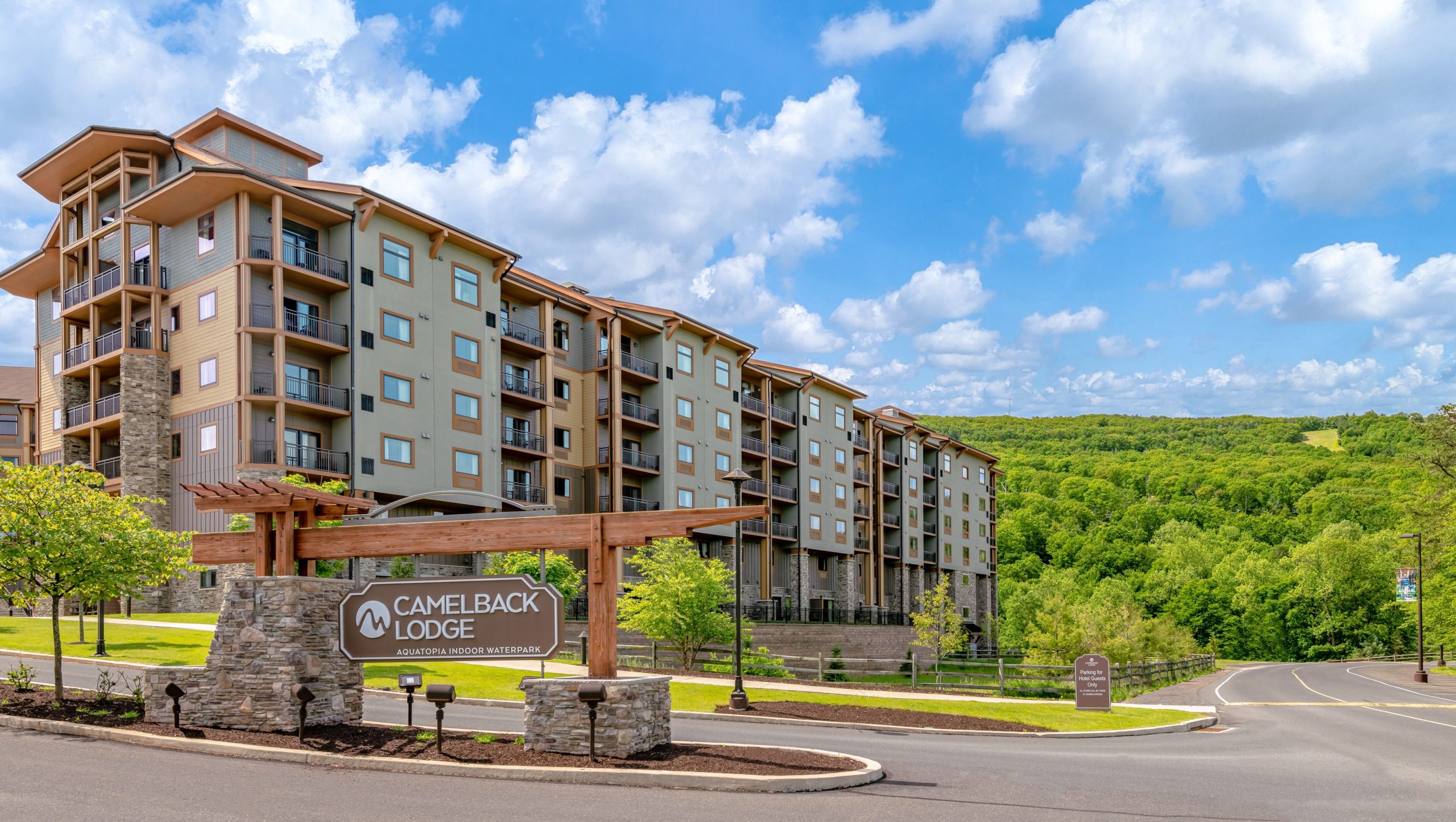 The hotel itself is gorgeous. There is no detail left unspared. It's modern, comfortable and you truly feel at home. Gorgeous couches and comfortable spaces that are sanitized consciously give way to an amazing and relaxing stay.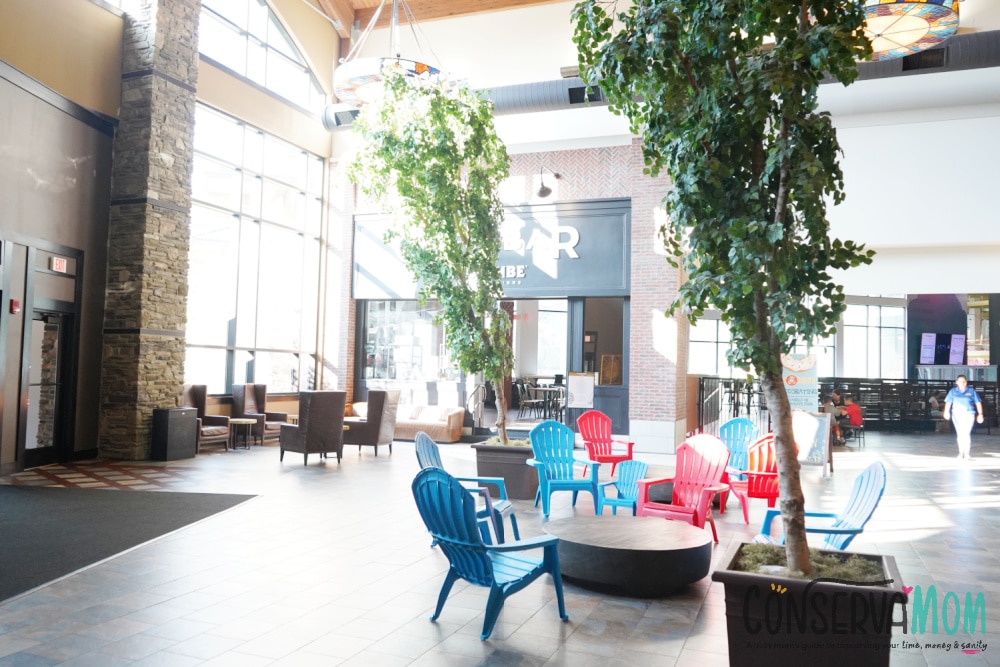 Best of all Camelback Resort is ideally located 90 minutes from New York City and two hours from Philadelphia. Making this a central vacation spot for the North East.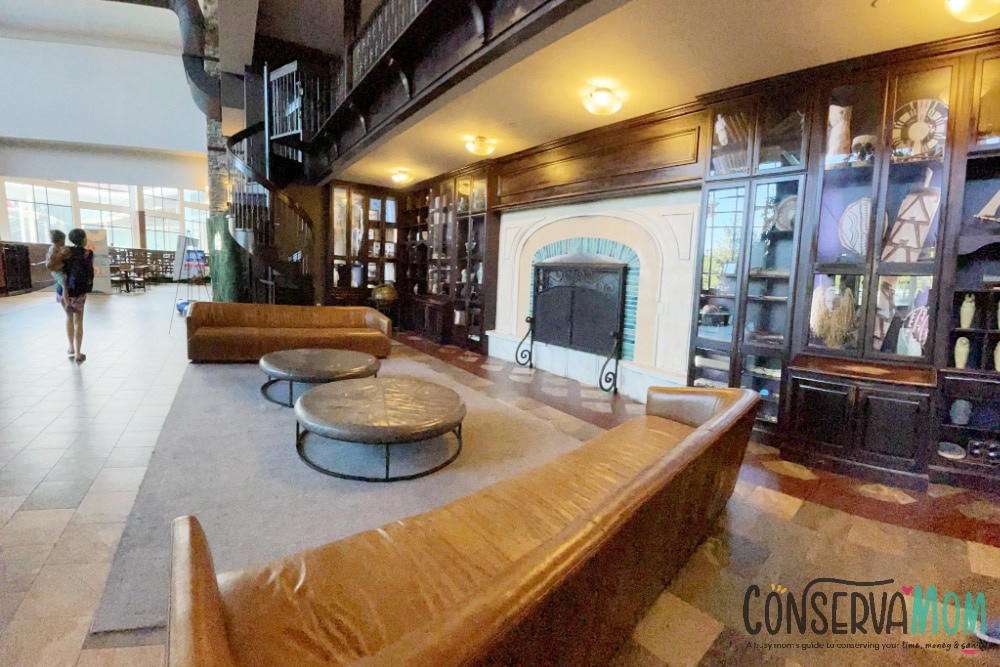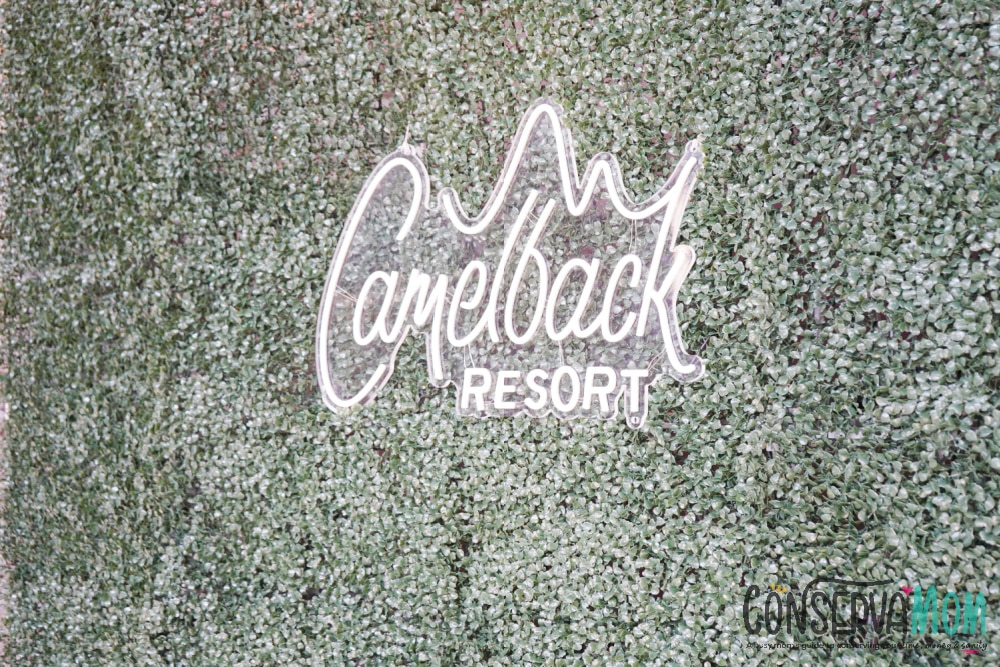 2. The Rooms at Camelback Lodge
These rooms are one of a kind. We stayed in the 2 Bedroom loft which includes a second-story and loft bedroom. For starters the view like I said above is amazing.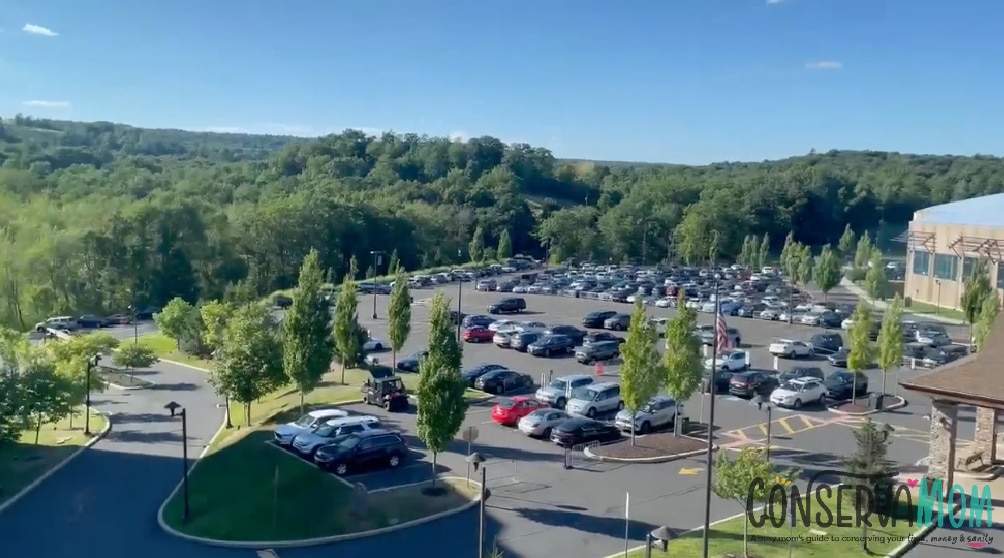 I could stare out the window all day.
The room is modern, beautiful and so comfortable! The Two Bedroom Loft is a multi-level loft suite with one private bedroom, two bathrooms and sleeps up to 6 guests.
The master loft bedroom features a king bed and private bathroom.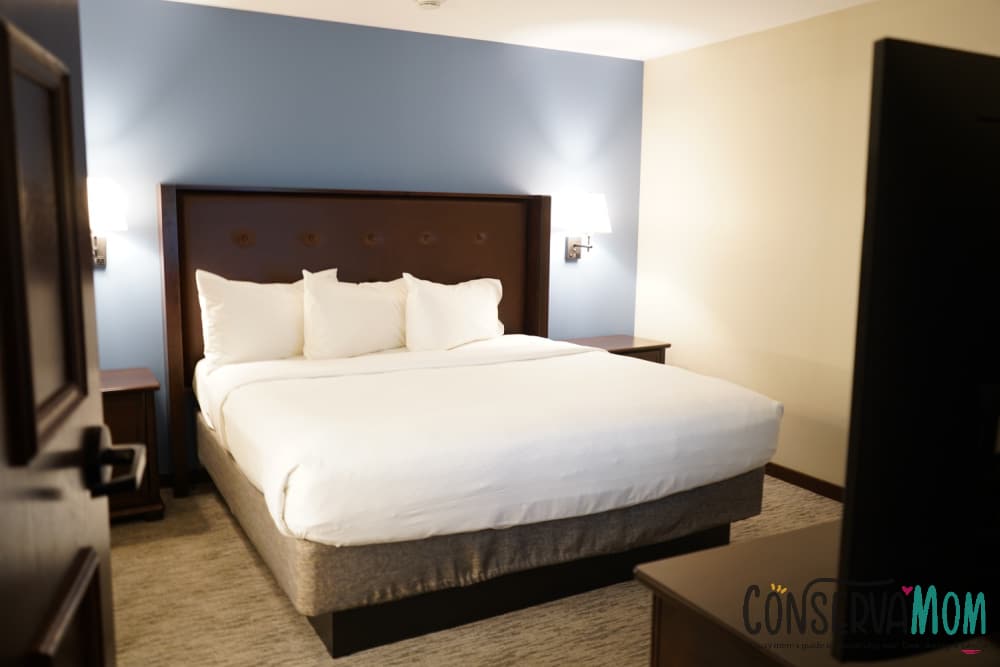 The semi-private loft space features an additional queen bed.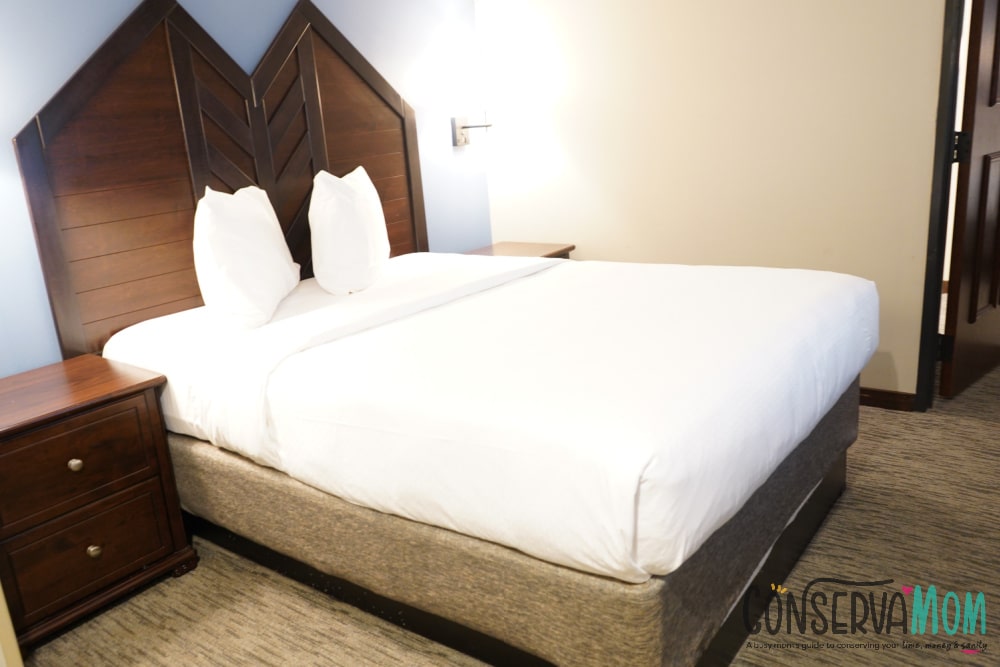 The room is spacious, comfortable and perfect for any family!
Vacation with everything you need at hand!
The first floor includes a queen sleeper and kitchenette with stovetop, microwave, mini refrigerator and dishwasher is in the main living area.
Relax by the suite's cozy fireplace and enjoy resort or mountain views.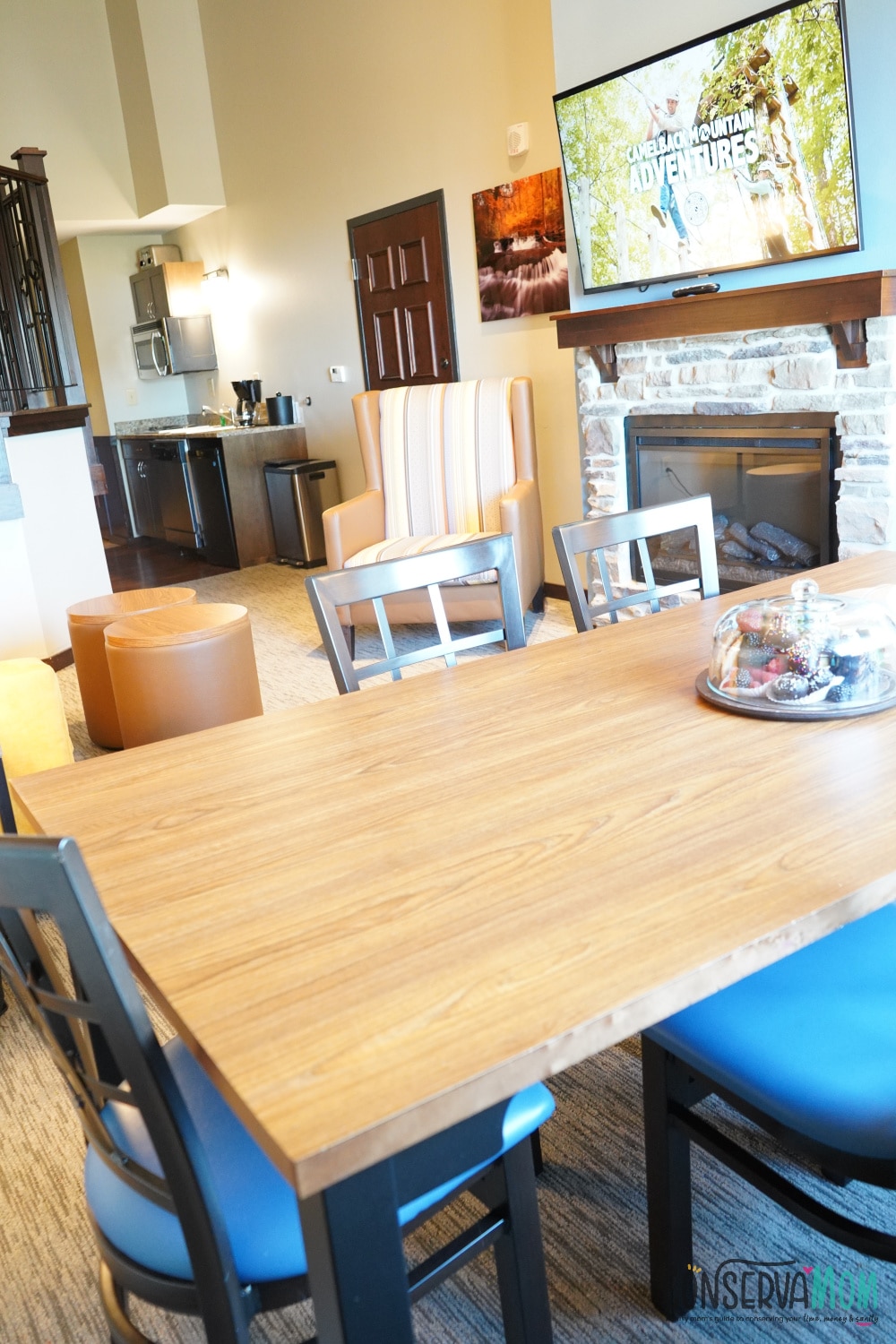 This room really is complete. Most important there is a room for every size family and party at Camelback resort.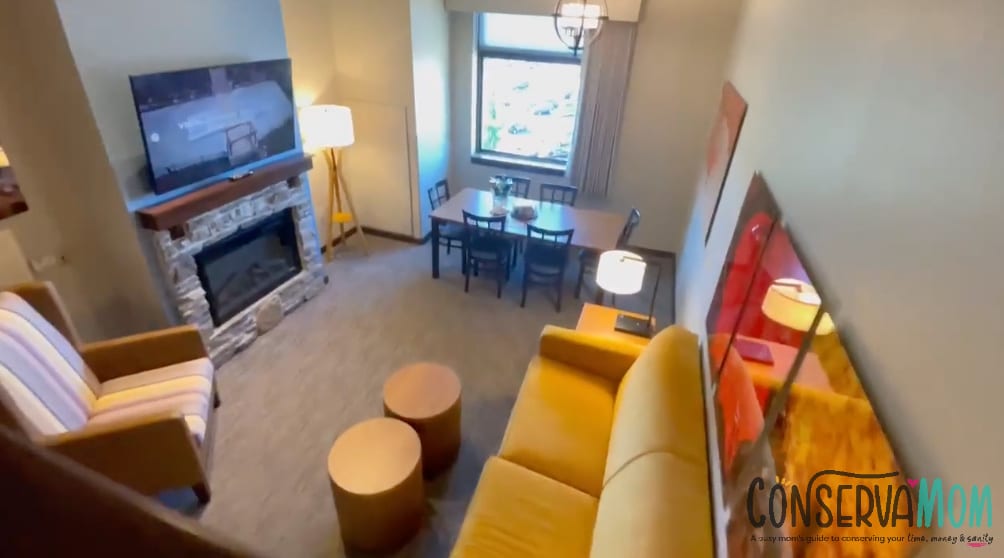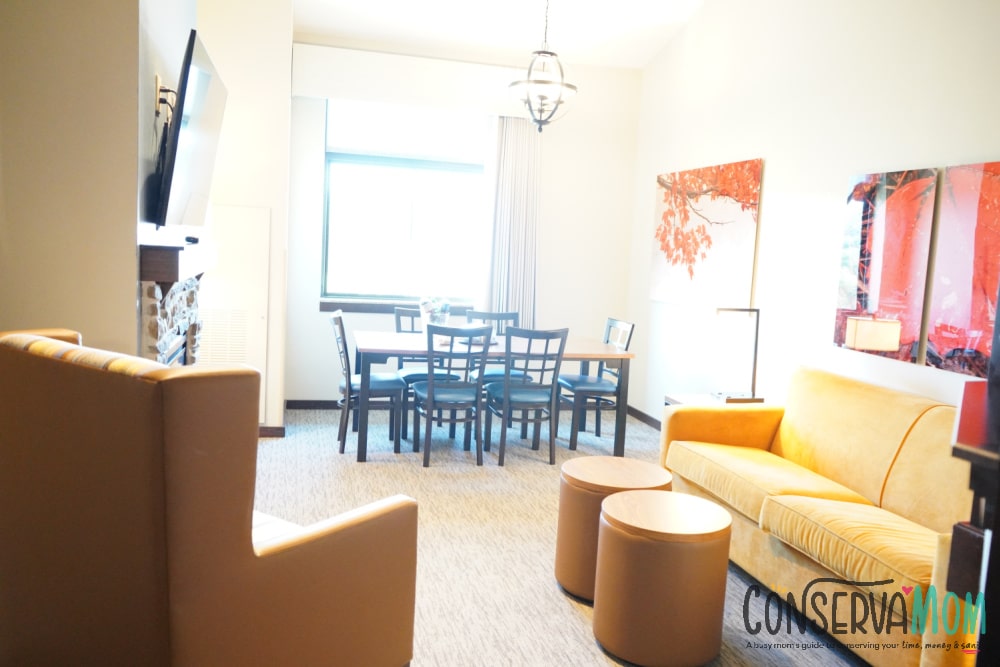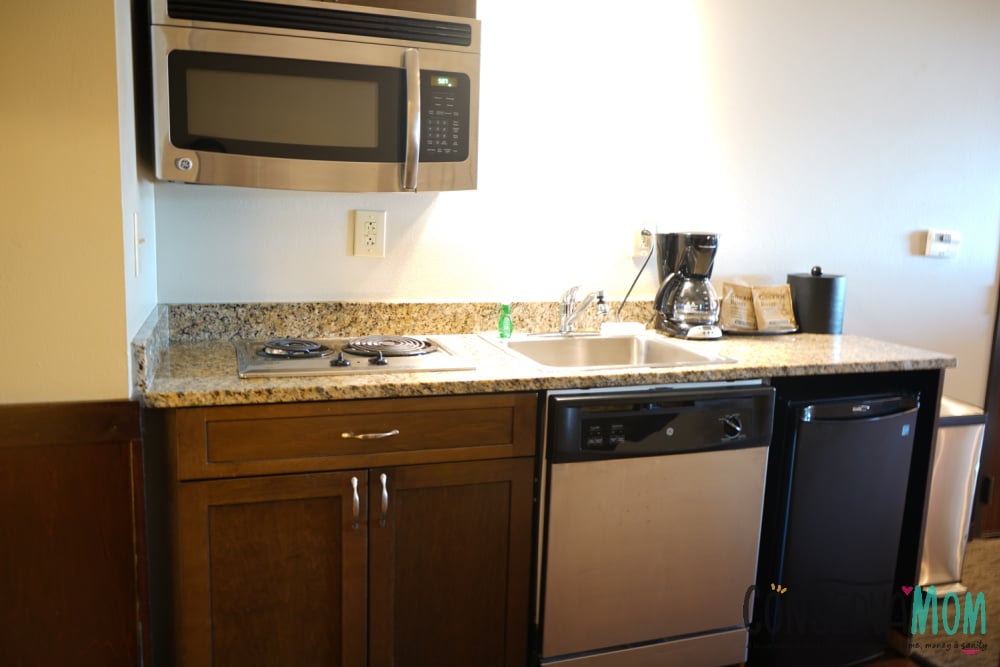 One thing my husband hates about going on vacation is having to stay in horrible hotel beds with even worse pillows. The one thing that stood out about the rooms was how incredibly comfortable the beds and pillows are. So much so that my husband and I both agreed these were probably THE BEST hotel beds we've ever slept in. Something we don't say lightly.
There are so many bedroom options at Camelback that you can include the whole family on any vacation you go on. Recently they even introduced Camelpup adventures which means you can bring your fur baby along on all your adventures!
Check out a Video Tour of the 2 Bedroom loft below:

The rooms are incredibly modern. There's no detail that's spared from electric fireplaces to refrigerators and kitchenettes in some rooms allowing you to bring food to cook. Each room comes with a coffee maker as well. Bring food with you to grab a quick meal. You have a mini fridge as well as a small kitchen to put together a quick meal.
The bathrooms blew me away. They're gorgeous, modern, and sleek. These rooms are simply stunning. If you came to this resort just for the rooms you would be blown away. Wonderfully enough though, this is just the beginning of the magnificence this resort will bring to your vacation.
3 . Aquatopia Indoor Waterpark
You receive tickets to Aquatopia Indoor Waterpark when you stay at the resort and let me tell you this place is fun! They open up at 10am and close at 9 pm. This is perfect because you can get a full day in of fun around the resort and then come and have fun at the water park. They had so much to do at this water park no matter what we did during the day, the kids had to come back for fun at night.

This waterpark has North America's largest Texlon transparent roof which lets in the outdoor light without the outdoor weather. Best of all it has 13 exciting and innovative water slides – tube slides, body slides, mat, bowl and aqua launch slides, a tide pool and more!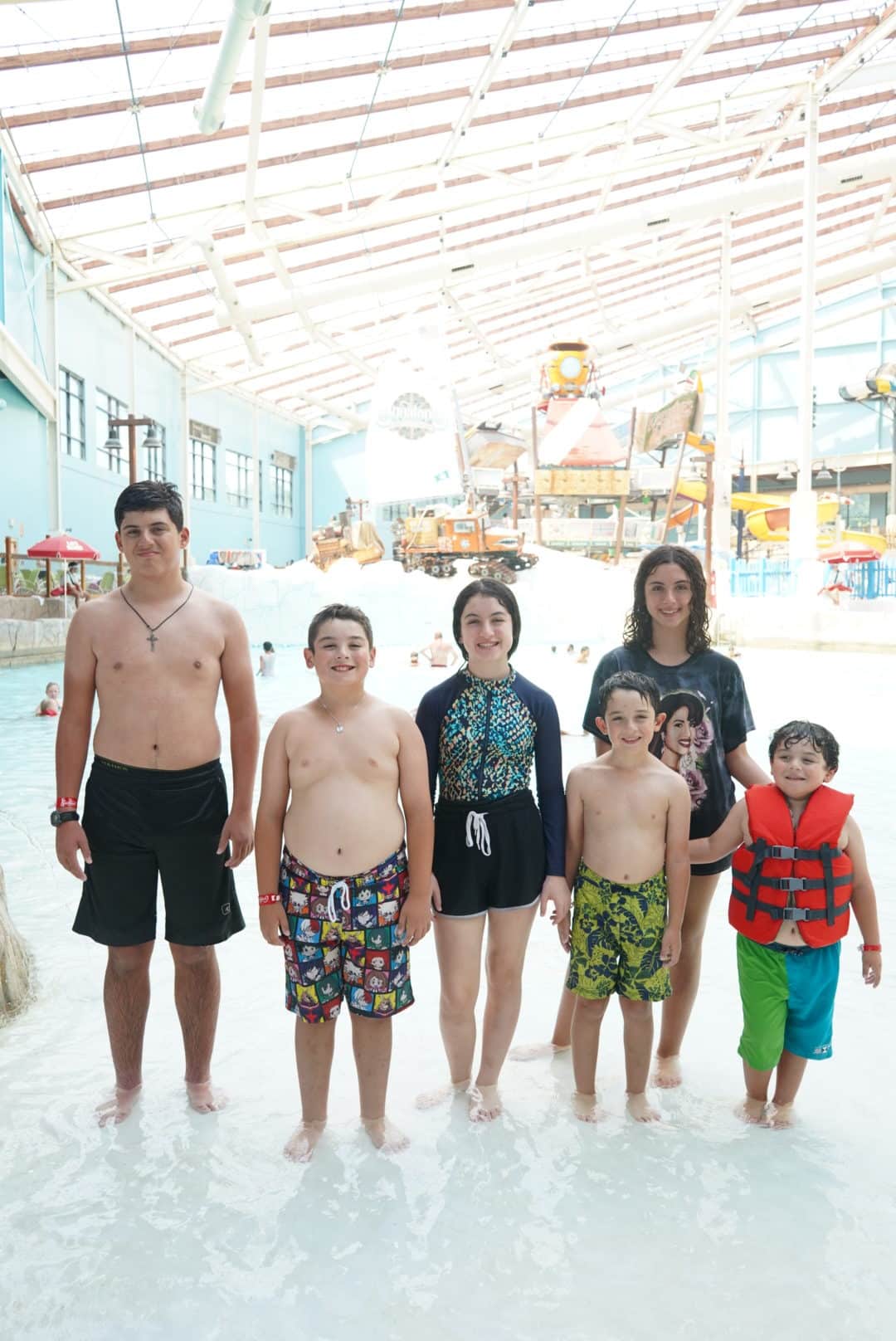 Indoor cabana rentals offer deluxe features and a place to relax or take a nap between or after Aquatopia adventures.

This water park has fun for all ages from little ones like my 5 year old

To fun for the older kids (and even adults).

Including the Venus Slydetrap water slide which was one of the coolest slides, I've EVER Been on!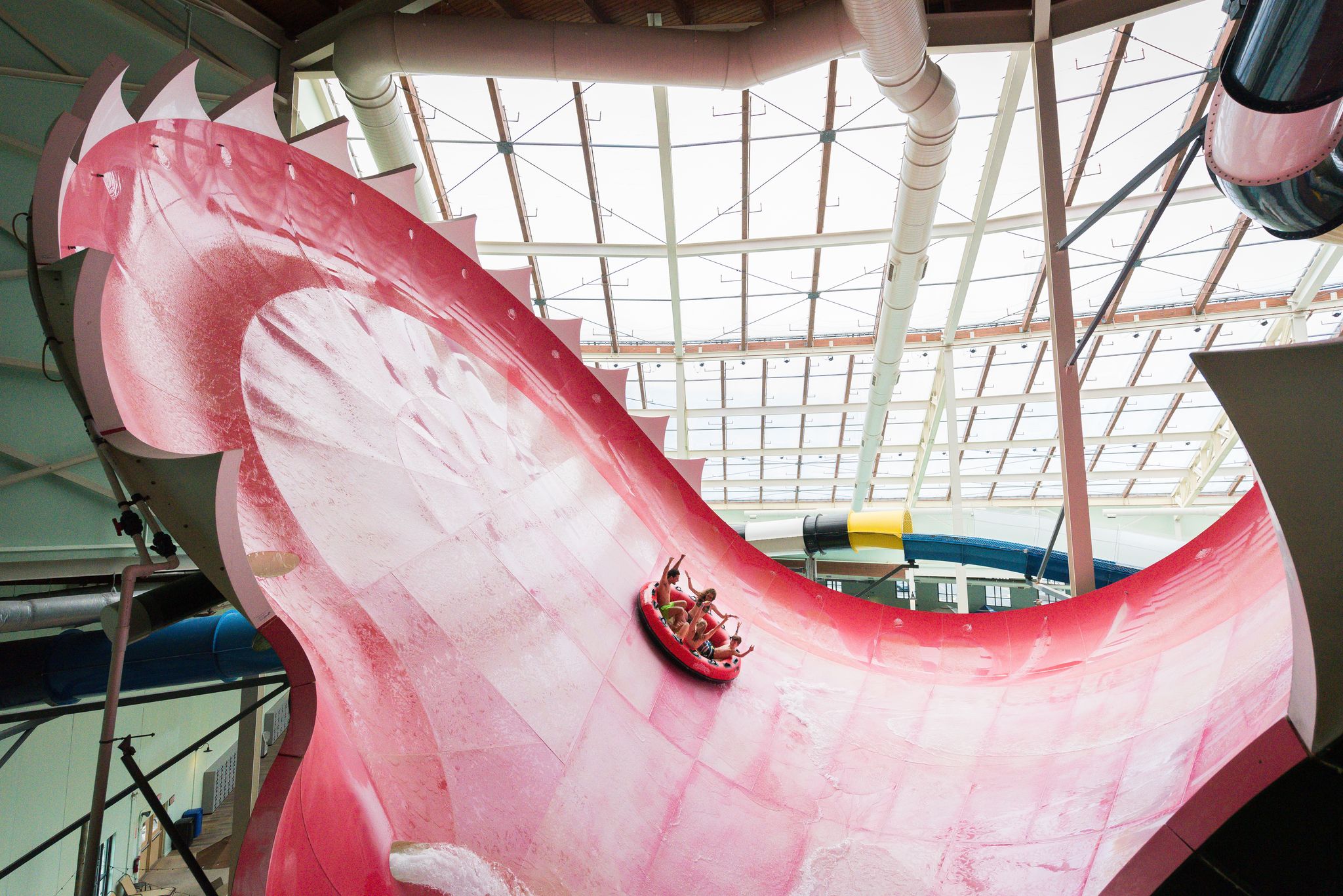 Check out more tips for visiting Aquatopia Indoor Water park
4. Camelback Beach
The fun isn't just indoors. If you happen to visit during the summer then watch out for some amazing fun at Camelback beach!
The resort's Camelbeach Waterpark is Pennsylvania's biggest outdoor waterpark featuring 37 rides, slides, and attractions – the most in the tri-state area.

The waterpark is highlighted by a wave pool, FlowRider, Vortex, Spin Cycle and dozens of family body and tube slides.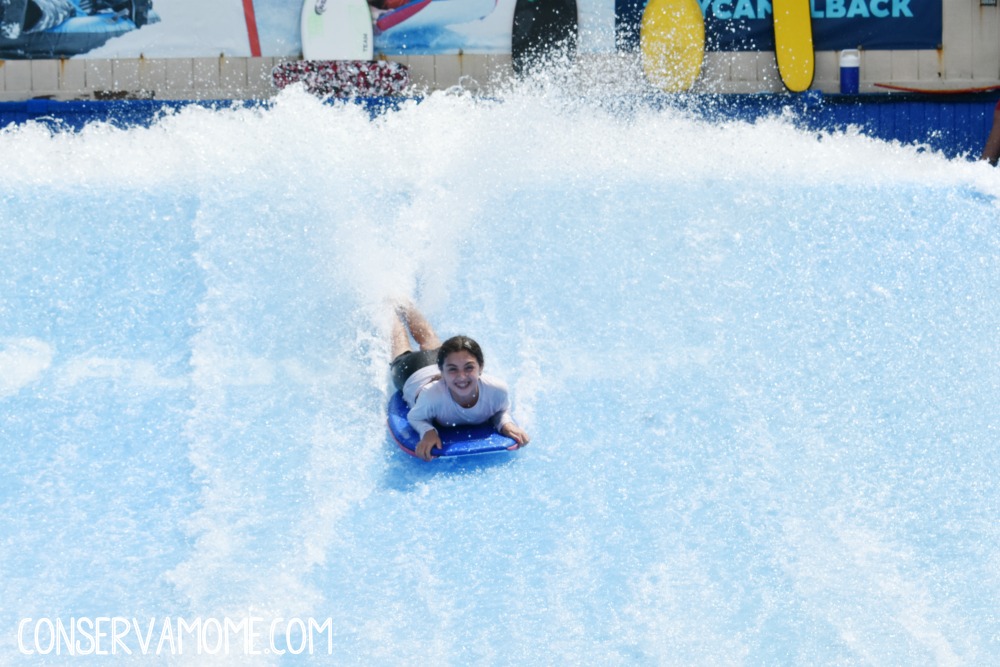 Once again fun will be had by all ages because there is so much to do at this waterpark.

Nestled right in the mountains. Guys, this waterpark is gorgeous!!!!

And includes some pretty insane and amazing slides your kids (and you will love)
This waterpark was voted by my kid's hands down as the best waterpark they've been to and God knows we've been to some good ones. They said this one is definitely a must-visit for every family!

5. The Mountain Coaster
Camelback adventures boast some pretty amazing dry fun as well including their mountain coaster. I had never been on a ride like this in all of my life and my goodness it was glorious. It's fast, fun and unlike anything, you will ever experience! Check it out below!

The mountain coaster literally takes you up the mountain then you zoom down. Thankfully you can go as fast or as slow as you feel comfortable, thanks to the hand breaks at your side. Children 9 and under need to ride with an adult and the weight limit in each car is 300 pounds.

My 5-year-old loved it so much he wanted to go on it again and again.

6. Mountain Adventures
I know I mentioned the Mountain coaster above which is part of some of the mountain adventures you can have there. There is so much to do during the summer months like Zip flying, and sun bowl tubing. You can also find twin 4,000-foot zip-flyers. There are two 1,000-foot zip lines, the largest treetop adventure course in Pennsylvania with over 100 aerial obstacles over five courses (closed in the winter). During October you can even go on some Night time adventures including Night time Zip Flying, Mountain Coaster, and Sunbowl tubing. Can you imagine doing these adventures at night? How cool is that???
There are so many adventures to be had during the summer months and even during winter there are also some pretty cool adventures making this the perfect place for year-round fun!
7. The fun resort extras
There is so much to do at the resort. There are all sorts of daily fun activities going on for families.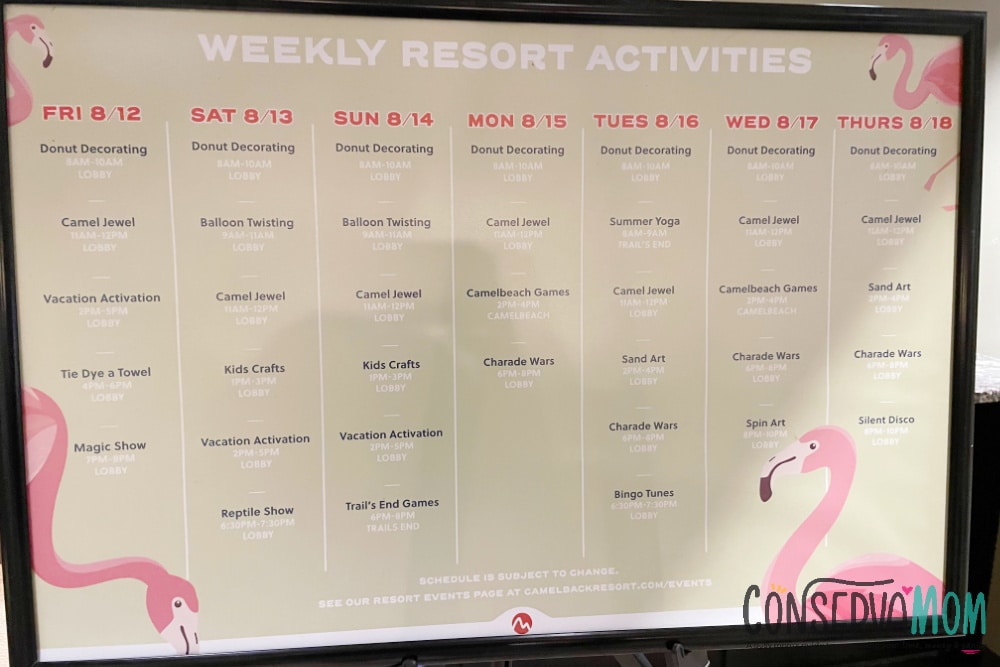 including donut-making in the morning for kids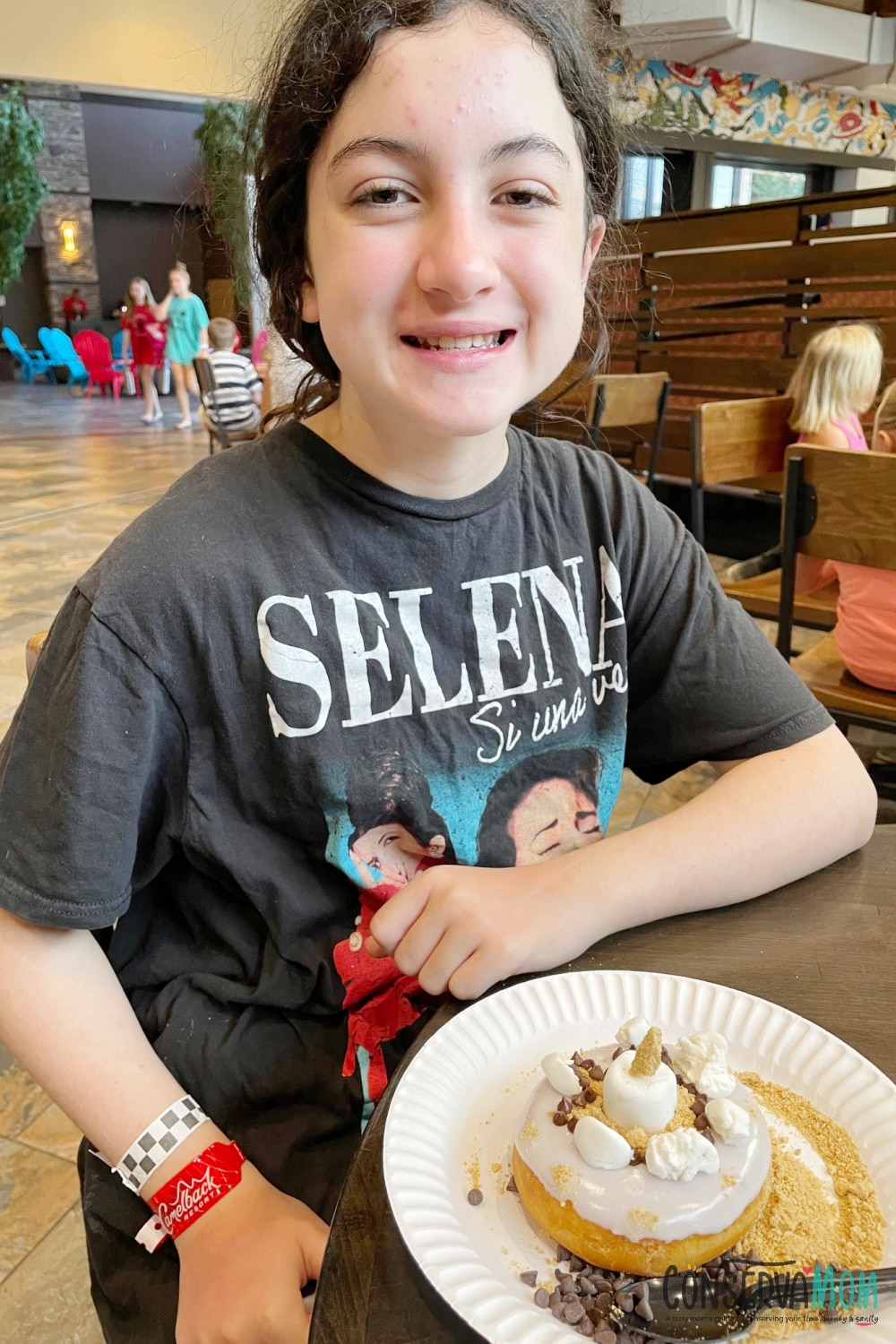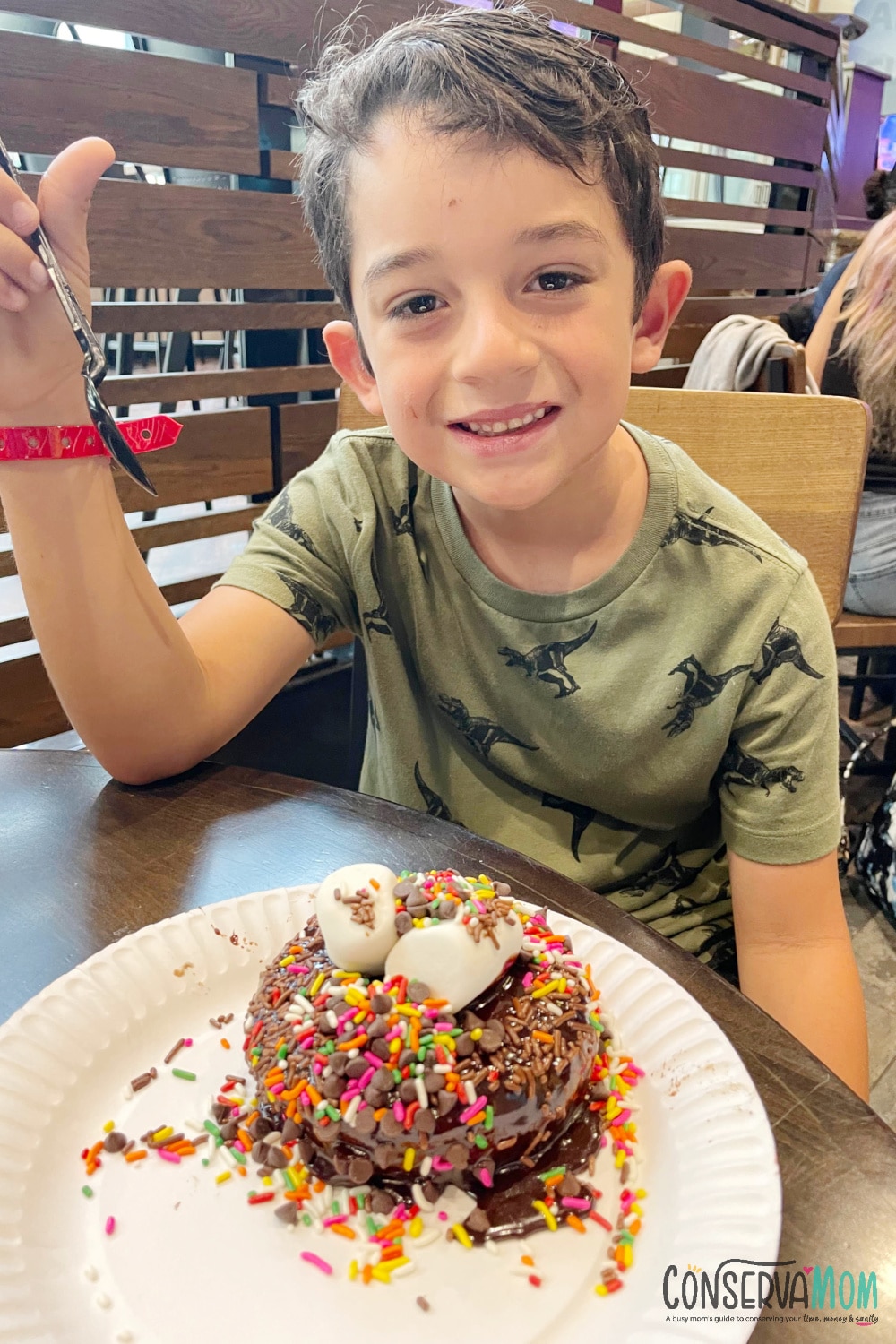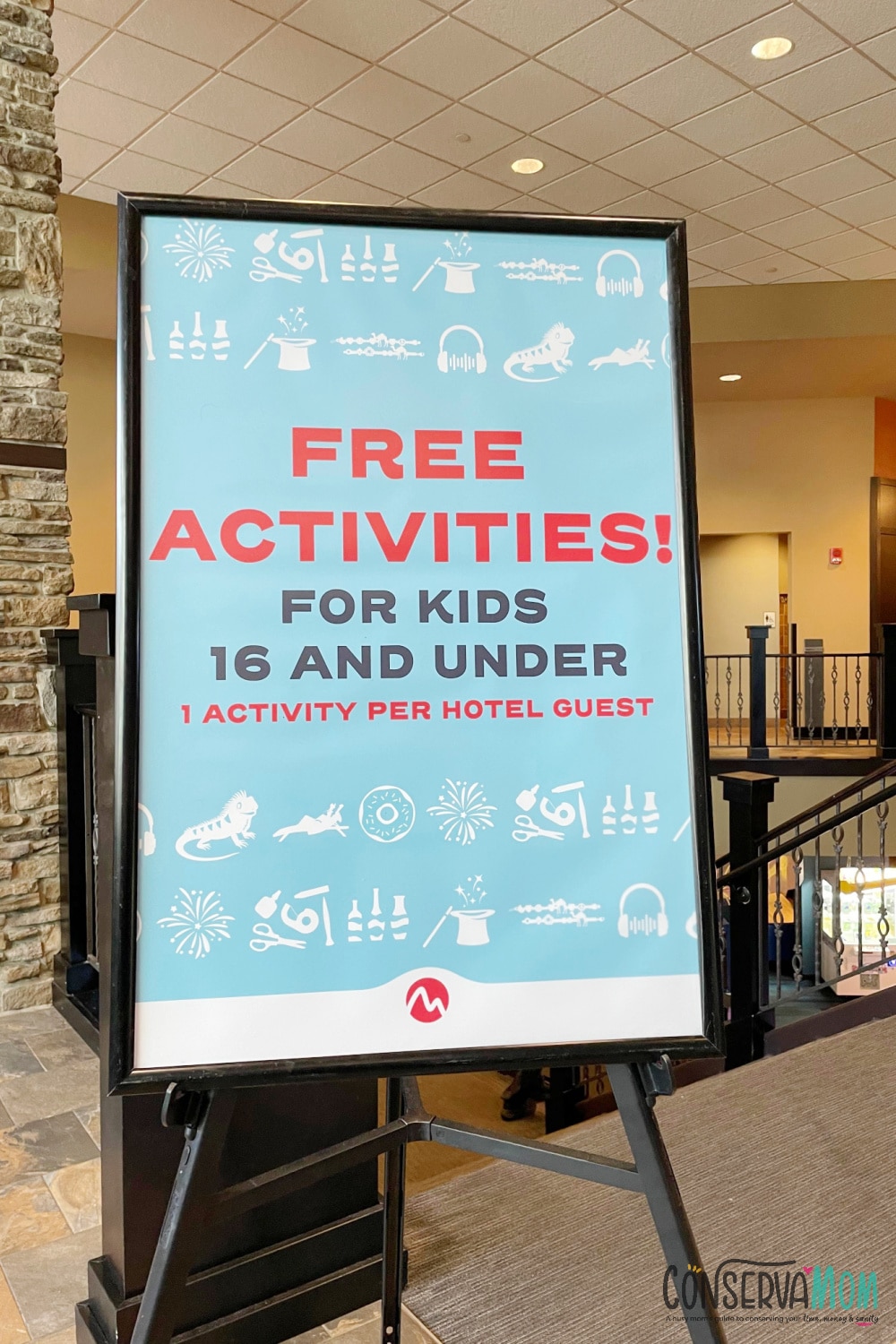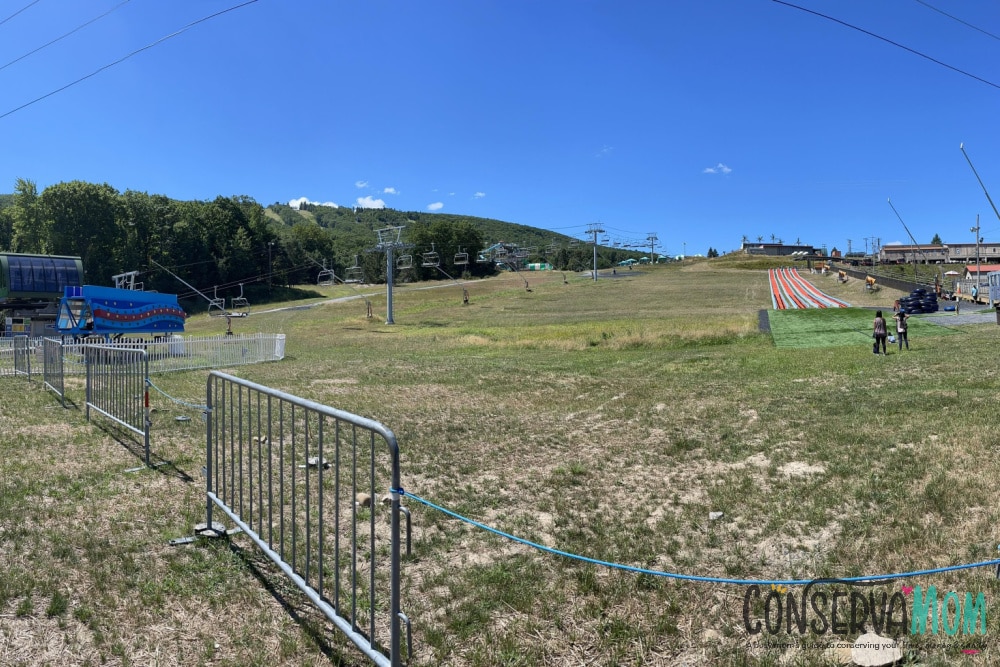 or silent disco time.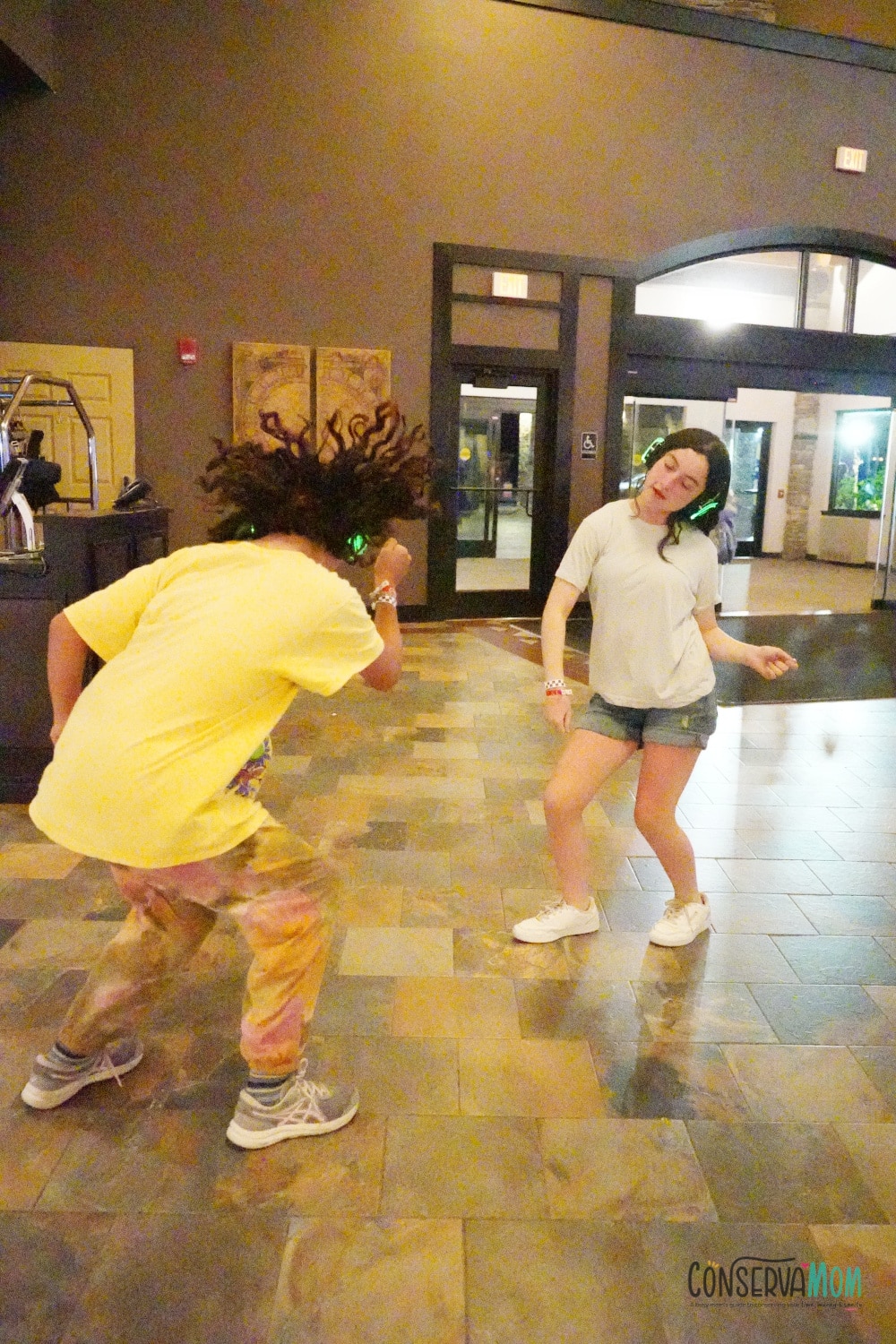 8. The Arcades
Arcadia Adventures offers dry activities including 7D Dark Ride offering a crisp, multi-sensory immersive experience; two climbing adventures, The K2 Climb, and The Ascent; a Lasertron Laser Tag arena; a 4D Chaos Jump VR experience for a sci-fi adventure; a bumper car course; Game of Stones Escape Room; The Stone Rollers mini bowling alley; Polka Dot Pots for pottery making; and Arcadia Mega Arcade packed with over 100 state-of-the-art video arcade games.
The fun at Camelback continues even when you're not on the go with some amazing fun!
9. The Food at Camelback Resort
Although many of the rooms have kitchens you can leave the cooking at home thanks to the fantastic restaurants at Camelback Resort.
Hemispheres, a family friendly all-you-can-eat buffet restaurant open for breakfast and lunch. To say it's amazing is an understatement! They have such a fantastic variety of delicious food you will love this place! Come with an appetite though because you'll HAVE TO try everything!

There are other great restaurants for a quick meal like
Trails End Pub & Grille, a ski-in/ski-out American brew pub open daily; Graffiti Pizza, a New York graffiti-themed pizza spot that includes pizzas, subs and more.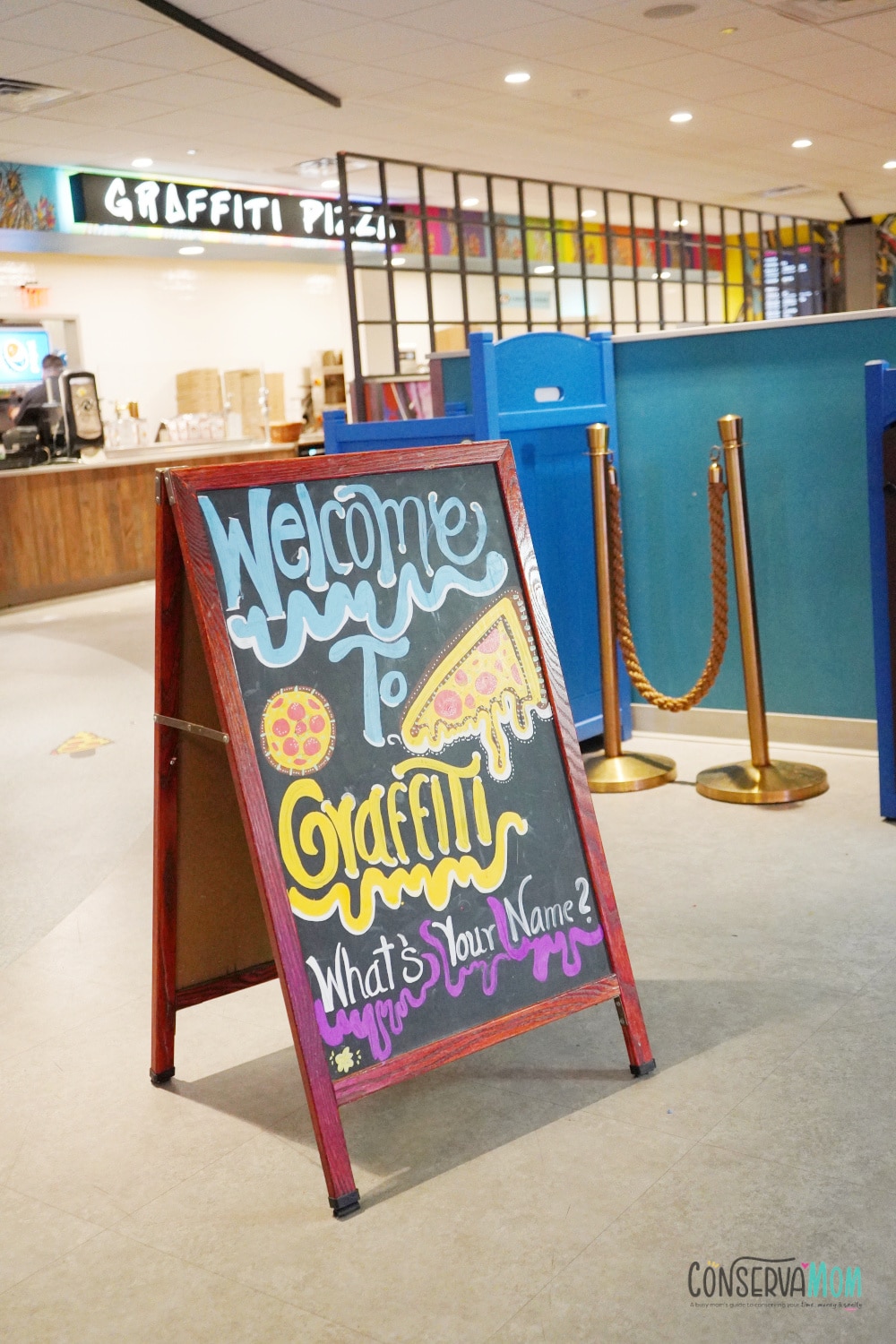 Our favorite was the build-your-own pizza which is perfect for all the picky eaters in your home!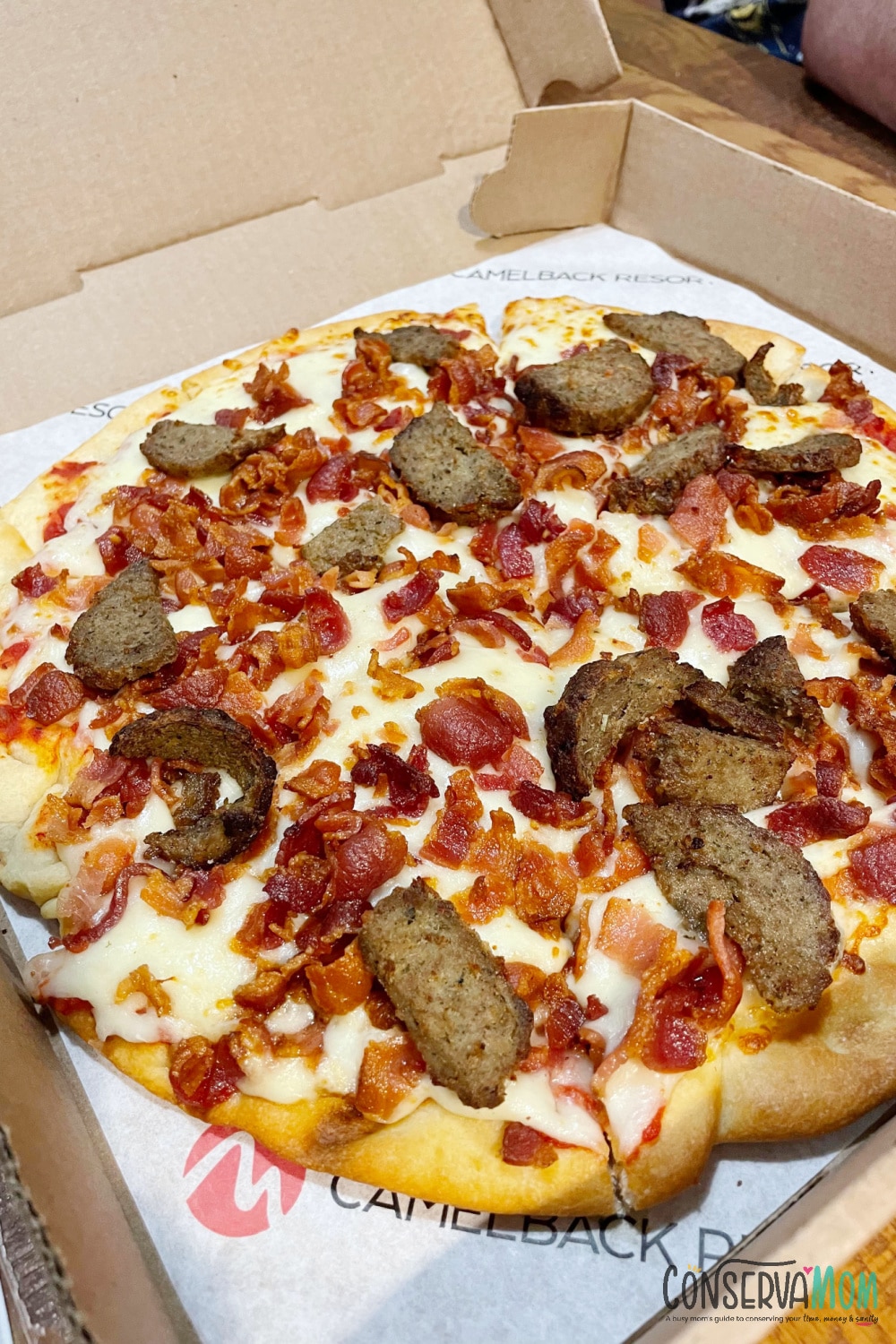 You can also find various quick bites at Camelbeach waterpark as well as at Aquatopia as well as some other great restaurants as well. There really are so many options to eat at Camelback you won't have to leave the hotel the whole time you're there!
10. Year around fun!
The beauty of this resort is that you don't just have summer fun! There are sooooooo many fun adventures to be had year round! Thanks to the amazing Aquatopia you can break out the bathing suit after spending a day on the slopes. Because guess what, they've got some amazing winter activities you can enjoy. Fun fact: Its snowmaking capacity could cover MetLife Stadium or the George Washington Bridge with one foot of snow in just 24 hours, and the annual snowfall is 54.6 inches. Snowmaking takes place on 160 acres with 1,200 plus snowmaking guns at work.
Camelback Mountain invites outdoors adventurers to enjoy 39 trails, 16 lifts, and the country's largest snow tubing park complete with an out-of-this-world galactic after-dark light experience with music and disco lighting, 42 lightning-fast lanes, and two magic carpet lifts.
When you're done going down the slopes head to Aquatopia for some water fun!
Some things to expect during your stay at Camelback Resort
The hotel is very comfortable. You really don't need to leave the grounds during your stay. However, if you do there are actually some great things in the area to check out including a fantastic Outlet mall and a cute little town with shops including a supermarket no more than 10 minutes away.
The accommodation at Camelback, however, allows for you to not leave because of all of the amenities. Some rooms even have a kitchen for your meals with refrigerators. You can find a nice large parking area with plenty of parking for your car and they have a tram that can take you to the Mountain adventure and Camelbeach. You can literally just show up with your suitcase and have a blast.
There is a gift shop downstairs in the lobby that also sells various things in case you forgot something like toothpaste, or want water and snacks.
Really this place has it all nestled in the middle of a scenic paradise.
So as you can see this Resort is definitely a must on every family's list. My kids enjoyed this resort so much they are begging to come back and believe me we will!
Ready to start your Camelback adventure? Head to their page and book your adventure today! You will thank me!
This is also the perfect gift experience you can give.
Check out some more fun on our Camelback Resort Adventure!
View this post on Instagram