Are you looking to of visit an Indoor Water park in the North East? Then check out some tips for visiting Aquatopia Indoor Water park at Camelback Resort. Disclosure: We received a complimentary stay in exchange for our honest review of Camelback mountain resort. However, all opinions are 100% mine.

*This post contains affiliate links. That means that if you make a purchase after clicking on a link I may earn a small commission at no extra cost to you
Tips for Visiting Aquatopia Indoor Water Park at Camelback Resort
Our Family is a huge fan of Camelback Resort. No, like really big. It's one of our favorite destinations to visit. Not just because of all the great reasons to visit Camelback Resort you can find here,but one of the biggest ones is Aquatopia Indoor Water park. This place is as unique as it is fun, but most important a fantastic location for a family who just wants to enjoy a nice vacation filled with water and fun!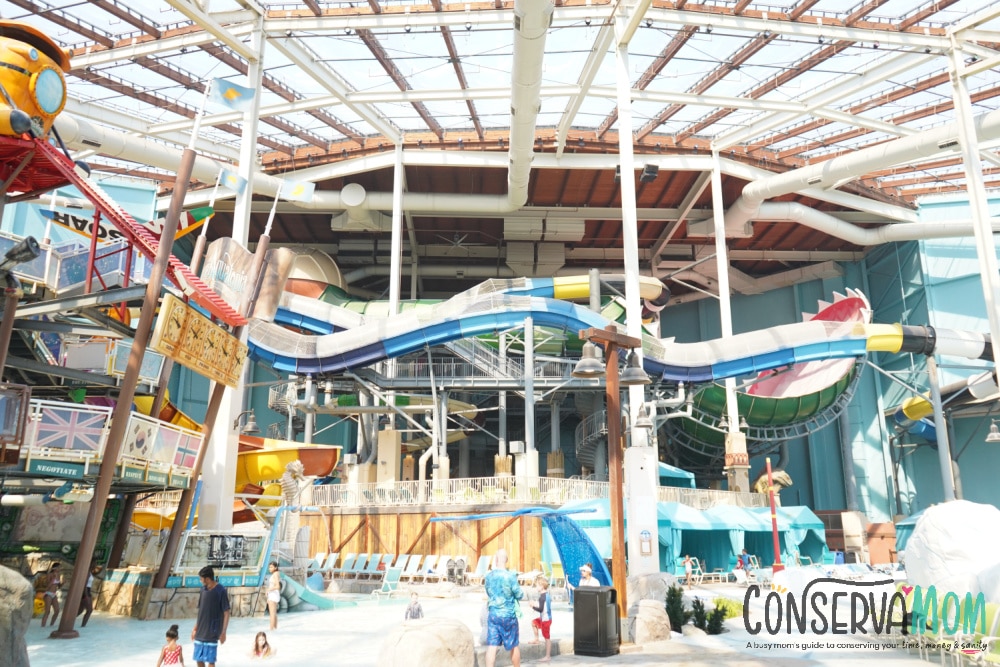 Where is Aquatopia Indoor Water Park?
Aquatopia is located inside Camelback Resort in Tannersville Pennsylvania. It is easily accessible and located under two hours from Philadelphia and NYC! It's centrally located in the Poconos mountains.
What makes Aquatopia Indoor Water park unique?
This fantastic indoor water park is 125,000 square feet and features a transparent roof, which allows sunlight in and the opportunity to tan year-round. 13 slides, a wave pool, an adventure river, multi­level play and spray structures, a toddler area, a simulated surfing experience, and food and beverage services, including a swim-­up bar round out the action and adventures. Best of all – the temperature is always 84°. At night Aquatopia is illuminated but gently, to make the waterpark feel like evening. It's purely magical and unlike any other in the U.S.A.! There is something to do for everyone in your family and I guarantee everyone will have a blast!
What kind of slides and attractions will you find at Aquatopia Indoor Water park?
There are so many different things to do at Aquatopia. My kids are ages 5-15 which makes any trip difficult because you can never please everyone. That is until you visit Aquatopia. They have a fun area for little ones to play at and even some fun water towers and smaller slides for those that don't really like too much excitement.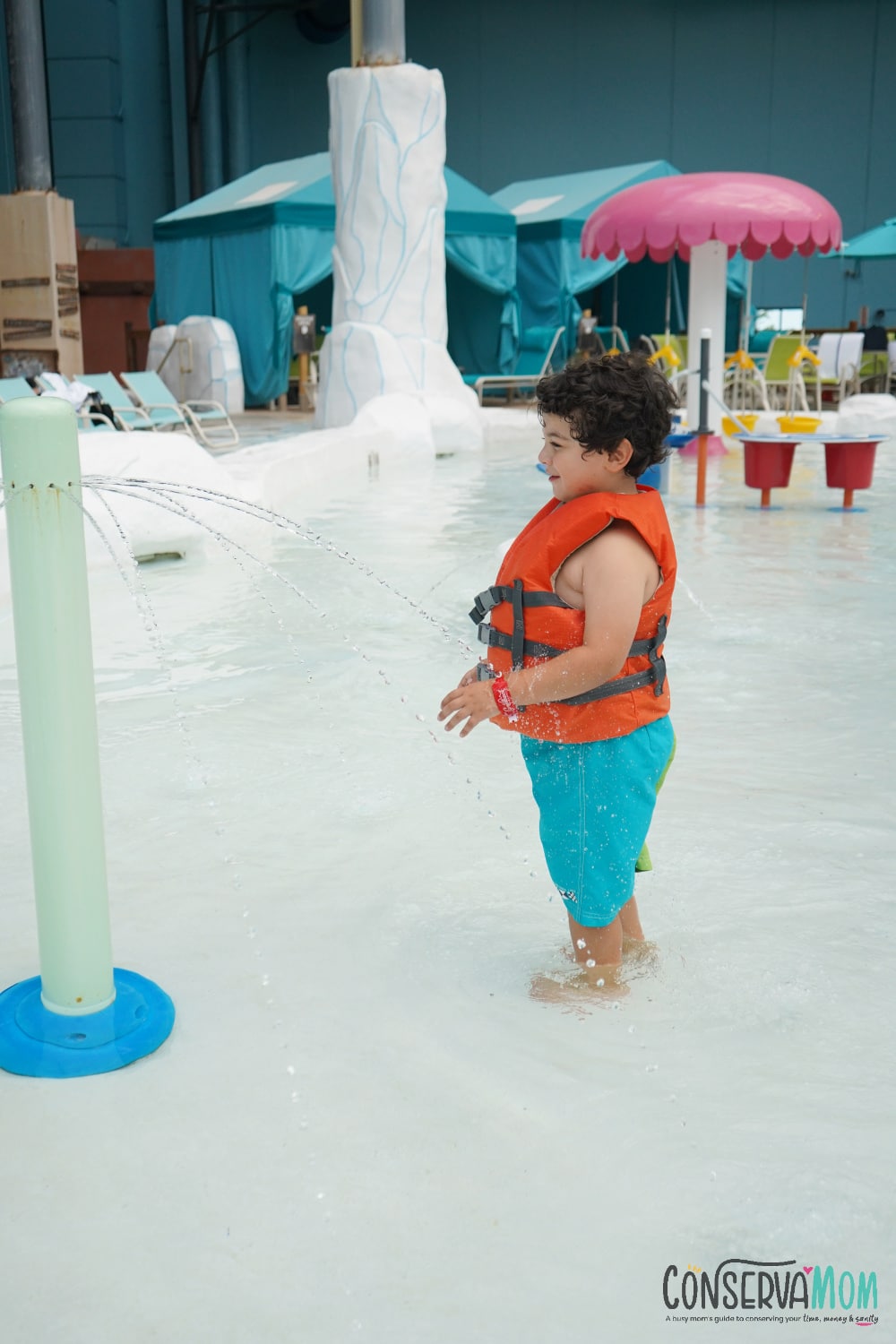 Venus SlydeTrap Waterslide is the only combination slide of its kind in the World. It starts off as a regular water slide for 3-6 riders then it takes you in a giant venus fly trap plant that swishes you back and forth for an exciting adventure. My kids couldn't get enough of this.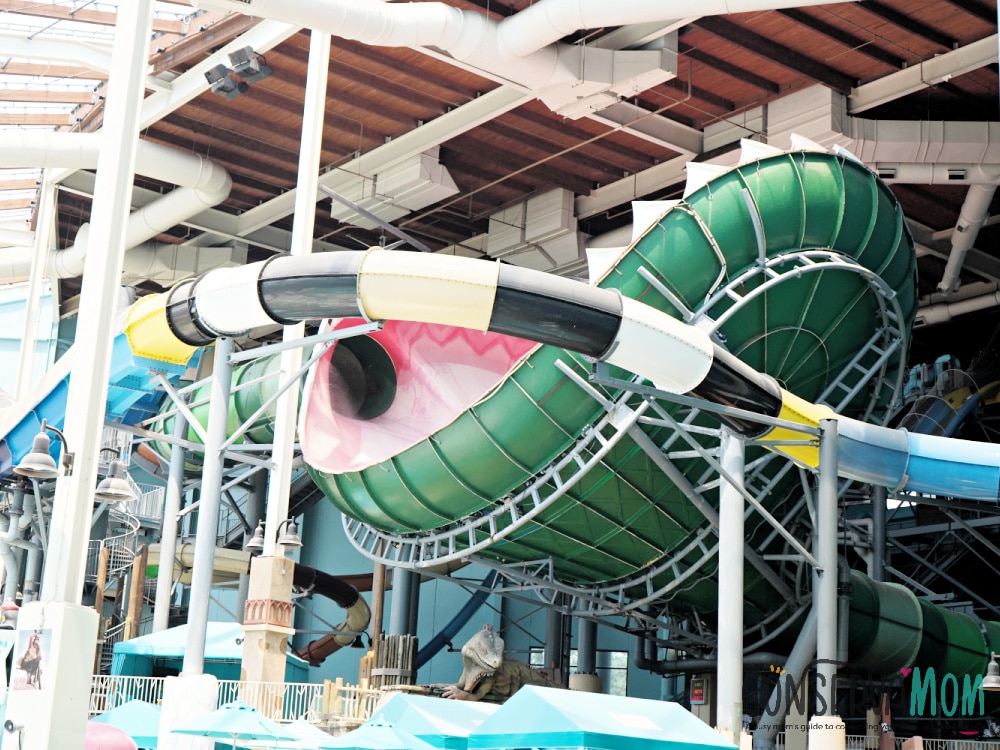 The Storm Chaser Water Coaster is the longest indoor water coaster slide in the World! The Adventure River runs underground and is a highly themed attraction everyone will enjoy.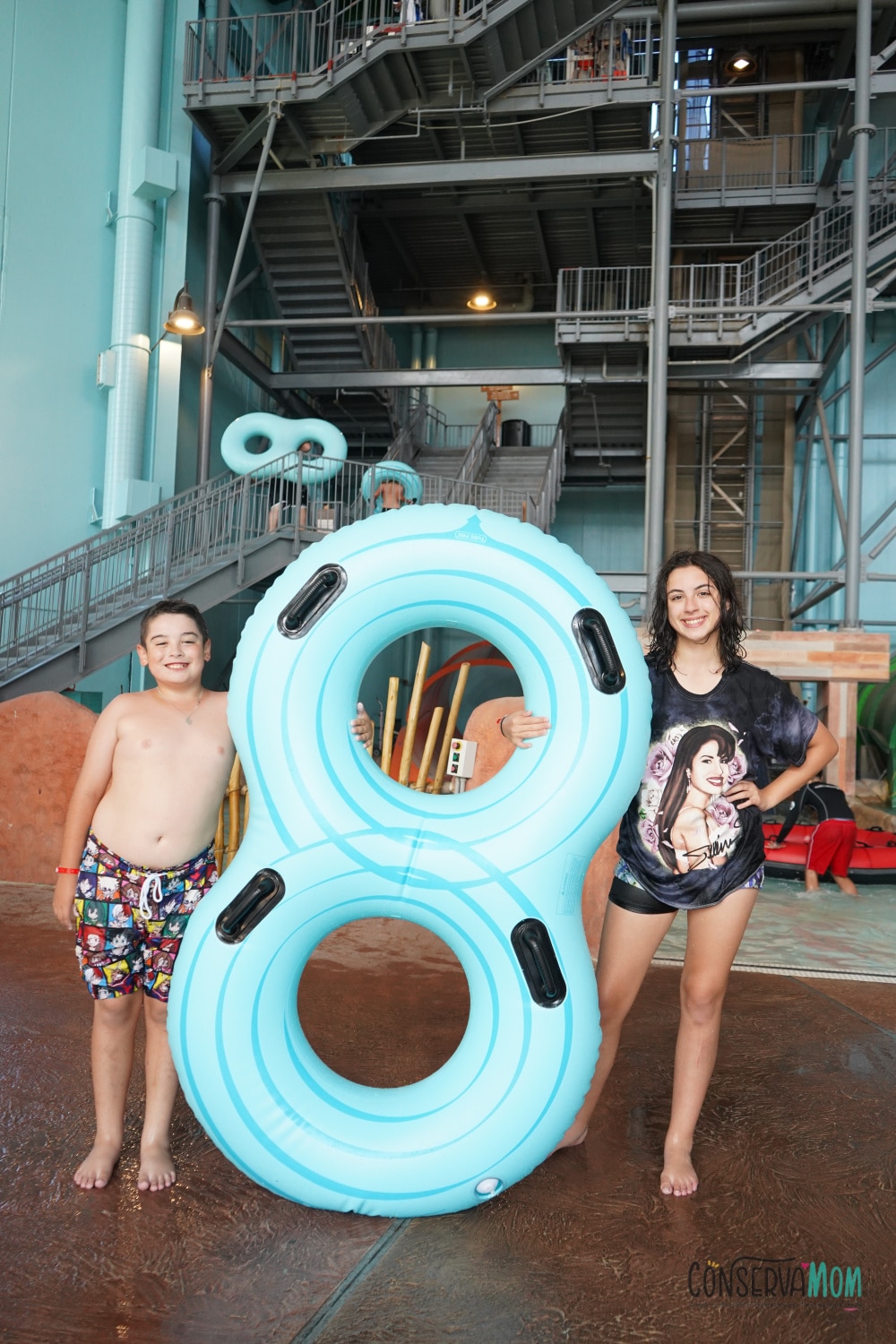 It includes tubes for 1 or 2 riders so you can take a lazy moment by yourself or enjoy it with one of the kids.
You can also try some big adventures on the Skydive plummet and Paradise Plunge
Grab some waves at the Bombora FlowRider this fun surf simulator was my daughter's favorite! They even have stand up surfing lessons available. It really is a phenomenal attraction! Best of all it's included in your visit to Aquatopia!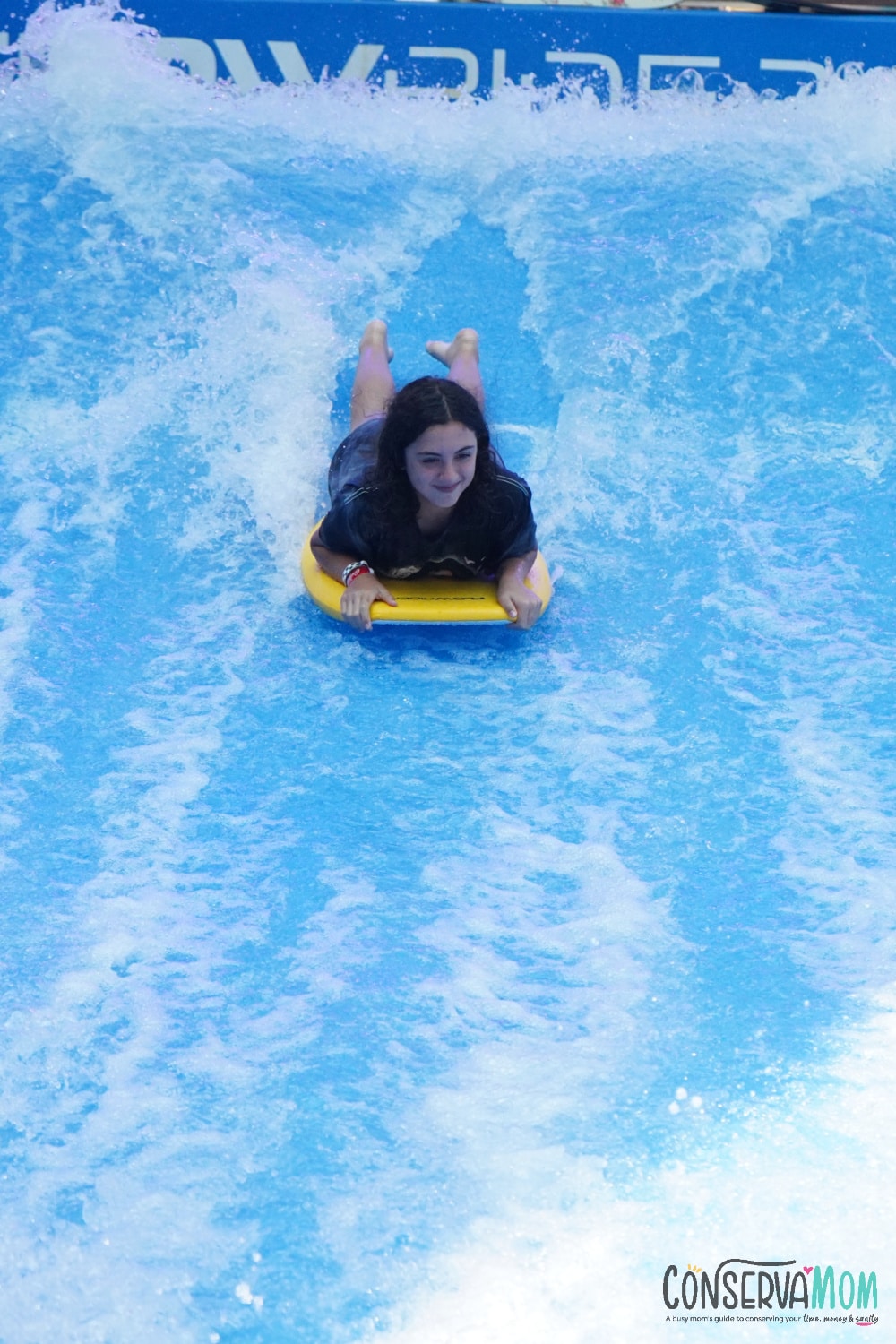 What if I don't like water slides?
The best part of Aquatopia is that there is so much to do for everyone including people who may not like water slides. There is an amazing hot water jacuzzi, lazy river, kid's play area, and a wave pool to name a few things. They even have a poolside bar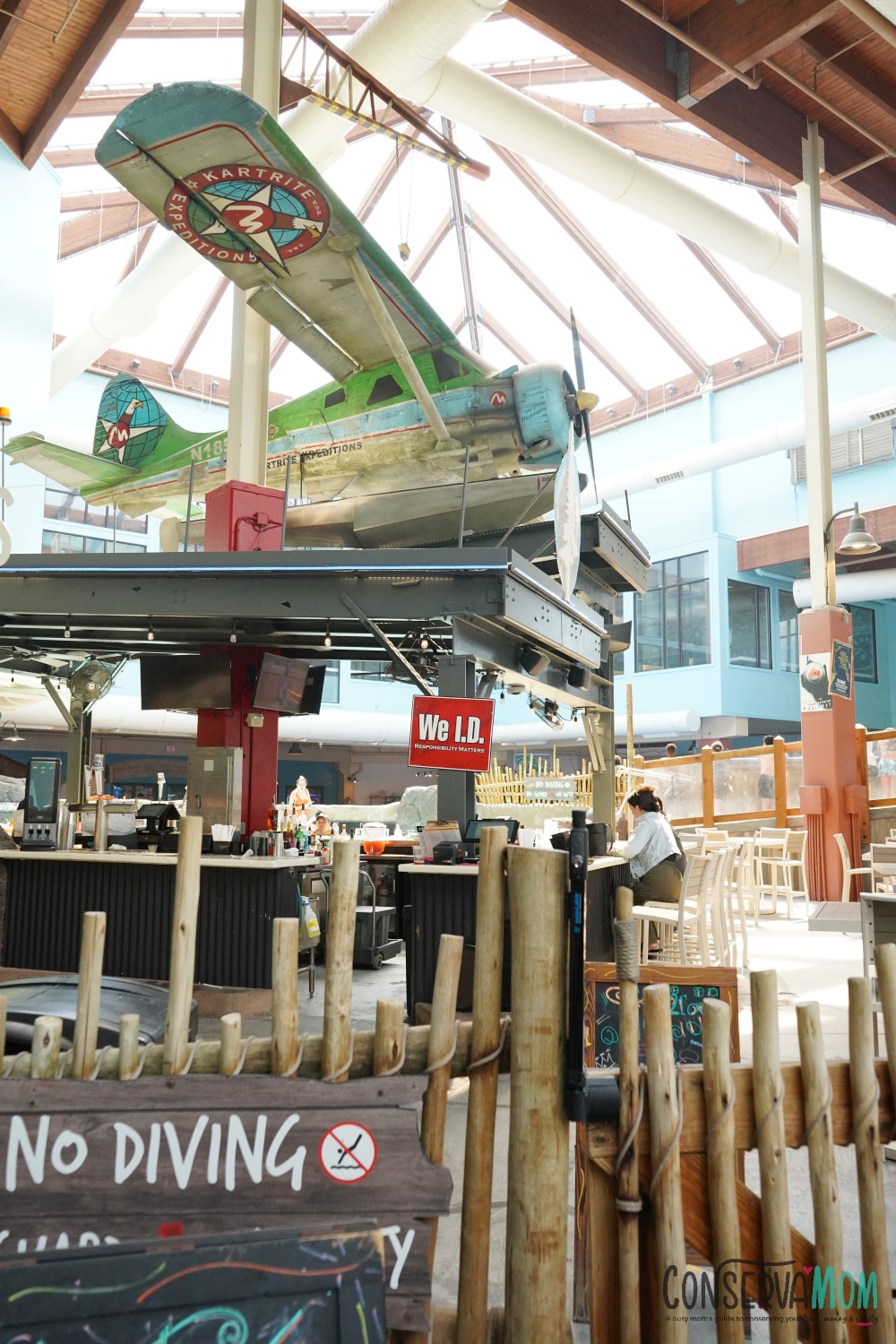 where you can soak while enjoying some delicious cocktails!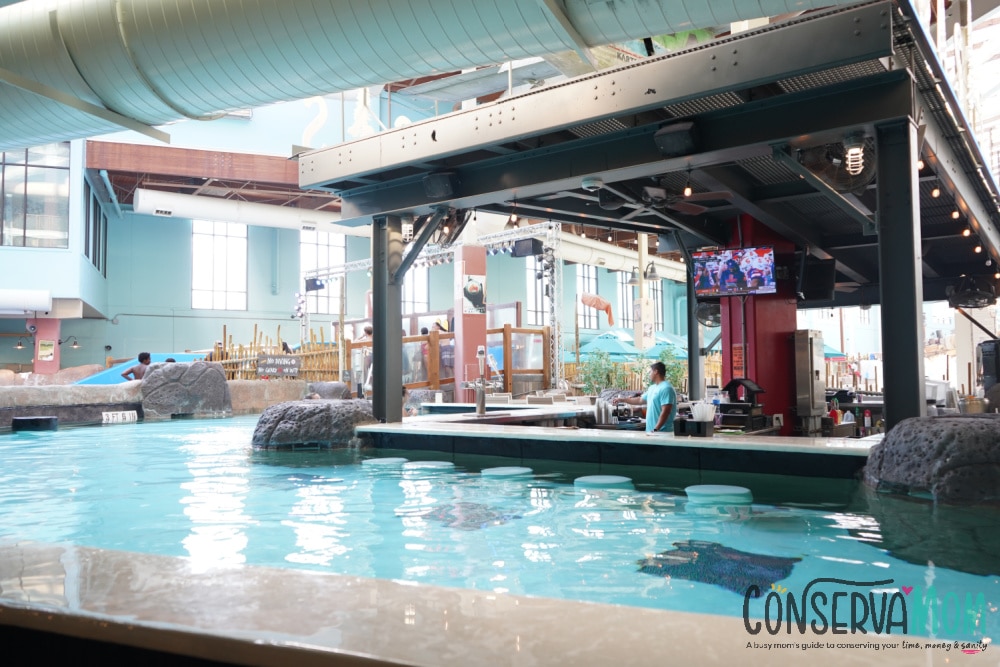 I mean what more can you ask for right?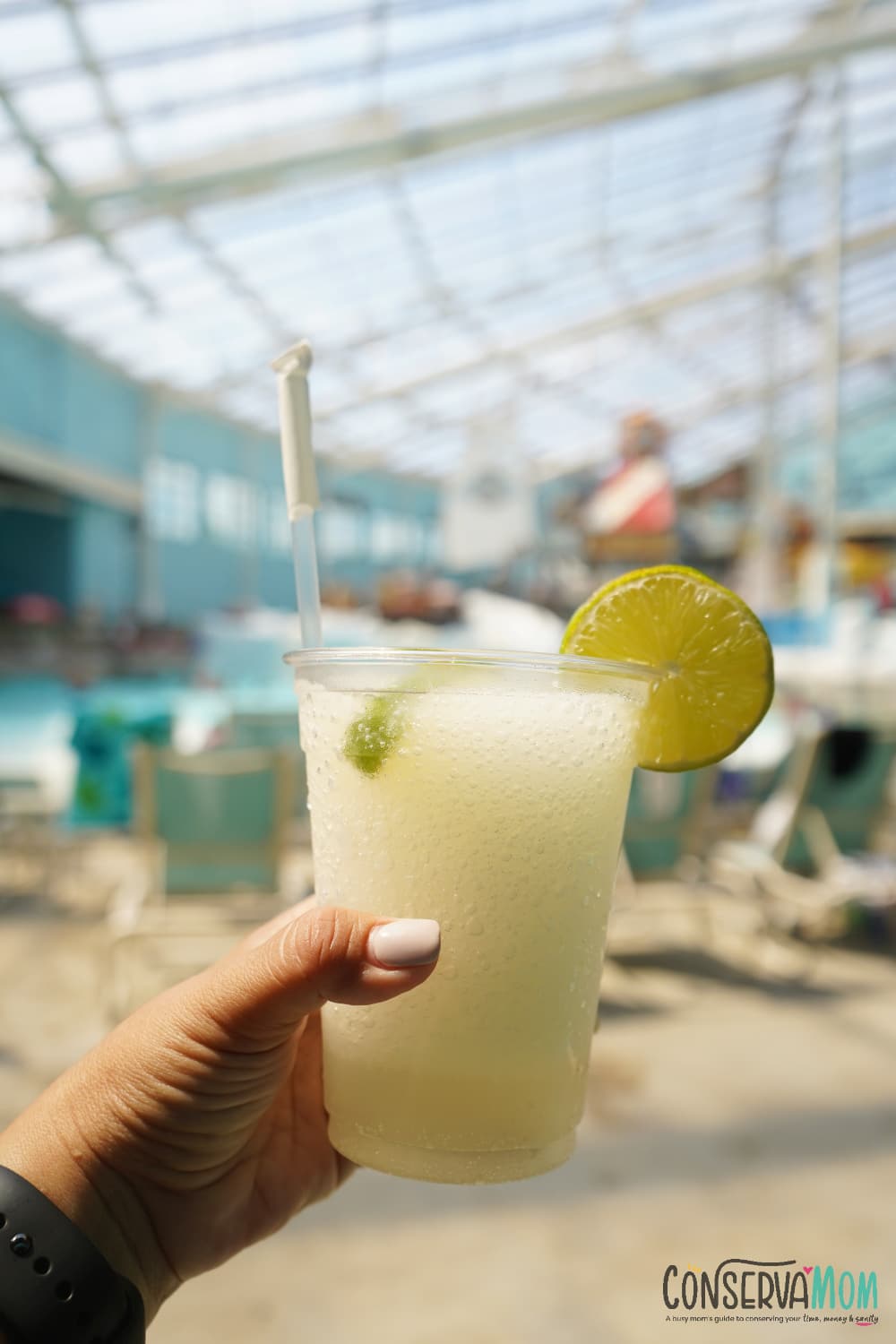 Do you have to stay at Camelback Resort in order to go to Aquatopia Indoor Water park?
The answer is no. But why wouldn't you stay at Camelback Resort? This place is amazing! That being said visiting Aquatopia is easy thanks to the many conveniences offered at Aquatopia including changing rooms, lockers, and a low parking price to visit.
If you're staying overnight at Camelback Lodge, Aquatopia is available to you the day of your check-in, throughout your stay, and the entire day of your check-out. Day passes are also available if you're not staying overnight. So make sure and get there at opening even if your room isn't ready so you can take advantage of all the fun Aquatopia has to offer.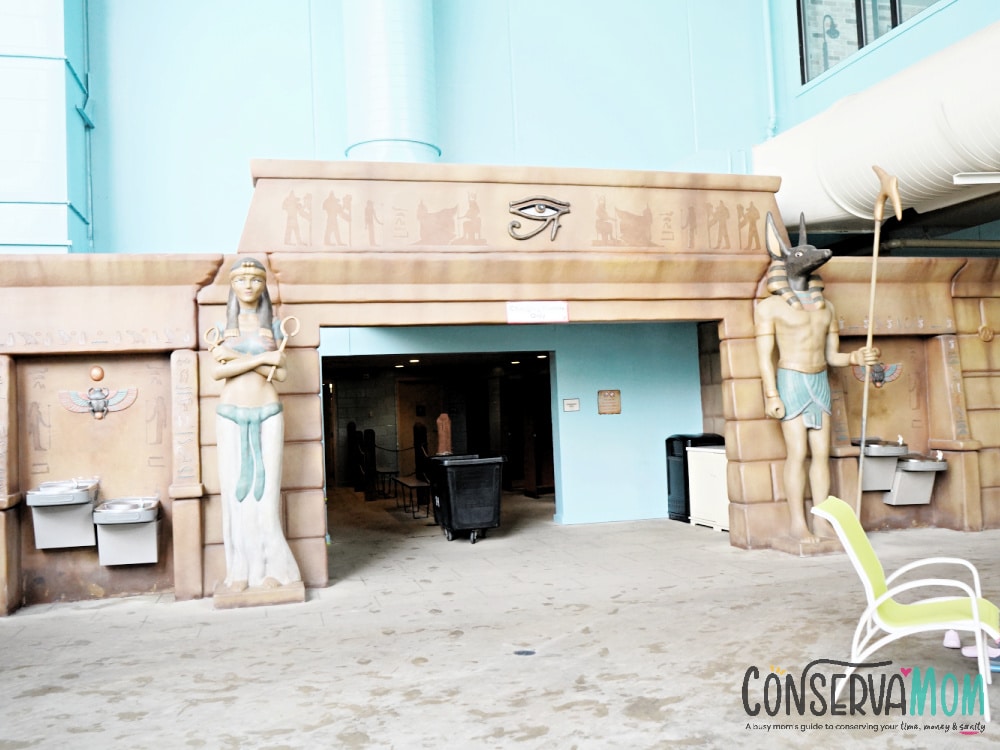 Best of all if you're a small drive away you can even purchase season passes to keep the fun going year round!
Tips for visiting Aquatopia
There are two major attractions you'll see upon entering the water park: FlowRider (indoor simulated surfing) and a large wave pool. The major slides are located one floor up, and the lazy river winds through the section below the slides. In my opinion, Aquatopia has the best themed lazy river in the Poconos.
The waterpark opens at 10 am and closes at 9 pm. So whether you're staying at the park or just coming for the day I highly recommend renting a Cabana.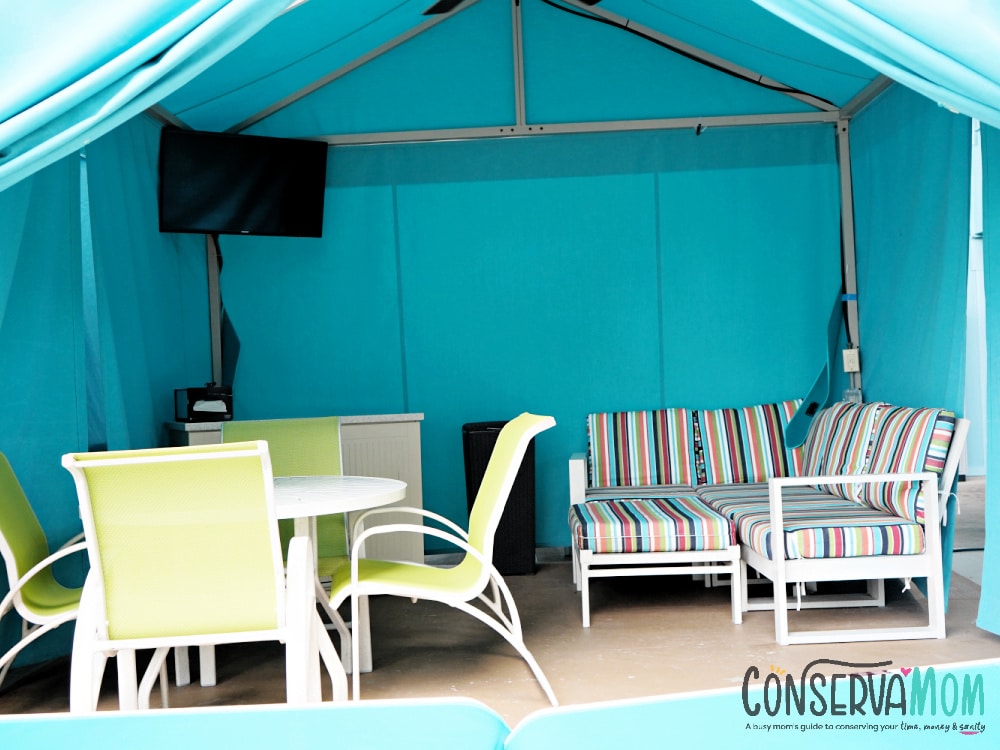 They are worth every penny. Your rental includes a mini-fridge with a complimentary fruit basket and water, TV, and a private table for eating.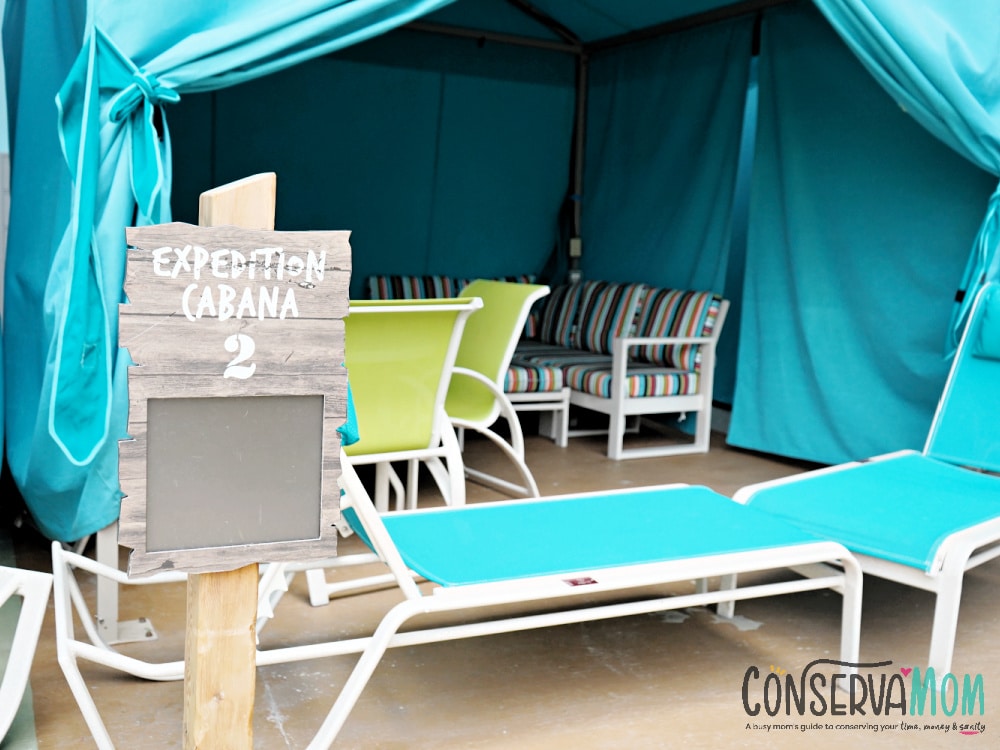 You also get your own personal food service so you can order food and drinks brought to you in the comfort of your cabana.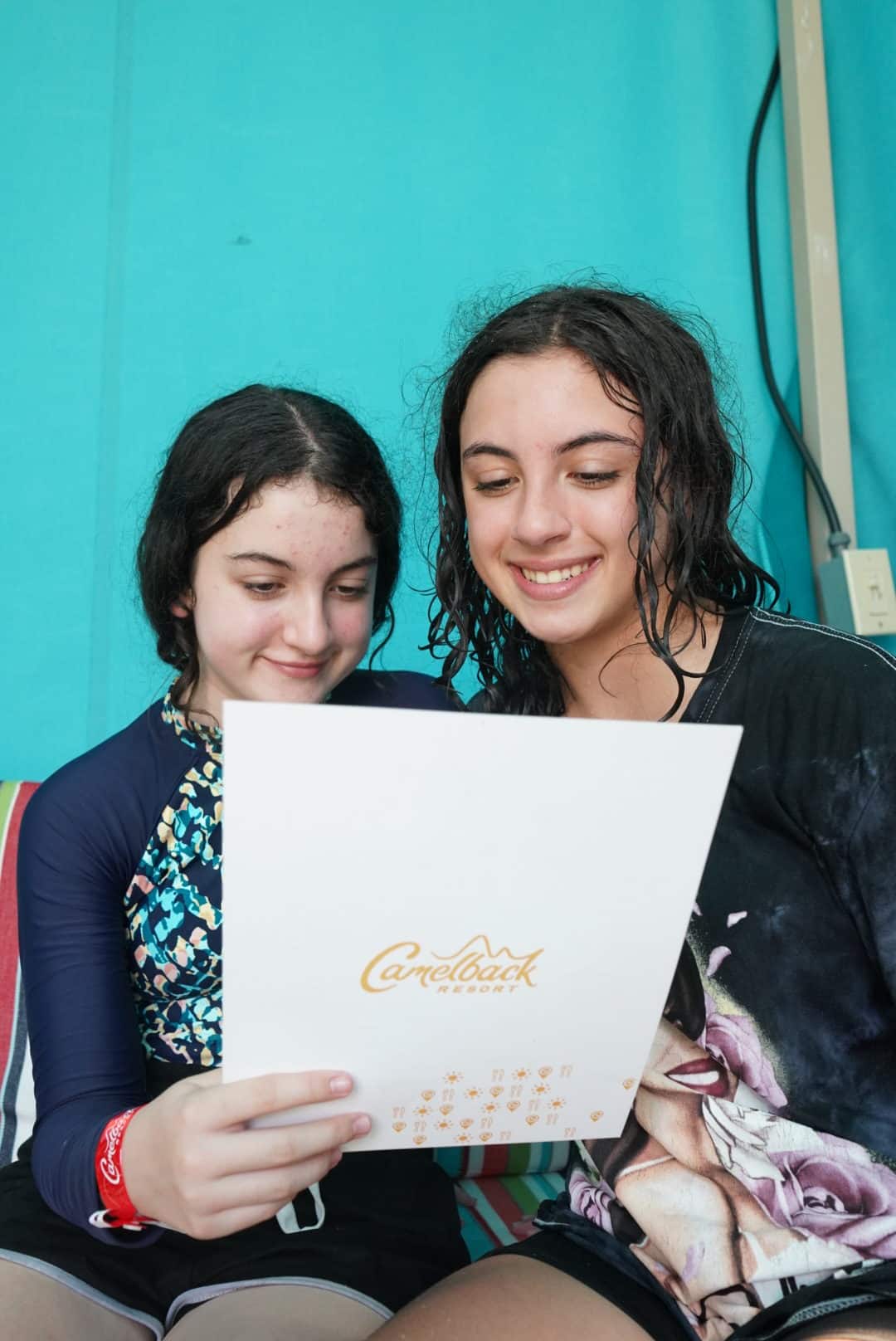 Renting one of these is complete comfort and perfection while visiting Aquatopia.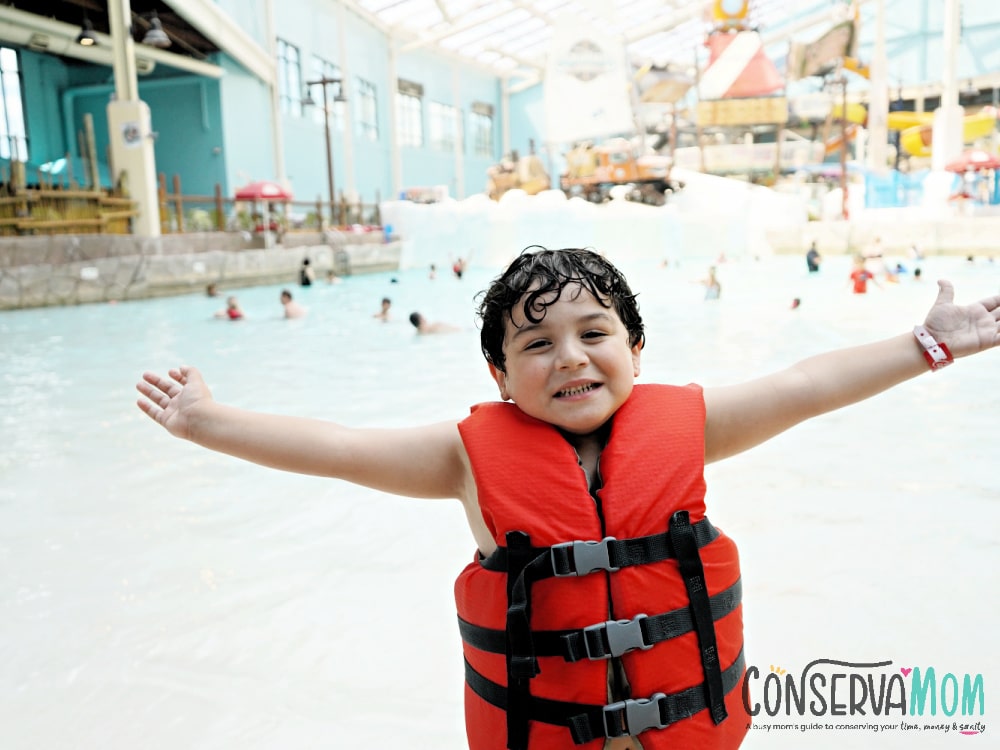 More tips when visiting Aquatopia Indoor Water park
You are not allowed to bring outside food to Aquatopia but there are tons of food options available including a fantastic snack bar and you also have some great restaurants steps away in the resort.
Weekday visits are the way to go at Aquatopia because the park will be much quieter and you will have fewer lines and fewer crowds.
Towels are provided for you at Aquatopia so if you forget your own don't worry they have them there for you to use!
I highly suggest you use sunscreen at Aquatopia on very sunny days because the roof is designed to mimic the outdoor sky and does allow UV rays through.
Although there are lockers you will definitely want to buy a waterproof cellphone pouch. Not only does it keep your phone safe from the water but you can catch some great pictures and videos while there.
Some slides have a height requirement so keep that in mind for younger children.
Some of the pools offer a lift chair for those needing mobility assistance which is a great option if you need a special needs-friendly resort in The Poconos.
You don't need to bring lifevest for little ones, Aquatopia provides them as well. They have all sizes from small to adult sizes! Life jackets are required and provided for those under 48″.
If you stay at Camelback resort when you arrive each guest receives a wristband that must be worn for the entire stay. It unlocks the hotel room, gives access to the waterpark, and can be used to charge items and food to your room. So no need to carry your room key, money or anything when heading down to the water park.
Check out how cool this Indoor Water park is below!
Most important Check out more info at:
and by following #MyCamelback
Looking to stay at
Camelback resort
check out my post on reasons why it's a must!