Finding the perfect skincare line for your baby just got easier. I had the opportunity to check go behind the scenes and check out how the Baby Dove line of products are made. Check out the Science behind Baby Skin Care #BabyDoveU Disclosure: I received a tour of the facilities along with free product to check out this line in exchange for my honest opinions. All opinions are 100% mine.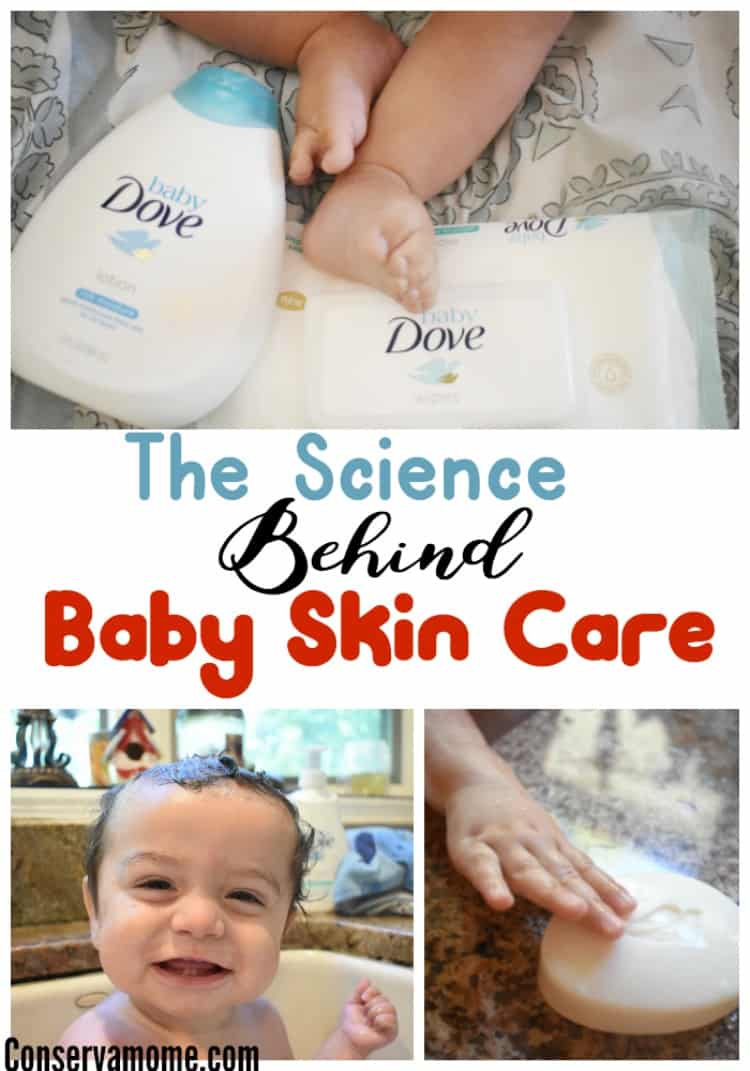 Finding the right products for our kids can be incredibly hard. I know as a parent I'm always second guessing the kind of products and decisions I make for my kids.  After 6 kids I still feel like there are days I am still second guessing the decisions I make. Thankfully, one decision just got easier for me, the kind of skin care products to use on my babies 🙂 A few months ago I had the AMAZING opportunity to head to  Unilever's R&D facility in Trumbull, CT for an  interactive science immersion into how Baby Dove is made and this experience really changed the way I look at baby skin care.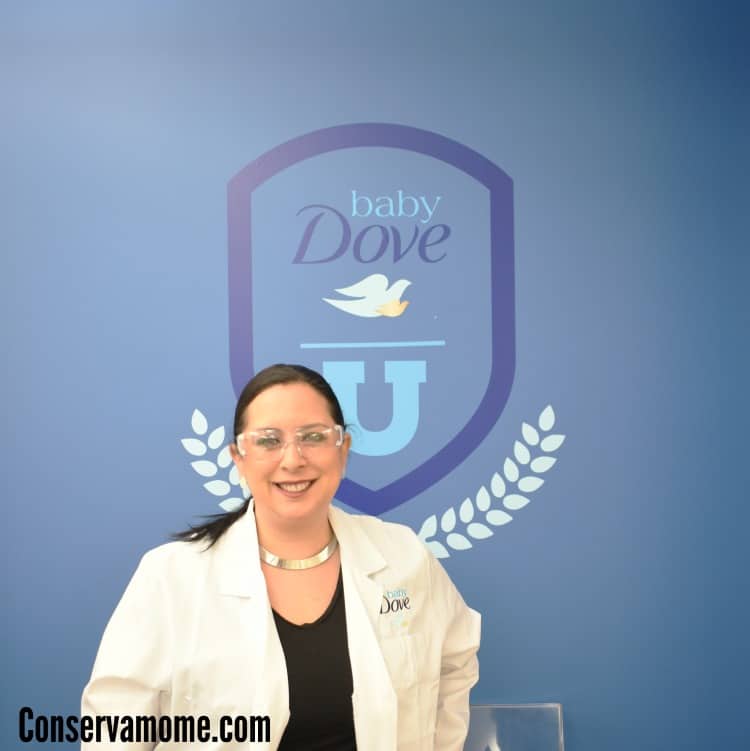 When Nicholas (6.0)was born the wonderful people at Baby Dove sent me a gift pack to welcome him home and I instantly fell in love with this line. So much so it's been the only one I've used with him and after my immersion experience I now know why.
We know that baby's skin is different than our own but how different? In the first year of your baby's life, their skin is delicate – so delicate that it's about 30% thinner than our own. That's why it's important to make sure their little skin isn't just clean but moisturized. Baby skin looses moisture a lot quicker than ours and so it's important that we are making sure their little skin is moisturized. I know in the past i've seen my little one's especially the first few months have extremely dry skin. But regular baby lotion just isn't enough and I knew that but going on this interactive experience showed me why.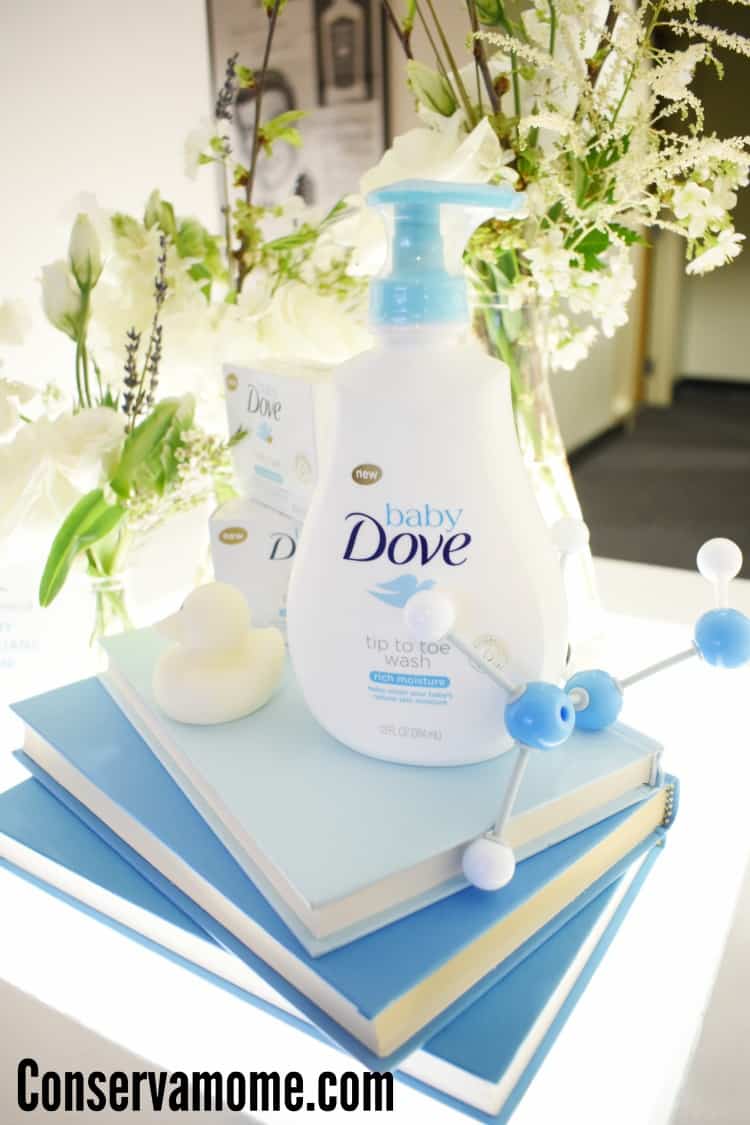 As consumers and parents we're thrown a million products our way, all claiming to be better than the next. It seems that all have the great pitch or marketing technique to show us "Hey, I'm the best". Yet when you get it, you realize eh not so much. Or more important you don't really know where this product came from or how it was made. So when I was able to step behind the wizard's curtain at Unilever and see how Baby Dove products are made, I was so excited to share it with the rest of you.
To begin we were shown the famous protein test and how soaps strip our skin of those proteins necessary to protect us.Baby skin being as delicate as it is, looses even more moisture so finding the right product to keep their skin at its best is crucial. Because Baby Dove soap is made with 100% skin-natural nutrients combined with gentle cleansers it helps replenish skin lipids to keep delicate baby skin nourished and healthy. Best of all it contains nutrients that are identical to those found naturally in skin and helps replenish essential moisture and nutrients of the skin lost through bathing.
We were able to put it to the test in person. See the soap on the right is a leading national soap and on the left you have Baby Dove. When sprayed with water the right showed how the proteins on our skin get stripped by soap.However, the Baby Dove Soap never lost it even though we sprayed quite a bit of water.
I learned how the various products in all of Baby Dove's line are there for a reason, ready to keep your baby's skin protected &moisturized. Most important although as parents we try to go the most natural products on our baby's skin, Science has come a long way and Baby Dove has researched the best way to join the two in a glorious and harmonious way that ends with an amazing skin line for our babies.
Seeing the first part was eye opening but the fun came after….
We then went into the meat and bones of the operation by making our own bar of soap. The process is made in small batches at this facility to ensure quality of product. Then they move it to the bigger production plants for mass distribution.
We learned about the process that goes into their famous Dove bar & Baby Dove bar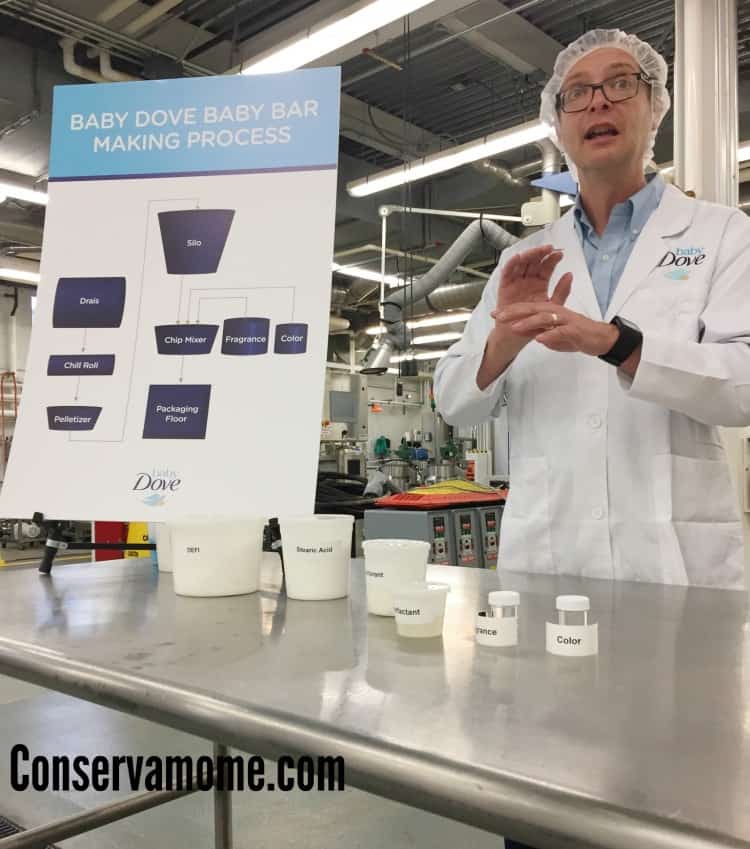 I even got to make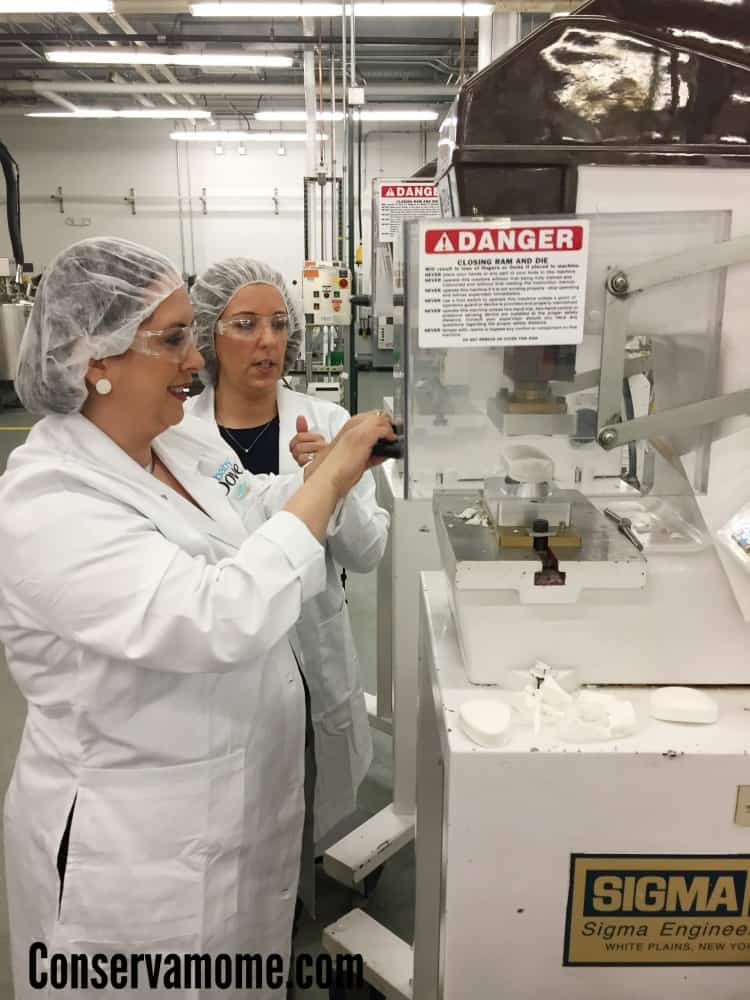 and press my own bar of Baby Dove soap.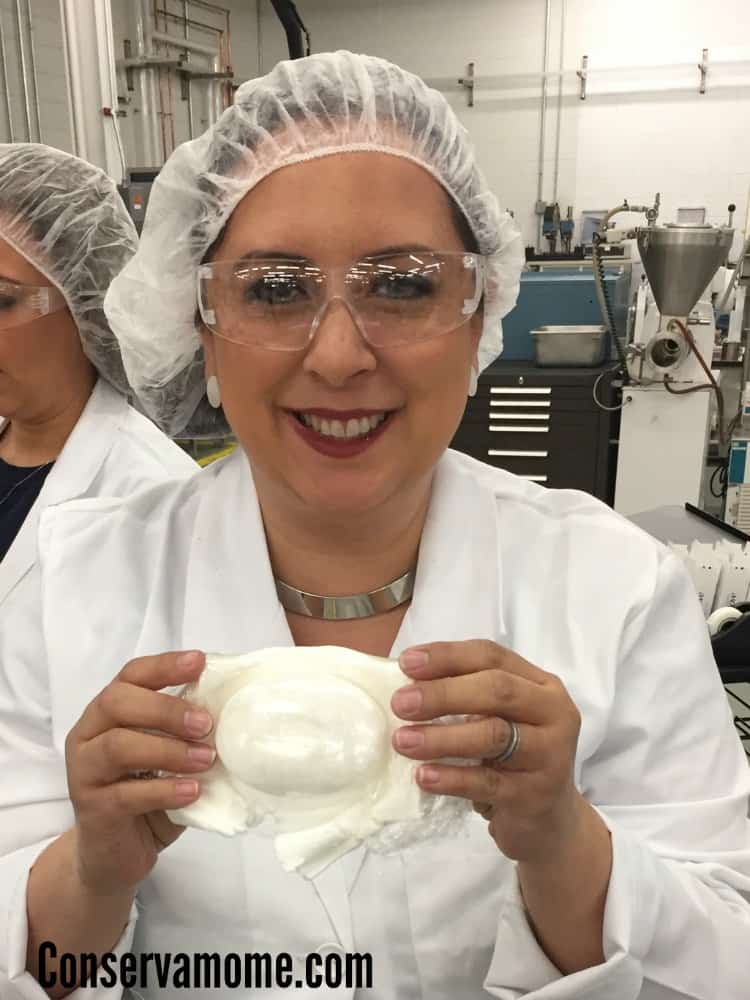 We then headed to the fragrance department where I learned about the amazing Science behind the Baby Dove Hugs and kisses fragrance. I have to admit this was my favorite part.
Did you know that when a woman smells a newborn baby, their dopamine pathways in a region of the brain associated with reward learning light up. I call it the "New Baby"smell- (Which may account for why I'm at 6.0.lol) Baby Dove took this knowledge and brought it out to a whole new level with the Hugs and Kisses line.
They actually found a way to bottle "the new Baby Smell" using a special cupping method. Where they were able to Cup the smell of newborn babies and helped replicate that smell for this line.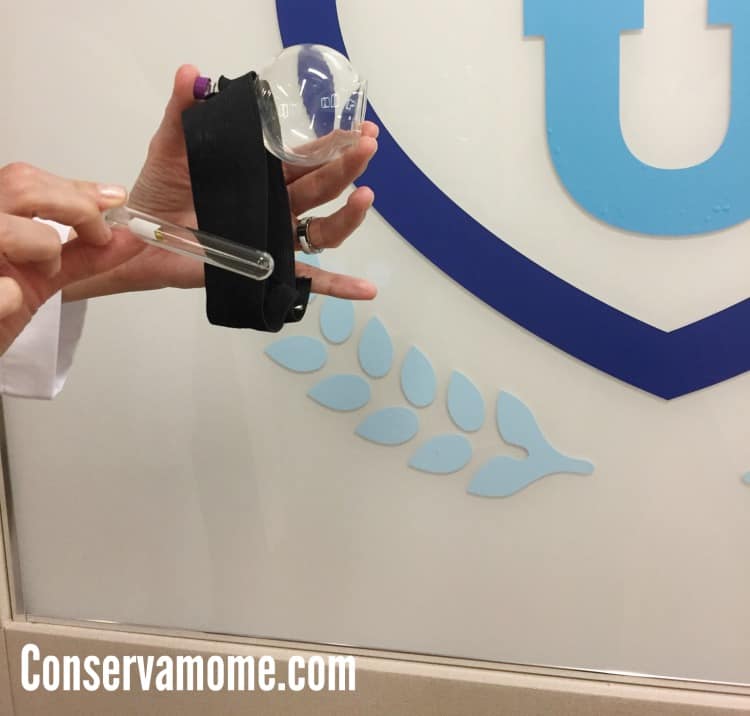 I knew when using it that this line had a smell that was out of this world but when I smelled the fragrance on it's own it stirred up some emotions in me I couldn't quite place my finger on.Well it was because of this. It was overwhelming and emotional to say the least.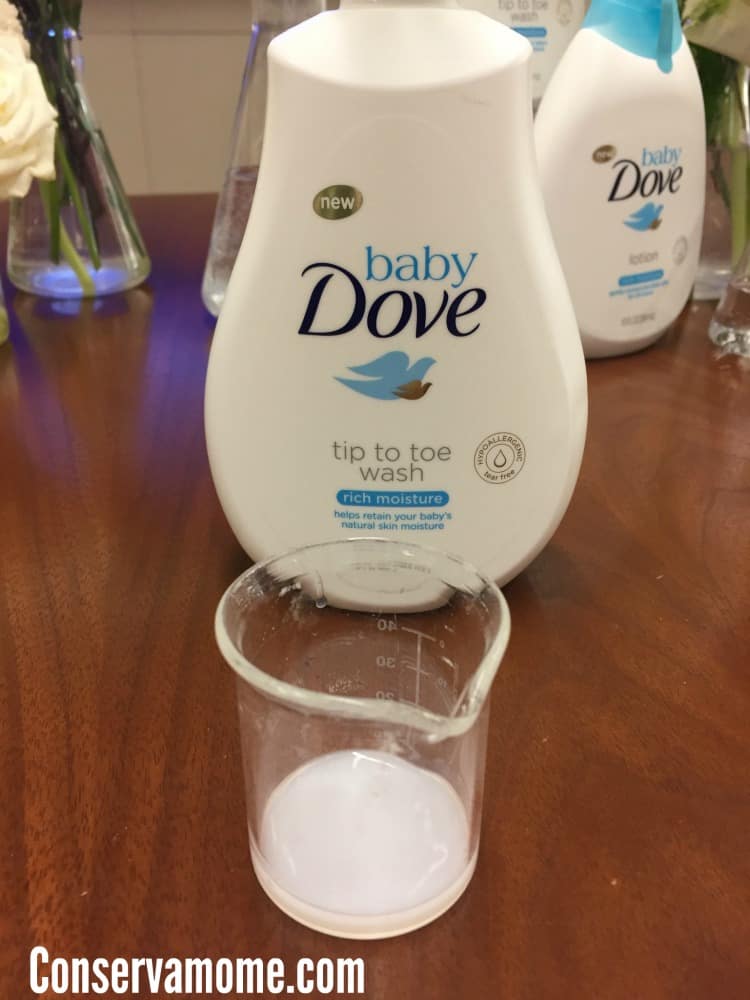 You can smell the fragrance differently in every product but smelling the fragrance purely was something amazing.
Best of all Baby Dove's Fragrances follow a set of guidelines that are stricter than the industry standards. Unilever has established additional requirements from these products that help them stay ahead of industry standards and to me that's huge!
Finally,  went into the lab to see how the Baby Dove Moisturizing lotion & Head to toe Wash are made. The lotion isn't just part of our daily routine for 6.0 but my girls love using it on their skin as well!
The process was so much fun to watch and most important it made me see what is found in this wash.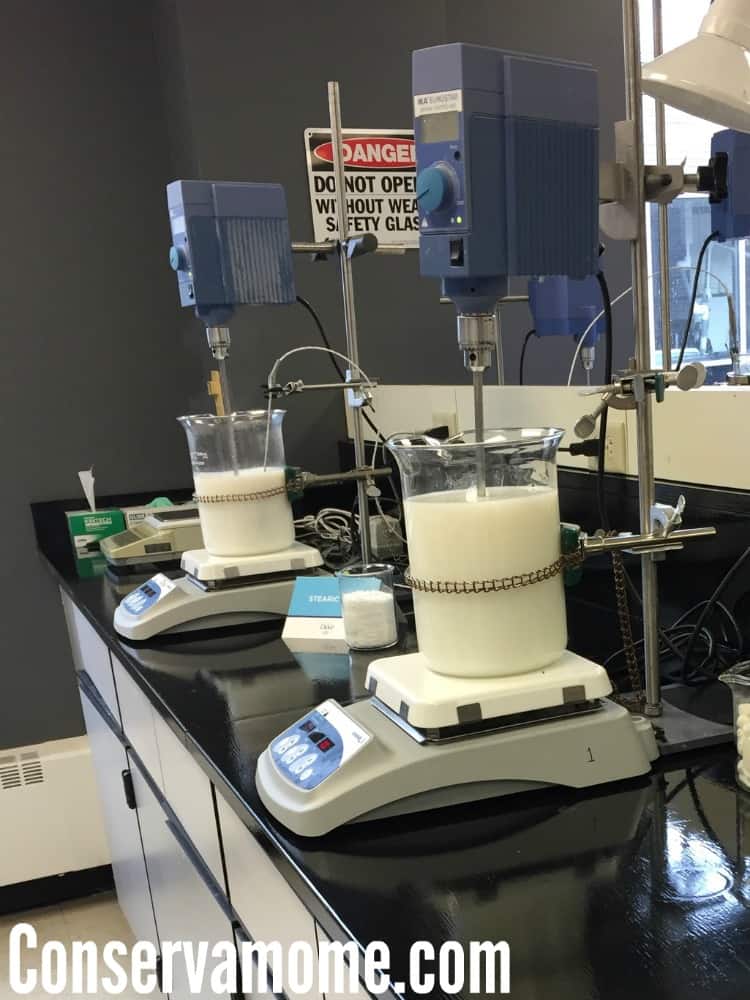 Tip to Toe is made with 100% skin-natural nutrients combined with gentle cleansers to help replenish skin lipids to keep delicate baby skin nourished and healthy.It also contains nutrients that are identical to those found naturally in skin, and goes beyond mildness to help replenish the essential moisture and nutrients of the skin lost through bathing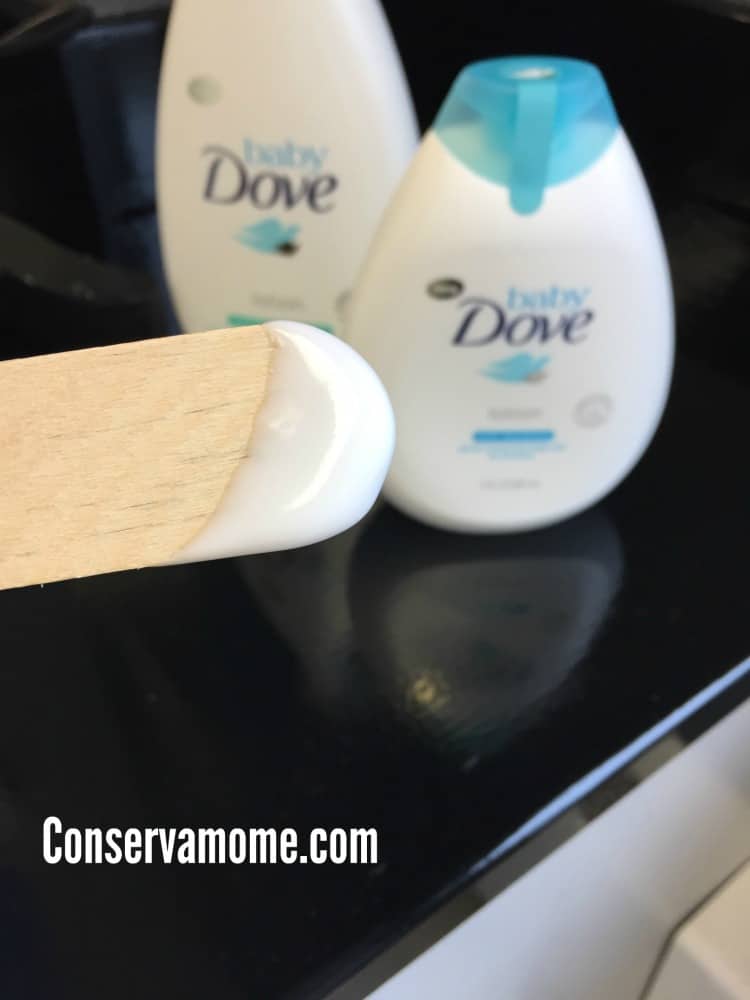 Stepping into the inner workings of how all of these products are made, allowed me to see what an exceptional line of products Baby Dove has. It's made me a fan and I love using them on 6.0.
This line has taken the bar and raised them. All products are hypoallergenic and mild with a fragrance specifically developed for delicate baby skin. All products are created with no dyes, parabens or phthalates. Their  Sensitive skin line is actually accepted by the National Eczema organization.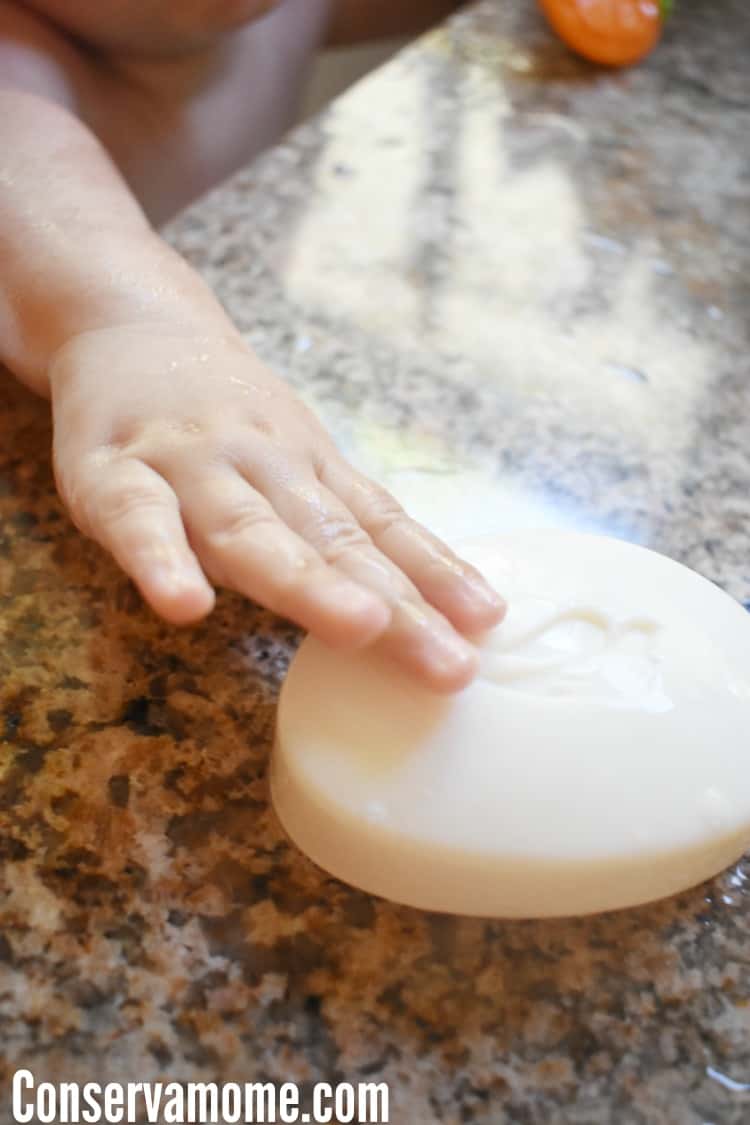 There's no such thing as the perfect parent as I've come to realize.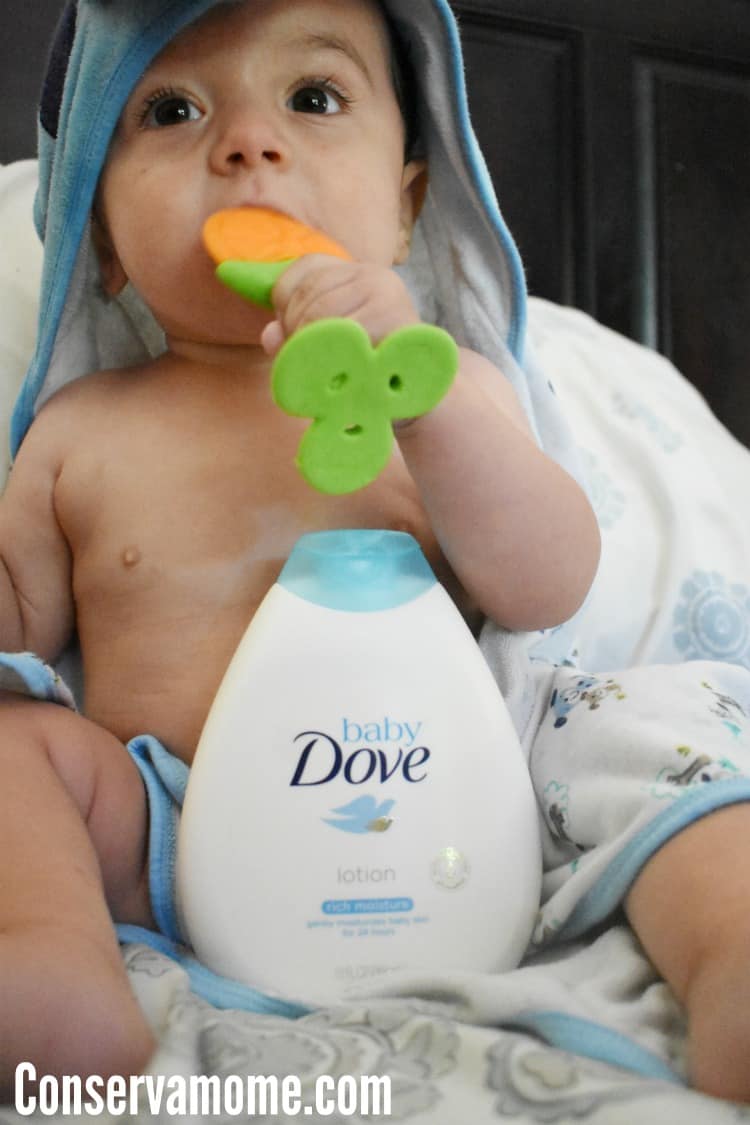 But it is nice when you find the perfect line of skin care products for your baby thanks to Baby Dove!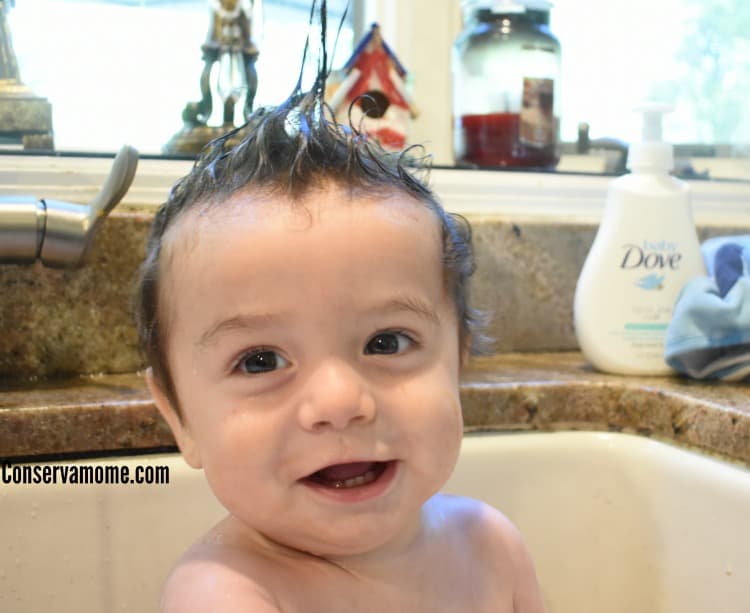 Baby Dove's Rich Moisture range has been developed for babies with normal to dry skin. Baby Dove Rich Moisture cleansers and lotions contain nutrients that are identical to those found naturally in skin, and the full range works together to go beyond mildness to help replenish essential moisture and skin-natural nutrients in baby's skin.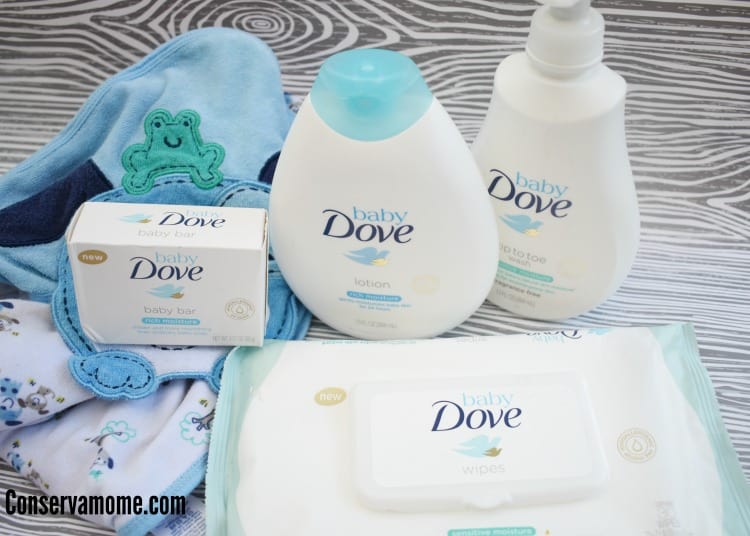 Head to your local store where you can find Baby Dove and start using it on your baby's delicate little skin.
Most important, Stay social with Baby Dove on Facebook, & instagram.