Looking for a fur baby to join your home? Here are The Best Big Dog Breeds To Suit Your Family

The Best Big Dog Breeds To Suit Your Family
When you're looking for the best family pet you can get, you might think that a small dog is a way to go. If you have small children (or a lot of them), or you just don't have a lot of space, it might indeed be the right choice. However, some of the dogs with the best temperaments, not to mention the best sense around children, are on the bigger side. Here, we're going to look at a few of the very best big lovable dogs that are thought to be well suited to families.
German Shepherds
One of the most popular dog breeds around in general, German Shepherds are also incredibly popular with children and families for a lot of reasons. For one, if you have growing kids that are always on the move and you want to make sure that you keep them moving, going on family walks with a German Shepherd is going to do a lot of good, as they're big dogs with a lot of energy that need a lot of exercises. Loyal and gentle to their families, German Shepherds are also very intelligent and disciplined dogs, meaning that they're well-suited to finding a role in family life.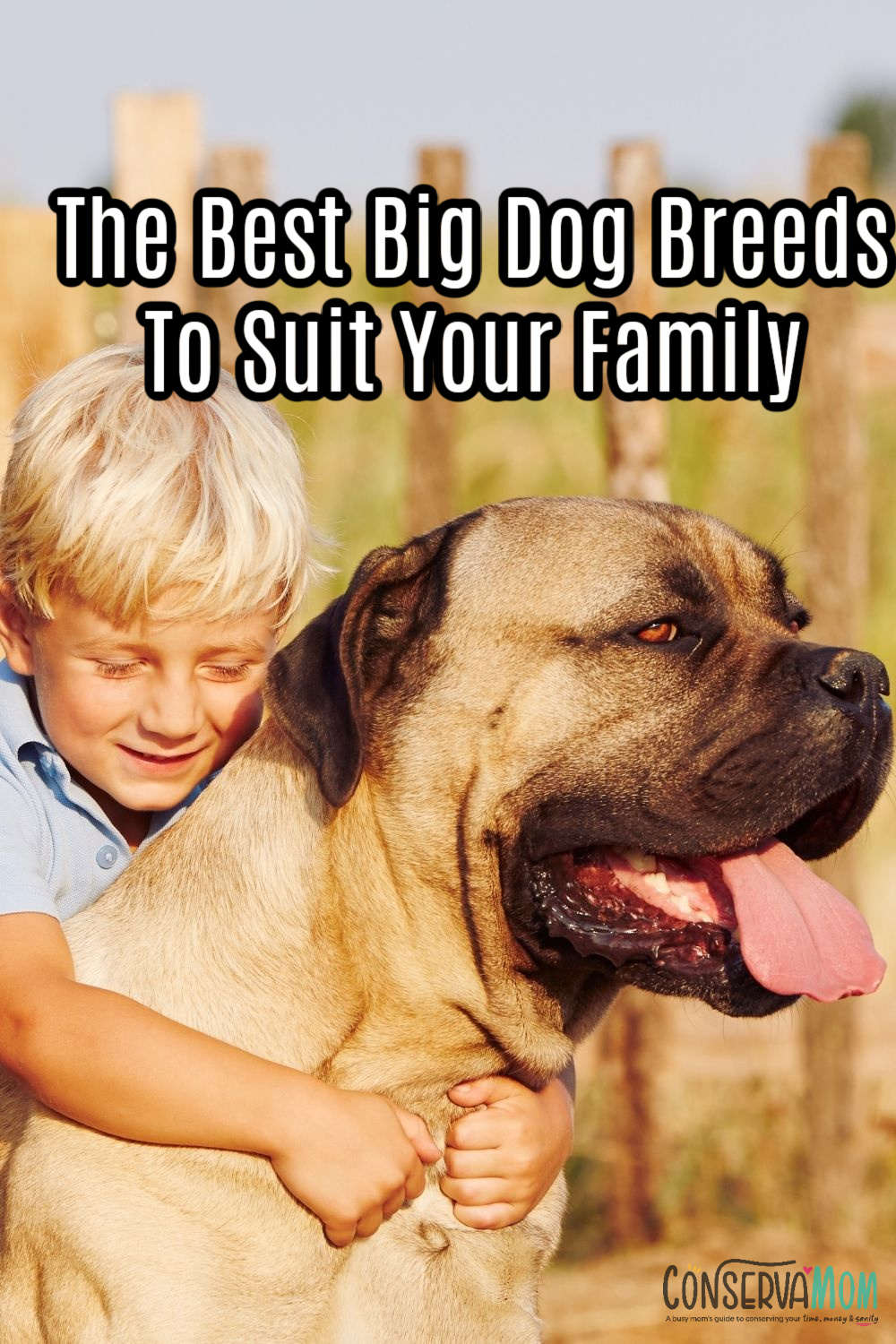 Labrador retrievers
One of the most famous family dogs around, labrador retrievers are an extremely popular breed for a variety of reasons. Chief amongst those is, of course, their loving personalities and playful nature. It's hard to get a labrador retriever in a bad mood, they are seemingly built to be faithful and enthusiastic companions, as you can see on this page. However, they are also intelligent dogs and sensitive to humans so they behave with care around children. They have such a good temperament that they are very often used as service dogs, whether it's for guiding the blind or for working as therapy dogs with those who experience mood disorders.
Giant schnauzer
If you want a dog that's a good companion for children, but also an independent and intelligent partner for their human owner, then these big dogs can be very welcome in your household. It's worth keeping in mind that they do require a "primary owner," some to act as a leader to them, as they can be quite stubborn without an authoritative figure. This doesn't mean they're easily aggressive, however. Rather, schnauzers of all kinds tend to keep a very good temper around the whole family and are some of the easier dogs to socialize. They just need a firm hand to make sure they obey commands and have a good rigid schedule. What's more, while there's no such thing as a hypoallergenic dog, as shown here, they do shed very little, which makes them a good fit for preventing allergies in kids.
Bernese mountain dogs
Perhaps not the first breed you might think of when choosing a family dog and, indeed, they're not as well known as some of the others here by name, but once you see them, it's easy to recognize these popular pets for the energetic and lovable creatures that they are. A very big dog even compared to others on this list, Bernese mountain dogs do require a lot of space, which might make them a bad choice for certain family homes, but they are very well known for being extra sweet and gentle pets, with a strong sense of family bonding towards all members of the family, not just the head of the pack. Furthermore, they are thought to be amongst the breeds with the lowest levels of aggression towards humans. While this most definitely depends on their upbringing, they can be good for any parents who might be even the least bit worried about aggression or hostility from dogs towards their kids.
Newfoundlands
A truly big dog, usually weighing between 100-170 pounds, Newfoundlands come in a variety of colors, much like labradors, but are much fluffier. That said, they share a lot of their personality with retrievers, such as the fact that they're both very affectionate, as well as very clever. As such, Newfies, as they are often known, need a lot of stimulation and training, which you can get some help with from things like the toys found on this site. While Labradors are much more energetic and playful (yet gentle around small children), Newfies are truly gentle giants and are particularly good around children, often welcoming them into their families with ease.
Boxers
You might think that these working dogs are on the tougher side due to their name, as well as the facial features that they share with other breeds that are a little higher in aggressive behavior. However, boxers are, in fact, very loving dogs who love nothing more than pets and playing with their family. They're very needy for attention, meaning they can be a great pick for larger families where they're able to get a lot of love from all sides. However, boxers can be very energetic indeed and are known to be quick to jump up on people, so you might need to invest some time into training them to heel and behave.
Saint Bernard
If you're looking for a dog that's a bit more of a homebody because you don't have the time and energy to play all the time, you might think that you would need a smaller dog. However, there are some big dogs that are better suited to indoor life. One such dog is Saint Bernard. These are athletic dogs that are typically trained to work in the snow, but if you give them the walks that they need, they're very peaceable and well-behaved. If you love the idea of lying with a big faithful friend by your side, they love to lie by their owners in the evenings.
Great Danes
Another dog breed that is often called a "gentle giant," Great Danes are very loving, not to mention good with children. They do not typically exhibit a lot of aggression towards other animals, especially if they are raised with them in the home. However, they can be protective against other dogs that they don't know, so you might want to specifically focus on training them to socialize with other animals or keep them away from them and on a leash. When it comes to humans and especially children, however, they are famously non-aggressive, friendly, and outgoing, even though they're not the most energetic dog on the list. They're great protective dogs, too, so if you want one to secure the home as seen here, they can do a very good job.
Whatever breed you get, you have to raise it
While we can (and have) talked a lot about the temperaments of the dogs featured here, it's always essential to understand that you are going to play the largest role in shaping it. While your choice of dog does matter, how you treat it and how you train is going to make a much bigger difference overall in its behavior. Make sure that you have prepared your home for the dog, as seen here, and make plans to spend time training it and bonding with it. Big dogs can be relatively easy to raise, but they still require effort.
Of course, while the breed can help in managing your expectations of what kind of behavior to expect from your dog, nurture is always going to matter more than nature. Make sure that you have the space in your life and the time to take care of a dog's needs before you get any.