Looking for a fun fall treat? Check out these adorable Scarecrow Grahams, A perfect & Easy Fall Treat that will be a sweet surprise for anyone!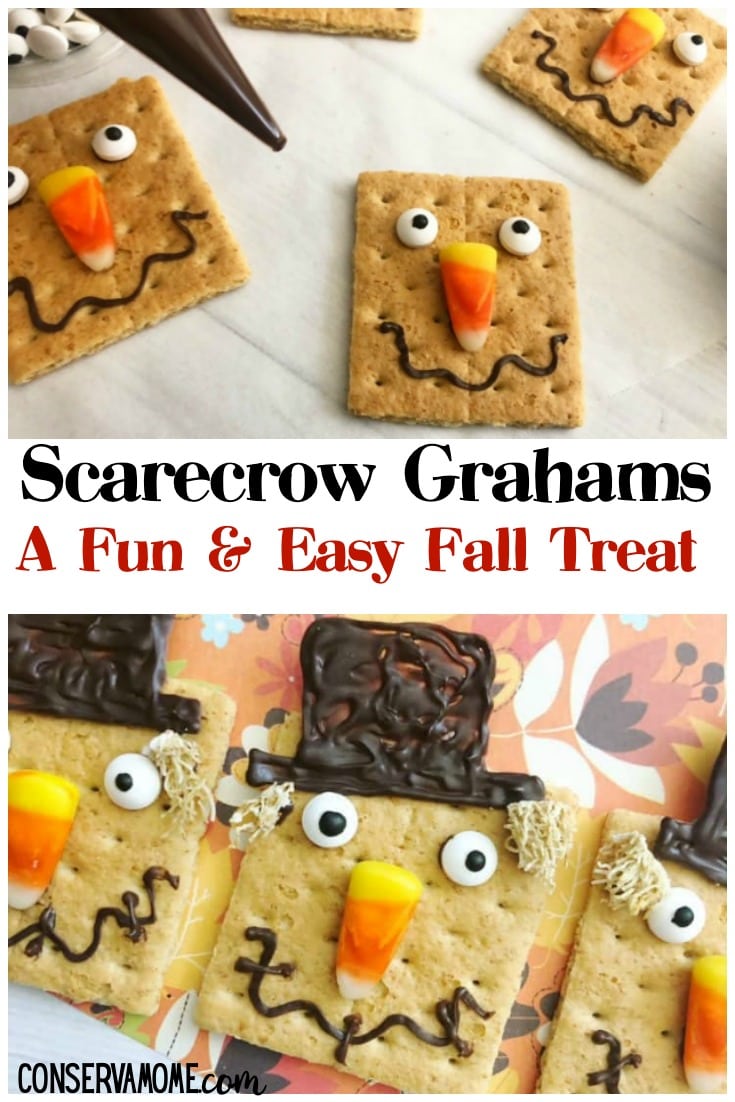 Scarecrow Grahams- The Perfect & Easy Fall Treat
Who doesn't love the colors and weather of fall. Growing up in Florida I really didn't get a chance to experience fall splendor. However, I did enjoy making up for it with decorations and treats. But man did I wish I got to experience the beauty of Autumn.
Tomorrow is the first day of fall which means it's time for Pumpkin Spice and cool weather. Here in SE PA we've already started getting a sneak peak of weather and even some leaves changing color. So this Easy Fall Treat is a perfect addition to our busy schedule. These Scarecrow Grahams are an Easy Fall treat that are the perfect way to bring in fall. A delicious and tasty treat your little ones can make.
If you're in the market for a sweet Autumn treat to create with your kiddos, look no more! These whimsical scarecrow grahams are easy to make and oh-so-cute! There are no real complicated ingredients to buy, the assembly is a snap, its super kid friendly and the end result is Fall perfection.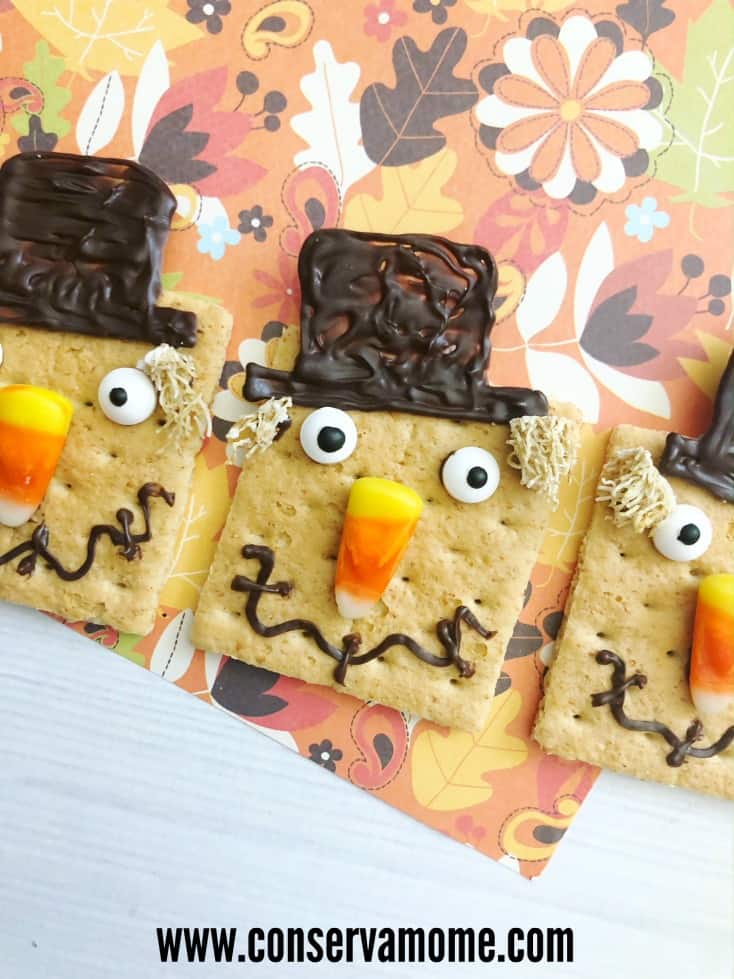 Here's what you need to make these Scarecrow themed cookies :
Graham crackers
Cocoa candy melts
Candy eyes
Shredded mini wheats
Candy corn
Parchment paper
Decorating bag

Here's what you do:
1. 1. In a small microwave safe bowl, heat 2 cups of cocoa candy melts in a microwave safe bowl on 50% power for 3-4 minutes, stirring every 30 seconds until melted.
2. Scoop the melted chocolate into a decorating bag and cut a tiny tip of the end.
3. Break your graham crackers in half width wise.
4. Apply a small amount of melted chocolate into the back of a piece of candy corn and stick it pointing down onto the bottom center of the graham cracker.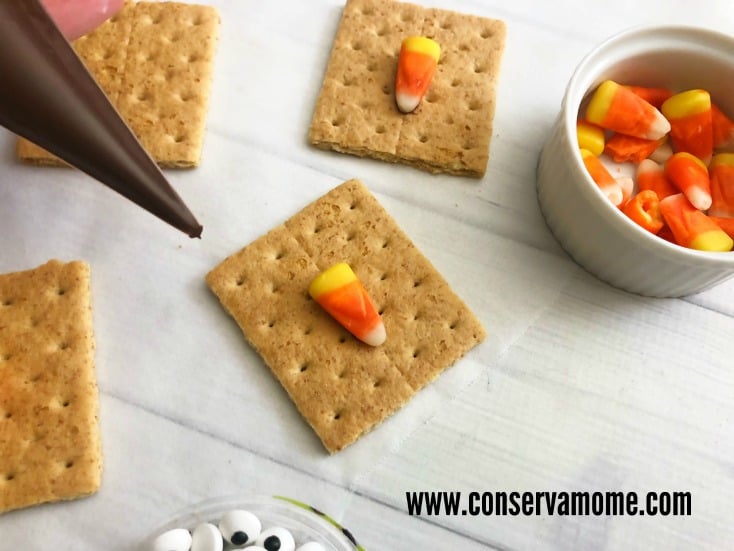 5. Apply a small amount of melted chocolate on the back of 2 eyes and place one on each side above the candy corn nose.
6. Use your decorating bag to draw a wavy smile with a few lines through the smile.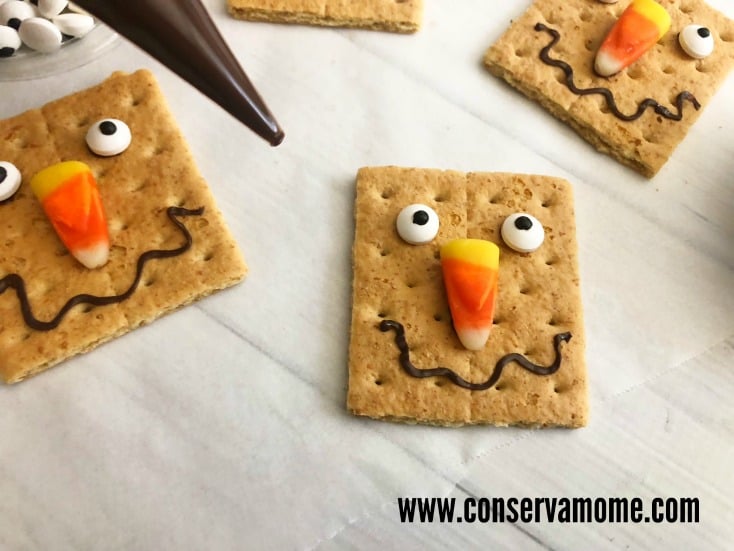 7. Use the rest of your chocolate filled decorating bag to draw hats onto a piece of parchment paper, the bottom being the length of a graham cracker and transfer to the freezer for 5 minutes to harden.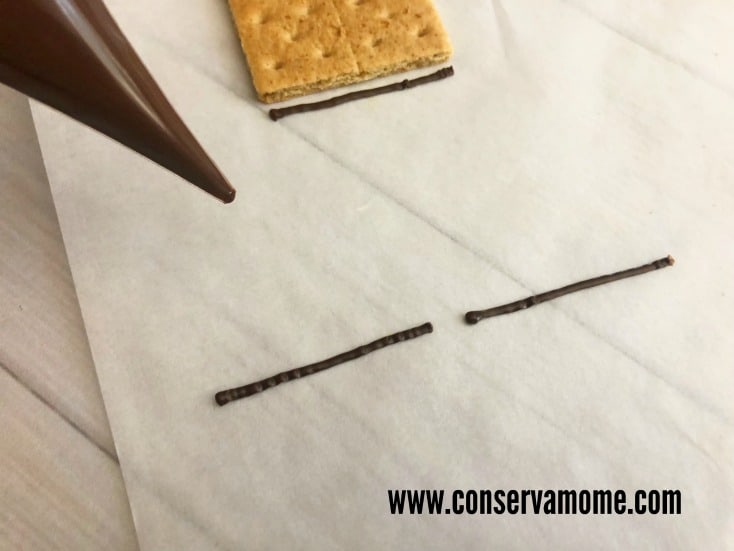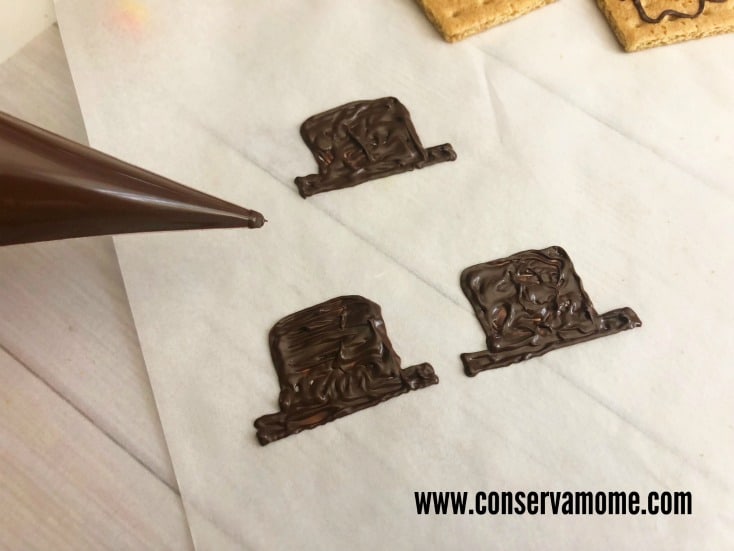 8. Dab the back bottom of the hats with melted chocolate and carefully stick onto the top of the scarecrow grahams.
9. Carefully break apart your shredded wheat, apply a small amount of melted chocolate into the back and stick on the bottom sides of the hat.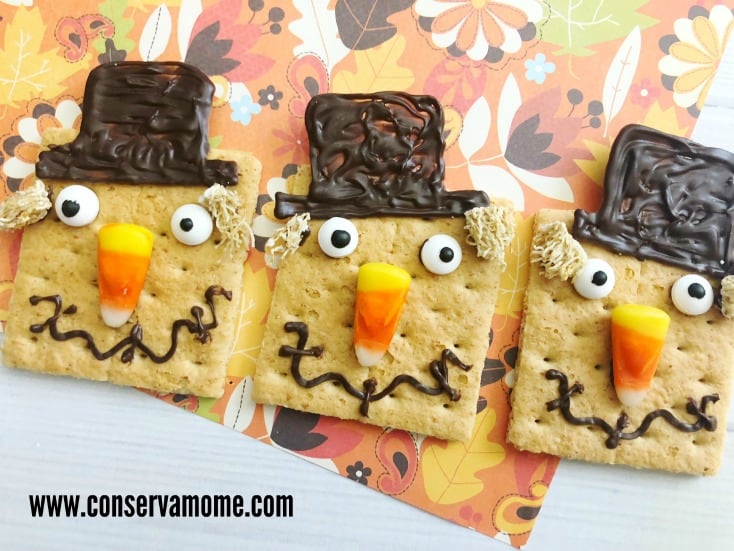 Let the icing set for an hour or two to really lock everything into place if you're planning to transport these beauties.
An Easy Fall Treat!
Aren't these the cutest thing ever? These will be a fun hit for your little and big ones. This is also a fun party dessert everyone will love.
These scarecrow grahams make a great class snack, after school treat, or harvest festival goody.
Looking for a fun craft to go along with it? Check out this adorable Scarecrow paper plate craft or these Turkey Toilet paper roll craft
Enjoy! Make sure to share and pin this fun post below!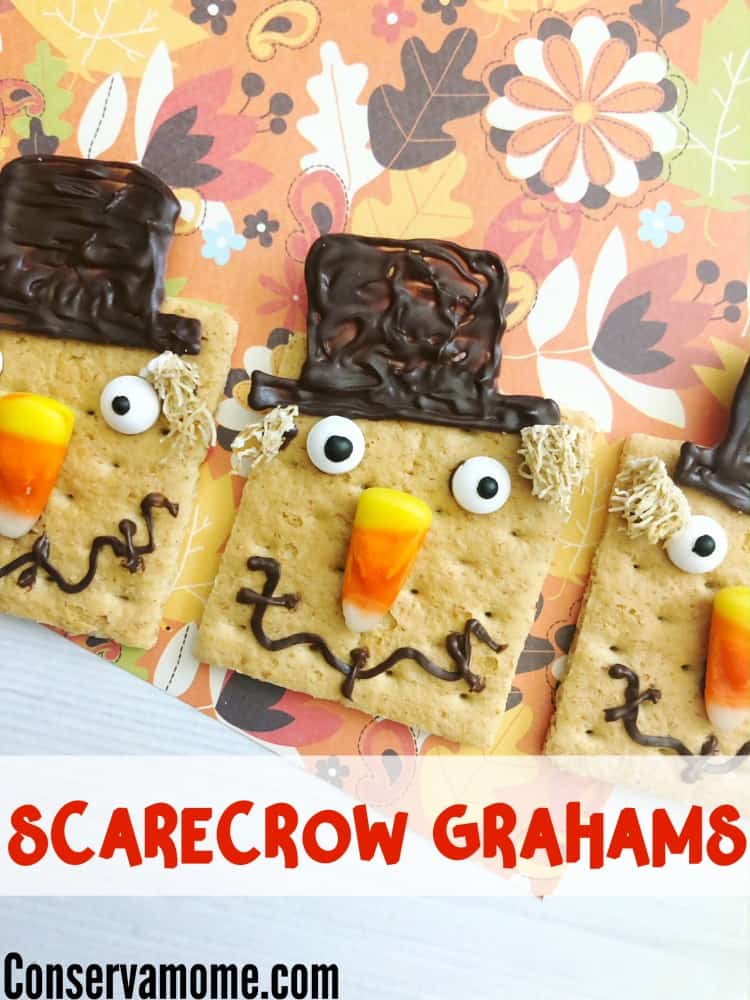 Looking for more fall treats, head over here and check out some Fall-Tastic Candy Apple Dessert ideas