Baby's First Year is Stressful Enough, Don't let feeding them Be one of Your Stressors!Find out how Parents Choice is here to help!  Disclosure: This Post is Sponsored post by Mirum, However, All opinions are 100% mine!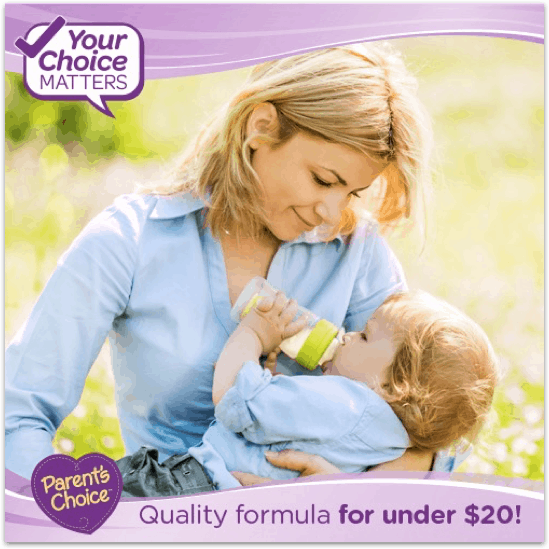 Breastfeeding isn't always easy, I've struggled with it every time (Even with 6 kids). I remember when my first was born I cried so much because I just couldn't figure out how to breastfeed. He was dropping weight like crazy and he began to develop jaundice. I thought when I would give birth I would just naturally start producing milk and it would all be alright. I didn't realize that it would take a few days and it was important to supplement him in the process. I was so glad I had Parents Choice at the time to help with the stress of feeding my oldest. 11 years later and with #6 year I still count on Parents Choice to help when I need it the most.
For many moms breastfeeding isn't an option, whether due to illness, hardship or it's just impossible. When you have a newborn, friends and family are quick to offer opinions on feeding methods, sleep schedules, and everything in between. We all appreciate well-­intentioned advice, but sometimes a new mom simply needs the affirmation that her choice matters. Whether mom breast feeds, bottle feeds, or supplements with formula, let's commend her for making the best choice for her baby and  that when it comes to feeding time, "mother knows best."
Because feeding time is different for every new mom it's important to be able to give your little squish the very best. Parents who choose to formula feed have a great choice when it comes to baby formula that is both high quality and full of savings! Parent's Choice® baby and toddler products are available exclusively at Walmart. In addition to saving up to $600 a year over alternative formulas, shoppers who choose Parent's Choice® will discover an infant formula that is:
Nutritionally comparable to more expensive national brand infant formulas, including Enfamil®, Similac®, and 

︎

Gerber®.

Compliant with FDA nutritional standards and the recommendations of the AAP – the American Academy of Pediatrics. 

︎

Clinically proven to support growth and development. 

︎

Easy to digest and has been well tolerated by millions of babies.

Clinically proven to be as well tolerated by infants as national brand formulas. 

︎

Meets the highest-quality FDA nutritional 

︎

standards, just like Enfamil, Similac and Gerber.
With all my babies I've turned to Parent's Choice® at one time or another. Even with 6.0 I had to supplement because he started getting jaundice and my milk wasn't coming in.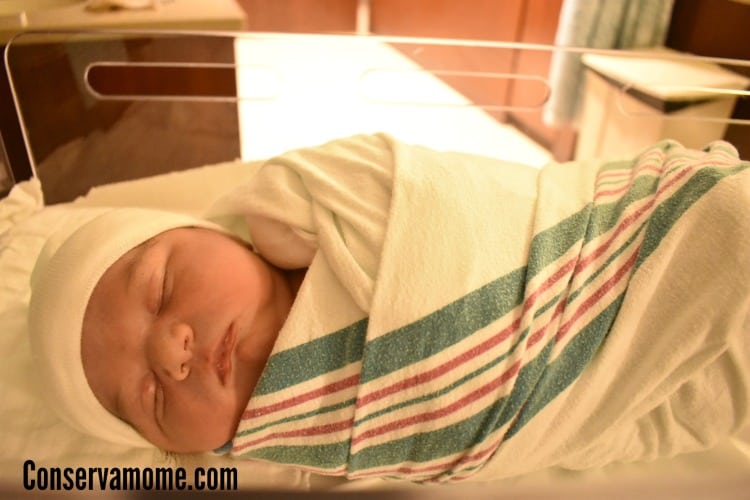 The first year is always stressful for parents, how and what you feed them shouldn't be one of the stresses. So being able to choose a formula that has the highest quality FDA nutritional Standards and still manages to save you hundreds a year is a no brainer.  
Need a particular type of formula, Parents choice has you covered!
Parents Choice comes in:
Parent's Choice® Premium Powder Infant Formula
Value Size 35oz­ Makes 65, 4 oz. bottles

Clinically proven to support growth and development

 ?
Parent's Choice® Advantage Tub Powder Stage 2 Formula
Value Size 35oz

Suitable for babies 6-­12 months
Parent's Choice​®​ Sensitivity Canned Powder Infant Formula
Available in Value Size 33.2oz ­ Makes 59, 4oz bottles?

For fussiness & gas
Parent's Choice​®​ Gentle Infant Formula with Iron
Available in Value Size 33.2oz ­

Makes 60, 4 oz. bottles?

 For fussiness, gas and crying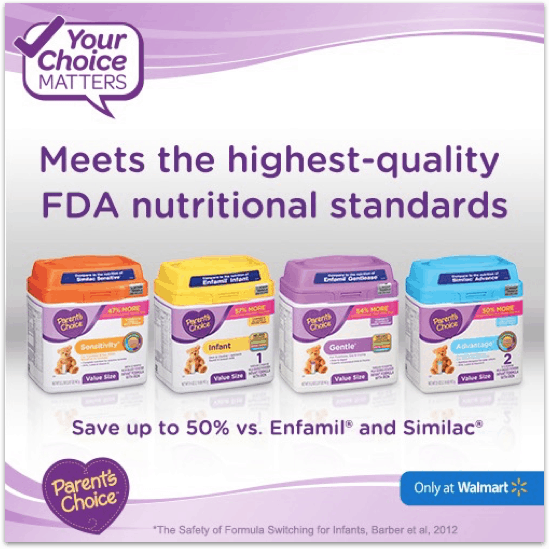 So if you need to turn to Formula to help feed your little one, then make sure you're getting one that will save you up to 50% vs Enfamil & Similac! Head to Walmart today and save while giving your baby a quality product made to fit their needs.