Getting your kids outdoors is so important. However, it can get tricky when they don't want to. Here are 5 Fun Ways To Get Kids To Spend More Time Outdoors.

5 Fun Ways To Get Kids To Spend More Time Outdoors
In an age dominated by digital devices, getting kids to put down their screens and spend time outdoors can seem like a major task. It's important for parents and caregivers to foster an appreciation for nature, understanding that it's crucial for a child's overall well-being.
The American Academy of Pediatrics (AAP) shares that children who play outside experience loads of benefits. Some include better overall physical health, greater engagement in learning, improved behavior, and better mental health than their indoor-focused peers. What many want to know is "How can you pry your child away from their devices and convince them to step out into the great outdoors?" You don't necessarily need to take a trip to a National Park or buy expensive backyard toys. The beauty of nature is everywhere, and with some creative strategies, you can ensure your child experiences it.
1. Rock Hunting: A Journey into Earth's Fascinating History
For budding geologists or even the curious little ones who love to dig in the dirt, rock hunting, also known as rockhounding or amateur geology, is an exciting outdoor activity. It's a hands-on way to learn about the earth's history, geography, and mineralogy that's also loads of fun!
Rock hunting, or rockhounding as some call it, involves collecting mineral specimens, rocks, semi-precious gems, petrified wood, and even invertebrate fossils. The thrill of discovery, the joy of being outdoors, and the potential for learning make it an engaging family activity. It is important to make sure that everyone respects nature and public lands. Check the land ownership, learn about rockhounding etiquette, and follow rules and regulations on the Bureau of Land Management and the USDA Forest Service websites.
2. Ride-on Toys: Fun that Builds Life Skills
Ride-on toys are more than a toy, they also help build important life skills. As children propel themselves forward and maneuver around obstacles, they're developing essential life skills. They're learning about balance and coordination, enhancing their physical strength, and cultivating a sense of independence. A highly rated ride-on toy is the Rollplay Nighthawk. It allows kids ages 6+ to reach forward speeds of up to 6 miles per hour and has a 2-meter turning radius for fun and quick steering.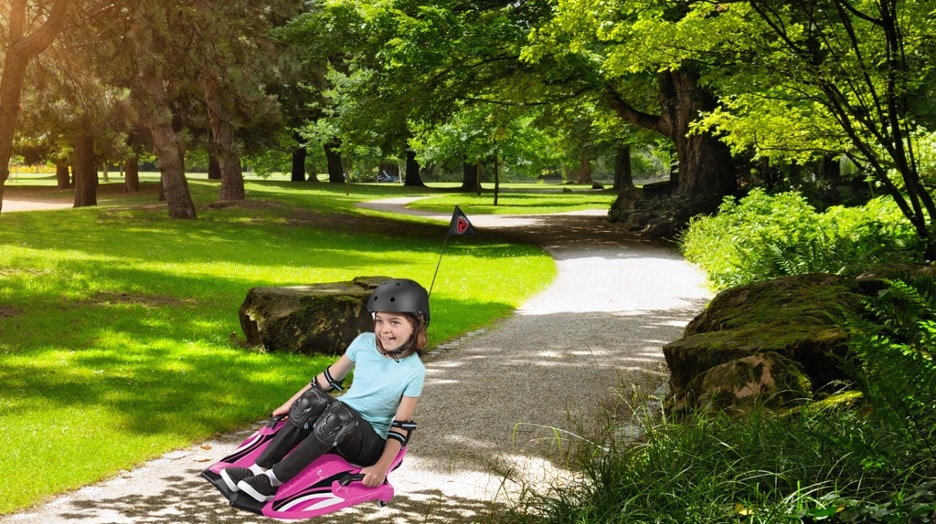 These toys engage children's core muscles, improving their balance and stability. Steering, maneuvering, and maintaining control during motion also boost their coordination and body awareness. The physical skills honed through ride-on toys lay the groundwork for more complex activities later in life.
3. The Magic of a Personal Outdoor Play Area
Why not turn your backyard into an adventure land? Creating an outdoor play area can make the home environment just as thrilling as any outdoor expedition. Whether it's a sandbox, a treehouse, a hammock, a tire swing, or a mud kitchen, such spaces can stimulate exploration, sensory play, and imagination.
Consider setting up an obstacle course to get kids moving or create whimsical settings like a gnome garden, a bear cave, or a wild animal safari. Even a simple project, like blowing rainbow bubbles, can make for a memorable outdoor experience.
4. Backyard Camping: An Adventure at Home
Give your child the magical experience of camping without leaving your home's safety. Setting up a tent in your backyard can serve as a quick and easy solution to provide your kids with an adventurous private space.
Tents are relatively easy to set up and take down—especially if you can get the kids to help out a bit. This means you can have a camping adventure as often as your kids like! If the weather isn't cooperating, you can always move the fun indoors. Remember, camping isn't necessarily an overnight activity.
5. Outdoor Art Projects: Letting Creativity Fly
Artistic projects can be one of the most exciting activities for children, especially during summer break. However, such projects can be a headache for parents when the mess ends up inside the house. The solution? Take the project outside. Whether it's action painting, creating nature collages, or building sand sculptures, outdoor art projects offer limitless possibilities. They allow children to engage their senses, explore various materials, and express their creativity while enjoying the outdoors.
To manage the mess, you can set up tarps, water buckets, and towels. This not only lets your kids go wild with their creativity, but it also makes the cleanup process a breeze. Plus, any spills can be hosed down, and the sun takes care of drying.