Cupcakes are one of my favorite treats; I love them from a box mix. Homemade with generous amounts of frosting are what dreams are made of, but taking cupcakes to the next level by decorating them Disney style is like a gold star on top of perfection! I have discovered 20+ Gorgeous Disney Cupcakes that are perfect for a birthday party, a celebration, or a way to build excitement for your next Disney trip!
Can you imagine serving any of these 20+ Gorgeous Disney Cupcakes to your family and telling them that they are going to Disney? Wouldn't that be so much fun?
While these 20+ Gorgeous Disney Cupcakes look like complete works of art, which are almost too lovely to eat, the instructions given with these recipes are easy to follow and will have you decorating your favorite cupcake recipe in a way that will absolutely impress anyone you share them with!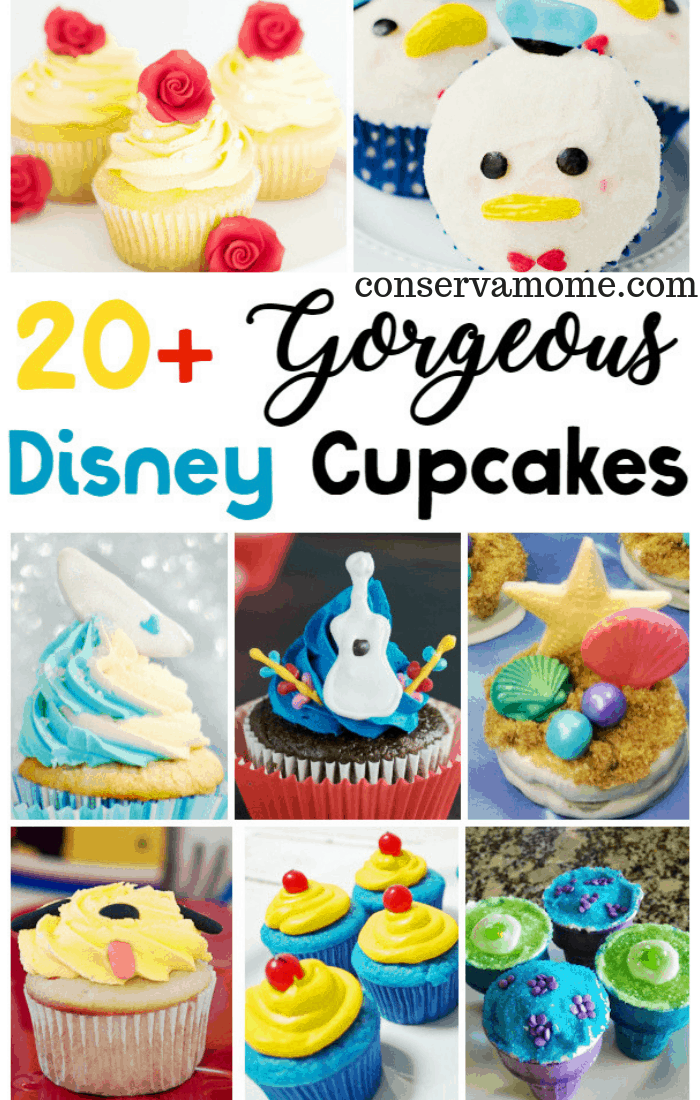 20+ Gorgeous Disney Cupcakes
Doodlecraft – Moana Inspired Tamatoa Shiny Cupcakes
Made to Be Momma – Belle Cupcakes
The Domestic Rebel – The Pirate Fairy Blue Pixie Dust Cupcakes
A Night Owl – Disney Pixar Incredibles Cupcakes
A Magical Mess – Coco Guitar Cupcakes
Bakingdom – Donald Duck Cupcakes
Midget Momma – Pluto Cupcakes
Desert Chica – Monsters University Cupcakes
Momma Told Me – Lady and the Tramp Inspired Spaghetti and Meatballs Cupcakes
Young at Heart Mommy – Maleficent Cupcakes
The Mouse For Less – Grey Stuff Cupcakes
The Inspiration Edit – Little Mermaid Inspired Cupcakes
Will Cook For Smiles – Red Velvet Mickey Oreo Cupcakes
Mama Cheaps – Heart of Te Fiti Cupcakes
Mouse Ears Mom – Big Hero 6 Cupcakes
Val Event Gal – Cinderella Slipper Cupcakes
Crafty Life – The Disney Descendants Cupcakes
Foodie Fun – Disney Inside Out Cupcakes
Mainly Homemade – Cruella de Vil Cupcakes
Desert Chica – Snow White Cupcakes
Doodlecraft – Frozen Icicle Candy Cupcakes
Surviving a Teacher's Salary – Mickey Mouse Inspired Cupcakes
I cannot pick a favorite from this list! They are all too cute to compete! I know my kids would love it if we made any of these 20+ Gorgeous Disney Cupcakes and enjoyed them as a special treat with the coordinating Disney movie!
If you are in the mood for all things Disney now that you have checked these recipes out, you might be interested in 20 of the Best Disney Crafts for Kids
If you are heading to Disney for your first visit soon, don't miss this post of 10 things you need to know before your first Disney Trip.