This fun Wooden Bunny Silhouette is a perfect and easy Easter Decoration. Easy to make and so fun to show off. Personalize it and get creative with this fun creation!

After having such a harsh winter in New England, nothing brings me more joy than to welcome in spring. It's amazing when you live somewhere with such distinct seasons, certain things bring you joy when you see them. Things like a robin or a chipmunk, insignificant animals to non winter bearing people, become a sign that spring is almost here. Moving from Florida 2 years ago has made me appreciate this time of year more than I would ever imagine, because of how beautiful it all becomes. Today is the beginning of Holy week for Christians around the world which to me also signifies winter is truly coming to an end (Although you wouldn't think so with the storm we had last week). So in honor of the rainbow at the end of this harsh winter storm I wanted to share with you all a fun craft that is just too cute for words.

This easy to make craft isn't just adorable but a perfect spring piece.
Materials: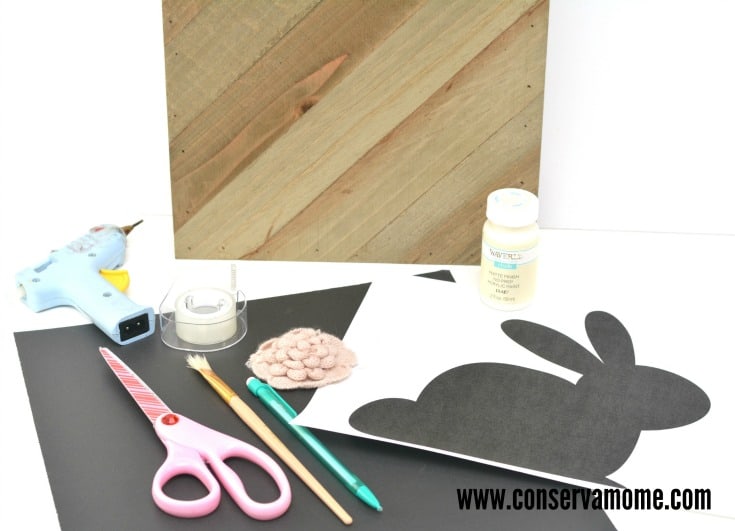 Plain wood sign (Ours was purchased at Walmart)
Bunny silhouette printable template Wooden bunny template
Large sheet of cardstock
Pencil
Scissors
Tape
Ivory craft paint
Paint brush
Fabric flower craft accent
Instructions:
Begin by cutting out the bunny silhouette from the printable template.
Trace the bunny shape onto a large piece of cardstock with a pencil. The thicker the cardstock the better for this craft.
Beginning at the bottom of the bunny shape where the straight line is, cut out the silhouette shape from the cardstock.
Use tape to close the cut at the bottom of the bunny shape in the cardstock, so that it forms a closed stencil.
Lay your cardstock stencil on top of your wood sign where you would like your bunny shape to appear.
Tape down the edges of your cardstock stencil so that it does not slip and slide while you are painting.
Using ivory colored craft paint, paint in the stencil on the wood. You can hold down the edges of the stencil with your fingertips as you go along the edges to make sure you get a good clean shape.
Let the stencil stay on your wood sign until the paint has completely dried.
Once the paint is dry, remove the stencil from your sign and discard.
Use glue to attach a fabric flower craft accent to the tail area of your bunny silhouette on your wooden sign.
This is such a cute craft that's easy to make! Most important you can get creative and change up the end product!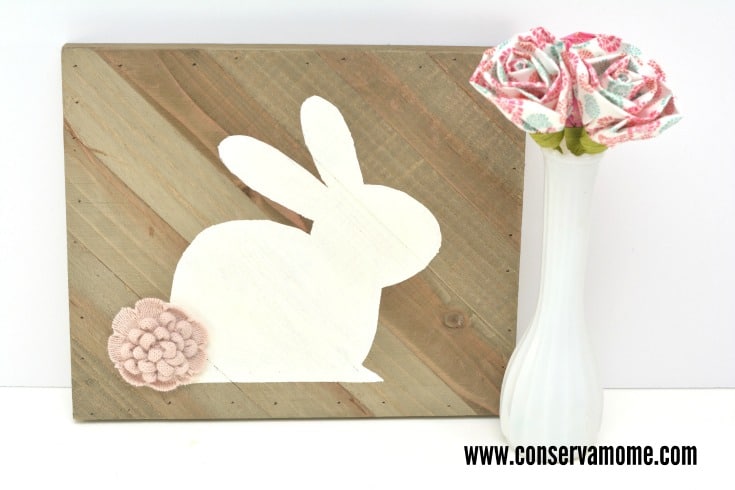 Looking for some more fun craft ideas? How about this round up of 16 Spring crafts for kids!