Whether you're a professional chef or someone who enjoys cooking for the family, there are a few cooking tips and tricks that you should keep in mind, if followed these Tips will have you cooking like a professional.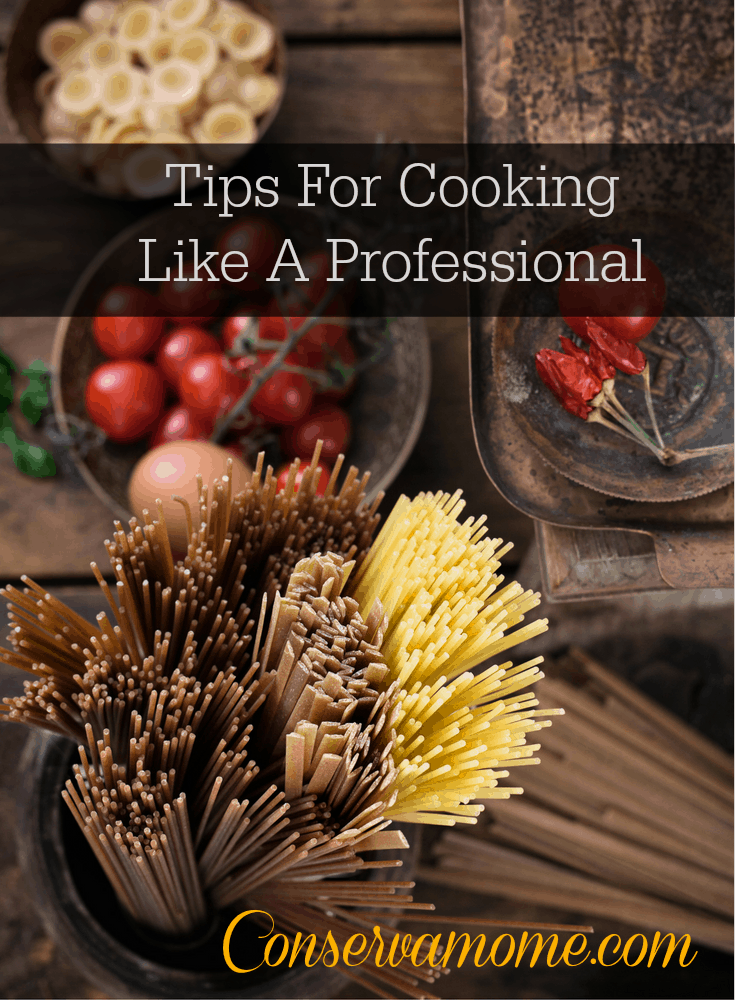 Whether you're a professional chef or someone who enjoys cooking for the family, there are a few cooking tips and tricks that you should keep in mind. These tricks can make food preparation faster and organized, and there are also a few tips for making sure foods get done in a shorter amount of time when they are baked, fried or prepared in another fashion.
Seasoning
When cooked in the natural state, some foods taste bland. With a little salt and pepper or another type of seasoning, you can turn a boring meal into one that is delicious. There are a few spices that can liven up a dish as well, such as paprika, chili powder, garlic salt and seasoning salt. You don't want to rely on the natural flavors to come through while you prepare your meal.
Blending Flavors
One of the hardest things to do when preparing a meal is deciding what to cook. Programs like Cozymeal help to give cooks ideas on how to pair foods that have the same flavors that will accent each other.  Bacon fat can be used in a pan of vegetables if you plan on featuring the meat as a main course. If you're cooking foods that are dark in color, then use a red wine or a dark sauce. Butter isn't always ideal if you're preparing a vegetarian dish.
Taste
Don't just put something on the table without knowing what it tastes like. While the food is cooking, check to make sure there is enough seasoning and that there are enough flavors in the dishes. You don't want family and friends to eat something that is bland or that is overly seasoned.
Garlic And Onion
These are two foods that just seem to make any dish a little better. It's easy to chop a garlic clove, storing it in a small container as you likely won't use the entire clove at one time. Small pieces of onion can also be used for seasoning and adding flavor, especially if you are preparing a dish with beef.
Plating
When the food is done cooking, you want to plate it in a way that is appealing. Many people eat with their eyes instead of only with their taste buds. Treat your meals like they would be served in a five-star restaurant, even if it's a bowl of soup and a grilled cheese sandwich. This is something you want to consider doing more of if you entertain a lot.
Weight And Volume
Some recipes call for an amount of an ingredient in weight while others need a certain volume. When you're baking, you usually want to use weight so that the item you bake isn't too heavy. If you use too many liquid ingredients, then you can make almost any dish too thin, which will mean you have to add more dry ingredients in order to get a thicker sauce.
Utensils
Make sure your knives are sharp. You can't cut meat and vegetables with a dull knife, and if you do, then you will probably get uneven marks on the food. Other utensils should be in a good condition as well, such as a whisk that can easily stir ingredients or a can opener that doesn't have a dull attachment so that you can easily open the cans that you need.
Crowding
When you're cooking anything in a pan, don't crowd the ingredients. It will be hard for them to get done at the same time. Some of them might get brown or burnt while others might be under-cooked. If you want to prepare everything at one time, then consider getting a bigger pan or putting everything on a baking sheet and putting the sheet in the oven.
Tools In Place
Before you begin cooking, make sure you have all of the ingredients that you need and all of the tools you need to prepare the meal. You don't want to have to send someone to the store to get an ingredient or go to the store yourself, letting your meal sit until you get back for it to be completed. If you let some items sit for even a short time, they could have a different consistency, especially pasta. If you have everything that you need at your disposal, then you will find that cooking can be enjoyable and fun whether it's making a five-star meal or a pizza.