Riddles are a blast to read. Sometimes the answer is as plain as the nose on your face. Other times it's as tricky as can be. The one thing that riddles all have in common is that they make you think. I love riddles and sharing them with others so I've put together some fun riddles below.
Keep reading to see the answer to this riddle. Before I give you the answer though, check out a couple of fun riddles.
Here are some fun riddles to warm you up!
No one has ever walked this way
AnsweR: The Milky Way
I speak without a mouth and hear without ears. I have no body, but I come alive with wind. What am I?
Answer Echo
You measure my life in hours and I serve you by expiring. I'm quick when I'm thin and slow when I'm fat. The wind is my enemy.
Answer: Candle
In a one story house at the corner of the road, the bedrooms were yellow, the kitchen was blue, the living room was orange, the garage was green, the entry hall was red and the sitting room was purple. What color were the stairs?
There are no stairs in a one story house
People make me, keep me, change me, raise me, even though I can be very dirty. What am I?
Answer: Money
Rough and gray as rock,
I'm plain as plain can be.
But hidden deep inside there's great beauty in me.
What am I?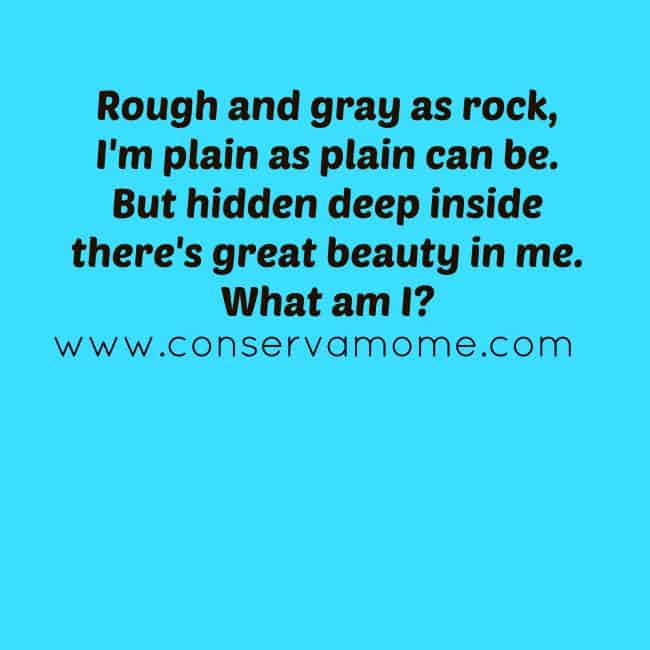 Answer: An Oyster
Here's one last one:
Can't figure out the answer? Head over here to see what it is.