When going on vacation your sunglasses are probably one of the most important items you'll need. Find out how to protect your sunglasses while traveling.
How to Protect Your Sunglasses While Traveling
The sun is coming out, and that means so are people. You are likely already thinking about the trips you will take this year, or maybe you already have one or two planned. A travel itinerary won't be the only planning that needs to take place.
It's best to devise a plan to keep track of your possessions and keep them safe. Sunglasses are among the most common casualties when traveling, winding up lost, broken, or stolen. Like any accessory, sunglasses require proper care and storage to ensure longevity.
Proper Packing
A common mistake air travelers make is packing sunglasses in checked luggage. It seems to make sense since you will not need them until after you land. Why not store them in a suitcase with a protective case to keep them from getting lost?
The reality is, with all the tossing and stacking a suitcase undergoes, even a protective case may not be enough to keep your favorite sunglasses from damage. It is better to keep them on your face or in your carry-on to safely guarantee they make it to your final destination. If you are not in control of the plane window blind, you might even be thankful for the eye cover.
There's no need to buy a cheap pair of replacement sunglasses when you land because of what happened in transit.
Get a Case
It is not practical to wear sunglasses all the time, so it is essential to have a hard protective case. This container will guard them against being crushed by reasonable amounts of weight, and the inner lining prevents scratching. A soft case, on the other hand, can only avoid minor scratches.
If you do not need to access your sunglasses at a moment's notice, get in the habit of storing them in their case. Refrain from placing them on top of your head or hanging them from your shirt collar. It is easy to forget they are there, and when you look down, they are liable to fall off.
If you are standing on pavement or sand when this happens, they will get scratched. If you are leaning over a balcony, your favorite shades will likely be lost forever.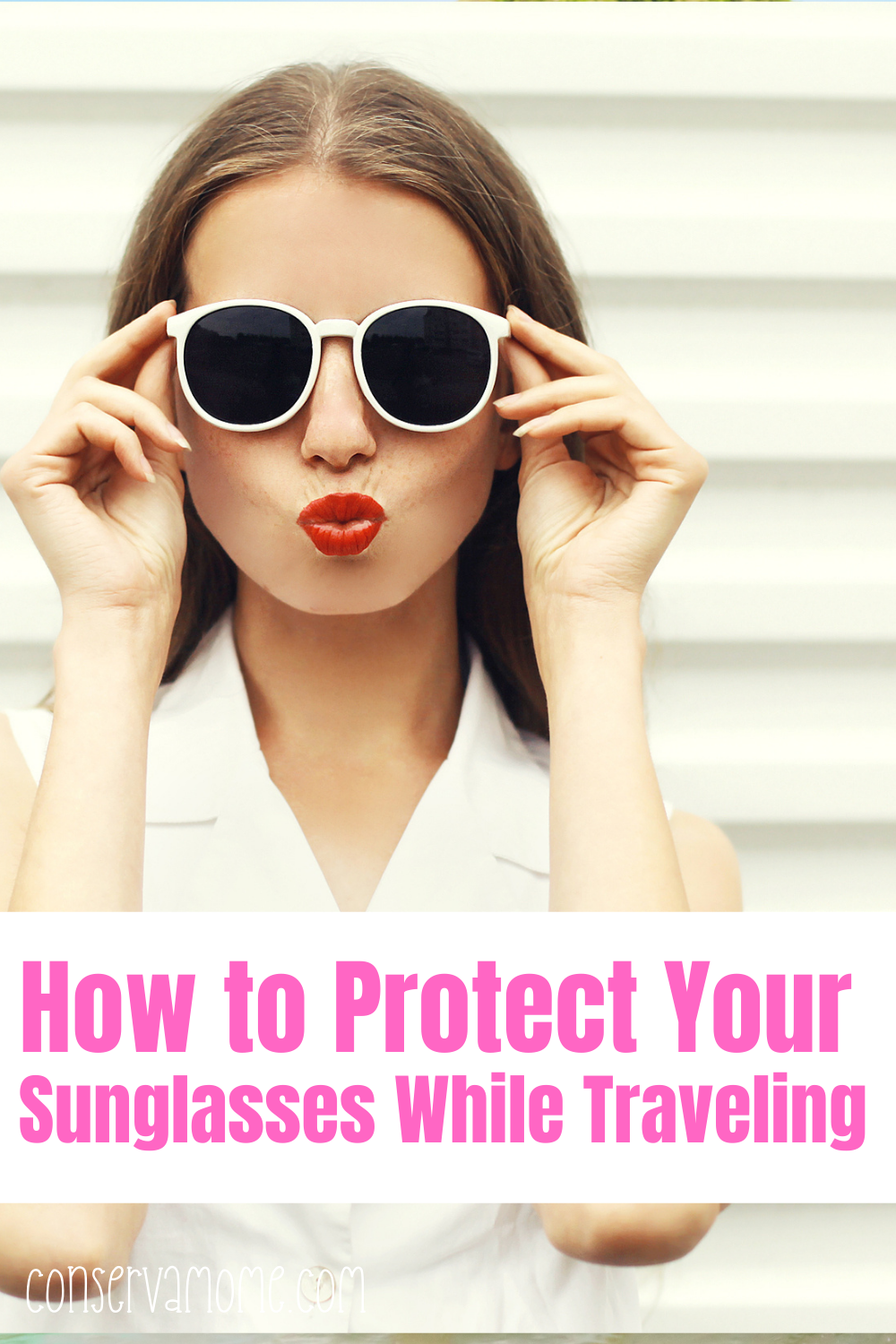 Choose the Right Frames
There are many different styles and materials on the market that maintain specific attributes. It is wise to choose your eyewear according to the travel activities you have planned. Long hours under the sun means you should shy away from metal frames that can get uncomfortably hot. Plastic frames maintain a cooler temperature and can be just as durable.
The typical rigors of vacation travel are already enough to favor bringing durable frames. A pair breaking during use can be just as much of a day spoiler as forgetting sunscreen or water.
If your plans include activities that are even more rigorous, like zip-lining or camping, you might need a pair meant for higher performance. Sunglasses like women's Oakleys, for example, are famous for their robust build and lightweight feel.
Stash Them Away
Unfortunately, just about everyone has lost a favorite pair of sunglasses in a public place, never to see them again. This common incidence could be due to forgetfulness, or it could be a sneaky thief taking advantage of a distracting situation.
To avoid both of these scenarios, whenever you are not using your sunglasses, store them safely in a designated area. This rule should apply to all personal items during travel. No valuable items should be left unattended.
If you are using a rental car, do not fall into the trap of storing your glasses in the sunglass compartment or center console. Although they will be secure, you will likely end up forgetting them when you return the car. It is better always to have your personal items hidden away in a simple bag in between use.
Financial and Sentimental Loss
The thought of wasting money is enough to wreck anyone's mood. Stack the emotional hit that follows losing a personal item on top of that, and it could be enough to ruin the entire trip.
Purchasing expensive sunglasses should be seen as an investment that will pay off for years to come. To ensure that is the case, take the proper precautions to keep your favorite sunglasses in all your favorite vacation photos.