Car seat safety never ends, one has to be especially vigilant during Winter. Check out some Winter Car Seat Safety Tips from diono. This is a sponsored conversation on behalf of Diono, however all opinions are 100% mine.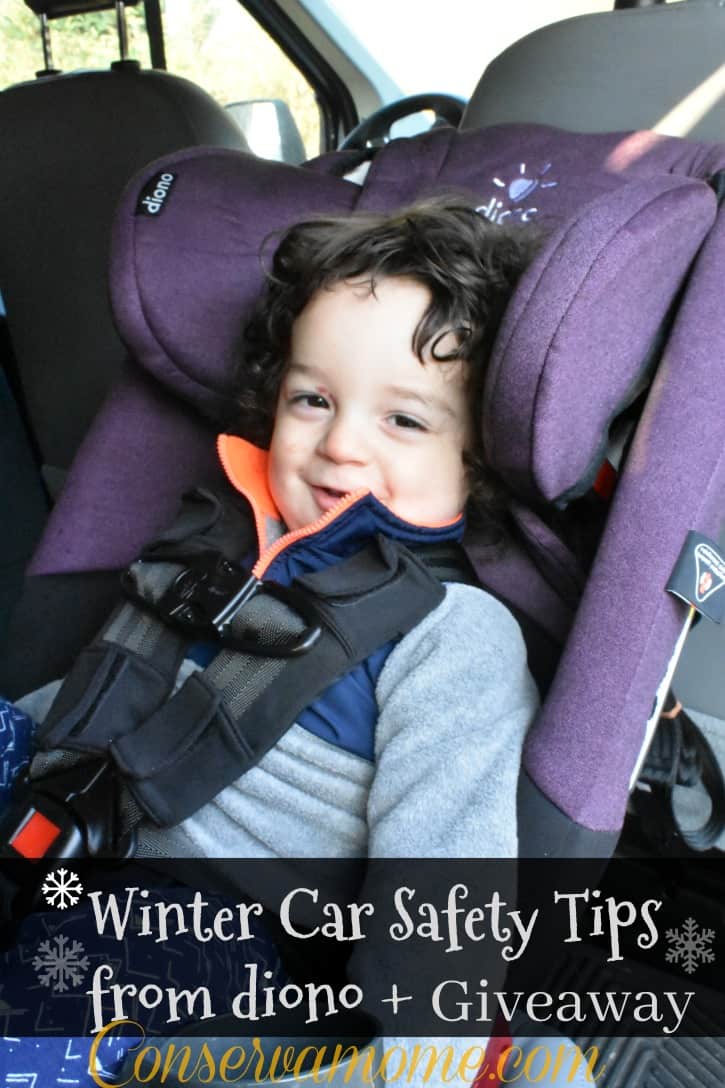 diono car seats have been a huge favorite in our home for years. These are quality car seats that stand the test of life.  I've been using them since my oldest was a little one and continue to love them with my #5. While it is common for parents to complain about the weight of car seats, one can agree that their child's safety is the #1 factor in choosing a seat. Yes, carrying around a 20lb. child inside of a hefty seat can be strenuous, but that is easily outweighed by the peace of mind that your child is safe and secure when traveling. That's why it's been a no brainer that my children ride around in a diono.
diono, a leading manufacturer of child safety seats also understand that safety is paramount for your little ones. Parents continuously recommend these seats despite what they think of the weight, as the weight in diono seats is incurred by the following, including but not limited to:
Full steel frame and aluminum reinforced sides
Energy absorbing EPS foam and side impact protection
Safe Stop® energy-absorbing harness
With the features on the diono seats, heavy means safe. And heavy is good. VERY good.
Recently diono redesigned their Radian rxt and  made it even more amazing. Changing the style but still keeping some of the amazing features that have made it the leader in the car seat industry. Premium materials and thoughtful safety features that make it stand above all others.  I recently had a chance to check it out for myself and ( if possible) fell even more in love with this amazing car seat.
The car seat itself looks a bit different from the predecessor. It really is a gorgeous model. One of the  new features is the new redesigned look (which I love) and  Premium plush interlock knit fabric (available in Black Cobalt, Black Mist, Black Plum(the one I reviewed), Black Scarlet and Essex)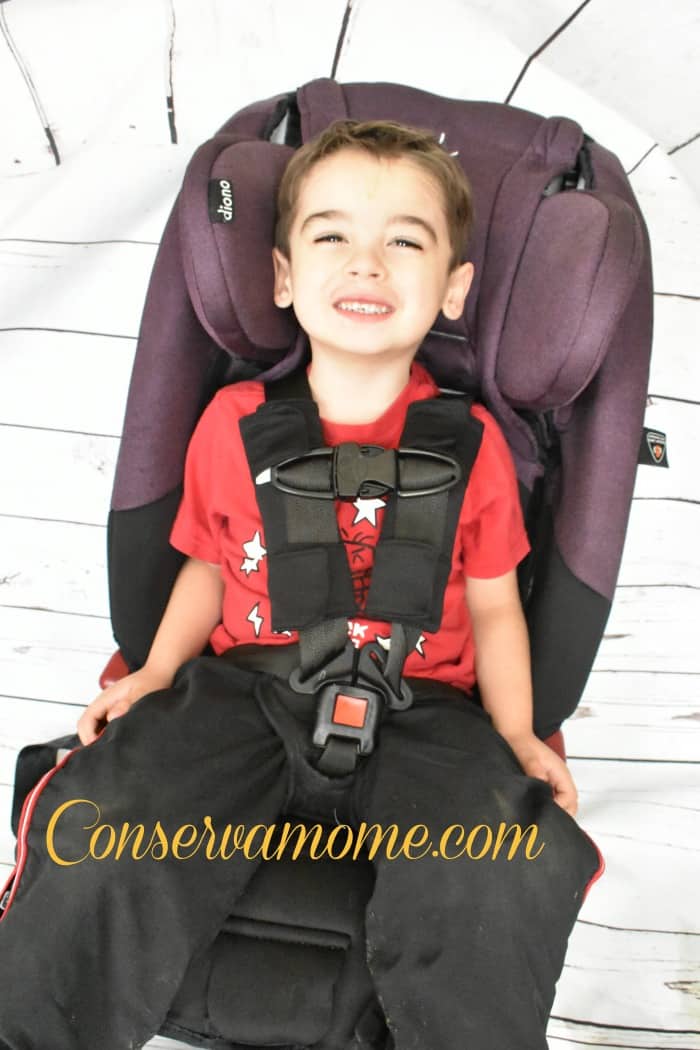 However it still has the amazing features below:
Full steel frame and aluminum reinforced sides for unmatched safety
Comfortably seats rear-facing children from 5-45 lbs, forward-facing children from 20-80 lbs in a 5-point harness, then converts to a booster for children up to 120 lbs.
Unique SuperLATCH system that makes installation easy
Fits 3 across in most mid-size vehicles, folds flat for travel and is FAA certified
NCAP crash tested, the industry benchmark for verifying child seat performance in severe accident conditions
Infant body support cushions and memory foam for added comfort
Energy absorbing EPS foam and side impact protection provides added safety
Safe Stop® energy-absorbing harness
12-position adjustable headrest, 5 shoulder and 3 buckle positions deliver a comfortable ride.
Rear-facing tether capability
Expandable sides and long seat bottom allow proper leg support
Low-sitting profile makes it easy for your child to board
Angled cup holder keeps a variety of drinks upright and within easy reach
Cover is machine washable
Rubber bottom grips for no-slip installation
10 year life
It can still be folded up for easy travel.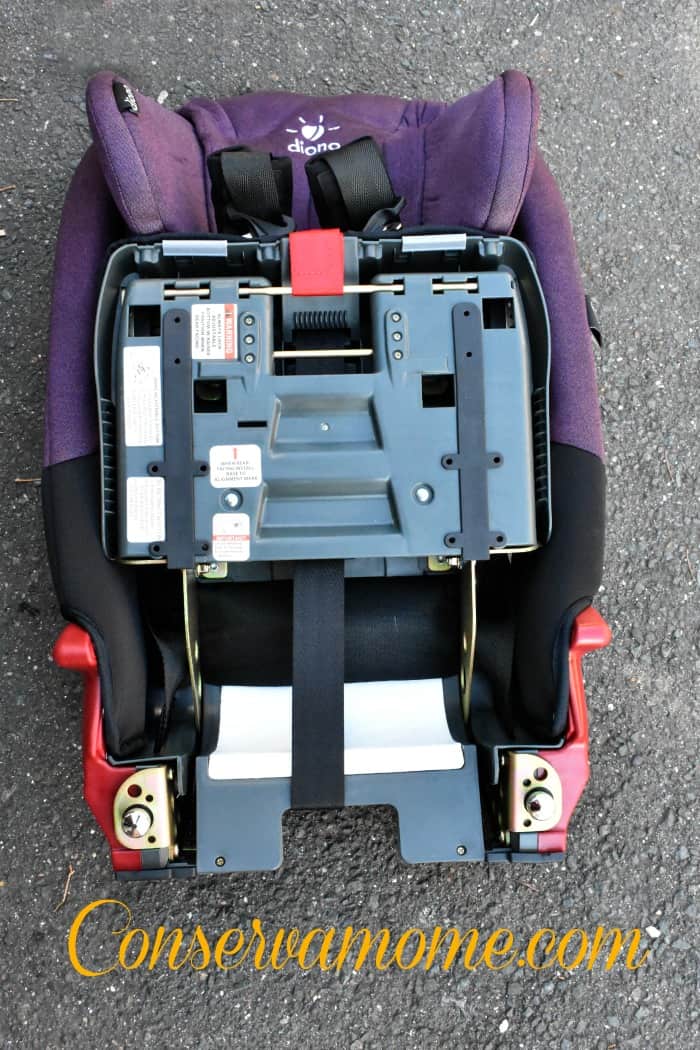 and it's slim feature makes it possible to take anywhere.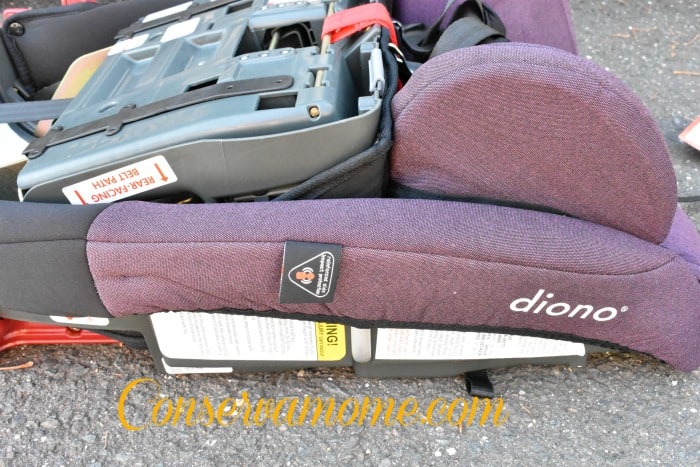 Easily adjustable straps and shoulder harness making an easy fit every time (remember to make sure if car seat is rear facing Harness slot is below shoulder and if forward facing Harness slot is above shoulder)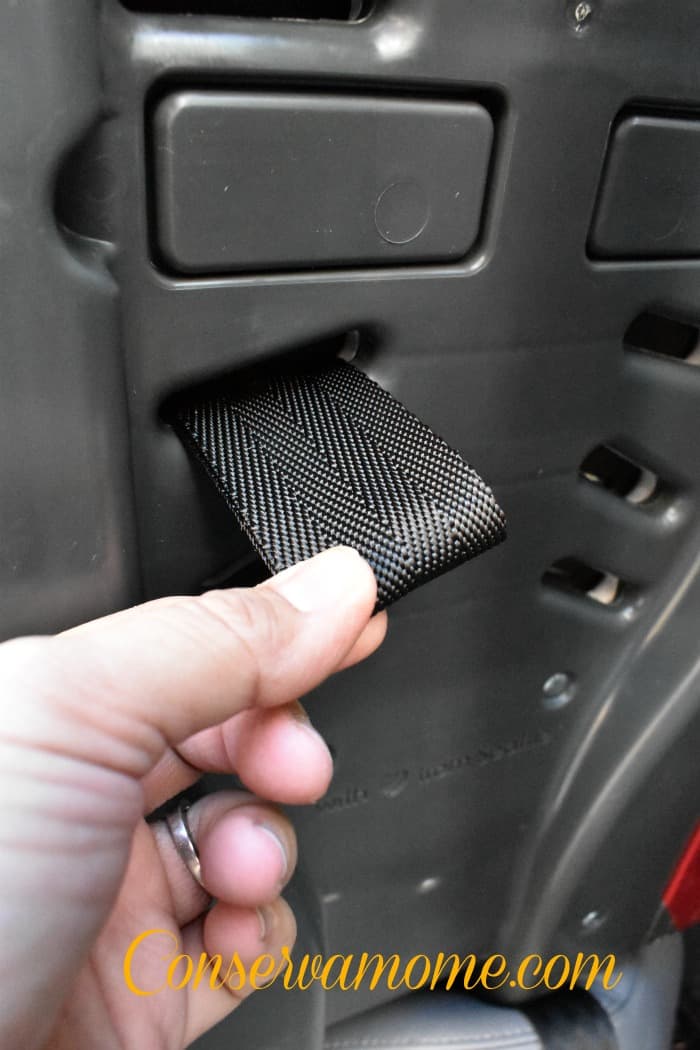 Comfortably seats rear-facing children from 5-45 lbs for maximum safety. Premium plush head and body support cushions included for newborns and infants.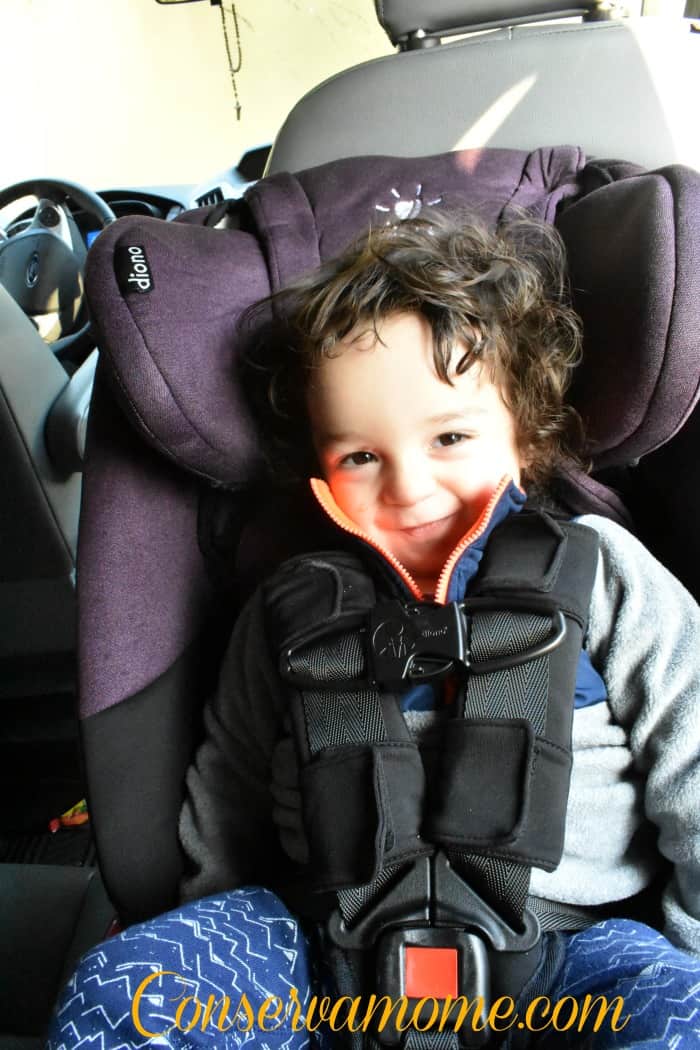 It is a bit wider than it's predecessor but still fits 3 across which is fantastic in my book. Even though it's wider it really just seems more comfortable than anything,without compromising the slim shape that has made this car seat so popular.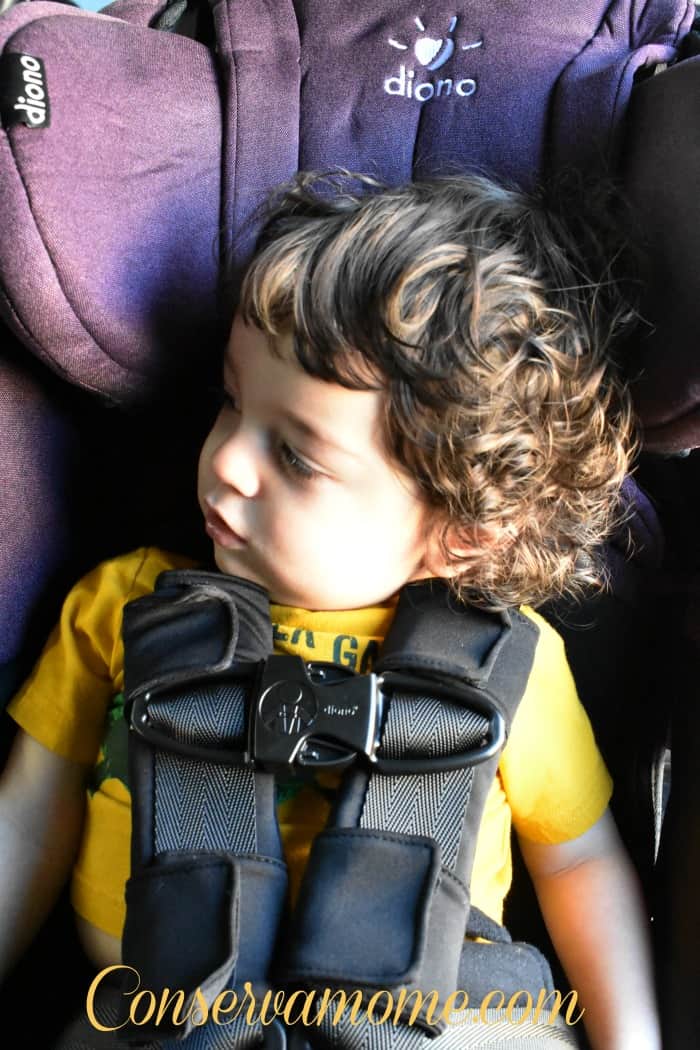 diono has hit a home run once again and they will continue to be a favorite in our home, helping my family travel in safety and style.  My family moved to New England 6 months ago and we're ready for Winter to send it's cold weather our way. Winter weather brings with it a separate set of rules when it comes to car seat safety. Check out some great Winter Car Seat Safety tips from Global Safety Expert, Allana Pinkerton below, and keep your little one safe this winter! 
As winter comes upon us, it is time to get flu shots, take extra vitamin C, stay hydrated and bundle up. If you are spending time outdoors in cold weather, wearing heavy coats is a necessity. However, when your child rides in his or her car seat wrapped up in a heavy winter coat, the harness will not be protecting them properly. Wearing such a bulky coat and being strapped into a 5-point harness is also hot and uncomfortable, making it a miserable car ride for your child.
Harness webbing, like seat belt webbing, secures an occupant in the vehicle during a crash. Belt webbing "likes" bone. This is why it is necessary for the belts to fit across the strongest bones in our bodies; our hips, thighs, chest and shoulders. Seat belts and harness webbing not only keep us from being ejected in a crash, but they also help with "ride down," allowing the crash forces to spread across the strongest parts of the body. This is important in order to reduce injuries and death.
The harness might feel tight when you buckle a child while they're wearing a heavy coat. During a crash all of that extra fabric will compress, leaving the harness with too much slack. The safest option is to harness your child first, then put their coat on backwards over the harness, or wrap them in a blanket over the harness. This way the harness is properly tightened and they still stay nice and warm. Adults are also at risk when wearing a winter coat under the lap/shoulder belt. At the very least we should unbutton our coats when riding in the car. The best option is to remove your coat all together.
Remember, proper fit for a 5-point harness means snug and comfortable and you cannot pinch the webbing at the collar bone. With older children in booster seats, be sure the lap belt is low on the hips/high on the thighs and the shoulder portion on the center of the collar bone. This goes for adults too. If you are pregnant, the rules stay the same.
Other important winter travel tips:
Make sure you have the proper tires on your car and that your treads are still in good shape, and carry chains with you.
Throw a safety/supply kit in the car. You never know when bad weather might leave you stranded. Be sure to pack up blankets, food, water, diapers, wipes, etc. for emergencies.
Always carry an extra charge pack for your cell phone too. Even if you are just going a few miles from home, always be prepared.
Be sure the heat is working in the car.
Keep your gas tank full, rather than on fumes.
Give yourself plenty of extra time to get to your destination.
Keep a safe distance between yourself and the car ahead of you, and make sure your brakes are in good working order.
When you reach your destination Look Before You Lock and do not leave your child unattended in the car, no matter what. Even a few minutes in cold temperatures can be dangerous for baby.
Stay safe and look forward to those warm summer days.
Save