Halloween is not for the timid, or for those who want boring drinks. Whether you're hosting an adults-only party, or chaperoning a kid-fest, you need a cocktail to go with that costume! Here's a fun treat to enjoy at any party!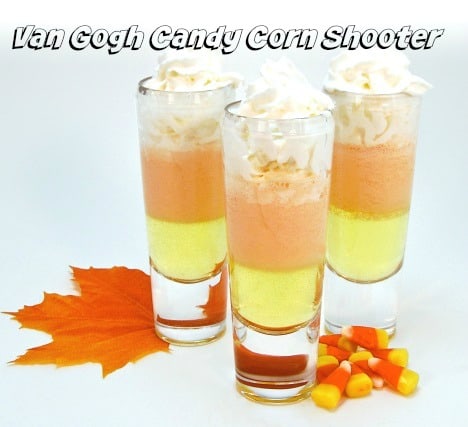 Van Gogh Candy Corn Shooter
2 oz. Van Gogh Classic 80 Proof Vodka
2 oz. Banana liqueur
2 oz. Coconut rum
2 oz. Orange curacao
2 oz. Cream
Grenadine
Combine Van Gogh Classic 80 Proof Vodka and Banana Liqueur into a mixer with ice. Shake and pour into the bottom of the shot glass. Then combine Coconut Rum, Orange Curacao, Cream and a dash of Grenadine (for color). Shake in shaker with ice and gently layer on top using a spoon. Top with whipped cream and Enjoy!

This is a fun and delicious alcohol treat that will have your guest complementing your creativity.
A special Thanks to Van Gogh Vodka for this fun recipe!