This is a sponsored post on behalf of Fresh Flowers.com. However, All opinions are 100% mine.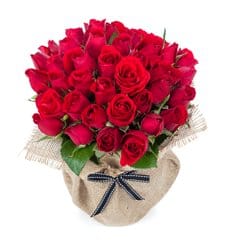 There are many ways to show your special someone you love them. There are hugs, kisses, and washing the dishes. That being said, one of the favorite ways to show you care is to shower them with flowers.  Giving flowers as a form of affection dating back thousands of years from the early civilizations', use of  flowers as part of their gifts to the Gods is a symbol of affection. During the Victorian Era, flowers were always given as a form of affection and love. That's why with Valentine's Day being a month away flowers are the perfect way to show you care.
However, not just any flower selection will do. For many each flower has a significance that is greater
than what you see. For example.  Red roses imply passionate and romantic love, pink roses could mean a lesser affection, white roses suggested virtue and chastity, and yellow roses stand for friendship or devotion.  A flower's color, size, condition, and position in relation to other flowers in a bouquet, for example, all conveyed meaning without saying a word.
Flowers aren't just aesthetically pleasing to the eye but they're also scientifically proven to make one feel better. Researchers at Rutgers University did a ten-month study and concluded that there is a link between flowers and moods, and this research could prove to be the foundation of a whole new way to do therapy. In one experiment, those who were feeling low and depressed felt good almost immediately after receiving a gift of flowers.
So this Valentine's Day don't dismiss flowers as a simple gift. Flowers are more than just that, they convey feelings that some may have trouble expressing in words. However, you don't have to just wait until Valentine's Day to give flowers, everyday can be a fun way to show someone you care. Visit Fresh Flowers to order Valentines Day flowers for your special someone 😀