Although I recieved the Little Tikes 2-in-1 Art Desk  & Easel free of charge to facilitate review. All opinions are 100% mine.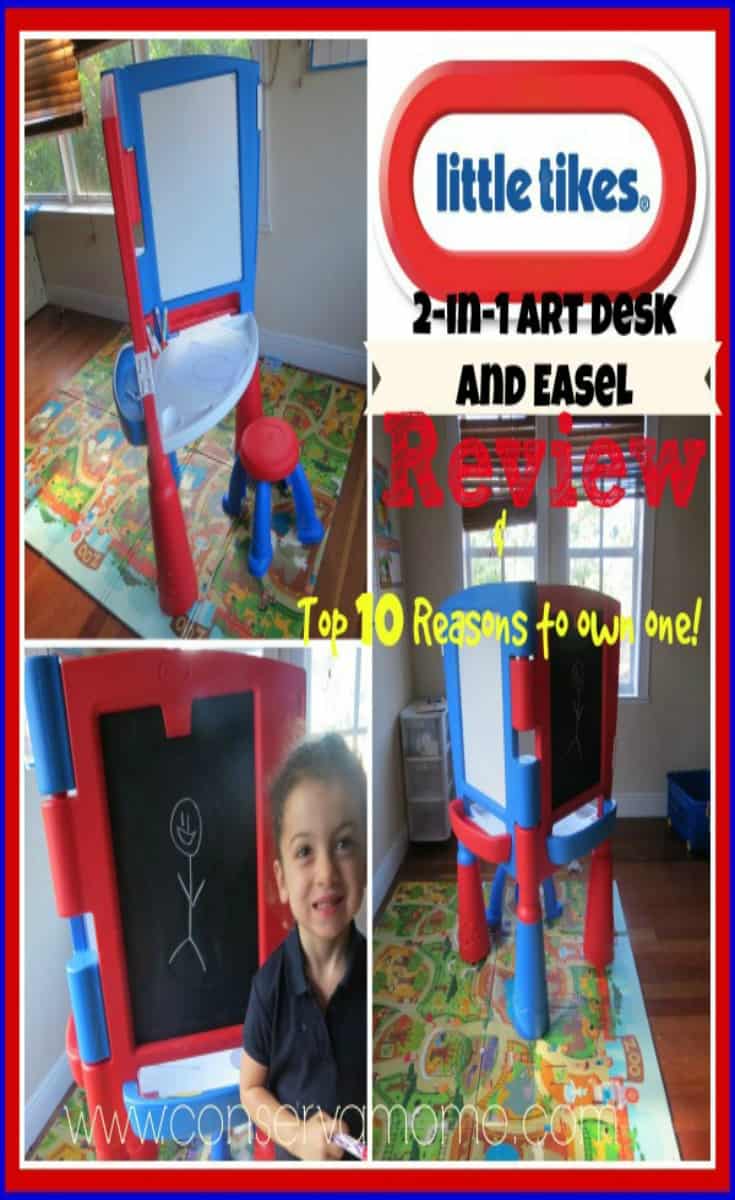 I  am always looking for ways to awaken my children's creativity. It can be hard. But the search is always on. So when I got the chance to check out and review the Little Tikes 2 in 1 Art Desk and Easel I couldn't have been happier. So what did I think? Check out my top reasons why this product rocks!
#1 Easy assembly!
There's nothing worse than getting something for your children and having it be the most complicated thing to assemble. Thankfully this product is so easy to put together and you don't even need tools to put it together. All the pieces easily snap together in minutes.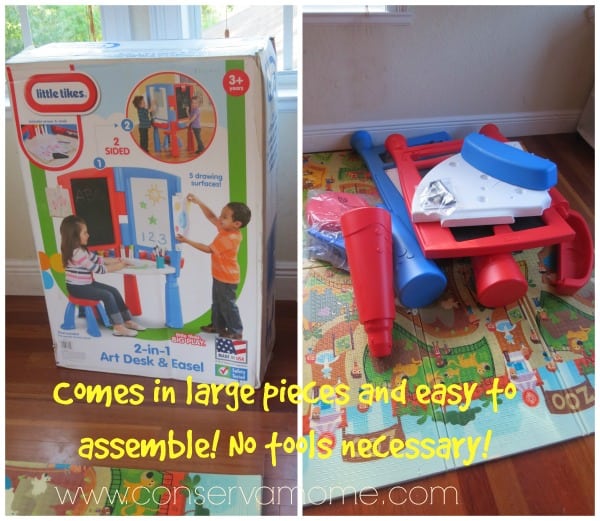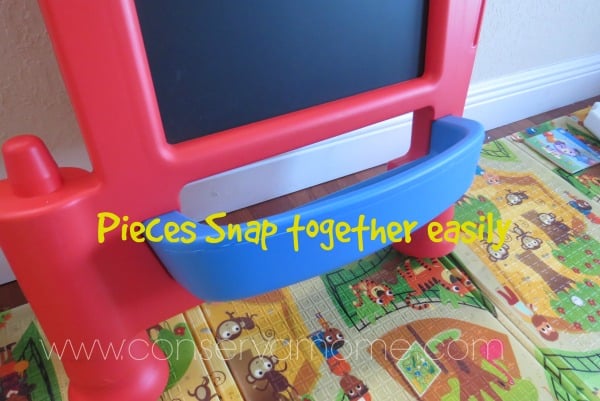 Really easy to assemble! So that your little artist is read to go right away!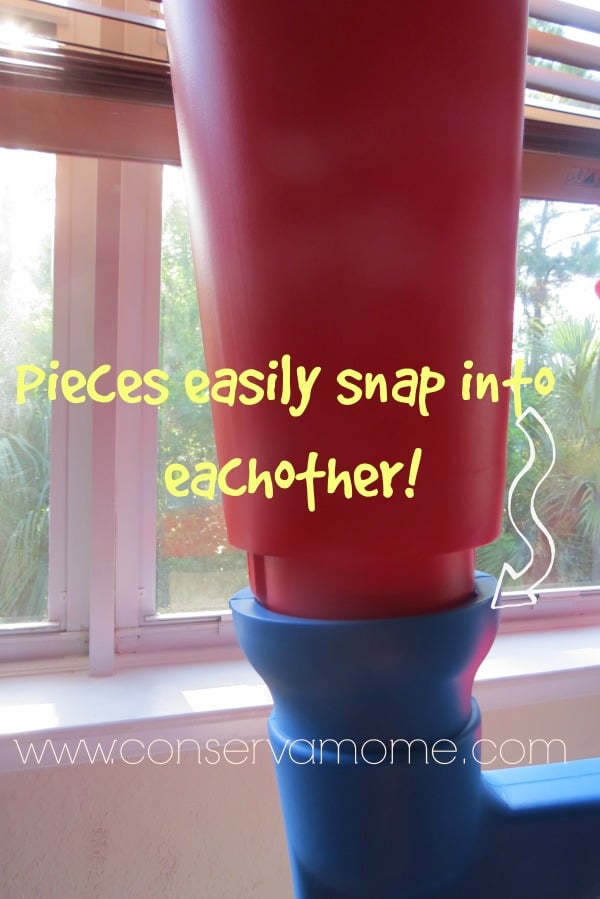 #2 Can be used by a few kids at the same time!
Because I have 4 kids they all want to use things at the same time. That was one of the features I love about this product. It has dual sides of each one so that more than one child can use it at a time. (A huge plus in my home!)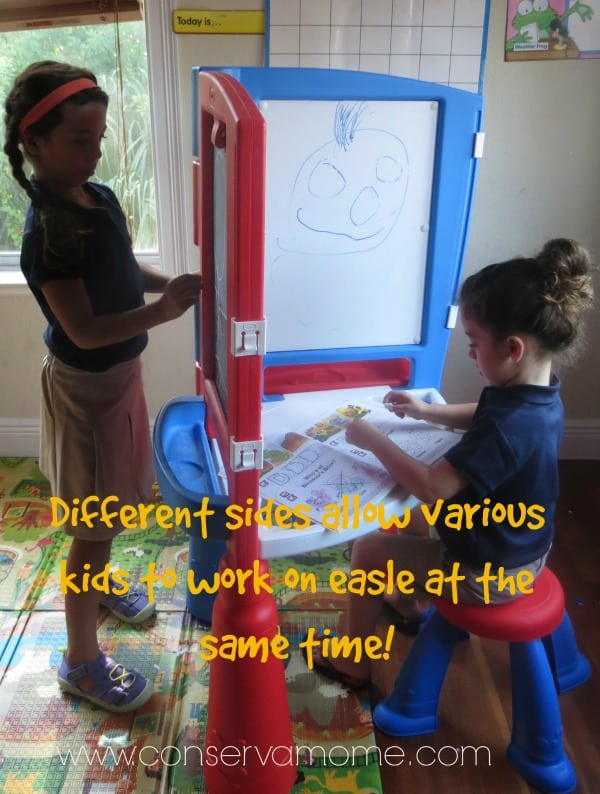 #3 Multi function boards
It includes a white board side with a clip at the top so your little one can also paint using water colors or paints on a  paper.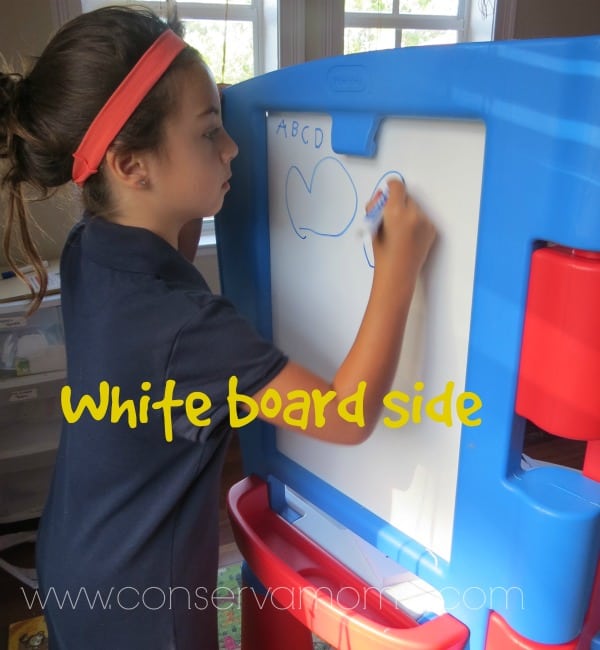 It also includes a double chalk side and comes with chalk and an eraser.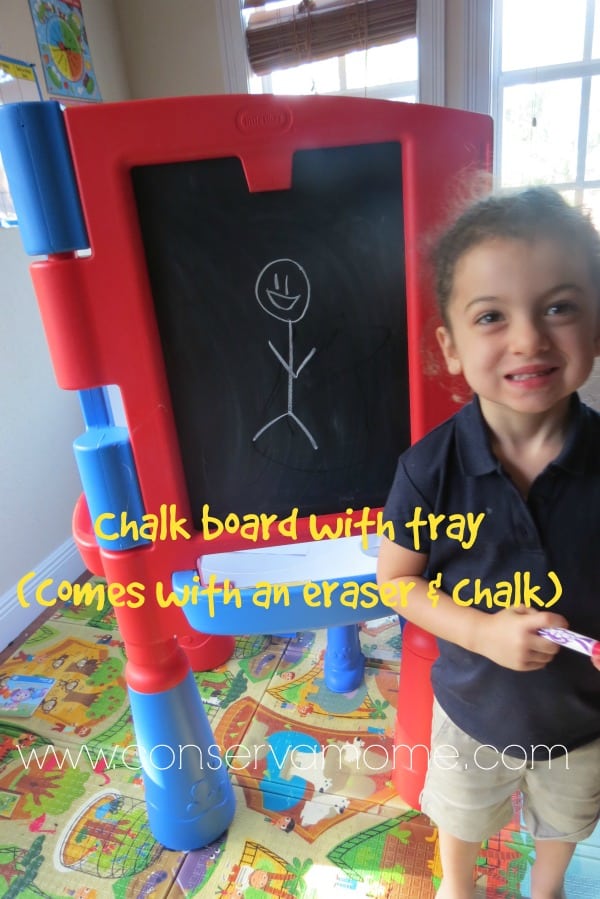 #4 Teach your little ones organization
It has special crevices and pockets to teach your little one to keep things organized in an easy to do fashion. Something that unless they do themselves won't be learned.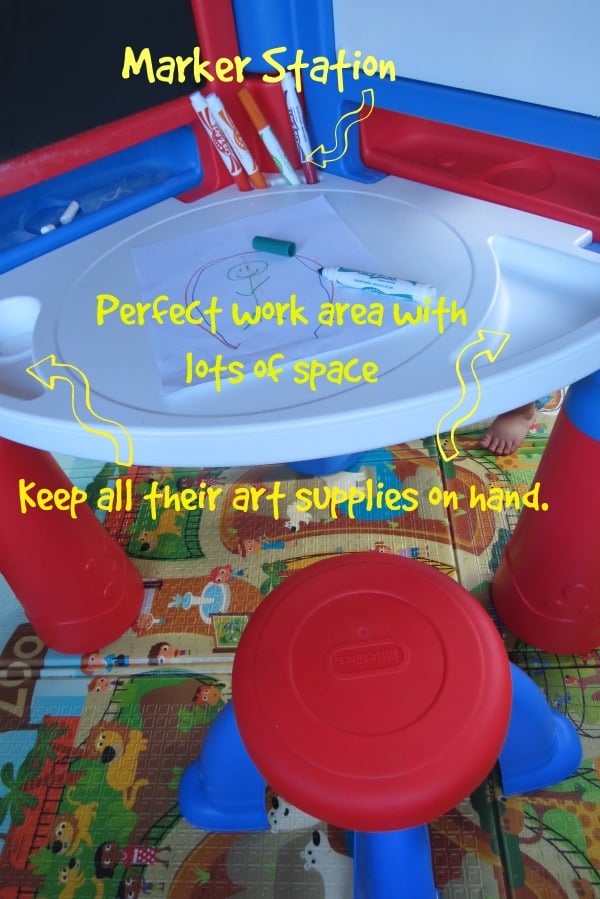 #5 Teaches them to have pride in their work
Your little ones will love showing off their work,from paintings to school work it will give them confidence to show off their best work, in turn allowing them to want to create more and express themselves in so many ways!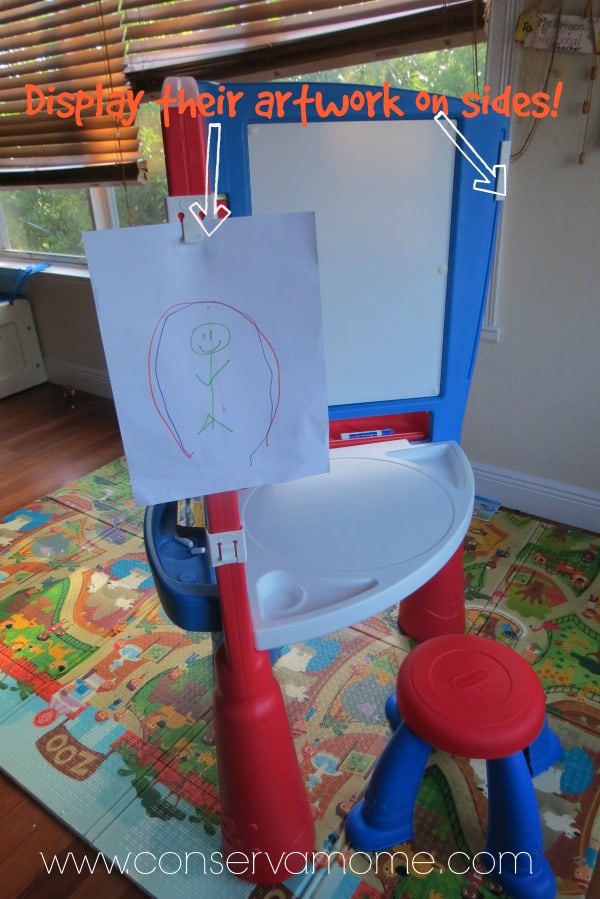 #6 is Sturdy and made to last
This product is fantastic for bigger and smaller kids (although the age says 3+ but 4.0  thinks it's his) and thankfully it can withstand him.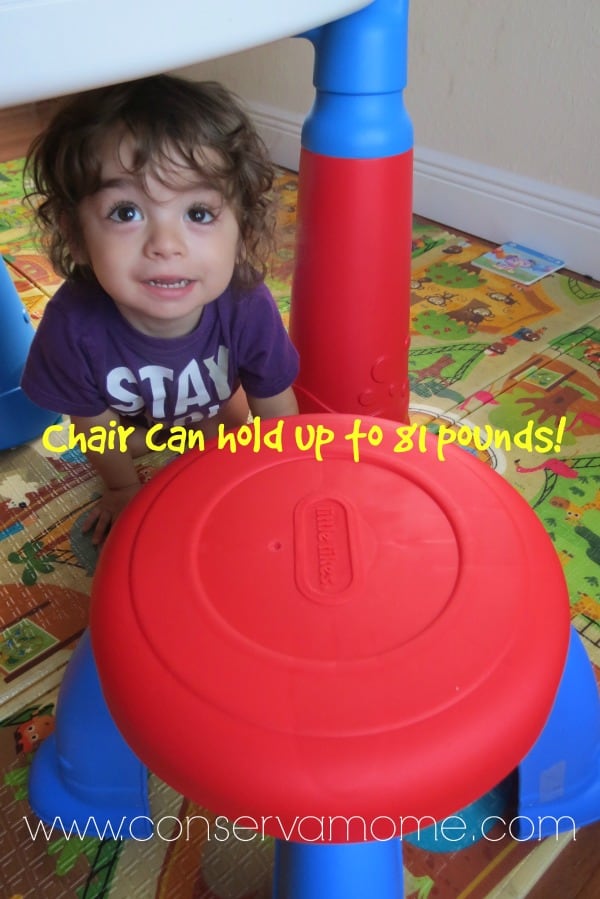 #8 Quiet Time
Because of divider on desk allows your little one to work by themselves without distractions. This has been a huge plus for us since I home school my 3 oldest and #3 Bummie is still too little to focus on work, but with these dividers she sits quietly and works and enjoys this quiet time.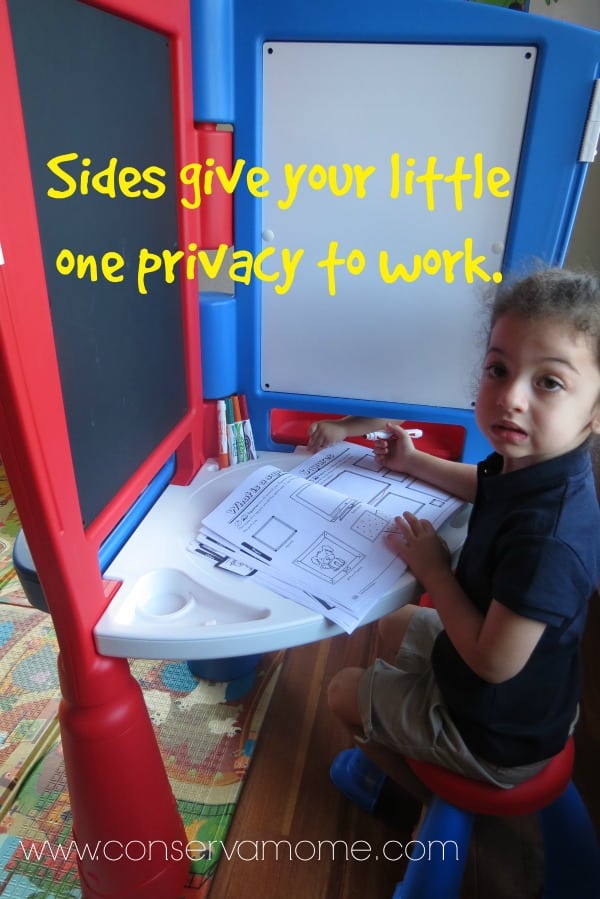 #9 Made in the USA
That doesn't even need an explanation 🙂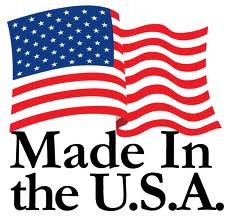 #10 It's made by Little Tikes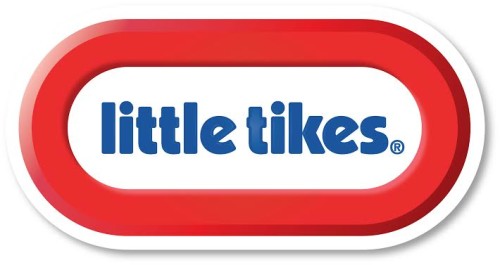 Just plain and simple a fantastic company  that makes some amazing products. Because of the fantastic track record little tikes has you know you will find only a huge array of quality products for your whole family. Products that will be passed down from child to child and will look as good as when you got it.
So as you can see we love this product. It has become a favorite in our home and a life saver during our home schooling day. But you don't have to homeschool to appreciate the fantastic qualities of this product. Priced right at about $69.00 this truly is a value product.
To get your hands on one(something I highly recommend and wonder why I didn't do so sooner) head over to the Little Tikes page where they're on sale right now!