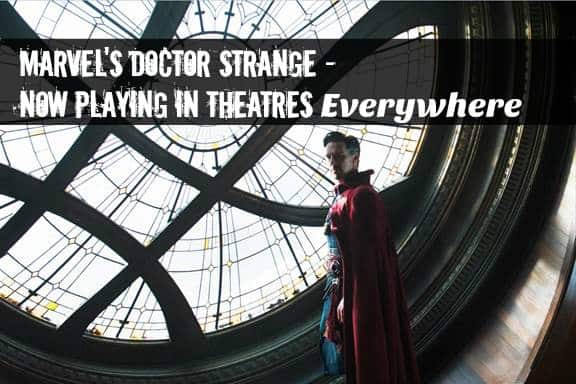 The Must See movie of the year, Marvel's DOCTOR STRANGE is finally playing in theaters everywhere! This is the latest chapter in the Marvel Cinematic Universe and a movie that must be seen on the big screen (I highly recommend IMAX 3D as well)!
Dr. Stephen Strange's (Benedict Cumberbatch) life changes after a car accident robs him of the use of his hands. When traditional medicine fails him, he looks for healing, and hope, in a mysterious enclave. He quickly learns that the enclave is at the front line of a battle against unseen dark forces bent on destroying reality. Before long, Strange is forced to choose between his life of fortune and status or leave it all behind to defend the world as the most powerful sorcerer in existence.
In celebration of Marvel's DOCTOR STRANGE opening, I wanted to my readers to check out 3 fantastic clips that will definitely get you psyched about going to see this amazing movie!
"The Strange Policy" Clip

"Heal The Body" Clip

"Sanctum Battle" Clip

Like DOCTOR STRANGE on Facebook: https://www.facebook.com/DoctorStrangeMovie
Follow DOCTOR STRANGE on Twitter: https://twitter.com/DrStrange
Follow Marvel on Instagram: https://www.instagram.com/marvel/  
Visit the official DOCTOR STRANGE website here: https://marvel.com/doctorstrange
DOCTOR STRANGE is now playing in theatres everywhere!