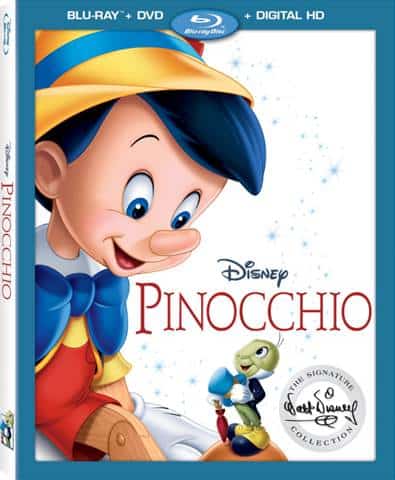 Pinocchio is one of Disney's Most well known and  beloved classics. It is  based on the Collodi tale about a wooden puppet who wants to become a real boy.  Is  ready to capture the hearts of a new generation. Coming out on Blu Ray Today at leading retailers!
Who doesn't remember this famous scene?

Full of lessons in love,truth and never giving up, it's no wonder this movie has been a part of so many homes since the 1940's
On my recent trip to San Francisco I had the chance to check out the Wish Upon a Star Exhibit which chronicled the artistic process of creating Pinocchio. You can check out more about my adventure here.
It included seeing amazing footage such as the one below:

This new release doesn't just include the amazing classic but some fantastic Bonus Features that can be found on the
BLU-RAY, DIGITAL HD* & DISNEY MOVIES ANYWHERE  copies.

These features include:
· Walt's Story Meetings: Pleasure Island – The Pleasure Island scene in "Pinocchio" had much more development than what is seen in the film. Join Pixar's Pete Docter and Disney historian and author J.B. Kaufman as they explore artwork recently discovered in Disney's animation research library revealing some of the attractions, gags and games, which Disney animators created for this iconic location of the film, that never made it on-screen.
· In Walt's Words – "Pinocchio" – Hear Walt himself discuss the making of "Pinocchio" through archival recordings and interviews.
· The Pinocchio Project: "When You Wish Upon a Star" – Music influencers Alex G, Tanner Patrick and JR Aquino from Disney's Maker Studios, a global leader in short-form videos, gather in a creative workspace to create their rendition of the film's signature song, "When You Wish Upon a Star," and produce a fresh new music video.
· Oswald the Lucky Rabbit in "Poor Papa" – This recently restored and scored 1927 short features Oswald the Lucky Rabbit who gets multiple visits from the stork and is forced to attempt various methods to help stop the onslaught of baby deliveries.
· Classic Bonus Features – These offerings from prior home entertainment releases include hours of bonus material, such as the making of "Pinocchio," deleted scenes, sing-alongs, storyboards and theatrical trailers.
Be sure to pick up a copy of Pinocchio today in stores everywhere and give your children the magic of this classic story!
Get Social With Pinocchio on :
Facebook: https://www.facebook.com/DisneyPinocchio/
Official PINNOCHIO: http://movies.disney.com/pinocchio
#Pinnochio | #PinnochioBluray
Save
Save