Put on dry parts of body to help with dry itchy skin.
Rash cream for babies.(cloth diaper safe)
Perfect for cooking. I use it in everything from eggs to stir fry's.
To support healthy thyroid function
Use as nipple cream when nursing(in place of lanolin)
Helps improve insulin levels
If you take it regularly you can help with candida in body.
Take during pregnancy to help in overall health.
Helps sooth the itch of chicken pox.
Whip coconut oil up and add essential oils such as lavender (to relax) or peppermint to invigorate or reduce fever naturally. Can also be used on babies!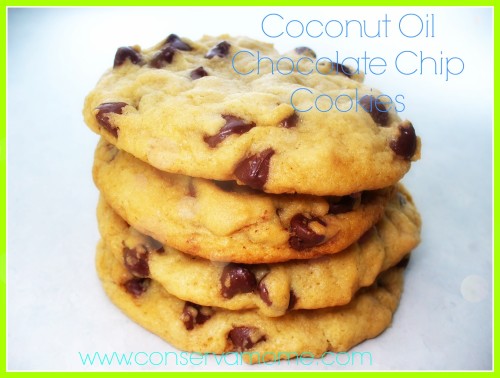 As an Added Bonus My Coconut oil Chocolate Chip cookies!
Ingredients
1/2 cup coconut oil
1/2 cup packed brown sugar
1/2 cup sugar
1 large egg
1 tsp vanilla extract
1 1/2 cups of All purpose Flour
3/4 tsp baking powder
1/2 tsp baking soda
pinch of salt
1 cup Milk chocolate chips
In a stand mixer, beat coconut oil and sugars together until fluffy. Beat in egg and vanilla.
Preheat oven to 350.
In another bowl combine flour, baking powder, baking soda, and salt.
Slowly mix into wet mixture. Stir in chocolate chips.
Scoop by rounded tablespoon (I used an ice cream scooper to make them all even shaped) on to a cookie sheet. Bake at 350 for 10 minutes.
Let cool for several minutes before transferring to a cooling rack.
And Most important ENJOY!!
I do recommend when making this recipe to place in freezer for a few minutes before putting onto cookie sheet just to make sure the cookies don't spread too much when baking since Coconut oil has a low melting point.