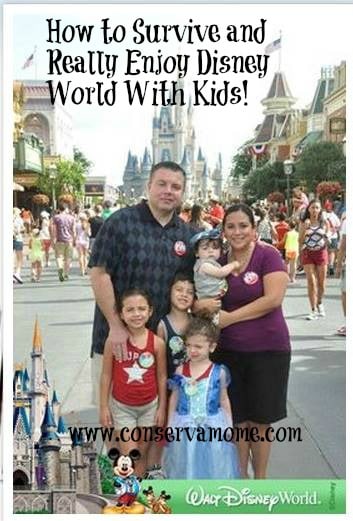 *Although we received two one day tickets to the park, All opinions expressed are 100% mine.
Ten years ago my Hubby and I said I do and what better way to celebrate it than going to the "Happiest Place on Earth" Disney  World. Having 4 kids, we knew this trip would be far from a Romantic getaway but we're all for Making Memories. Don't get me wrong, I was very nervous in taking on this task of traveling to Disney World with my Husband and the 4 kids with no back up and I have to say Jim Gaffigan's bit on Disney World kept going through my head. However, I decided our kids won't be young forever and I needed to make this trip a memorable one they would remember for years. Before heading to Disney World I did some "research" leg work because we knew this would be a big undertaking. So my leg work is your gain, for next few days you get to find out how it is we managed to "Survive and Really Enjoy Disney with kids"
Disney World is truly an amazing place to visit and is a must do on everyone's list. It  is a place filled with magic at every corner. A surprise around each turn and of course memories to be made not only for the little ones but for the adults as well.
 Accommodations
The First thing we decided on was the park and subsequently the hotel. Having grow up in Florida I have come to Disney World a million times and we always stayed in Kissimmee the town right outside of Disney World. For those looking for the best bang for your buck, that might be your answer. However, when trying to survive with kids it may prove to be a tad complicated especially when coming in from out of State. This trip my husband and I decided to splurge and we ended up staying at a Disney Resort and it was well worth it!
After choosing the Park we would visit (The Magic Kingdom) we choose to stay at an adjacent hotel. I HIGHLY recommend this. We decided on The Polynesian Disney Resort. Nestled right next to the Magic Kingdom on the Banks of the Lagoon this Hotel is a Pacific Paradise.  Complete with cascades, geysers, babbling brooks and a Volcano pool.

This hotel is a dreamy paradise. Even 4 screaming kids were entranced by its beauty and charm.
With Anything Disney no detail is left untouched from the hostesses waiting at the curve ready to help check you in, to the speedy and courteous service with a back drop fit for dreams this, was an experience.
The girls loved receiving lays upon check in and actually still wear them two weeks after their trip. Upon hearing about my husband and I's anniversary we received two beautiful flower lays made up of carnations(for me) and palm (for my husband) Truly worth the money!
The whole hotel is themed after a Polynesian paradise. Not only do you feel like you're in paradise thanks to the grounds of the hotel,but the rooms themselves have that aloha state of mind with a "Zip-a-Dee-Doo-Dah"feel. If you look closely at some of the decor in your room you will even find hidden  Mickey's around reminding you not only are you in Paradise but also at the Happiest Place on Earth!
If you decide to stay at one of the hotels make sure and check out all the features each one has. The Polynesian not only had the gorgeous pools and landscape but had a great Polynesian Dinner Show that will give you a glimpses of a Pacific feast filled with fun and entertainment.  Want to dine with Lilo and Stitch? Try their Ohana Character breakfast to kick off your trip to the Parks.
Or Head off to a nice dinner and you can drop the kids off to enjoy supervised fun at the Never Land club  or during certain days you can grab a movie under the stars by the pool!  A Disney resort isn't just about visiting the Parks, it's part of a whole experience that I highly recommend you try!
As for our stay, here are some pictures from the hotel I took the night we arrived.
Including the sweet detail of towels in the shape of Mikey Ears waiting for us on our bed!
Such peace on the grounds!
Be Still My heart!!Cinderella's Castle  at night from our hotel!
A Sweet Picture of Lo Sleeping before his big day at the Park.  This was one feature I loved about the hotel, their sofas that turned into a bed, perfect for the bigger kiddo.
One thing I would like to add that made staying at this hotel even better…the distance and ease of getting to the park. Half way through the day and the June Orlando heat the kids had enough and we decided to head back to the hotel where we got to enjoy a fun cool out at the Pool.
 It was truly an experience and dream staying in this hotel and Sunday morning when it was time to go my heart was sad. Vacations with my 4 kids are usually hard between the chaos and the excitement but Disney's Polynesian Hotel  truly made this a memorable experience.
Disney
has all budgets in mind with their various selections of hotels from affordable to luxurious you can find the hotel that fits your budget and life style.
Disney also makes your stay easier by offering dinning plans that will help take the guesswork of meals, meaning you can get some great deals as part of your hotel  package.
 Staying at a Disney Resort is something that is not unattainable and cheaper than you may think. With specials going on all year you too can have an amazing vacation for less than you thought possible (I know I was surprised at the specials we got).I highly recommend you head over to the
Disney Vacation Page
for more Details on how to book your own vacation getaway or to check out and find the hotel that might be the best fit for you.
In the Meantime.. Have you Stayed at a Disney Resort or a themed resort of some kind? What made that stay special for you?
*Although we received two one day tickets to one park, All opinions expressed are 100% mine.