Disclosure: This is a sponsored post on behalf of JCPenney. However, My love of this brand is all mine!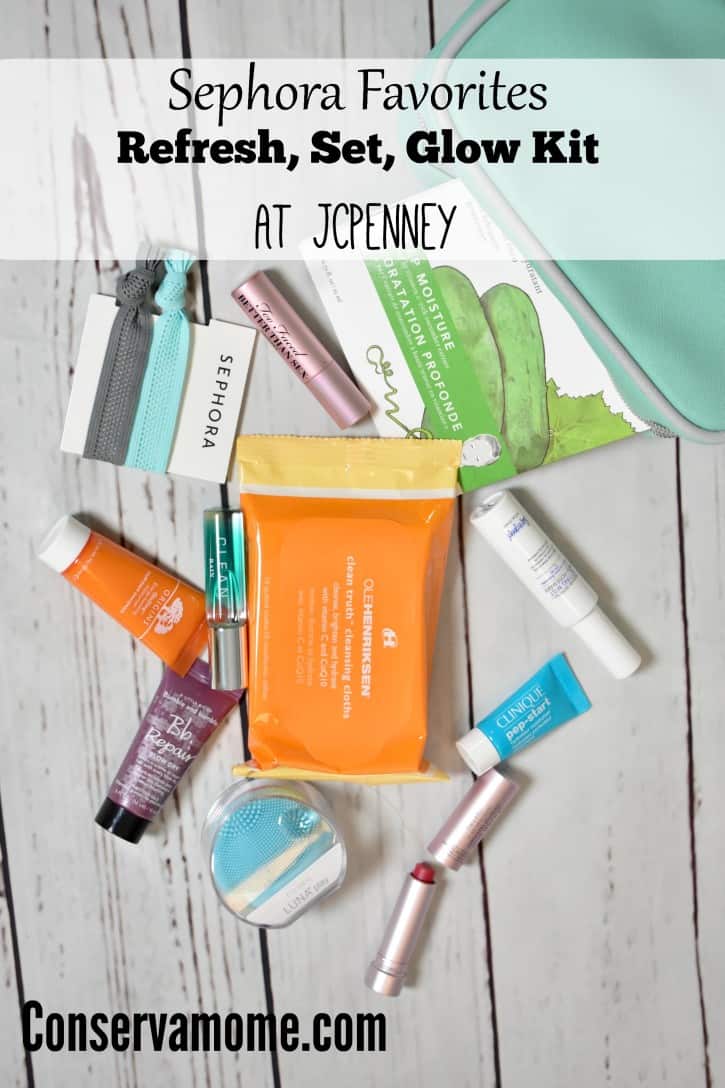 Finding the right beauty care products can be hard. Knowing how they work on your skin, how they feel or even how well they look can be things that can be hard to figure out unless you try them for yourself. Most importantly, finding the right products will usually be the trickiest part. Because my days are made up of Disney Junior and lots of coffee, finding the right direction when it comes to products can be hard. That is why I'm head over heels with the Sephora Favorites Refresh, Set, Glow Kit at Sephora Inside JCPenney.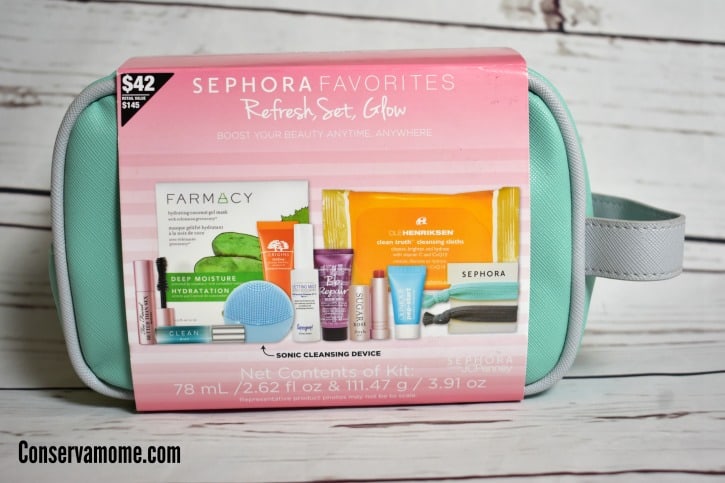 To start the new year, Sephora has put together a Sephora Favorites Refresh, Set, Glow Kit, perfect for the work hard, play hard girl on the go, exclusive to Sephora Inside JCPenney. These kits feature on-the-go glam solutions that will revive your hair, complexion, and makeup and are the perfect way to kickoff the new year.
These products will help make this mama on the go, look her best. Because all the products in there are great at helping you refresh, set and glow you'll be ready and out the door in minutes thanks to the kit! You don't have to spend hours looking your best. With this fun kit you'll be able to give yourself a quick glam up in minutes!
This Fantastic kit has over $149 worth of products. Yet you can grab it exclusively at Sephora inside JCP for only $42!
This kit includes some great products that have become instant favorites in my beauty routine. Some of my favorites are:
The Fresh : Sugar Lip Treatment in Rose. This SUPER Hydrating Lip treatment not only makes my lips look amazing but has SPF to keep all the dangerous UV rays away!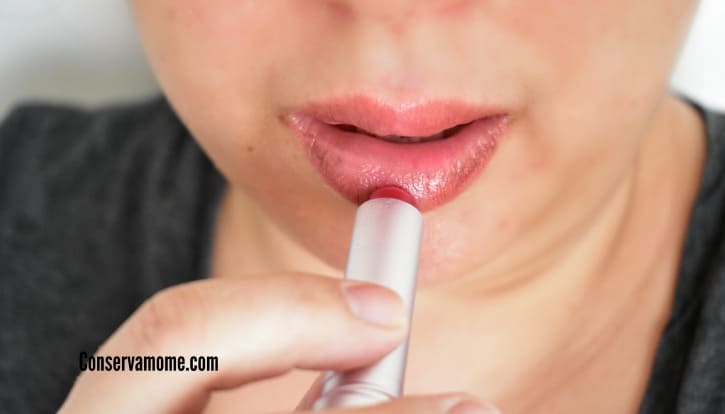 The Clean Rain Skin roller ball perfume which keeps me smelling amazing on the go!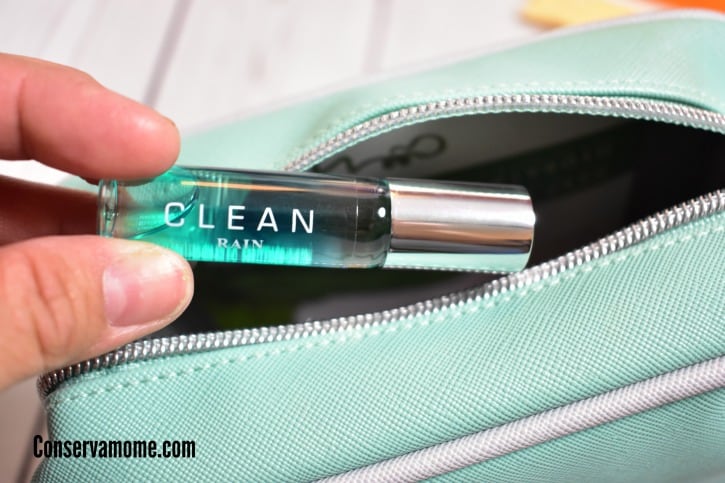 The perfect on the go accessory, The OLE HENRIKSEN Cleansing Cloths, for when you need a freshening up! These wipes brighten, hydrate and clean all in one!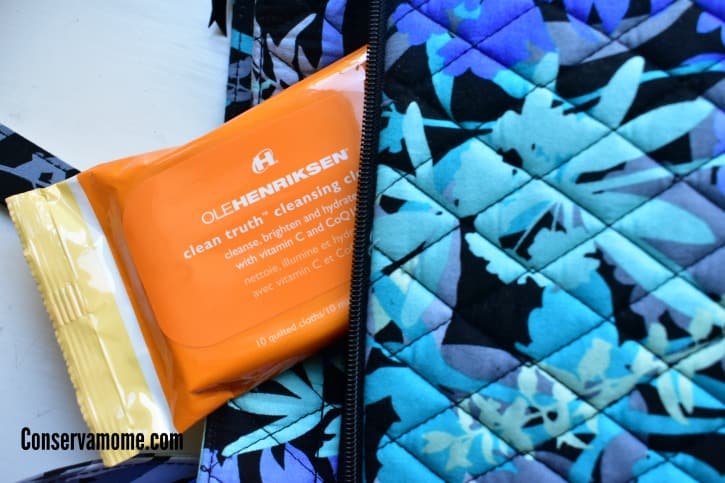 And my personal favorite The Too Faced Better Than Sex Mascara. This stuff made my eyelashes go bang!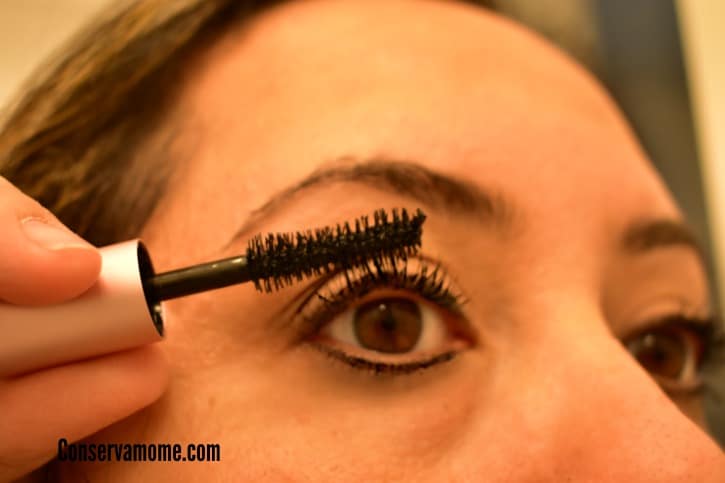 The Sephora Favorites Kit includes some amazing product from Bumble and Bumble, Clinique, Farmacy, Foreo, Origins, Supergoop and much more! All you need to look your best when on the go! You will fall in love with this bag like I did! Most important it comes in a convenient carrying case that you can easily take anywhere.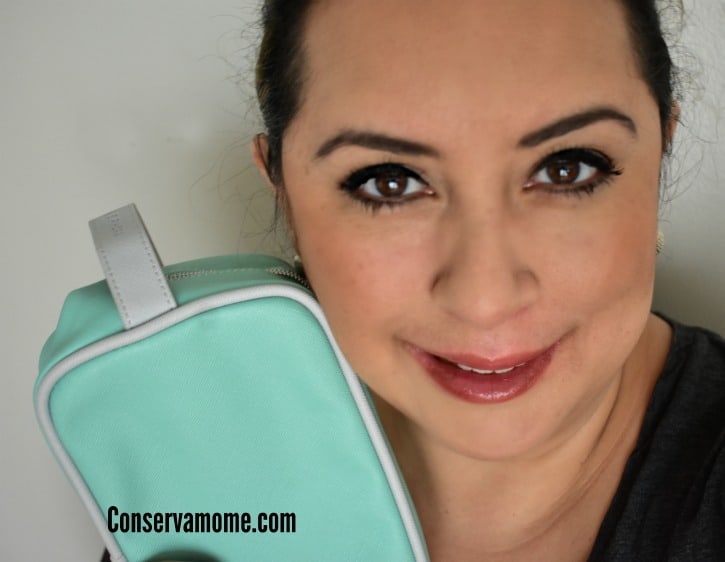 I love JCPenney and I love the fact I can find so many amazing beauty products conveniently at Sephora Inside JCPenney! So head today to your closes JCP and grab the Refresh,Set, Glow kit. The Boost your Beauty Anytime, Anywhere kit! With this kit, You'll always look your best, even when you're on the go!
Save
Save