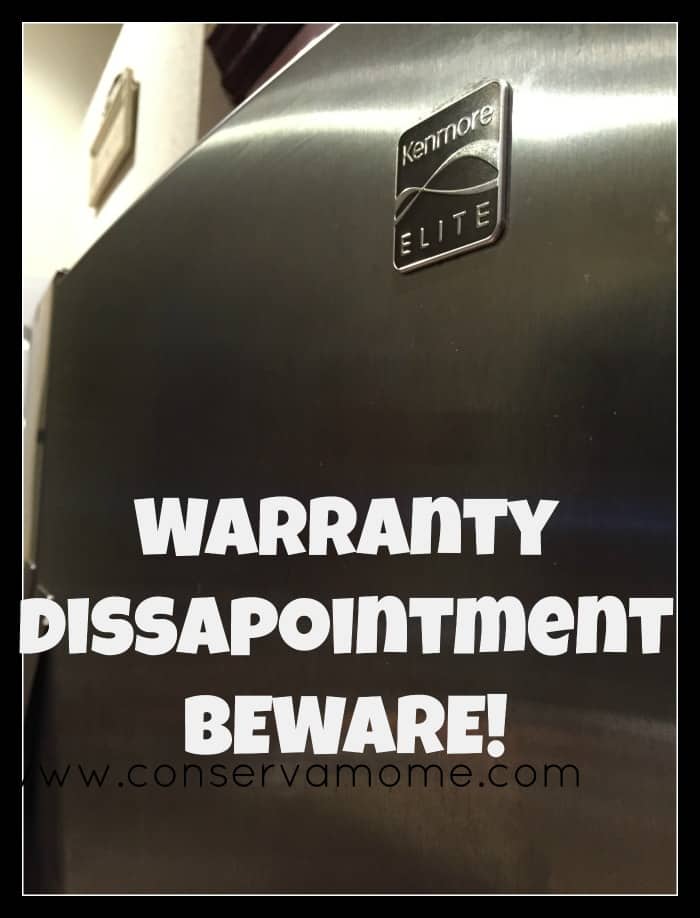 For those of you who follow my page you know for a fact that I always try to keep it light. If I don't like a company or review a product I don't like I simply don't post it on here. However, I am making an exception to the rule because of the horrible customer service I received from a leading national company.  On Saturday our One year old Kenmore refrigerator died. For some reason it was freezing everything but the refrigerator portion just wasn't working. This is a refrigerator we paid close to $2,000 for. This should have lasted a while. However, being the savvy person that my husband and I thought we were we also bought a warranty on it when we purchased it because,hey who wouldn't do that after purchasing a $2K appliance. Well little did we know it would be a complete mistake and frankly throwing money away.
So after going to the supermarket on Saturday and coming home with enough groceries to feed our family of 6 (And this pregnant mama) we realized the refrigerator wasn't cooling. After a few hours we realized that there wasn't any cold air coming out and something was wrong. So we called Sears, only to be transferred 4 different times to "someone who could help" then getting some tech support which involved my husband on the floor unscrewing parts of the refrigerator that didn't exist because the person was obviously looking at the wrong model. We found out that the next day available for someone to come out and fix our refrigerator  was March 23rd. MARCH 23rd! It's March 8th! That means I have to spend 2 weeks without a refrigerator? Seriously? So because we bought a warranty on this we assumed we were covered…Sure if we are willing to wait 2 weeks.
I am a patient person, I know things happen and you can't always get service when necessary but 2 weeks for a service call on an appliance that is necessary  for our family's well being? That's unacceptable.  Speaking to other people that have had the same thing happen to them their wait was also the same. My mom down in Miami had to wait 3 weeks for them to come out and fix her freezer.
Point being you expect better from a national company like this. We're having a local repair shop come out tomorrow to take a look at it and we'll probably have to pay over $300 to fix it,the same money we used to buy this warranty.
And yes they said they would cover up to $250 in food that got ruined but what does that mean when you have 2 weeks of wait? What family goes through just $250 in food in 2 weeks? That is all! No loaner no nothing. Really?
What bother's me is I tried going through customer service & Social media and only got ignored by Sears or given customer service help that was irrelevant. This has proven a valuable lesson to me, that is to buy local. Many times we don't because we think saving a few hundred dollars will make all the difference and sadly when it comes down to it, it doesn't.
I shouldn't be helped because I am writing a post on a big blog like mine. Everyone deserves this level of service but sadly after just seeing their twitter page last night for about an hour it's obvious I'm not the only one upset. So here's my suggestion take your hard earned money elsewhere, when a company is all about the purchases but not the follow through it's obvious your business isn't worth much to them in the first place.
I for one will be closing my Sears Credit card account and no longer purchasing from them in the future.