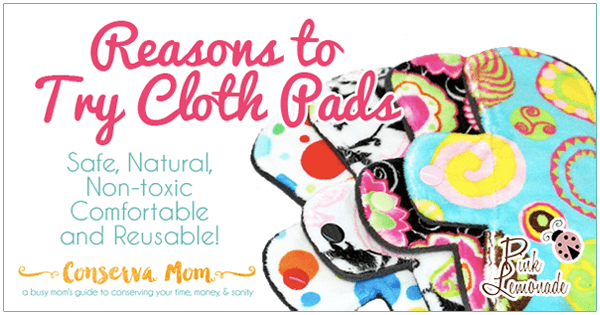 In a society where making eco-friendly choices is becoming more popular by the day, it only makes sense that as a woman you'd seek out reusable menstrual product options.  Cloth Pads are as effective as disposables, they're more comfortable and non-toxic too.
Here are some great reasons every woman should try cloth pads!
Cloth pads are better for you!   Disposable maxi pads contain moisture absorbing chemicals and gels, bleached cottons and plastics and toxic fragrances galore. Cloth menstrual pads are chemical and fragrance free.
Cloth pads are better for the environment. Disposable products accumulate over time, in your local rivers, lakes, streams and oceans, in your local city landfills, septic systems and sewage facilities. By eliminating disposable menstrual products you can reduce your carbon footprint by switching to washable cloth pads.
Cloth pads will save you money. Reusable cloth pads like those sold at Pink Lemonade Shop, can last years and years when properly used and cared for. Save yourself frequent trips to the store, the hassle of deciding what to buy and never get caught off guard by your period again without anything to use.
Did you know that the average woman menstruates for approximately 3,500 days in her lifetime?   That's a LOT of disposables to buy. Save yourself tons of money by making the switch to reusable menstrual products like cloth pads and menstrual cups.
Cloth pads, also known as 'mama cloth', come in lots of shapes and sizes. From pantyliners to postpartum pads, thong-shaped pads to overnight pads, the cloth menstrual pad options will ensure that there will be a size, shape and absorbency to suit your needs.
Cloth pads come in so many great fabric choices. Raw silk topped pads are natural and great for sensitive skin. Minky topped pads are luxuriously plush and soft and less prone to staining. Cotton, flannel and fleece are economical and durable. From hand-dyed to cute prints, cloth pads have more to offer than just comfortable period protection.
Cloth pads are easy to wash and care for. Choose to wear and wash your cloth pads together or rinse them and wash them with your regular laundry. There's nothing complicated about it. Cloth pads are not only super easy to care for, they're durable too. PRO TIP: Avoid bleach, vinegar and fabric softeners to prolong the life and look of your pads.  For stains, try laying your pads face up in the sun for 30 minutes to naturally lighten any discoloration that might occur.
Cloth pads are really comfortable. If you haven't tried cloth pads then you may be shocked at what you've been missing. No synthetic disposable pads with plastics, sticky tape or elastics can compare to how comfortable you'll be when you wear cloth pads from Pink Lemonade Shop.
Are you cloth pad curious? For cloth pad support you should consider joining Pink Lemonade Shop's Exclusive Facebook Group where you can chat about pads, ask questions and receive advice in a discreet and private setting.
Ready to shop for cloth pads? Check out Pink Lemonade Shop where you can earn Period Points for every dollar you spend and shipping is FREE when your order totals $100 or more.
Save