Disclosure: Although I am a member of the  #Netflix #Streamteam all opinions are 100% mine.
As we get older, milestones are few and far between. Landing your dream job, getting married, having a baby. But kids, on the other hand, have a lot worth celebrating. From bringing home your first pet to going to your first high school dance, frame-worthy moments go far beyond the baby book.
There are so many fantastic ones that it's hard to keep tabs sometimes of those special milestones.
In recognition of "mini milestones," Netflix compiled a list of movies and TV episodes that highlight a variety of these achievements. Whatever "firsts" your family is celebrating this fall, Netflix can relate.
Netflix Titles to Celebrate Mini Milestones
Another one of our favorite firsts? Going to the movies. Check out these tips from Common Sense Media to make sure your kids' first trip to the theater is a good one.
Plus a few major milestones for mom and dad:
New Job: The Office
Getting Married: My Fair Wedding with David Tutera
Having a Baby: What to Expect When You're Expecting
Life as a Parent: Parenthood
Running for Office: Parks & Recreation
Buying a Home: House Hunters
Every milestone deserves a special reward, how about this delicious treat to celebrate?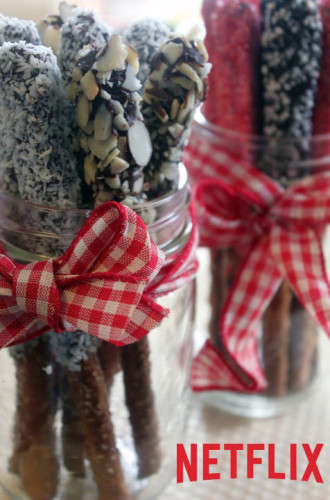 A sweet-salty combo of chocolate-covered pretzels. Make them extra special by rolling pretzels in your kids' favorite treats – from Oreo dust and coconut to chopped nuts and sprinkles, the sky's the limit. Click here to learn how to make your own.
What milestones have you celebrated recently?