*Although I received this product free of Charge, All opinions are 100% mine.
With the advancement in technology we have seen many great things but we've also seen a huge dependence on the pharmaceutical field. Although it is a blessing and has saved many lives, we tend to over use medications both prescription and over the counter to help alleviate and sometimes just mask ailments. In the past things like herbs, fruit, and plants were used to help in many health issues people had and worked just as well if not better than the medicine we have come to trust in our lies.
Many times however the side effects of the medication  can be worse then the original ailment. It doesn't have to be this way though, because many of the issues we use to treat illness could be cured and eliminated if we counted on simple things like essential oils.
Recently I had a chance to try out the doTerra 3 pack that Julie from My Life Essential Oils sent me and I loved it! The three pack includes a bottle of lemon, peppermint and lavender essential oils. I was amazed to find out the huge amount of benefits that one can acquire from using a simple oil.
I began using Lemon in my water just to give me that extra kick to get water in my system. I even used the peppermint oil with my kids during lessons and realized that it helped keep them focused a bit more than usual. 4.0 was having trouble sleeping until I put a little bit of lavender oil  on the bottom of his feet. Within minutes he was calmer and was sleeping a little after.
These are little things one can incorporate into their lives so simply and easily that will have significant effects in their overall well being. So head over to My Life's Essential Oils and learn about all the great recipes, ideas and lifestyle changes one can do in order to have a better quality of life in all aspects and most importantly naturally.
Use Lemon Essential Oils to:
• Remove gum, label adhesives, and greasy substances from fabric
• Use to clean kitchen counters and stainless steel appliances
• Add to olive oil for a non-toxic furniture polish
Use Lavender Essential Oils to:
• to calm reaction to a bee sting or bug bite
• Lightly apply to soothe sunburned or scalded skin
• Use with bath salts for a relaxing spa bathing experience
• Apply to wrists or inhale when traveling to ease motion upset
Use Peppermint Essential oil to:
• Add to a cold water compress or foot bath to cool off when overheated
• Breathe during a meal to help you feel full
• Inhale as a non-stimulant, invigorating pick-me-up on long drives
•Help with focus and alertness during various tasks( Great for kids at school)
These are just some of the things  you can do so much with Essential Oils. Let Julie from My Life's Essentials show you how incredible and life changing adding essential oils to your life can be.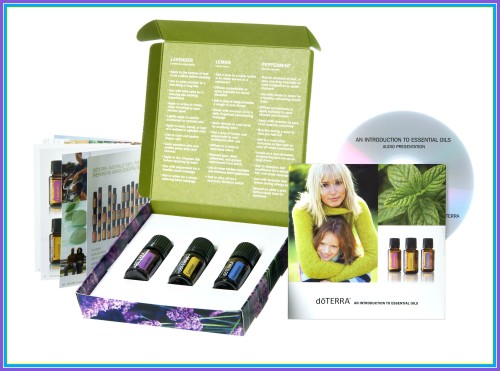 One fan will get to try these amazing oils out for themselves. Just enter the rafflecopter below for our chance to win a 3 pack of Lemon,Peppermint, and Lavender Essential oils form doTerra.
Giveaway is Open to US & Canada and ends on 12/9
a Rafflecopter giveaway

*Although I received this product free of Charge, All opinions are 100% mine.