Here are a few prayers that I hope will help in your healing like it's helping with mine.
This one was shared with me by my wonderful Bloggy friend Jamie at For Love of Cupcakes:
 My Lord, the baby is dead!
 Why, my Lord—dare I ask why? It will not hear the whisper of the wind or see the beauty of its parents' face—it will not see the beauty of Your creation or the flame of a sunrise. Why, my Lord?
 "Why, My child—do you ask 'why'? Well, I will tell you why.
 You see, the child lives. Instead of the wind he hears the sound of angels singing before My throne. Instead of the beauty that passes he sees everlasting Beauty—he sees My face. He was created and lived a short time so the image of his parents imprinted on his face may stand before Me as their personal intercessor. He knows secrets of heaven unknown to men on earth. He laughs with a special joy that only the innocent possess. My ways are not the ways of man. I create for My Kingdom and each creature fills a place in that Kingdom that could not be filled by another. He was created for My joy and his parents' merits. He has never seen pain or sin. He has never felt hunger or pain. I breathed a soul into a seed, made it grow and called it forth."
 I am humbled before you, my Lord, for questioning Your wisdom, goodness, and love. I speak as a fool—forgive me. I acknowledge Your sovereign rights over life and death. I thank You for the life that began for so short a time to enjoy so long an Eternity.                                                                                              —  Mother M. Angelica
—————————————————————————————–
Many times(like in our case)nothing is really left of the baby and you can't really give them a memorial at The Church of Holy Innocents They have a "Book of Life" in which you can fill in your baby's name and they will be remembered as well as on Mondays a Mass is offered for these children and the comfort of their families.
—————————————————————————————–
Tiny Angels
Tiny Angels rest your wings
sit with me for awhile.
How I long to hold your hand,
And see your tender smile.
Tiny Angel, look at me,
I want this image clear….
That I will forget your precious face
Is my biggest fear.
Tiny Angel can you tell me,
Why you have gone away?
You weren't here for very long….
Why is it, you couldn't stay?
Tiny Angel shook his head,
"These things I do not know….
But I do know that you love me,
And that I love you so".
Author Unknown
 ———————————————————————————————-
Dear Lord,
Please help me in this time of loss and overwhelming grief. I don't understand why my life is filled with this pain and heartache. But I turn my eyes to you as I seek to find the strength to trust in your faithfulness. I will wait on you and not despair; I will quietly wait for your salvation. My heart is crushed, but I know that you will not abandon me forever. Please show me your compassion, Lord. Help me through the pain so that I will hope in you again. I believe this promise in your Word to send me fresh mercy each day. Though I can't see past today, I trust your great love will never fail me.
Amen.
—————————————————————————————————-
Some great sites!
Mending Heart Bellies
Naming the Child
The Angel Bear is dedicated to those we have lost, but will never forget.  The Angel Bear comes to you with beautiful handcrafted feather wings made with the best quality feathers available. Customize this bear with 10 seconds of recording of your choice on the red heart recording module.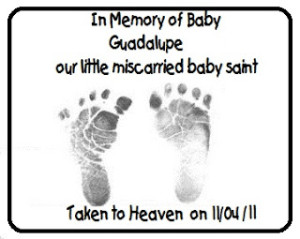 This page is a work in progress…