Here are 7 Steps that minimize stress after a car accident. Great tips for helping you deal with the unpleasantness of car crash.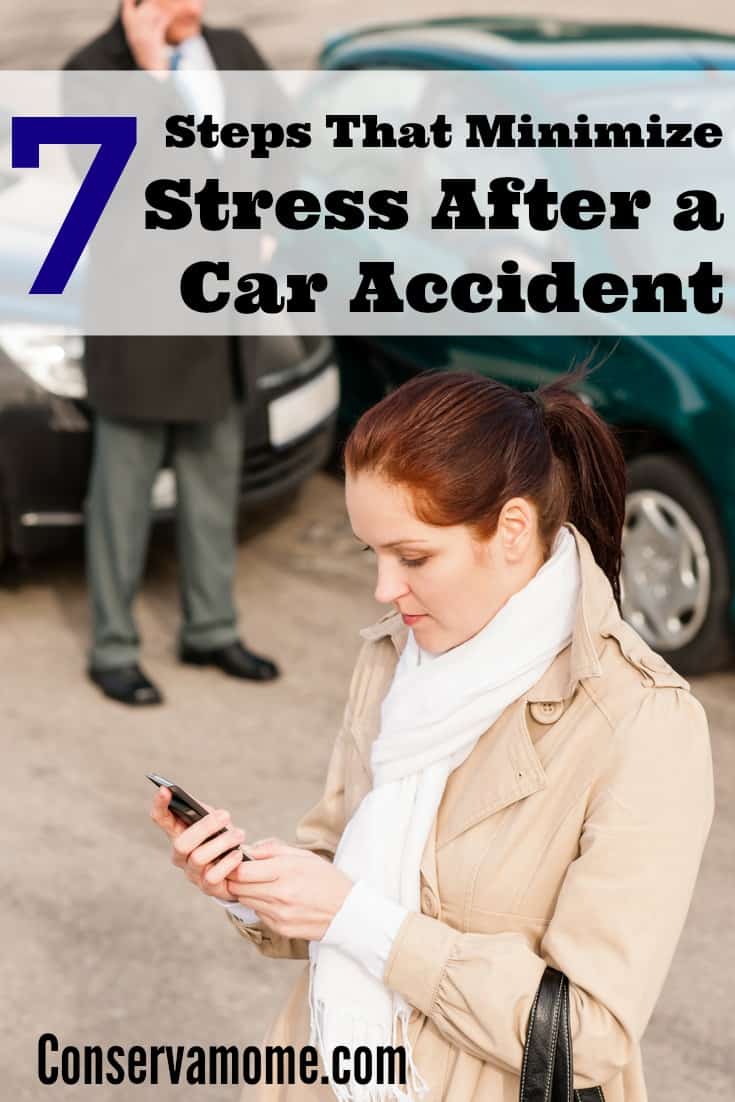 7 Steps That Minimize Stress After a Car Accident
There are nearly 264 million registered cars on the road in the U.S. You can take steps to stay safe on the road, but unfortunately, you can't control other drivers. Even the safest drivers have a crash every 17.9 years according to car insurance statistics.
Being in a car accident can be a scary, stressful experience even if it's minor. However, if the wreck is bad enough you may need the help of a personal injury lawyer in addition to your auto insurance company. Regardless of what type of damage is sustained, the tips below can help minimize the stress after a car accident.
Step 1 – Call the Police to Create an Accident Report
Always, always, always call the local law enforcement when you're in a car accident. The police can help secure the area, make sure everyone is okay and mitigate emotions that may be running high.
The police officer that arrives on scene may not be able to say who was at fault, but they will notate the circumstances and details, which can help verify the cause. The accident report will serve as another record of the event and can help make the claims process go much smoother.
Step 3 – Minimize Movement If You're Injured
There are roughly 10 million car accidents a year, many of which result in an injury. Unless there's the threat of a fire or the vehicle is unstable injured drivers and passengers shouldn't be moved. Even if it's just soreness or discomfort, moving could end up making injuries much worse. It's best to wait until emergency medical personnel arrive so they can move the injured person safely.
Step 3 – Get the Other Driver's License Plate Number
It's unfortunate, but some drivers will provide inaccurate information on purpose. Maybe they're underinsured or have already been in another accident recently, but every day people give false names and contact information in an attempt to skirt their responsibility. But one thing they can't lie about is their license plate number.
The license plate number can be used to find out the real name of the vehicle owner. From there you or your insurance company can track the individual down if need be. Getting the license plate number is assurance that you won't be left on the hook.
Step 4 – Get the Other Driver's Personal Information
After getting the license plate number, ask the other driver for their name, contact number, driver's license number and auto insurance information. These details can be passed along to your insurance company so they can reach out during the claims process. It's a good idea to give the phone number they provided a call while you're there to make sure it actually works.
Step 5 – Call Your Insurance Company
Let your insurance company know about the accident as soon as possible. If you can, call them while you're there on scene to let them know what's going on. Share the other driver's insurance information so your representative can go ahead and get the claims process going.
Step 6 – Take Lots of Pictures
Photos can help you document the damage, but they can also help determine what happened to cause the accident. Even if a police officer is there writing up a report they most likely won't take photos. It's up to you to take pictures of the scene and the damage. Take a few wide shots that catch the entire scene and close ups of the damage on both vehicles. Pass these pictures along to your insurance company so they can expedite the claims process.
Step 7 – Get Legal Help If There's an Injury or Dispute
If you've been injured during the accident or there's a dispute over who's at fault you may need to hire a lawyer. An attorney can handle all of the paperwork and any necessary contact between the parties. This is extremely important because saying the wrong thing or divulging certain details to the other party could end up compromising a case. There are a lot of legalities involved and having someone on your side that understands the process can relieve a lot of stress.
Save