Kushies new Ultra-Lite All-In-One fitted diaper, now available in a trial pack!  Ideal for parents who want to explore cloth diapers as an alternative to disposables!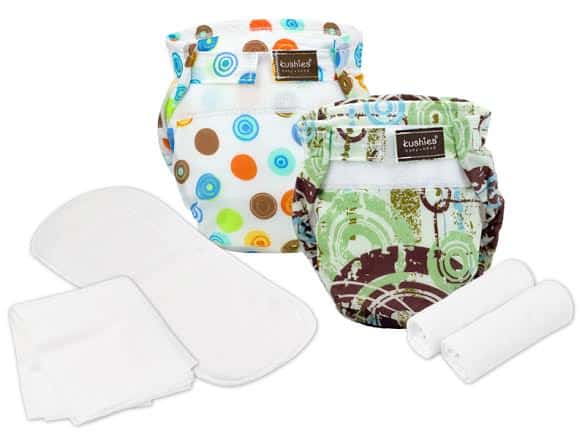 Each pack contains everything you need to get you started including:
• 2 Ultra-Lite Diapers
• 2 Washcloths
• 2 Washable Cotton Diaper Liners
• 10 Flushable, Biodegradable Diaper Liners*
Kushies Ultra-Lite Diaper features 6 layers of 100% cotton-flannel, a special middle soaker layer for increased absorbency, and an outer waterproof barrier for a complete waterproof diapering system.  The patented, built-in flap can be folded up for boys or in the middle for girls for extra absorbency where they need it most.  Extended tabs with an adjustable hook & loop closure system ensure a snug & secure fit.  Simple to use, and another great performer!  Adding washable cotton liners helps increase absorbency while padding the diaper for a snug fit, and Kushies flushable, biodegradable liners *(not recommended for use with septic systems) make diaper clean up a breeze!  Use washcloths as diaper wipes for a natural, economical alternative.
About Kushies Baby
Based in Ontario, Canada, with U.S. headquarters located in Niagara Falls, New York, Kushies® creates and provides an innovative collection of quality baby products and accessories.  Trusted by moms since 1987, Kushies offers more than 350 superior baby products including stylish layette and playwear, washable diapers, the award-winning Kushies Zolo toy collection and a broad range of baby essentials.  The worldwide market leader in reusable cloth diapers and accessories, Kushies takes great pride in operating as a responsible company and as an environmentally concerned member of our planet.  For more information on Kushies visit www.kushiesonline.com.
Visit Kushies on Twitter: twitter.com/kushiesbaby; Facebook: facebook.com/kushiesbaby and Pinterest: pinterest.com/kushies/.