Disclosure: I received this product to facilitate my review. All opinions are 100% mine.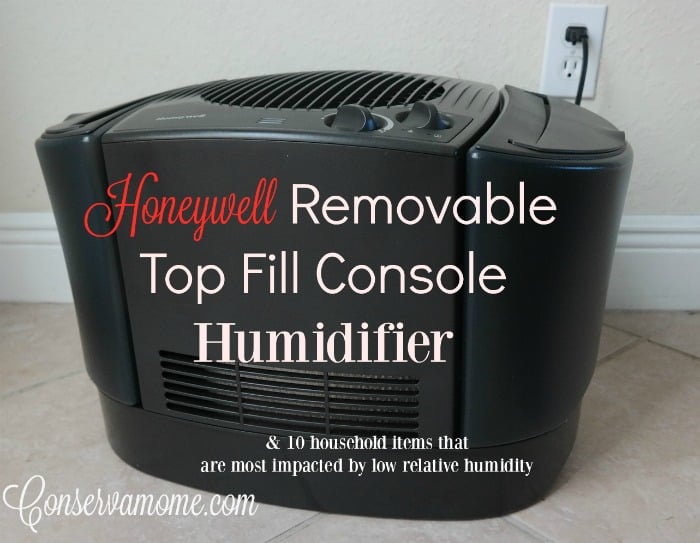 Low Humidity can be a big issue during the winter months. For many cold air brings lots of discomfort like itchy dry skin or scratchy throats, not only does it affect health but it affects some of your household items.  From antique furniture and photo albums to pianos and even wine, low humidity levels can wreak havoc on many of our prized possessions. The designers of Honeywell and indoor air scientists have released new research on how everyday household objects suffer under low humidity conditions and what steps homeowners can take to combat the effects of dry air.
The research conducted found that the following list of 10 household items are most impacted by low relative humidity:
Wood Furniture: Has your favorite wooden bench seemed a little shakier? It could be because of low humidity. Wood absorbs and desorbs water as relative humidity rises and falls, which causes it to swell and shrink. This results in furniture joints becoming loose or even pulling apart.
Musical Instruments: Not sounding quite right? Low humidity levels may be to blame for your instrument falling out of tune. Natural wood instruments such as guitars, violins and pianos can be damaged when the wood contracts resulting in failed glue joints or cracks.
Books: Low humidity causes the pages of books to become more brittle and fragile, and the dimensions of the pages can even change as the paper absorbs and desorbs water. This leads to wrinkles in the paper, flaking ink, or warped covers on books.
Woodwork and Wood Floors: If you've noticed a slight bend in your wood floors, or gaps between the planks, it could be because of low humidity. As the wood expands and contracts, mitered corners can separate and floors can "cup" so that the floor doesn't remain flat.
Wine: Does your uncorked bottle of wine not taste right? Wine corks can dry out, shrink and crack if exposed to low humidity overtime, allowing air to come into contact with the wine and potentially ruin the bottle.
Artwork: Maintaining humidity levels is vital for protecting artwork around the home. Low moisture levels tend to make paint brittle and prone to cracking, which is especially detrimental to oil paintings on canvas.
Stamp Collections: Much like books, repeated absorption and desorption of water can ruin stamps by making them brittle or discolored.
Photograph Collections: Have you noticed your new photographs looking more like your parents' photo albums? When photographs curl up at the ends, it's likely due to low humidity levels. They can also result in the photo emulsion flaking off and damaging the photograph.
Walls: Peeling wallpaper and separated drywall seams can be a sign of low humidity in the home. The porous materials may crack and separate when exposed to low levels.
Electronic Equipment: Static electricity brought on by low humidity levels can damage internal components of computers, televisions and other electronics – a lot more damaging than dealing with static in your hair!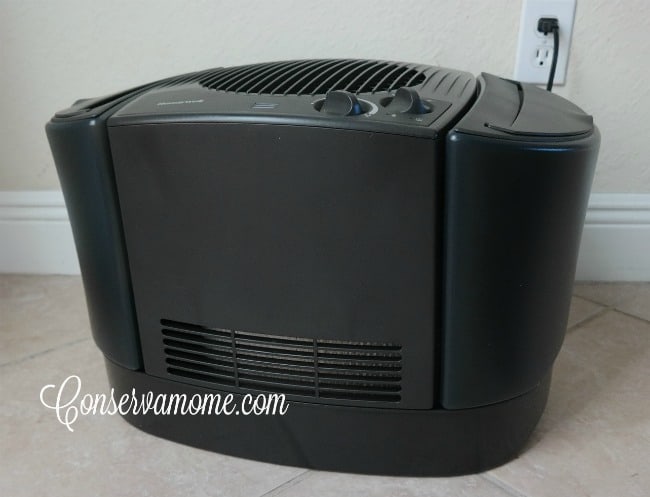 Running a Honeywell Humidifier in your home, especially during the dry winter months, can help maintain relative indoor humidity levels in the optimal 40 to 60 percent range. Designed for large areas, the new Honeywell Top Fill Console Humidifier is one option for protecting items around the home as it releases soothing, invisible moisture into the room.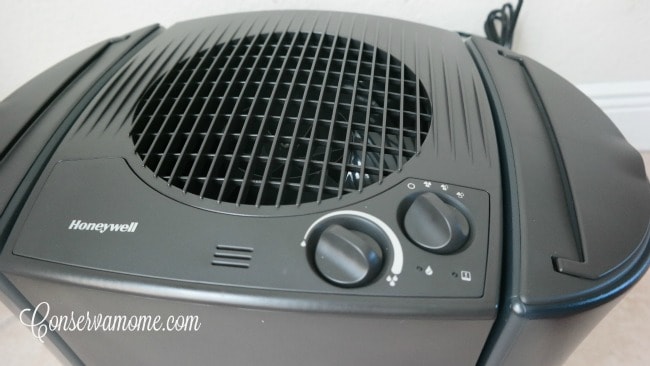 I had the opportunity to check it out in my home. Both of my boys suffer from bad allergies and even get bloody noses at night and although Florida can be very humid during the winter months it becomes a bit dryer inside making it for some issues. Thankfully, since I started using this humidifier it made a big difference with how they sleep at night and how we feel during the day.
This fantastic humidifier is Soothing, invisible moisture for multiple rooms
Features
2 easy ways to fill – at the humidifier or carry to the sink to fill
Easy to Fill – Removable top fill design
Easy to Use – Optimized for high moisture output
Easy to Clean – wide tank opening & large surfaces
Adjustable humidistat automatically turns humidifier on and off to maintain set humidity levels
Three speed settings to adjust moisture output and sound level
 "Humidity Reached" and "Tank Empty" indicator lights
Durable tank design resists breaking
Wicking filter removes impurities from water reducing white dust and providing clean moisture output
Available in white and black
Evaporative humidification technology
Designed for extra large or multi-rooms
Runs up to 24 hours per filling on low setting
2 water tanks; 3 gallon total capacity
It's definitely a must for thew winter months. Don't let your skin and health suffer winter effects. You can purchase this great humidifier online at Amazon. The wonderful people at Honeywell want to give you relief! Check out the fantastic giveaway below!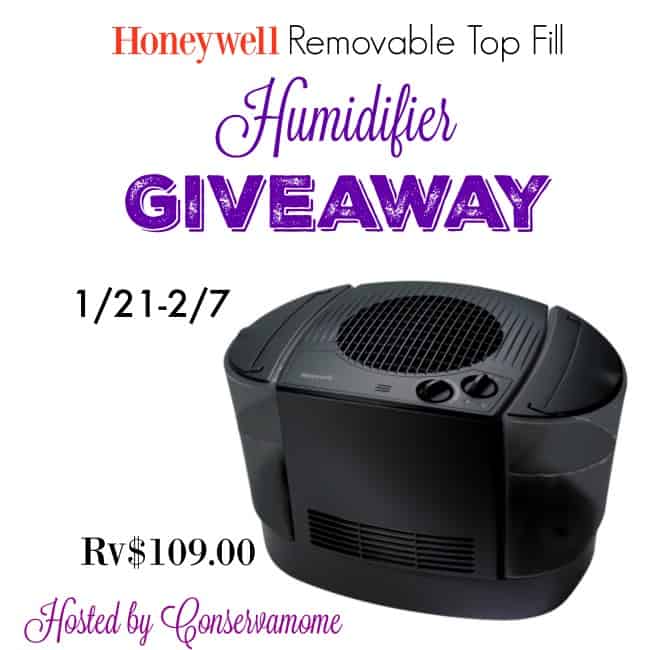 One lucky winner will have the chance to own this fantastic humidifier that retails for $109.00. So head below for your chance to win! Giveaway open to US residents only and ends on 3/7 at 11:59pm EST! Good luck!
Disclosure: All opinions are 100% mine. This giveaway is in no way associated with, sponsored, administered, or endorsed by Facebook, Twitter, Google, Pinterest or any other social media network.All opinions and experiences are
Conservamom
's. Open to US residents only , must be 18+. Confirmed Winner(s) will be contacted through email and have 48 hours to respond before a new winner will be drawn. No purchase necessary. Void where prohibited by law. The sponsor will be responsible for product fulfillment to winner(s) of the giveaway. The disclosure is done in accordance with the Federal Trade Commission 10 CFR, Part 255 Guides Concerning the use of Endorsements and Testimonials in Advertising. For questions or to see your product featured in an Event you can contact Elia At
Conservamom