This is a sponsored post written by me on behalf of Groupon Gift Shop for IZEA. All opinions are 100% mine.
My best dear friend Christie is one of the nicest people I know. She is always there to help me whenever I need it. She is the first one there if someone needs help, a child picked up, a shoulder to lean on or just an ear to listen. She is also very selfless and is always thinking of everyone but herself. As a fellow mama I know how much she works with 2 little kids and one on the way. She never stops.She has a full heart but I know this mama needs some down time as well. That's why it was a no brainer when it was time to pick out her Christmas gift this year.I knew a Groupon expeirence is what she needed.
I know this sweet mama loves to get pampered but never does ,so my first stop was getting her a manicure and pedicure experience.
That way I know she'll go get her nails dolled up. Next, I know she loves eating at Tijuana Flats and I know she could live off of that stuff if she was allowed to.So I was excited to see a great Groupon deal from there as well and added that to her gift bag. Now here's were I thought of the fun, her and her husband NEVER go out to dinner. I know many times it's because it's impossible to do so with 2 little kids so I decided to make it worth their while. I am offering up babysitting by me and a dinner voucher to one of their favorite Restaurants.
I can only imagine how excited she will be when she gets her gift set.
But the Groupon wasn't the only gift. I made a little gift bag of her favorite chocolates, nailpolish colors and her favorite body splash. All things I know she will use!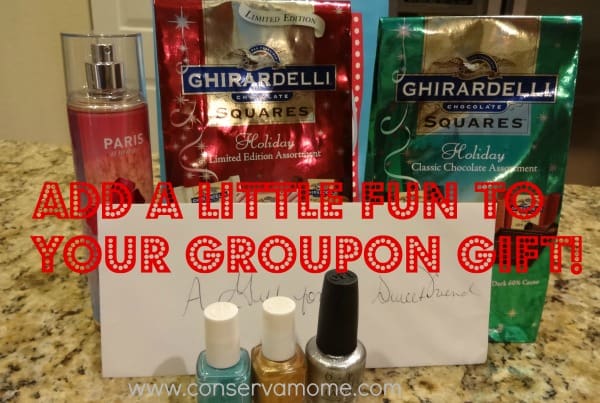 I can not wait to see her face when she opens up her gift bag filled with all these fantasitic gifts!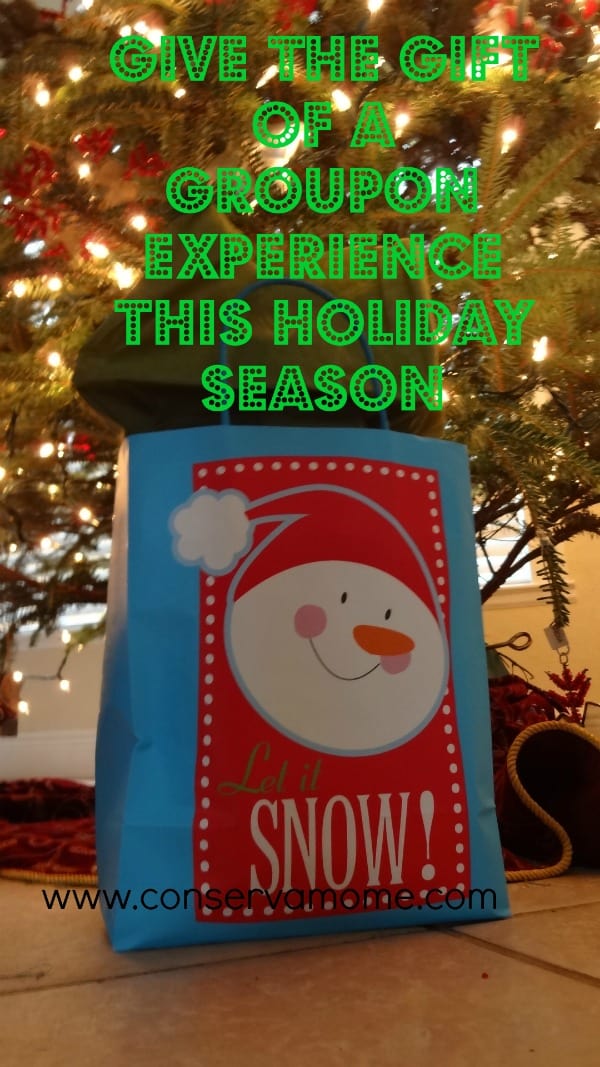 This year do something a little different that your friends and family will really appreciate – give them experiences. This is the kind of gift that they'll always remember! And to find an experience for each person on your list, Groupon.com is the perfect solution. Whether it's a couples massages, skydiving, wine tasting, museum passes, or a weekend Getaway, Groupon has so many options for your spouse, your kids, your parents, your friends, and more. And don't worry that giving an experience isn't the same as handing someone a neatly wrapped box – come up with some really fun ways to give Groupons that are super easy for anyone to do.

Groupon's got more than just great gift ideas this season – they've also got special giveaways and discounts, so make sure to stop by.
So give those special people on your list the perfect gift you know they will love. You don't have to just give the voucher, add a little extra something like I did to make this gift even more special. Give them an experience they'll never forget!