Disclosure: This is a Sponsored Post on behalf of Neutrogena Naturals. However, My love of this product is 100% mine.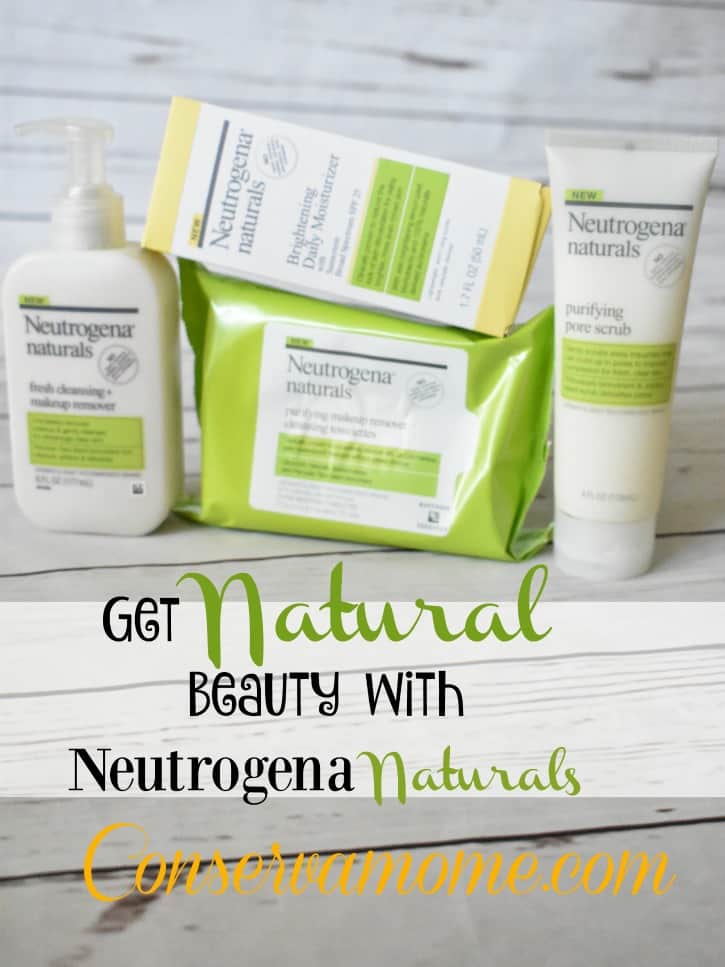 As a little girl my grandmother always use to tell me, turn to nature and you'll find the best doctors for all your ailments there.  It's amazing what amazing things natural ingredients can do for our bodies and beauty. Neutrogena® knows that and so they've developed an amazing line of products that turns to Nature for inspiration giving you the most Natural Beauty around.Neutrogena® Naturals product is made according to the  core values that makes Neutrogena stand out as a brand, with the same standards of efficacy and excellence as every Neutrogena® product you know and trust — to create pure skincare from nature.
We've all made it a point to eat more naturally and incorporate products that are better for us, so why not focus on the most important one, your skin. Neutrogena has made choices about what goes into  Naturals products, and what gets left out.These products were formulated without harsh chemical sulfates, parabens, petrolatum, dyes, or phthalates. Just what is essential to work on your skin. What more could you ask for?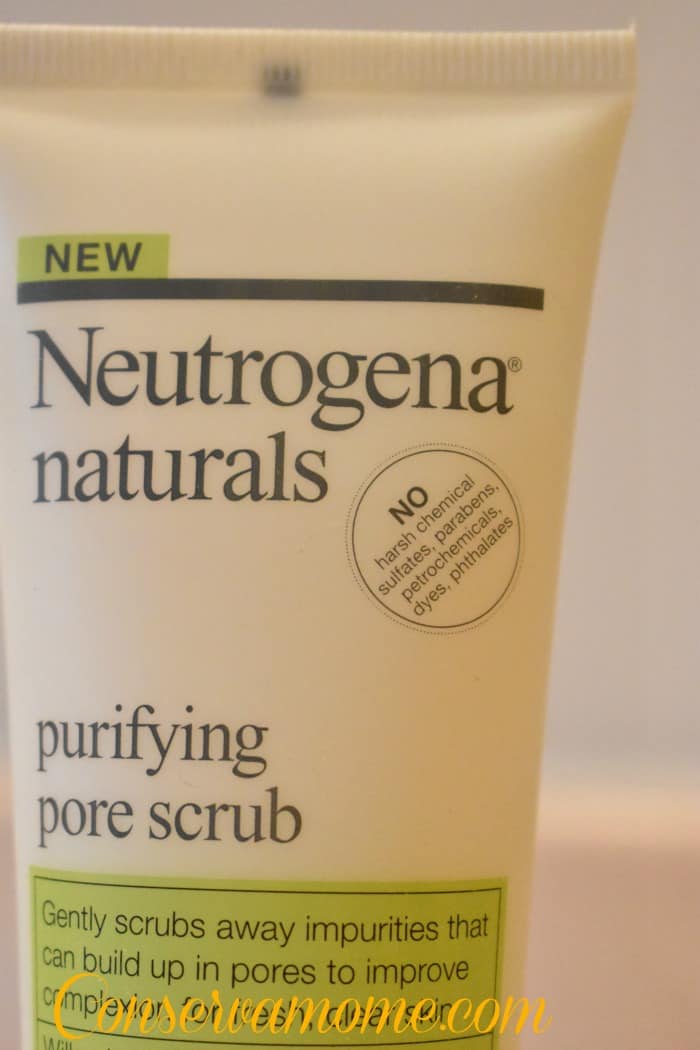 Not only is this line Naturally amazing and  Naturally Derived using natural plans and ingredients where possible. Their average line is 94% Natural.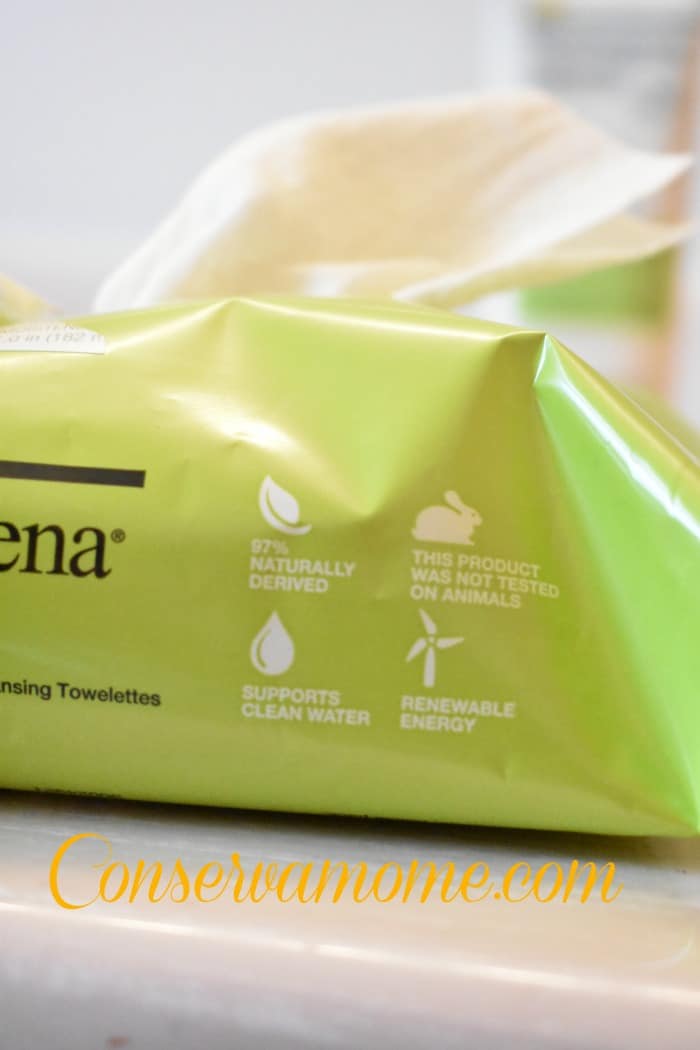 Not only are you getting Natural Goodness but this line has a lot of pretty awesome commitments like:
Leveraging our skincare expertise, we've created pure, high‐quality, naturally derived formulas that deliver results.
Not tested on animals
They have a public commitment not to conduct animal testing on cosmetic products and ingredients, unless required by law or government authorities.
Post Consumer Recycled Plastic
They're using up to 50% post consumer recycled content in their bottles.
100% Recycled Paper
Their  folding cartons are made from 100% recycled paper with 60% post‐consumer recycled content and use  75% less water in processing than virgin paperboard does.
Renewable Energy
The Neutrogena® Brand supports renewable energy through a solar array on our headquarters/manufacturing site in CA that produces on average 678,000 kWh annually.
Supports Clean Water
We partnered with The Nature Conservancy, a global organization dedicated to protecting natural sources of clean water for people, plants and animals.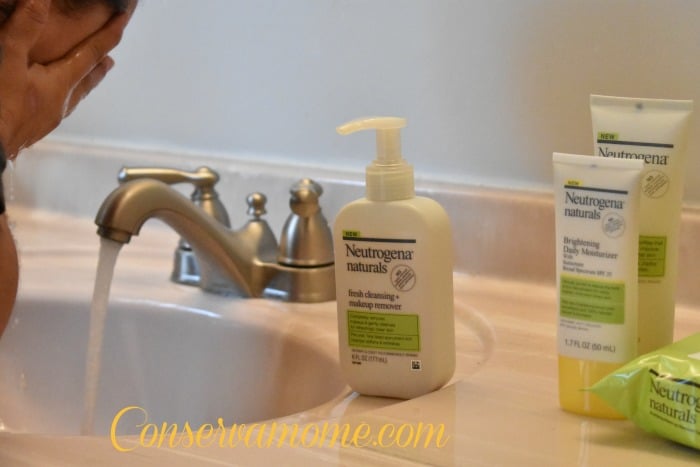 In essence this is a pretty amazing line of products! So what did I think of each? Check it out below. I am going to preface it all by saying this is an extremely gentle non abrasive line of products. I have very sensitive skin around my eye brows and am prone to Rosacea. So I am definitely ecstatic when I run across something this fabulous.
Naturals Fresh Cleansing & Makeup Remover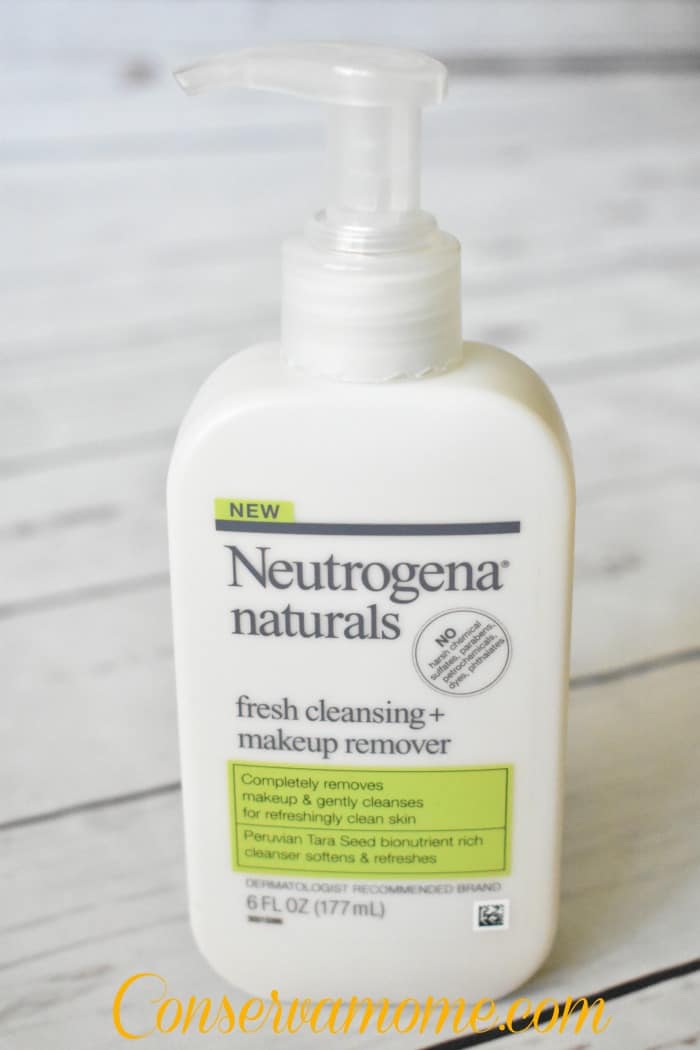 This was a gentle makeup remover cleanser that tackled most if not all of my make up in one swoop. Leaving my skin feeling fresh and clean. It really did make it feel amazing. Gentle smell and great at it's job. Your face is clean and you see it!
Naturals Purifying Makeup Remover Cleansing Towelettes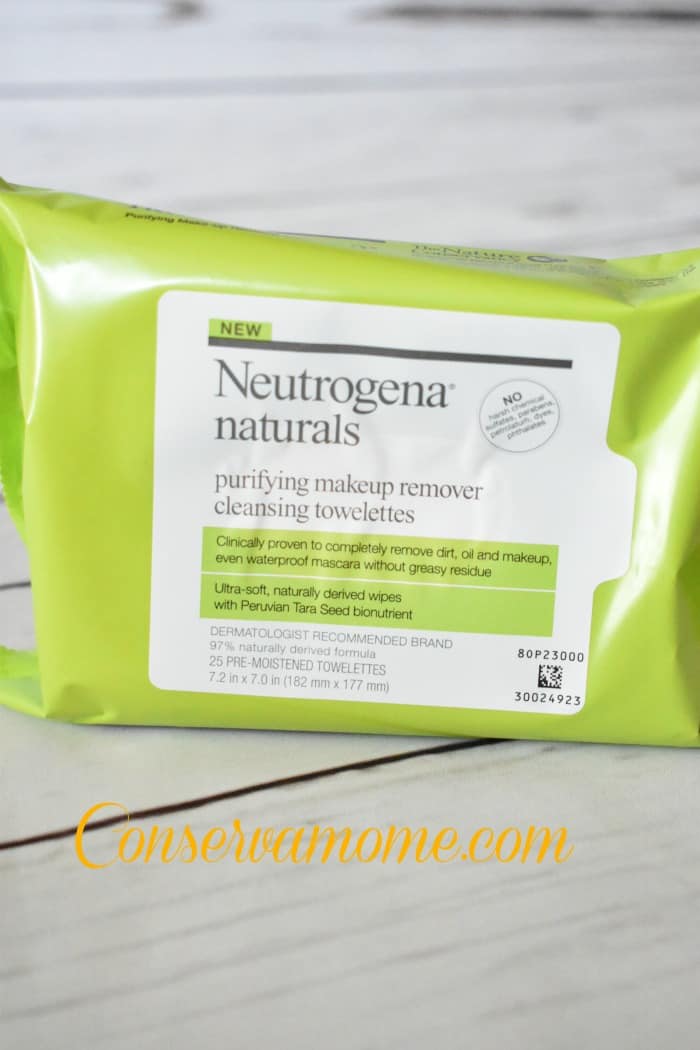 This comes in and helps grab dirt,oil or makeup. It even did a heck of swooping of my mascara which was on their pretty good. As with all the rest of the line, it has a gentle smell but so functional in it's duty. You can grab this product between $3-7. Well worth including in your daily routine and perfect to take when on the go and you need a quick facial refreshing.
Naturals Purifying Pore Scrub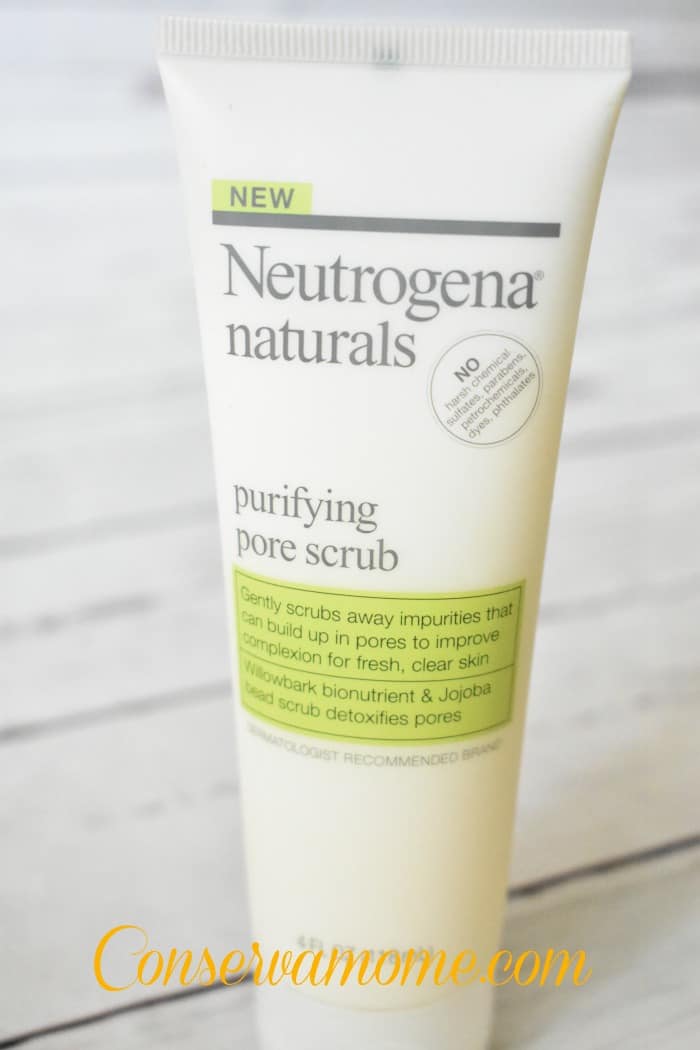 The pore scrub is a gentle smelling and textured product. The bead scrubs are strong enough to help you clean your skin but not abrasive.Suitable for even acne prone skin. Gentle enough for daily use.  My kind of Scrub!
Naturals Brightening Daily Moisturizer w/Sunscreen SPF 25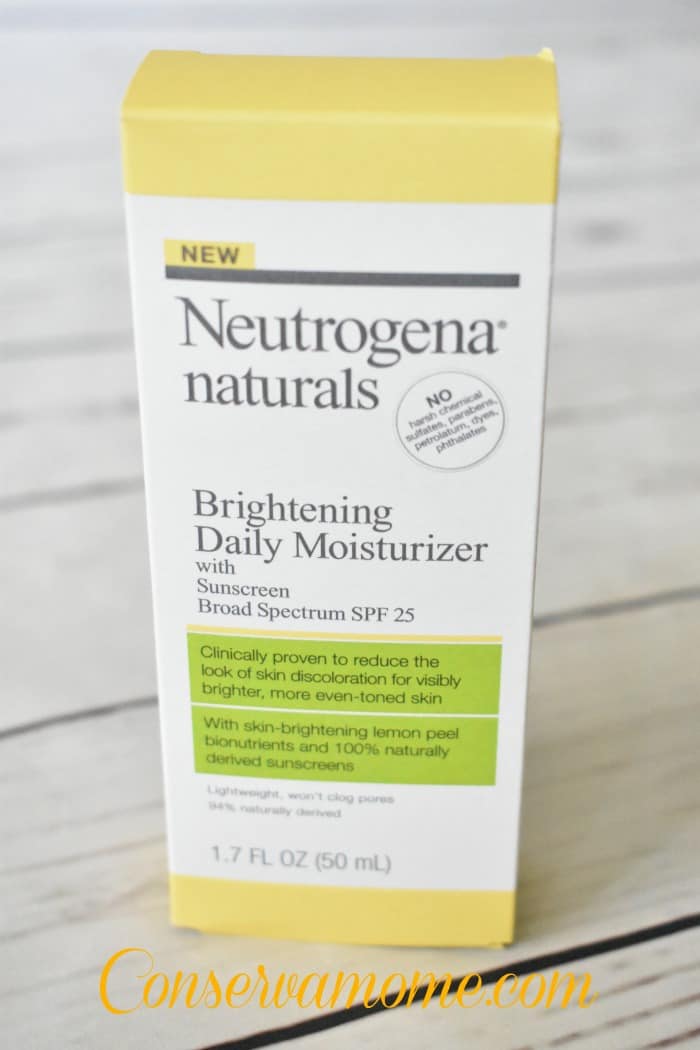 This moisturizer was one of my favorite products from the line (although it's very hard to pick a favorite because I love them all) It is a very light formula that doesn't leave your skin greasy or shiny. It just leaves it incredibly soft. Crazy Soft. The I can't stop touching my face soft.lol At $14.99 it does more than what I've seen $60+ moisturizers do. Best of all it will brighten your skin  and is proven to even skin tone in just 4 weeks.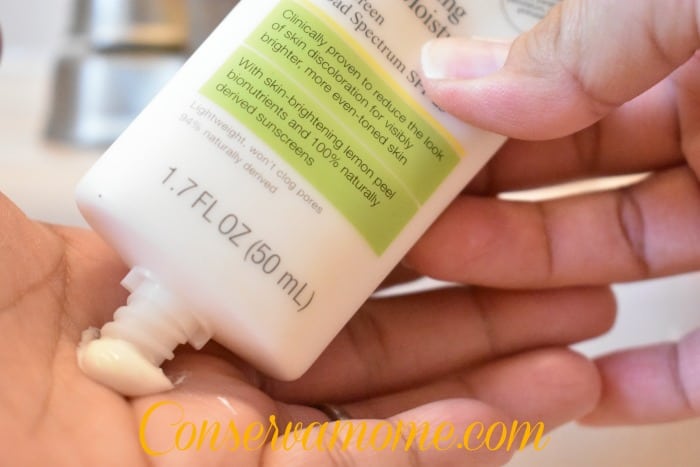 For less than $50 you can have an amazing line of products that will Give you Natural Beauty! Your skin will thank you and the environment will too!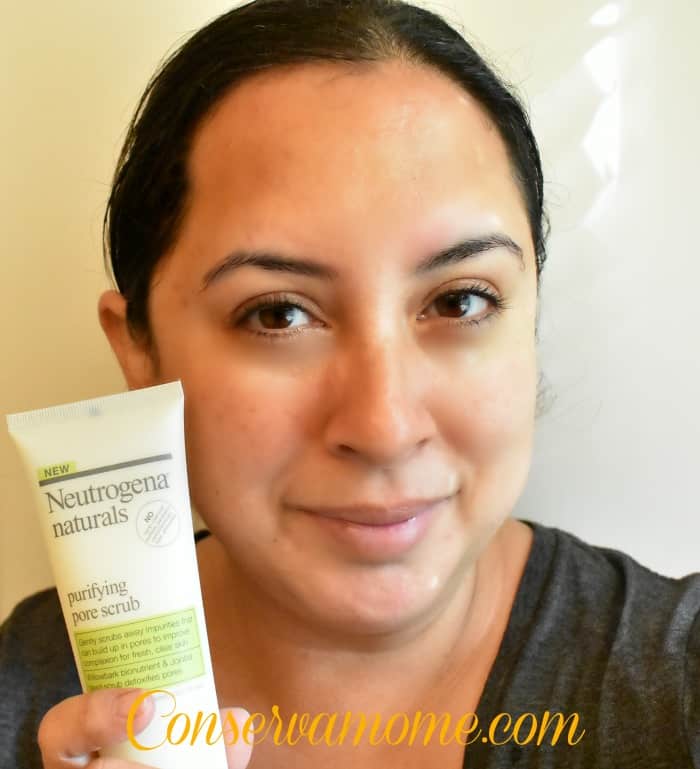 Make sure and stay social with Neutrogena on Facebook , Twitter  and Instagram.
Save