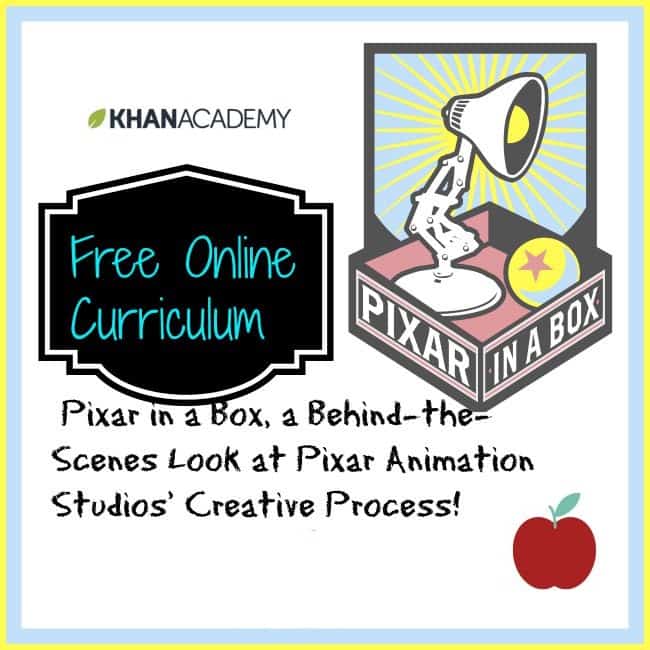 As most of you know I home school my tribe of five and because of that I'm always looking for exciting ways to teach them various lessons. The Khan Academy and Pixar have just simplified some great lessons in Math and Science by coming out with an amazing free online curriculum using their favorite movies.   Pixar in a Box is a  behind-the-scenes look at Pixar Animation Studios' creative process. It shows how Pixar filmmakers use science, technology, engineering, art and math to create movie magic.
Through a series of video lessons, interactive exercises, and hands-on activities, students will discover how the academic concepts they learn in school enable Pixar filmmakers to create new worlds, animate unique characters and tell stories through animation. Although designed especially for students in middle and high school, these resources are available to learners of all ages, completely free of charge.
Starting today, students can access Pixar in a Box and learn:
·       How combinatorics are used to create crowds, like the swarm of robots in WALLŸE.
·       How parabolas are used to model environments, like the forest in Brave.
·       How weighted averages are used to create characters, like Buzz Lightyear and Woody.
·       How linear and cubic interpolation are used to animate characters.
·       How trigonometry is used to create the worlds in which Pixar stories take place.
·       How simultaneous equations are used to paint all of Pixar's images.
Do you know a teacher who could use this fantastic program? Or a homeschooling parent? Or maybe want some at home extensions to do with your kids? Head over here and check out this amazing curriculum for yourself & Most important don't forget to share!
About Khan Academy
Khan Academy is a 501(c)3 nonprofit with a mission to change education for the better by providing a free, world-class education for anyone, anywhere. We believe that students of all ages should have free, unlimited access to the best educational content, and that they should be able to consume and master this content at their own pace. In addition, we believe that there are incredible opportunities to use intelligent software development, deep data analytics, and intuitive user interfaces to more effectively surface and present these educational resources to students and teachers around the world. Our library of content covers kindergarten to early college math, science topics such as biology, chemistry, and physics, and reaches into humanities with tutorials on economics, finance, music, philosophy, and art history. We have over 26 million registered students and to date, we have delivered over 580 million lessons and 3.8 billion exercise problems. For further information, visit KhanAcademy.org.
Boilerplate
About Pixar Animation Studios
Pixar Animation Studios, a wholly owned subsidiary of The Walt Disney Company, is an Academy Award®-winning film studio with world-renowned technical, creative and production capabilities in the art of computer animation.  Creator of some of the most successful and beloved animated films of all time, including "Toy Story," "Monsters, Inc.," "Cars," "The Incredibles," "Ratatouille," "WALL•E," "Up," "Toy Story 3" and "Brave," the Northern California studio has won 30 Academy Awards® and its films have grossed more than $8.7 billion at the worldwide box office to date. "Inside Out," Pixar's fifteenth feature, is currently in theaters worldwide.