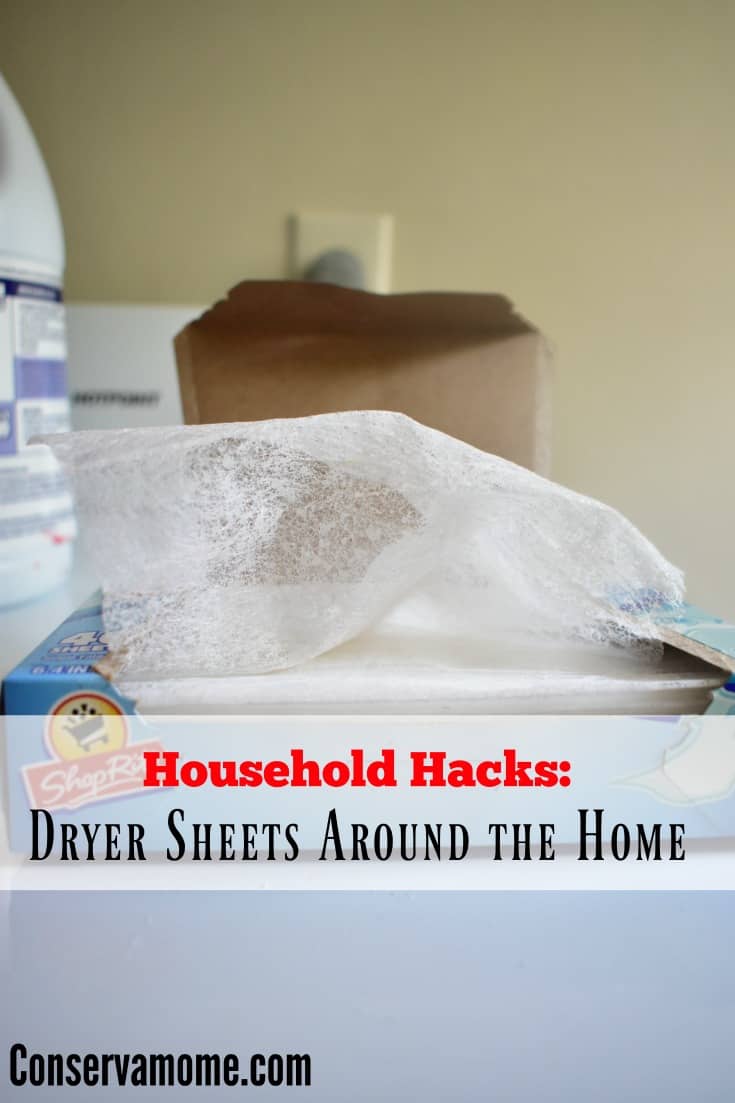 Dryer sheets, you know those things you toss into the dryer with a load of wet laundry! Well those little beauties can be used so many different ways around your home, you will be amazed. Keep reading to find all the different ways you can use dryer sheets around the home! You will be shocked at all the things you might have been missing out on doing! The Household Hacks below will make life easier for you.
Below you will see a compiled list of alternative uses for dryer sheets! To save even more money some of these, you can use a used dryer sheet! Awesome, I know!
Alternative uses for dryer sheets
Dusting: Use these for dusting blinds, shelves, and more. They work great on pulling up the dirt and dust, and smell great.
Static In Hair: Rub a dryer sheet over your hair to remove static. It works like a charm in taming that crazy hair!
Pet Hair: Have a pet that sheds, well rub a dryer sheet over the area that has hair. It will collect on the dryer sheet!
Air Vents: Take a dryer sheet in the air vent, and when the air kicks on it will blow the smell of the dryer sheet all around the room, making it smell fresh and clean.
Freshen Shoes: Stick a dryer sheet in your shoes to help freshen them. Just fold or cut the dryer sheet in half and place on the sole of shoes. Leave overnight and then remove before you put them on.
Freshen Closets: Take a dryer sheet and put in your closets. This will help keep them smelling fresh every time you open the doors. For your clothes closet, hang a dryer sheet on a hanger!
Paint Brushes: Soak your paint brushes in water with a dryer sheet. This will help loosen the paint, making cleaning the brush easier.
Put under Couch Cushions: Place used or new sheets under couch and seat cushions. Then when you have someone sit on your couch, they will smell the fresh scent of the dryer sheet.
Insect Repeller: Stick a dryer sheet in your back pocket, belt loop, or under outside furniture. Then when you are out bugs will stay clear from you, they don't like the smell of them.
Dirty Pot: Take a dryer sheet and lay in the bottom of a dirty pan. If it has really stuck on gunk, the dryer sheet will help loosen it. Just fill the pan/pot with warm water, and the dryer sheet and let sit an hour and then try and wash it.
Water Spots: Use a dryer sheet to buff away water spots on your sinks and even brighten up the chrome on your wheels of car.
Sharpen Scissors: Fold a dryer sheet into half, and then cut with your scissors. This will help sharpen those dull scissors.
Dirty Headlights: Use a dryer sheet to help wipe away dried on bugs and dirt from your vehicle headlights. Just soak the dryer sheet in warm water and scrub away.
Glass Shower Door: Wipe down your glass shower doors with a dryer sheet. It will help prevent the build up of soap scum.
Deodorant Stains: If you have got deodorant on a shirt you are wanting to wear, use a dryer sheet and wipe the area. It will lift up the deodorant from the shirt!
These are some great ways to think outside the box when it comes to Dryer Sheets. Looking for more Home Hacks? Check out the Most Popular Cleaning Hacks.