I am sharing this post as part of a collaboration with Bloggin' Mamas and Dove Channel. I received an annual Dove Channel subscription and a Roku in exchange for my participation. All opinions expressed are my own.
It's become so hard finding good TV shows & movies for my kids. No matter where you turn there's questionable content being shown. Thankfully there's a new channel in town ready to change that.
DOVE Channel
Family viewing just got a whole lot safer with the recent debut of Dove Channel, the new direct-to-consumer over-the-top (OTT) digital streaming subscription service. A partnership between leading independent content distribution company Cinedigm Corp and The Dove Foundation™, Dove Channel is a subscription service available on mobile devices and smart TVs offering a vast library of handpicked family-friendly, faith-based and kids' programming, with the assurance of safety and quality control at the viewer's fingertips.
A subscription-based offering at $4.99 per month, the programming can be viewed across a broad spectrum of connected devices including Roku® Players and Roku TV™ models, Android and Mac iOS, Samsung Smart TV, the web, and mobile and tablet devices. Additionally, the channel can be viewed on multiple devices within each family.
Dove Channel carries out the purpose and investment that has been made for many years by The Dove Foundation™ to show credibility and trust for families nationwide. An obvious curator of faith and family content, The Dove Foundation™ is a nonprofit organization dedicated to encouraging the entertainment industry to create, produce and distribute more movies and television shows that are appropriate for family viewing. Each month, hundreds of thousands of visitors rely on The Dove Foundation™ for up-to-date reviews of movies, TV shows, DVDs and books. Hand-in-hand with this philosophy, the foundation is also committed to helping the public easily identify family-friendly entertainment, encouraging them to show their support for this approved content. An OTT offering is the logical extension of this philosophy.
I've had a chance to check out the Dove Channel and couldn't love it more. It has an amazing selection of shows and movies for the whole family. No need to worry about the content with your children. From shows like Highway to Heaven and inspirational movies and specials for the whole family, you'll never have to worry about having something inappropriate show up on your screen. Best of all you can always see the Dove show guide and see if it's approved for your child's age. It also has  an Intensity of Content key to tell you what to expect and the intensity.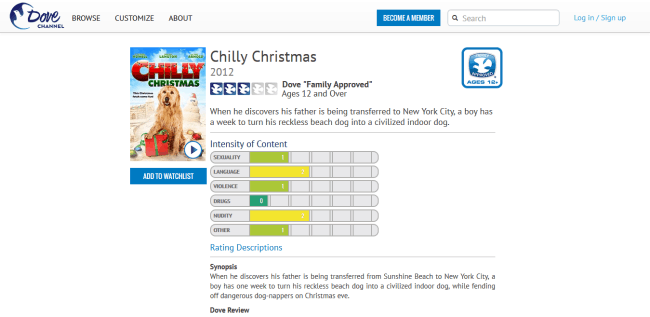 Kids record everything in their little brains and they can't unsee bad things. It's our jobs to protect what they do see and help guide their wholesome upbringing. In today's world it's so hard to do so, thanks to Dove Channel that job got a little bit easier.
Subscribe!
For more information on Dove Channel, please visit www.dovechannel.com.
Get Social With Dove Channel
And Now For The Giveaway
Give­away begins December 2nd, 2015 at 6:01 pm EST and ends December 16th, 2015 at 11:59 pm EST.
Open to US res­i­dents age 18 and older.
Win­ner will be selected by Random.org and be noti­fied by email.
See Give­away Tools wid­get below for full terms & conditions.
Dis­clo­sure: Blog­gin' Mamas is host­ing this give­away and the Sponsor is responsible for prize fulfillment. While I received the items mentioned above, all opinions expressed are my own.