I have a lot of family in Mexico that I love to talk to, but because it can become costly to connect with them, many times I need to cut my calls short. Sometimes I even have to think twice about calling because of how much it will cost. Cricket wanted me to talk to you about their new plans which thankfully will make it incredibly easy to connect to many countries. Yes! They are making it that much easier to connect with family and friends with a new fantastic deal. This amazing deal starts at only $10/mo., which means you'll be able to talk all you want with Tia, Abuela, Mama or Abuelo!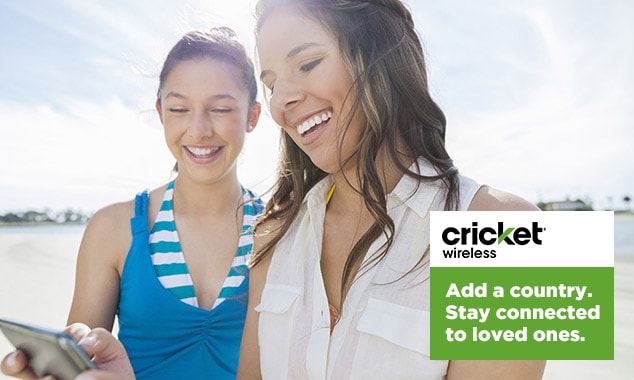 Best of all, you not only can call most countries, but text as well! You'll have unlimited international messaging (SMS & MMS)! This isn't just for mobile numbers, but for landlines as well! This special is only available on Smart and Pro plans, but with such low prices on plans, it's well worth it. You can choose from 10 popular calling destinations in Latin America and the Caribbean, including Costa Rica, Jamaica, Guatemala and more! Simply add an international calling feature to a Smart or Pro plan.
Also, customers on Auto-Pay get $5 off their bill each month. Roaming in Mexico and Canada is included and, of course, unlimited talk and text here in the U.S.! Cricket's flexible, low-cost plans make staying in touch a breeze! If Auto-Pay isn't your thing, you can get a Group Save Discount of up to $100 a month when you add eligible lines. Devices are available from your favorite brands like Samsung, Nokia and HTC, so you'll have phones with the best features around. Of course, you can't forget the reliable nationwide network that covers 98% of Americans and provides more 4G LTE coverage than Sprint, T-Mobile or MetroPCS.
So what are you waiting for? Head over to your nearest Cricket Wireless and get connected to all those you love. You might be separated by distance, but don't let distance separate you!



This blog post is part of a paid SocialMoms and Cricket Wireless blogging program. The opinions and ideas expressed here are my own.