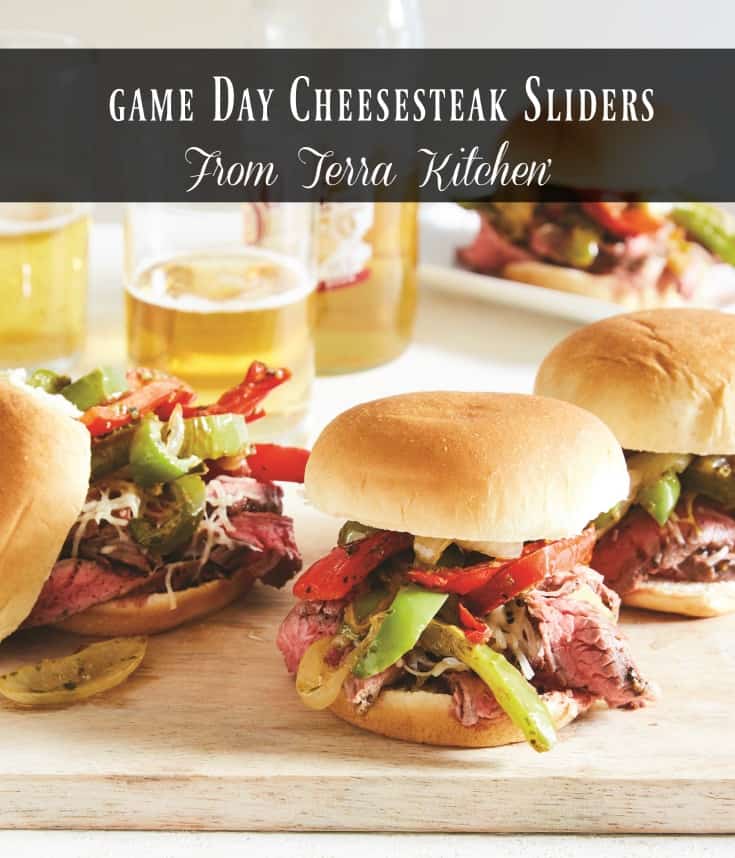 With Football season officially kicking-off, what better way to wow your family and friends then with Delicious Cheese Steak Sliders from  Terra's Kitchen.
This easy and delicious treat will score a touchdown at your next gathering. Best of all it can be served perfectly at lunch,dinner or just because!  It's so easy to make and even so fool proof even the most uncoordinated of chefs can prepare this fun treat.
So check out the easy recipe below and enjoy these delicious easy mini burgers with a recipe courtesy of Terra's Kitchen which means it will be a hit!
Serves 2
Ingredients:
12 ounces skirt steak
10 ounces bell pepper and onion mix
1 ounce pesto
1 ounce shredded parmesan
4 slider buns
2 teaspoons canola oil
Salt & pepper
Directions:
Cook Vegetables: Add 2 teaspoons oil to a medium sauté pan over medium heat. When oil begins to shimmer, add vegetables, ½ teaspoon salt and ¼ teaspoon pepper. Cook, stirring often, until the vegetables begin to wilt and brown (about 10 minutes).
Cook Steak: While vegetables are cooking, heat a lightly oiled grill pan or grill to medium-high heat. Liberally salt and pepper both sides of the steak and place on the hot grill. Cook, turning once, until cooked through (about 3-4 minutes per side). Remove and allow to rest.
Finish Vegetables: Remove vegetables from heat and stir in pesto.
Slice Steak: VERY thinly slice the steak against the grain.
To Serve: Toast buns or not depending on your preference. Top each slider bun with sliced steak, cheese and vegetables.