This post was sponsored by CLEAR CARE® PLUS as part of an Influencer Activation for Influence Central. I am disclosing this in accordance with the Federal Trade Commission (FTC) guidelines concerning the use of endorsements and testimonials in advertising.  I received financial compensation for my participation and endorsement."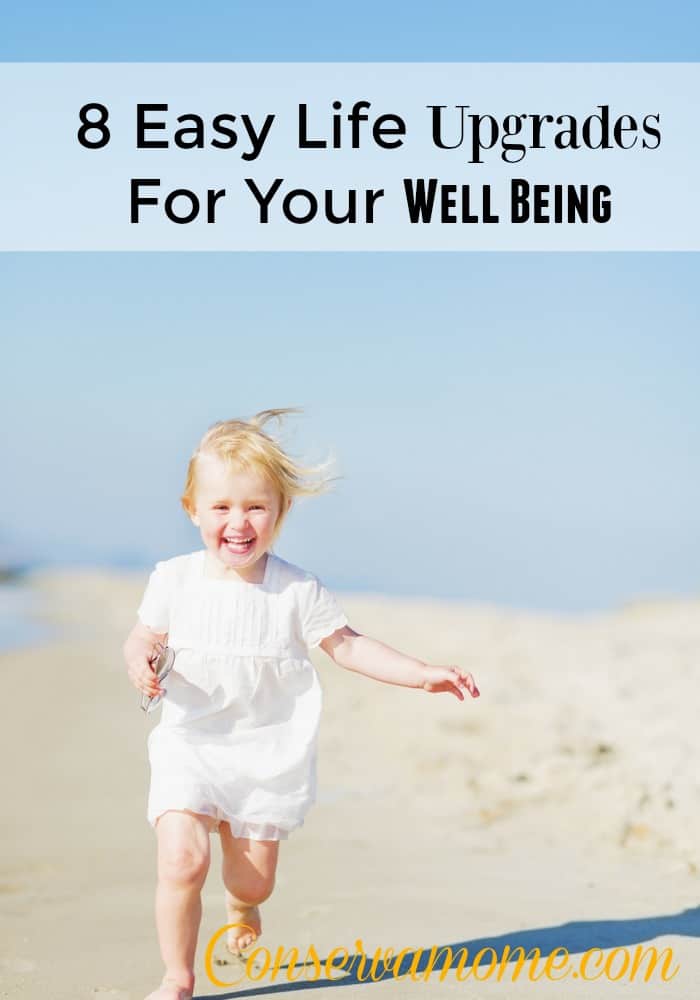 As parents we tend to always want better things for everyone but ourselves. We definitely tend to settle in our lives and live the status quo in order to make sure everyone around us is doing better. We also give our kids advice we seldom follow because we feel we're too old or set in our ways. However,it's also important for us to have little upgrades in our lives to the things we do. We deserve those upgrades for our own mental, physical and overall well being. Here are some easy life upgrades you can do to  give yourself that well deserved boost in your overall well being!
Make New Friends
As adults we tend to fall into the comfortable routine of life and that includes friends. We tell our  kids to make new friends but we don't go outside of our comfort zone to do the same for ourselves. Making new friends can be an upgrade to our lives because it helps open up so many different possibilities and experiences we may not have done.
Get a Planer
Organization is key! Make sure and upgrade to a cool planner that will help you keep track of all the important things in your life. Having what you are doing spread out in front of you, gives you an idea of what other things you can do to enrich your life.
Take a Class
You're never to old to learn something new. Have you always wondered about making wine or cooking a specific cuisine? Learn to do it! Not only will you be able to learn a new skill you'll also become more discerning in your choices of food, travel and more!
Go for the Adventure
Don't settle for the go to vacation, go outside of your comfort circle in order to find an adventure you've always wanted to try. Maybe visit that foreign country you've been wanting to visit. Most important pay that extra bit of money to get better seats on your flight. Most airplanes have packed seats to the gills so paying the extra $30-60 to upgrade to more leg room which will have you rested and ready to seize your new adventure.
Home Improvements
Upgrades in your home don't have to be huge,even the smallest of upgrades will make a huge difference. Small things like new paint on cabinets or new door knobs will make a huge difference in your home giving it that face lift it needs.
Pamper Yourself
Mental health is as important as physical health so upgrade your life with an extra massage ,pedicure or manicure. It's important to get that pampering done because you'll feel better and happier.  Even upgrading to a bubble bath will make a huge difference in your mood. The important thing is to make time to give yourself time to relax and recharge.
Your Health Routine
If you aren't exercising, go for the walk, if you're walking, go for the jog. Don't settle! Upgrade your health care routine and challenge yourself to do better. You don't have to run a marathon but you can definitely upgrade and push yourself a little bit for your overall well being.
Upgrade your  Daily Care products
It can be easy to grab the first toothbrush or toothpaste you see. You may even think getting any old deodorant will do. But when it comes to your eyes it's important to get a product that will care for one of your most valuable parts, your eyes. The perfect upgrade is including Clear Care plus for your eye care routine.  Clear Care has  Triple Action Cleaning. You can see the bubbles working! It's also  the #1 doctor recommended hydrogen peroxide solution that is preservative free. It loosens dirt, deep cleans, removes protein and most important uses the bubbling, cleaning and disinfecting power of hydrogen peroxide. Best of all it features HydraGlyde® for long-lasting moisture.
The biggest upgrade in lens care is giving you a chance to win the biggest upgrade of your life. CLEAR CARE® PLUS is taking upgrades to the next level with the Bubble Upgrade™ Sweepstakes. From 8/10/16 to 9/6/16, a winner will be selected every Wednesday to win an upgrade experience (each valued at over $10,000), spanning categories from sports, travel, and self-improvement.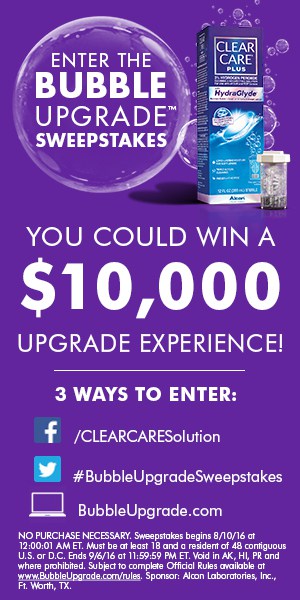 So head over here to enter this amazing Sweepstakes where you can win that much needed Upgrade in your life!
Don't forget to get social with Clear Care on Facebook , Twitter or Youtube!
Most important head to the Bubble Upgrade™ Website to enter!
Good luck!
View the sweepstakes here to learn more, and discover the amazing prizes!
Save