By now most of you know how much I love adore BoneFish grill. With their amazing dishes and ambiance it is one of my favorite restaurants. It's not easy to get away on dates with the hubby but he knows when we can get away going to BoneFish grill is one sure way to make this lady happy. So when they came out with their new menu and we had grandma in town the only logical move was to head over and check it out.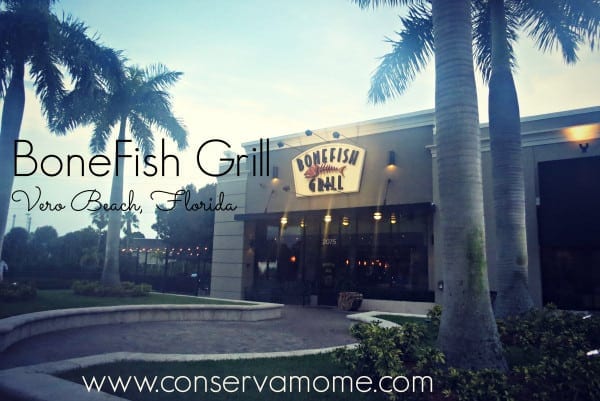 This was the first time I have made it to the Bonefish Grill location in Vero Beach,FL and it is gorgeous! This location has  a  small water front  giving it  fantastic ambiance. We went on a Friday night and it had a nice crowd. It wasn't overcrowded because it was Summer and the Snowbirds still haven't made it down, however, it was full for a location this time of year.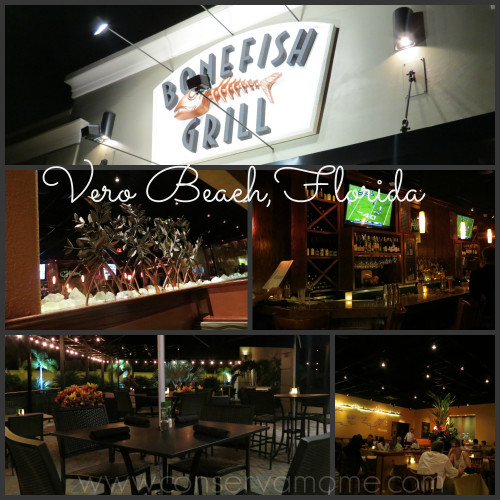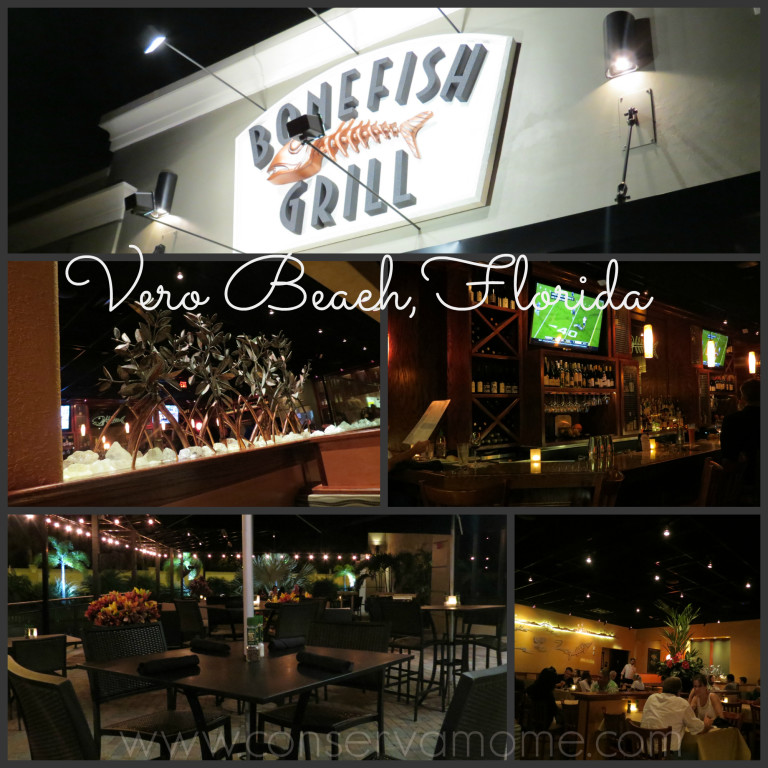 It has a gorgeous eating area outside and a fun bar to catch some sporting events. Stylish and elegant without being pretentious. I love it!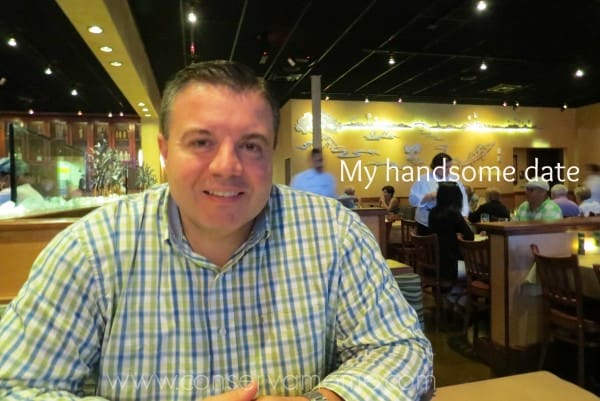 As for the menu, I was a bit apprehensive when I found out they had come out with a new menu. Not because I didn't trust them,but because I am from the school of thought, "If it isn't broken, don't fix it". That being said I was blown away!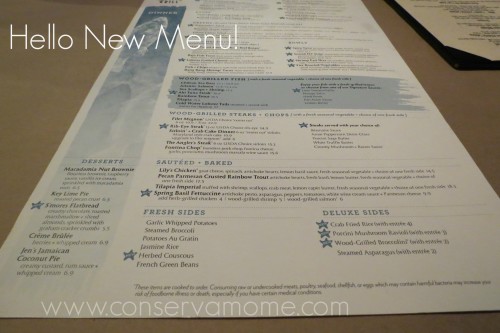 If you've been to BoneFish Grill before you are familiar with their delicious bread  and dipping oil brought to your table upon arrival. The dipping oil is a mixture of olive oil and a few herbs to give their yummy bread a delicious taste.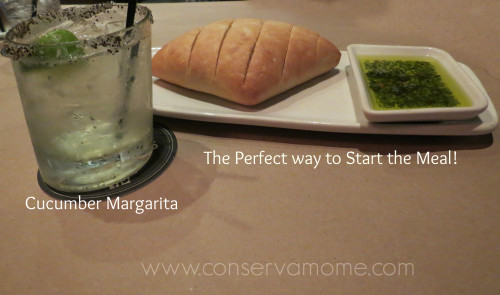 My first order of business was to try out the new Cucumber Margarita. This refreshing drink is made of a  homemade infusion of Patrón Silver &  fresh cucumbers. It has a delicious crisp refreshing taste that pairs perfectly with the fun seafood selections available.I was not disappointed.

I love Ceviche and so when I found out they had added it to the menu I was so excited. This dish was every bit as  amazing as I imagined it would be. Served  in a glass made of ice this ceviche's presentation is unique and fun. The taste, delicious. A combination of scallops, shrimp, fish,avocado,cucumber and cilantro  you'll feel like you are sitting out enjoying a tropical oasis.  A true treat to the taste buds.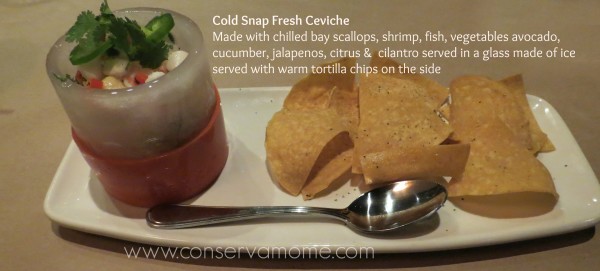 One dish that I was excited to still see on the menu was Mussels Josephine. This is one of our favorite dishes at BoneFish grill. The hubby and I have been known to go to BF just to eat that and some Bang Bang Shrimp. Yup, this dish is Touched by the hands a God folks! Make sure and save some bread to dip in the sauce (when no one is looking of course) You'll thank me 🙂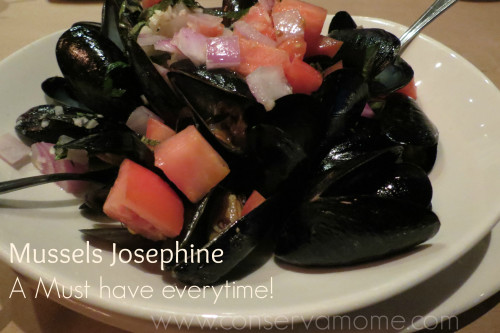 Of course you'll still find the ever Amazing or as my mom calls it Exquisite, Bang Bang Shrimp on the menu, but now they've added a fun twist. Incorporating some flat bread. This dish is perfect for sharing or for those who want the tate but not all of the calories 🙂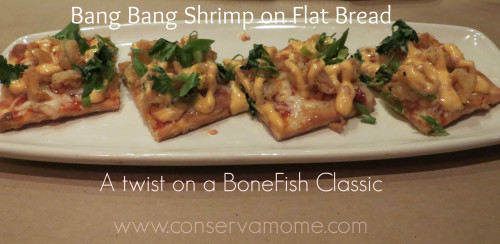 Now for the Dinner options. There are so many new dishes to choose from. Hubby Got the Ahi Tuna Steak served with seasonal veggies and your choice of side.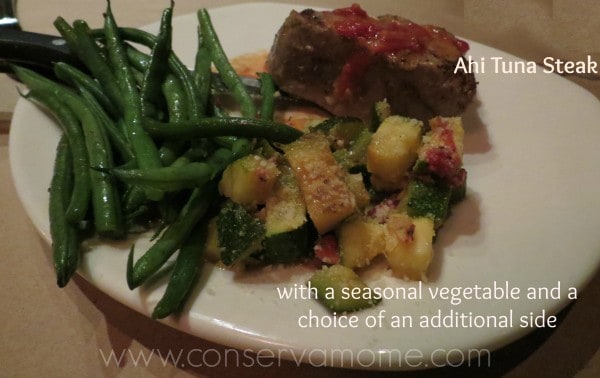 I got the Cilantro lime Shrimp Salad that was out of this world!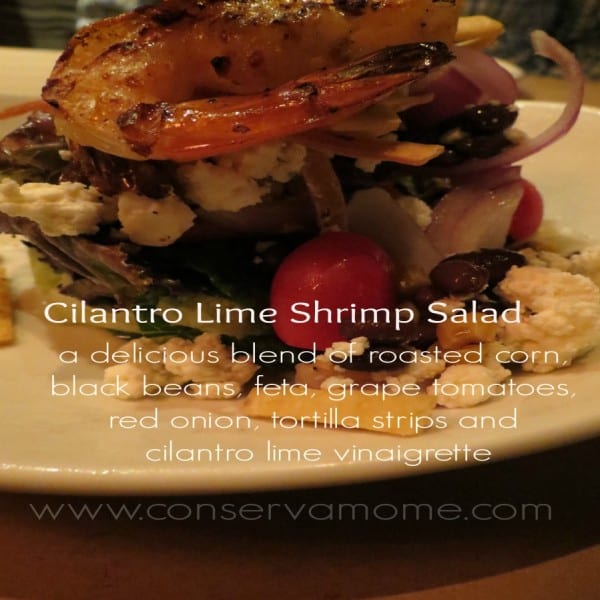 Finally the Pièce de résistance…. the Dessert. I was sooooooooooooooooooooooooooooooooooooooooooooooooooooooo full at this point but we decided if we needed to go all in and got the Jamaican Coconut Pie with Rum Sauce. This dish is as decadent as it sounds (and looks). With a Rum sauce that is out of this world this dessert truly hits it out of the park!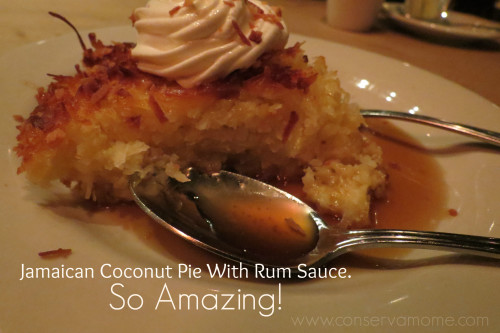 This visit was simply amazing. As always my visit to BoneFish grill was memorable. With a waitress that was so incredible and proffessional and ambiance that lets you relax and forget all your worries, this restaurant is still at the top of our list. With my Birthday Fast approaching you know where I'll be telling my hubby to take me!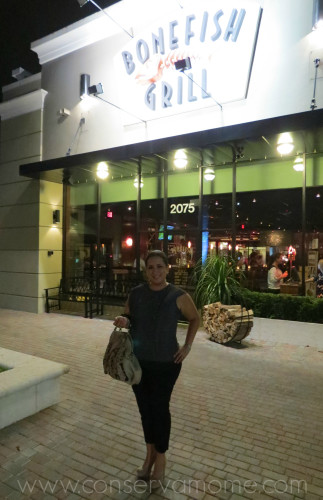 You guessed it, BoneFish grill!
With Fall here, they've rolled out some great new dishes to tie in with this fantastic time of year. Make sure and check them out online.
Follow Bonefish Grill on Facebook, Twitter, or Instagram to get more information on promos, specials and more!  You can also join their mailing list here and get a special gift on your birthday.
Menu & Promos will vary by location. However, You can head over to their site to learn more about the items you will find at your local Bonefish Grill.
*Disclosure: Although I received a Gift Card to facilitate my review, All opinions are 100% mine.