Disclaimer: I received a Beau & Belle Littles swim diaper free of charge. All opinions are entirely my own.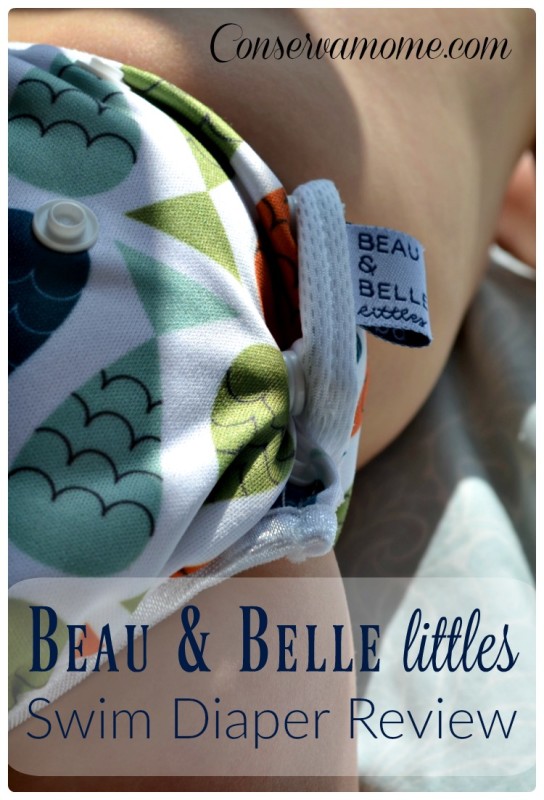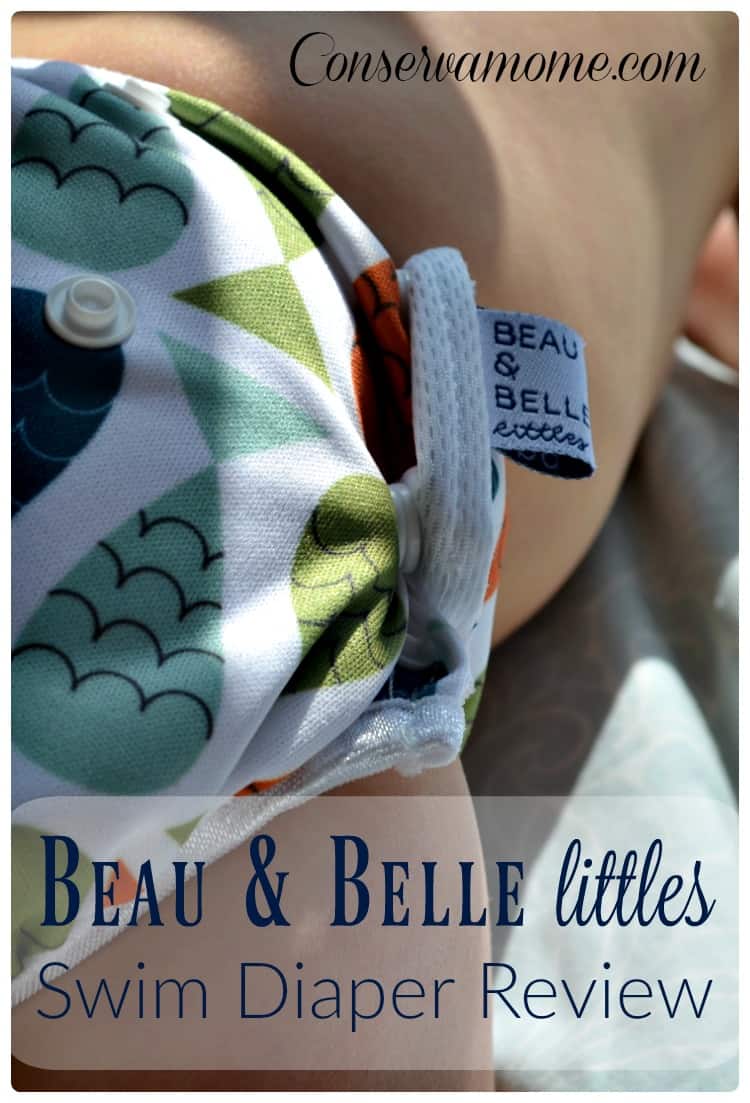 Once upon a time, I sat on my couch stretching my arms out and over my massively pregnant belly scrolling through every article, blog post, instagram and tweet I could possibly find about cloth diapering. I thought I had a pretty good handle on all things cloth until, on facebook, the question I had never even thought to ask appeared on a cloth diapering discussion group. "What is the best re-usable swim diaper option?"
Uh…
WHAT?!
Why had I never thought of this? How, in all of my careful, methodical planning of how to save the world by using and re-using cloth diapers, had I never thought about re-usable swim diapers?! I was a month away from delivery and OH THE HORROR I didn't have a swim diaper.
I have type A tendencies. Can you tell?
When my extraordinarily patient husband came home for lunch I explained the severity of this oversight. God bless that man. He reminded me that we live in the desert and where the heck would we go swimming with a newborn anyway?
Well last week our little man went swimming for the very first time and it just so happened we had our first official swim diaper to try out. Now, before we go further I'm going to confess that I don't have actual pictures of him wearing the diaper in or around the pool. Why, you may ask? Because I am not an octopus and do you have any idea how many hands you need to take a baby swimming at a community pool where there are locker rooms with wet floors you don't want your non-walking child to crawl all over? (If you have advice for me on this please, please, PLEASE let me know in the comments.)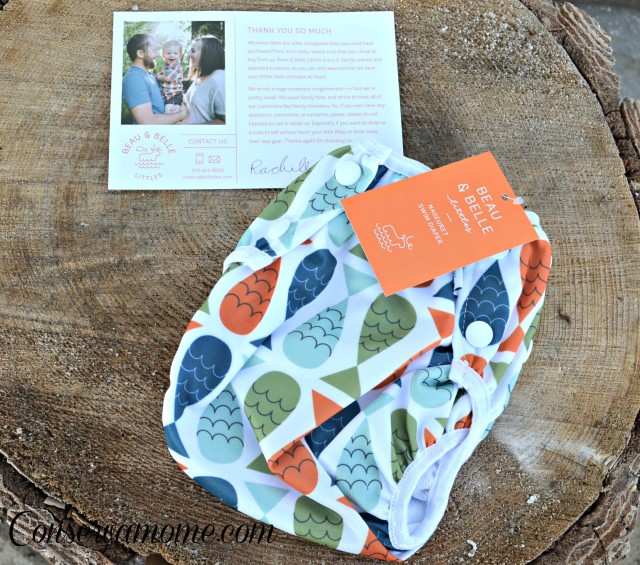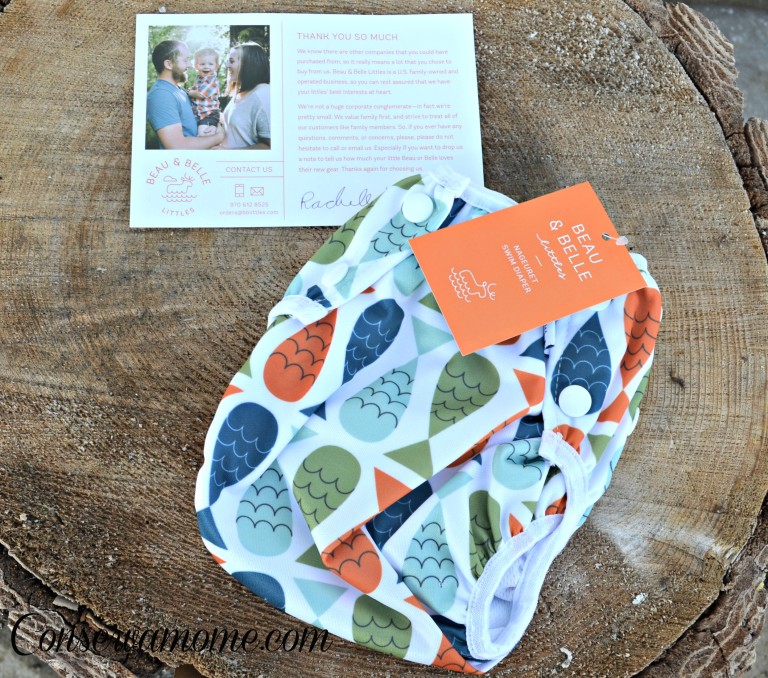 So anyway, my favorite thing about re-usable swim diapers is that even families who don't cloth diaper can (and do) use them. The whole point of a swim diaper, cloth or otherwise, is to keep the solids in. Obviously you don't want absorbency in a swim diaper so don't worry about urine. Swim diapers are all about containment because no mom wants to be responsible for the kid who shuts down the pool for sanitation.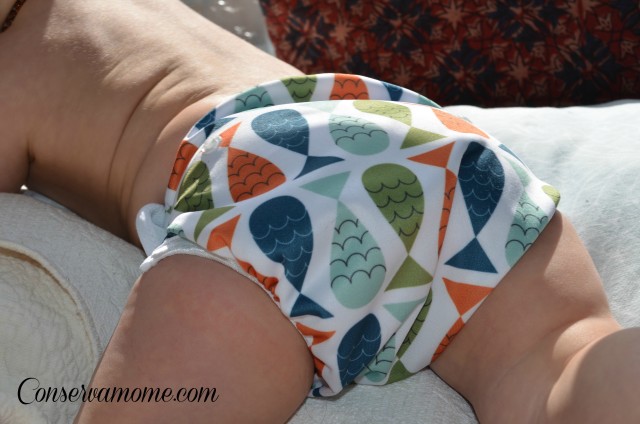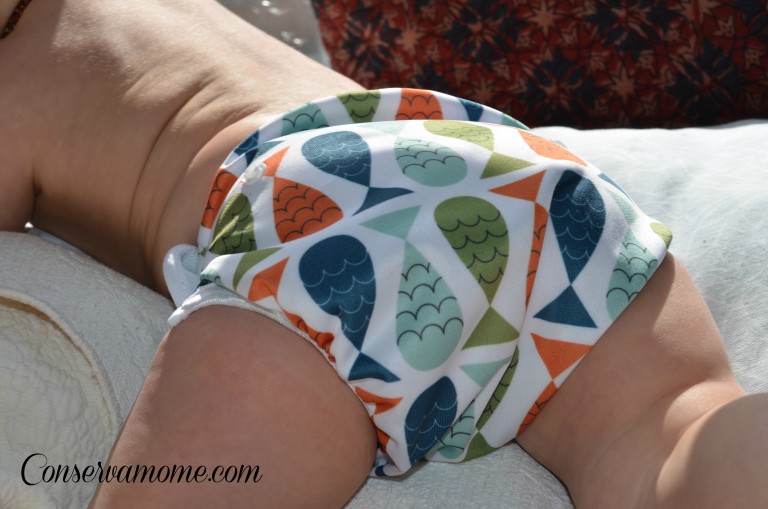 Summer is right around the corner and Beau & Belle Littles swim diapers are an adorable, USA owned but  responsibly made in China. They are currently  sustainable option. I have seen it said on cloth diaper discussion forums that you can use a pocket diaper with no insert as a swim diaper. That very well may work for some children but not for mine. I put an insert-less pocket diaper on my 21lb 11 month old and even on the smallest rise setting I couldn't get the leg holes tight enough. Beau & Belle Littles swim diapers are designed to fit perfectly in the legs with no inserts making this a most excellent swim diaper for all children but especially for smaller babies like mine.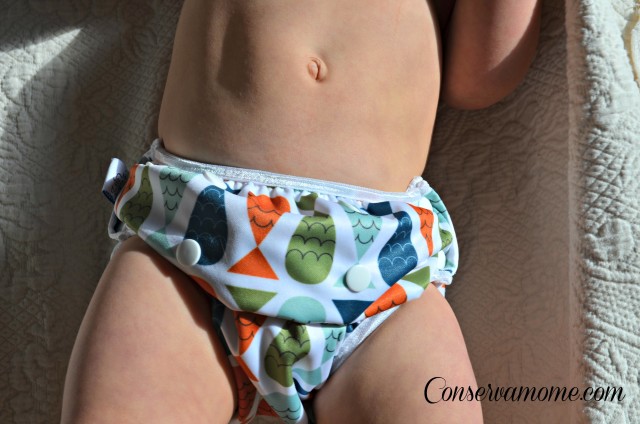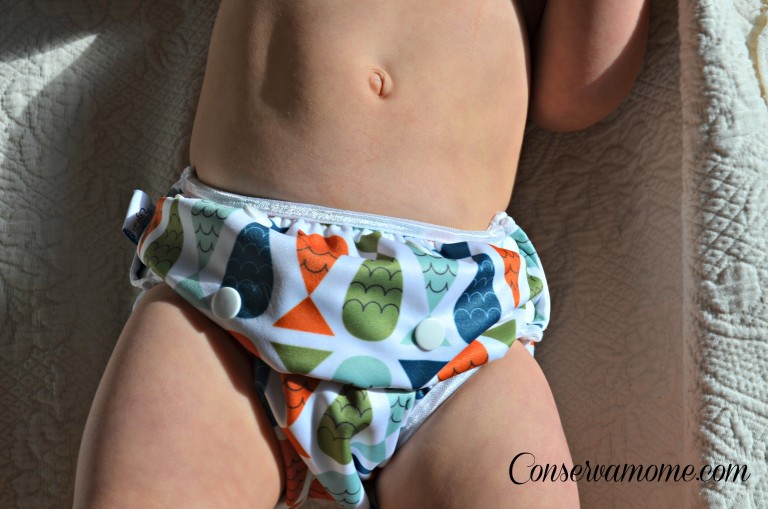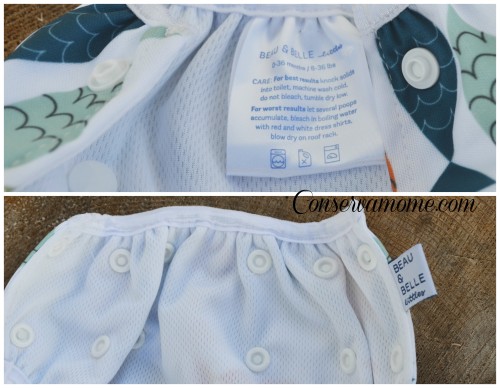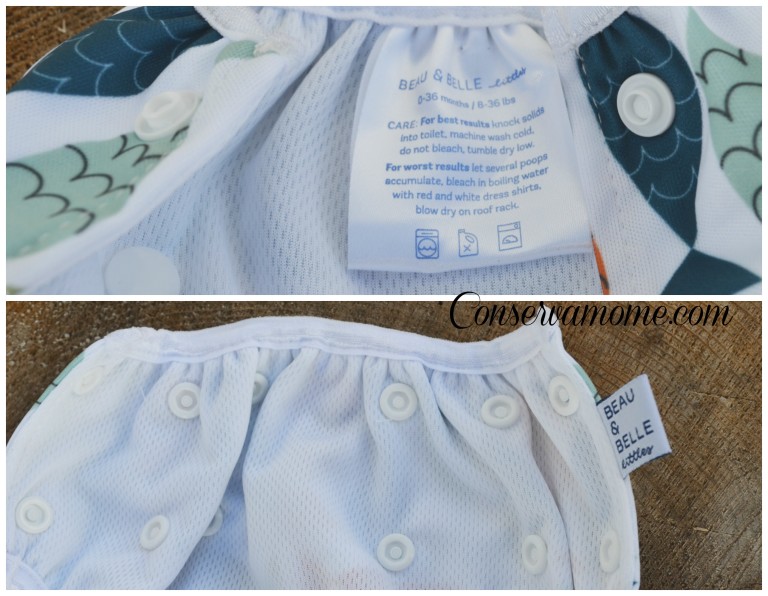 There are three rise settings and three waist settings. I used the standard sized mason jar lid in the pictures below for scale. This Beau & Belle Littles swim diaper is designed for children 0-36 months and 8-36lbs. The elastic is firm and even after an hour and a half I didn't see any red-marks. The inside is lined with an athletic style mesh lining. It is a side-snapping diaper and while I have strongly disliked side-snaps in AIO and pocket diapers I LOVE it for this swim diaper. If your baby is on the smaller waist settings there are snaps to keep the extra material anchored and out of the way. Smart. When we got this diaper in the mail the owners of the company had included a very sweet handwritten card. I love that kind of personal touch.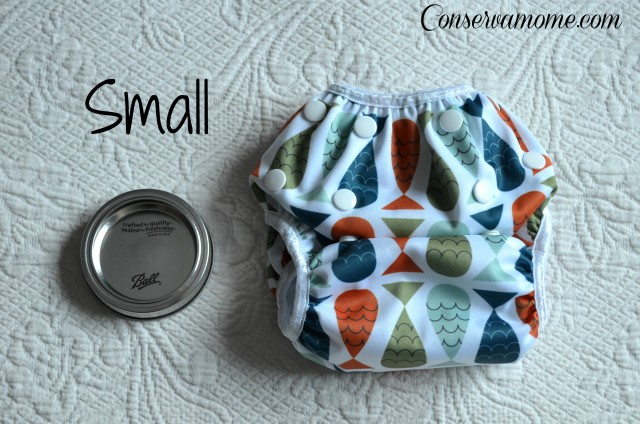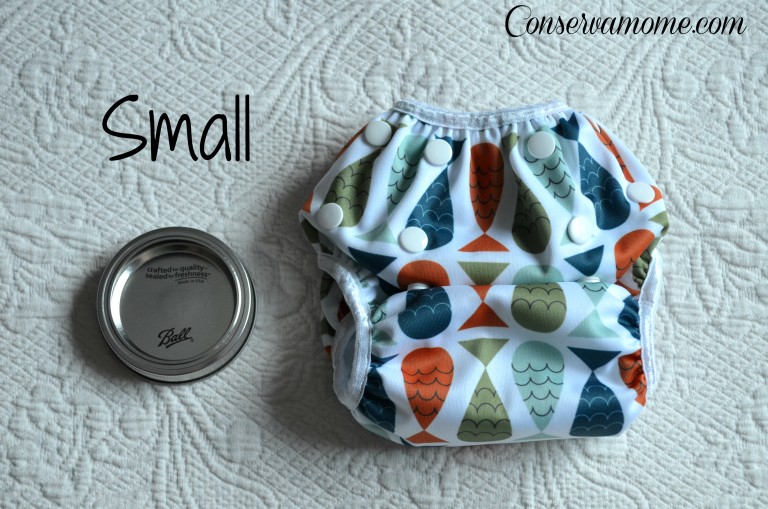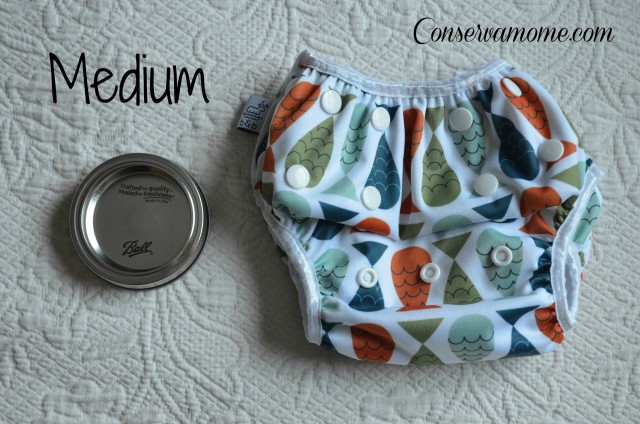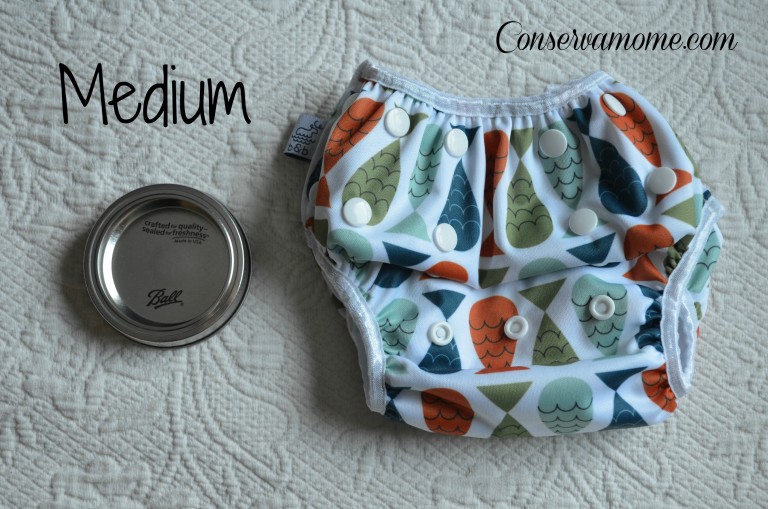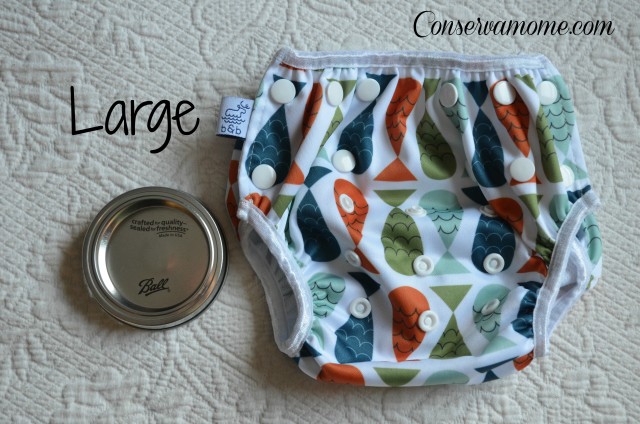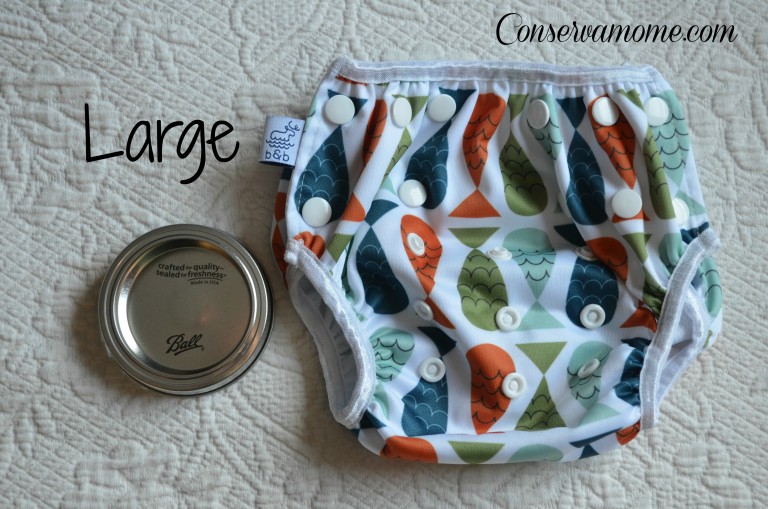 If you have a few minutes you should definitely check out Beau & Belle Littles website. It is beautifully designed and very informative. I love that this is a family owned and operated business located in Colorado. They are a young company (founded in 2015) and are growing quickly. Beau & Belle Littles swim diapers retail under $20 and you can purchase one for your little fish here. And if you are pregnant and type A and just now learning about re-usable swim diapers calm yourself down and order one of these.
The wonderful people at Beau & Belle have extended a wonderful Coupon offer until the end of March for all my readers so you can get one of their gorgeous Swim Diapers. Just use code Conservamom30 for 30% off your purchase at Beau & Belle Littles Website.
Now for the Best Part! 3 Lucky winners will each have a chance to win one of these fantastic Swim Diapers. To enter just head below and enter the giveaway tools. Giveaway is open to US only and ends on 3/19 at 11:59pm EST. Must be 18+ to enter. Good luck!
Disclosure: All opinions are 100% mine. This giveaway is in no way associated with, sponsored, administered, or endorsed by Facebook, Twitter, Google, Pinterest or any other social media network.All opinions and experiences are Conservamom's. Open to US residents only , must be 18+. Confirmed Winner(s) will be contacted through email and have 48 hours to respond before a new winner will be drawn. No purchase necessary. Void where prohibited by law. The sponsor will be responsible for product fulfillment to winner(s) of the giveaway. The disclosure is done in accordance with the Federal Trade Commission 10 CFR, Part 255 Guides Concerning the use of Endorsements and Testimonials in Advertising. For questions or to see your product featured in an Event you can contact Elia At Conservamom
Save
Save