This is a Sponsored post written by me on behalf of Walmart. All opinions are 100% mine.
Let's Face it as moms we really don't get a lot of good night's rest espeically when we have babies. There can be so many reasons why your little one will keep you up, from hunger, to colic or restlesness the reasons are endless and most of the time an enigma. However, a wet diaper shouldn't be one of those reasons. Huggies® Snug and Dry Diapers offer long-lasting protection you can count on, so you can focus on all your little one's daily adventures and not worry about soaked night time diapers.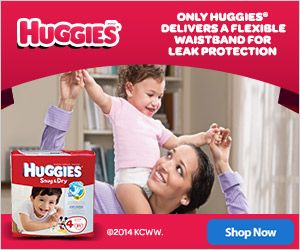 The Huggies "surefit" design helps diapers stay in place when your little one is on the move and protects against leaks and accidents. Great protection is what keeps your baby and you sleeping through the night. Whic is very important for a hard working mama like yourself. With a Surefit Design and flexible waist band that offers up to 12 hours of protection!
Huggies® also has a variety of wipes to choose from so you can handle tough messes while staying gentle on your baby.
These great Huggies® products and more are available at Walmart for great low prices.
Huggies® and Walmart, helping moms take care of their little ones and their everyday messes. Make sure and check these products!